If you have a project ahead, you must invest sufficient time and research to ensure finding the perfect power tool. Proper knowledge about a suitable tool will help you choose the best one.
In the woodworking world, chop saw and miter saw are the most common names. However, you may consider both saws is equally suitable for your project. Indeed, both have many similarities, but they will not provide you with the same advantages.
So, you may be confused about selecting one between chop saw and miter saw. Today's article will discuss chop saw vs. miter saw with you. While providing helpful information, we will compare both of them from point to point. So, let's have a great look at it!
Usually, professionals use the Chop saw for cutting metal. This is because they are compelling and prominent. So, the typical woodworker or homeowner will not use it consistently. But, if you want to build a house or need to cut any steel rebar, the chop saw is the perfect way to use it.
On the other hand, a miter saw is used for cutting woods or wood-like materials. They are perfect for cutting anything like crown molding. Therefore, homeowners can make mini craft projects, such as making boxes, picture frames, or shelves. Now, we will figure out Chop saw vs. miter saw.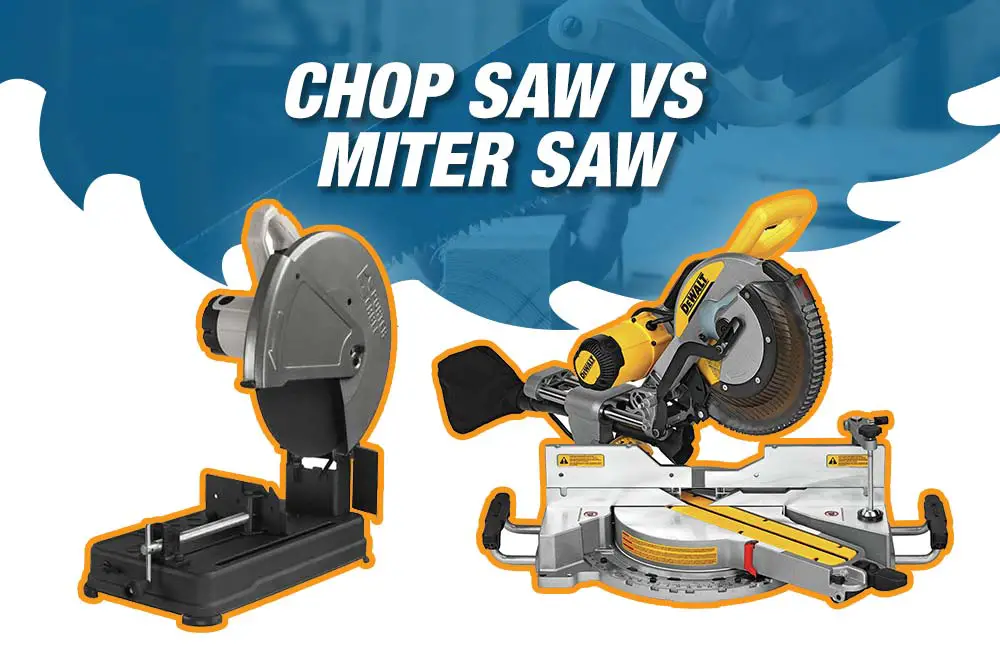 Chop Saw
Whether you want to set up anything new in your workshop or upgrade the cutting tools, you have to add any powerful saw as the Chop saw in your collection. Indeed, this saw is a very efficient, reliable, and robust power saw which drives many people to purchase the Chop saw.
Moreover, you will find Chop saw in commercial and industrial shops. Interestingly, when you look at your Chop saw, it appears similar to the miter saw because both saws feature a round blade supported by a hinged arm while fixing with the stationary base to support the workpiece.
Compared to the miter saw, the main difference is in the blade's position. It is always vertical to the base for cutting straight cuts. Conversely, as the miter saw, it will be effective for cutting angles.
A chop saw is not as easy to control as a miter saw. Moreover, chop saws are suitable for cutting big metal pieces. This is because it has a massive power that makes an effortless cut.
Advantages Of Chop Saw
Perfect For Cutting Hard Materials: If the project's requirements are cutting various types of metal, this saw is ideal for it.
A larger blade located in the saw will cut any metal more efficiently than the miter one. Besides, it will be easy to cut any large volumes of hard materials relatively faster than any other saw with the perfect blade.
Greater Accuracy In Cutting: Chop saw has greater accuracy in cutting. Professionals always prefer this saw for any large project. They can use the Chop saw with less effort. Therefore, on any big project, the chop saw has no alternative.
Easy Timber Feed: Generally, the latest model chop saws have a knee or footswitch that gives an additional advantage. Because it will leave your hands away from feeding any materials, Chop saw it has a heavy speed on the blade, allowing you to get faster cuts.​
Recommended Chop Saw: PORTER-CABLE PCE700
Disadvantages Of Chop Saw
Not Suitable For Cutting Edges: Chop saw is not suitable for cutting edges or angles of the workpiece. On the other hand, a power saw is perfect for cutting tips. As the blade will move up and down, this saw can be used for straight cuts. Although you can use this for any 45-degree angle cuts, it won't be easy to control.
Danger To Use: This saw's massive power and the large blade are a fantastic advantage. But it will make the Chop saw quite a dangerous tool which will take some precaution. Besides, feeding material by both hands will create a substantial risk.
---
Miter Saw
A miter saw is the best option if you want to make neat cuts for your projects. It is similar to the Chop saw having a round blade supported by a hinged arm.
However, it can easily swing around to the workpiece, making it perfect for making angled cuts and other types of cuts. Miter saw's blade will enter through the wood bevel.
You can use this saw for performing heavy-duty cuttings. But, you can not use a miter saw instead of a chop saw. When you need to finish carpentry projects like molding and installing baseboards, the miter saw will be the best option.
This saw will be effective when you make some neat and perfect cuts on a small board and framing. Therefore, a miter saw is the best tool for woodworkers for any regular projects in the workshop. Besides, it has greater accuracy for home renovations and improvement work.
Advantages Of Miter Saw
Excellent For Cutting Aluminum And Wood: The primary use of this saw is for cutting woods or wood-like materials. But it will be effective for cutting metals like steel and aluminum. Therefore, you can easily use a miter saw for any project to cut anything from aluminum to wood or steel.
Great For Angled Cuts: The main difference between the miter saw and chop saw is the capacity of making angled cuts. The blade located on the miter saw can rotate smoothly for producing the angled cuts. Thus, allowing the smooth finish in all the cuttings.
Cleaner Cuts: Miter saw is not only suitable for making compound or bevel cuts, but they will allow you to make some fine and clean cuts. The size and nature of the saw's blade will make it flexible enough for getting smooth cuts. Moreover, you will get the finest clean cuts by using the miter saw.
Low-Risk Saw: Many people think this saw is a low-risk power saw because cutting materials are held in the stationary position opposing the fence. Therefore, only the head of the saw will move. If you use the Chop saw, you need to feed your workpiece to the saw. You will get fewer kickbacks if you use a miter saw.
Recommended Miter Saw: DEWALT DWS779
Disadvantages Of Miter Saw:
Not Good For Cutting Metals: Miter saw it would help cut a small number of metals like aluminum for any personal project. In contrast, this saw is not suitable for cutting any considerable amount of metal.
Conclusion
So, this is all about Chop saw vs. miter saw. We hope you already get a good idea about both of these saws. A chop saw will be the best choice if you want a powerful tool for your large projects.
But, proper precautions should be taken. On the other hand, the miter saw is the right option for small projects. But, if you want to cut metals, a miter saw is not easy to use. Therefore, picking one will depend on your work pattern.
---
Read More