These days, a massive DIY storm has surged over the world. When I first started out tinkering with different power tools, there were very few people who shared my passion.
But today, there are at least one or two DIY enthusiasts in every block, which is great for people like me.
It gives me people to talk to about my crafts and share different tips and secrets. One thing that I noticed is although there are many who are skilled with a circular saw or pole saw, very few out there keep a track saw in their workshop.
But when it comes to making perfectly straight cuts, a track saw is unbeatable.
When talking about the best track saws, I often vouch for two brands, Makita and DeWalt. For anyone involved in woodworking, the names are not exactly new.
Both of the brands have made a significant impact in the world of DIY crafts. But that also makes it difficult when you have to make a choice between the two of them.
You'll get an uncompromising comparison between DeWalt vs Makita track saw to help you understand what features you can expect from these brands.
By the end, you should have no trouble deciding which saw will serve you better, given your current requirements.
DeWalt vs Makita Track Saw: A Comparison Table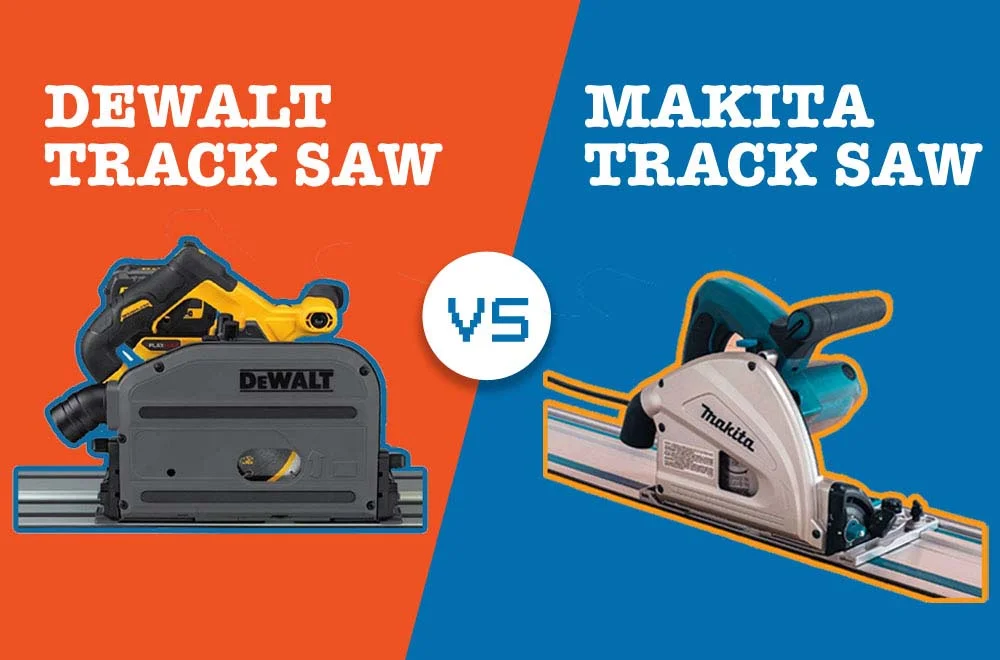 No time to read through the entire comparison? I have got your back. Here is a quick comparison between the two brands and track saws to help you get a quick idea of what each track saw brings to the table.
| DIFFERENTIABLE FACTORS | DEWALT TRACK SAW | MAKITA TRACK SAW |
| --- | --- | --- |
| MODEL NAME : | DEWALT DCS520T1 | MAKITA SP6000J |
| CORDED/CORDLESS : | CORDLESS | CORDED |
| POWER : | 6.0 AH BATTERY WITH A BRUSHLESS MOTOR | 12-AMP MOTOR |
| MINIMUM RPM UNDER NO LOAD : | 1700 RPM | 2000 RPM |
| MAXIMUM RPM UNDER NO LOAD : | 4000 RPM | 5200 RPM |
| MAXIMUM CUTTING DEPTH AT 90 DEGREES : | 2-1/8 INCHES | 2-3/16 INCHES |
| BEVEL CAPACITY : | UP TO 45 DEGREES | -1 TO 48 DEGREES |
| MAXIMUM CUTTING DEPTH AT 45 DEGREE: | 1-5/8 INCHES | 1-9/16 INCHES |
| UNIQUE FEATURES : | ENCLOSED BLADE SHROUD AND RIVING KNIFE AND ANTI-KICKBACK DIAL | BUILT-IN CURRENT LIMITER AND SOFT START AND ELECTRONIC SPEED CONTROL |
Now that you have a basic idea, it is time to dive into the real deal. In the following section of the article, let us take an in-depth look at DeWalt vs Makita track saw, along with some of their key features and things you should know about both the brands.
---
About DeWalt
In the world of power tools, DeWalt is a giant. Founded by Raymond E. DeWalt (who incidentally is the inventor of the radial arm saw) in 1923, this brand quickly rose to prominence all over the world. Sure, it saw its fair share of changes, but one thing remained constant- the quality.
To this day, the brand has changed what people expect from their power tools. Whether you are looking for a chainsaw or a pole saw, you can safely rely on them to have your back.
Most of their products also come with some form of warranty ranging between 3 years to a lifetime. This also speaks a lot about how much they value their customers.
There is a reason why I have a Flexvolt 60V Max sitting in my workshop. It is a joy to use and can make quick work of any project I am working on.
Making a straight cut with this track saw requires no special skill. As long as you know how to operate a track saw, it should not pose any additional challenge.
The unit allows features a brushless motor that makes cutting a lot more efficient. Thanks to its powerful 6Ah Flexvolt batteries with 60V capacity, you can use it for a long time between each charge.
I personally hate it if any of my cordless power saws run out in the middle of a project. With this track saw, this was never an issue for me.
Under no-load, the blade can spin between 1750 to 4000 revolutions per minute. The variable speed dial to change the RPM is easily accessible. I could cut through up to 2-1/8-inch-thick wood with this tool without any issues.
It also allows for bevel cutting up to 47 degrees. Since there is no 45 degrees stop, though, it might take a while to get used to making bevel cuts with this machine. The maximum cutting depth of the unit at 45 degrees is 1-5/8 inches.
One more aspect you might need to get used to is the plunge mechanism of this saw. Rather than pulling down the plunge mechanism, you have to push. However, this is in no way is a major drawback, in my opinion.
What makes this machine such a beast at making straight cuts is the dual-edged track. You can place the saw both vertically and horizontally, which makes it quite versatile. The tracks come in different lengths, and you can combine the tracks together if you need to make longer cuts.
Another one of its excellent design features is the shroud that covers the 6.5-inch blade. Because of this, extracting the dust is much more efficient through the dust collection port. In addition, it also minimizes blade exposure and reduces any chance of cutting yourself when you are working with it.
Overall, it is an extremely safe and well-built machine that delivers everything it claims. It has an anti-kickback mechanism dial that ensures that the saw stays on the cutline. At a budget of around 600 bucks, you cannot go wrong with this option.
Features
Works with any TrackSaw™ dual-edged tracks
FLEXVOLT® 6.0Ah Battery
Premium quality brushless motor
Anti-kickback mechanism
No load speed from 1700 to 4000 RPM
Enclosed blade shroud enhances safety and dust collection efficiency
Up to 47 degrees of bevel capacity
1-5/8 cutting depth at 45 degrees
2-1/8 inch cutting depth at 90 degrees
---
About Makita
In this David and Goliath story, Makita is David incarnate. Makita is a brand that takes pride in manufacturing high-quality power tools at an affordable price. When you are shopping from Makita, you do not have to worry about ending up with a mediocre, poorly-made unit.
They have a vast catalogue of everything, whether you are looking for cordless tools or corded ones. I, myself, have a Makita cordless circular saw that I regularly use for a lot of my projects.
In addition to a 30-day return policy, most of their products have two to three years of service or component warranties, not that you would ever need to use it. Still, it is a good feeling to know that the company will help you out in case something goes wrong with your machine.
Although I didn't own an SP6000J myself at first, I have used it quite extensively at a friend's workshop. And there are moments when I wished I went with this one instead of DeWalt (and later I did- yay me!).
Don't get me wrong. I love my track saw. But this one is almost a hundred bucks cheaper and does many of the things that DeWalt does almost to a T.
The SP6000J comes with a 12-amp motor capable of delivering powerful performance when needed. With such a high-powered motor, you would think that kickback during startup might be a problem. However, because of the soft-start feature, your device powers up quite smoothly.
The variable speed dial in the unit lets you move from 2000 RPM to 5200 RPM under no load.
Because of its higher maximum speed, it lets you cut through a wider range of materials. It also has an electronic speed control to maintain speed consistency which further enhances your cutting accuracy.
For bevel cutting, I felt that this unit did things a bit better than my DeWalt. It lets you choose from -1 degrees to 48 degrees with two bevel stops at 22.5 degrees and 45 degrees.
This makes it much easier to use, even if you are a complete beginner at woodworking.
It also shows promising cutting depth giving you the option to cut through 2-3/16 inches of materials for straight cutting.
For bevel cuts, the maximum cutting depth comes down to 1-9/16 inches which are quite similar to what you would get with DeWalt.
Two other features in the unit that I loved are the current limiter and the plunge release lever.
The limiter essentially helps reduce the risk of motor burnout by regulating the flow of power through the device. And the release lever for the plunge mechanism is quite smooth and easy to access.
It also has a 1-1/2-inch dust port to extract any sawdust that comes out during working. Blade replacement in the unit is quite easy using the built-in hex-wrench. All in all, for a price under 450 dollars, this track saw is an absolute steal.
Note: If you want a complete breakdown of the Makita SP6000J, check out the detailed review where I talk about the different uses, features, and more.
Features
Electronic variable speed control
Soft start capable
Comes with a current limiter
Smooth Plunge release lever
Electric blade and arbor lock
No load speed from 2000 to 5200 RPM
Up to 48 degrees of bevel capacity
1-9/16 inch cutting depth at 45 degrees
2-3/16 inch cutting depth at 90 degrees
---
FAQ
Here are a few common questions people have regarding DeWalt and Makita track saws.
Which One Is More Expensive?
Between the DeWalt FLEXVOLT 60V MAX and Makita SP6000J, DeWalt is more expensive. Typically, you can find the SP6000J at 100 dollars less in different stores or online shops.
Is DeWalt Better Than Makita?
Even though DeWalt is the more expensive option, it does not necessarily mean that it is better than Makita. Sure, it does certain things better, but the SP6000J also offers excellent performance in many other fields. For instance, the bevel cutting options in Makita are much better than DeWalt.
Are DeWalt and Makita Tracks Interchangeable?
No, you cannot use the tracks in Makita for your DeWalt track saw. The same goes the other way around. However, both DeWalt and Makita track saws are compatible with the tracks by Festool. It is another brand worth checking out if you are on the market for a track saw.
However, some have a complaint that Festool machines are a bit too expensive. There is a good reason for it. Find out all about it here.
Recommendation
Since I have had a DeWalt for the longest time, my heart goes out to the DeWalt FLEXVOLT. However, I have used the Makita track saw long enough that I know it can be a good investment for someone on a budget. On paper, they deliver similar performances, so you cannot go wrong with either one.
Still, if you are a beginner who is trying to learn the ropes of using a track saw, the Makita SP6000J should be right up your alley.
In the End
If you are on the market for a track saw, both DeWalt and Makita are good brands. This head-to-head comparison between DeWalt vs Makita Track saw should tell you as much.
Both of the brands offer excellent power tools and after-market services to make it a worthwhile investment.
Although they are quite different machines, they share many similarities. For example, the blade size in both of the units is six and a half inches, and both the blades come with carbide-tipped teeth.
So, cutting through materials will not be an issue.
The major difference between the two brands, at least to me, is the price.
Some claim that DeWalt charges a bit more than what their product offers. Although it might be true in some cases, personally, I found nothing to complain about with so many different types of saws that I have in my collection from them.
I hope this comprehensive comparison between the two brands could help you out. Whichever unit you go with, make sure to keep the blades in your track saw sharp and ready to go whenever you want to get started on a project. Cheers!