When it comes to power tools, Makita is one of the popular brands among the market. Their tools provide powerful performance at a reasonable price. They also bring new products every year whether it's circular saws, track saws, jigsaws and more. Every year, they come up with advanced features so that they can keep their users updated.
Every saw of Makita is unique in its way of working with different levels of capability. Like other power saws, Makita SP6000J1 has a reputation for becoming one of the best track saws no exception. This track saw comes with high performance along with lots of unique features. It stands out for its powerful performance at reasonable prices.
In this article, we'll discuss in detail all of the useful features of this Makita SP6000J1 review. This review will help you to take your track saw buying decisions for your tasks. Here we discuss in detail with all of the features of this bestseller saw in 2021.
Specification Of Makita SP6000J1:
| | |
| --- | --- |
| Model | Makita SP6000J1 |
| Dimensions | LxWxH- 75 x14.75x 24.25″ |
| Max Cutting Capacity | 90°: 2-3/16" |
| Max Cutting Capacity | 45°: 1-9/16 |
| Blade Diameter | 6-1/2″ |
| Voltage | 110 Volts |
| No Load Speed | 2,000 – 5,200 RPM |
| Watts Out | 1800 |
| AMPS | 12 |
| Construction Material | Plastic |
| Weight | 9.28 Pounds |
| Warranty | 1 Year |
| Power Source | Corded |
| Manual | Read Manual |
| Price | Check Latest Price |
Makita SP6000J1 Plunge Saw Reviews:
Makita SP6000J1 plunge saw comes with many unique features and characteristics. Now let us notify you some of the key features before going into the main article.
Key Features:
12 AMP motor for powerful performance.
Accurate & precise cutting provides free finish.
Variable speed control (2,000- 5,200 RPM) to adjust the speed.
Constantly maintain the speed for smooth cutting.
Large cutting capacity with wide application.
Features In Details: Makita SP6000J1 Reviews
Powerful Performance
First of all, the SP6000J1 has 12 AMP motor with variable speed control dial. This powerful motor provides optimum performance in different materials. Whereas the variable speed control allows you to set the speed (2,000 – 5,200 RPM) for operation. It keeps constant speed for smooth cutting with a splinter-free finish. You can keep the speed for a smooth and precise cut at 2,000 – 5,200 rpm speed.
The variable speed system moreover helps you in protecting the motor from overheating. Besides, an electric brake works for safe and comfortable use. It also works as a lifesaver in case of any emergency.
Accurate & Precise Cutting
This saw is not only powerful but also accurate and precise when it comes to cutting. Its precise cutting capability gives rise to it one of the best among the market. It produces the best quality smooth finished products every time. Similarly, the splinter-free clean cutting of this track saw, consequently, saves time.
Whether cutting straight or bevel, the track saw delivers precise cutting with a 6-1/2 inches blade. Moreover, it works together with a 55-inch guide rail to provide tear-out precision cutting. The track perfectly stays on the guide rail so that you can simply make the bevel cuts. You can easily fulfill the depth adjustments at your disposal when you wish.
The plunge lever is very simple to use and you can do the operation very smoothly.
Lightweight & Comfortable Design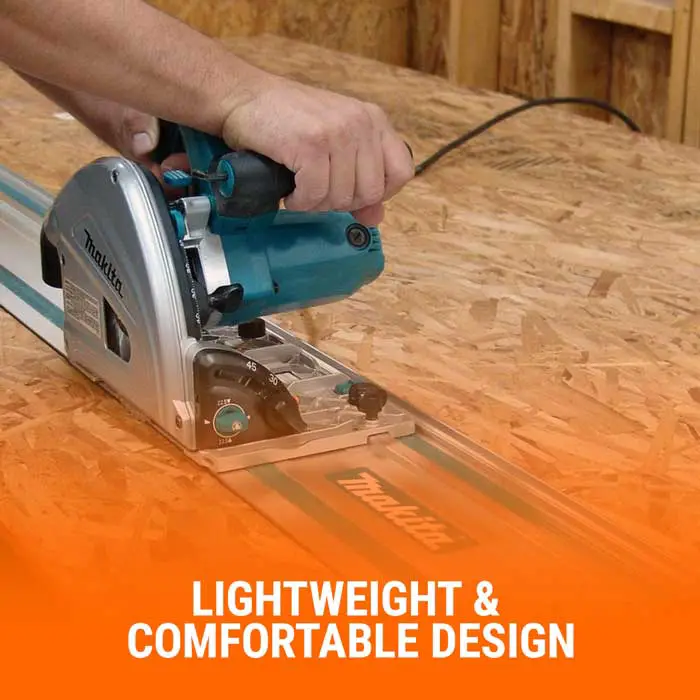 This track saw is also widely popular for its lightweight design. The convenient body gives operator comfort, and the large-scale depth adjustment is very easy to set. When it comes to portability, the SP6000J1 is a more portable option compared to others. It's ideal for use in the workshop or in a job site. Plus, a comfortable rubberized grip gives desirable ergonomic comforts and reduces hand fatigue for prolonged use.
Versatile Range of Application
The saw comes for a wide range of applications and uses. For example, cabinet installers, stair installers, flooring installers, finish carpenters, cabinet manufacturers. It's suitable for cutting sheet material, trim and finish work, also for remodeling. It's also ideal for woodworkers for cutting large wood panels and wood materials. Although the saw can cut a lot of heavy materials, it works best for cutting large wood panels.
Parts & Accessories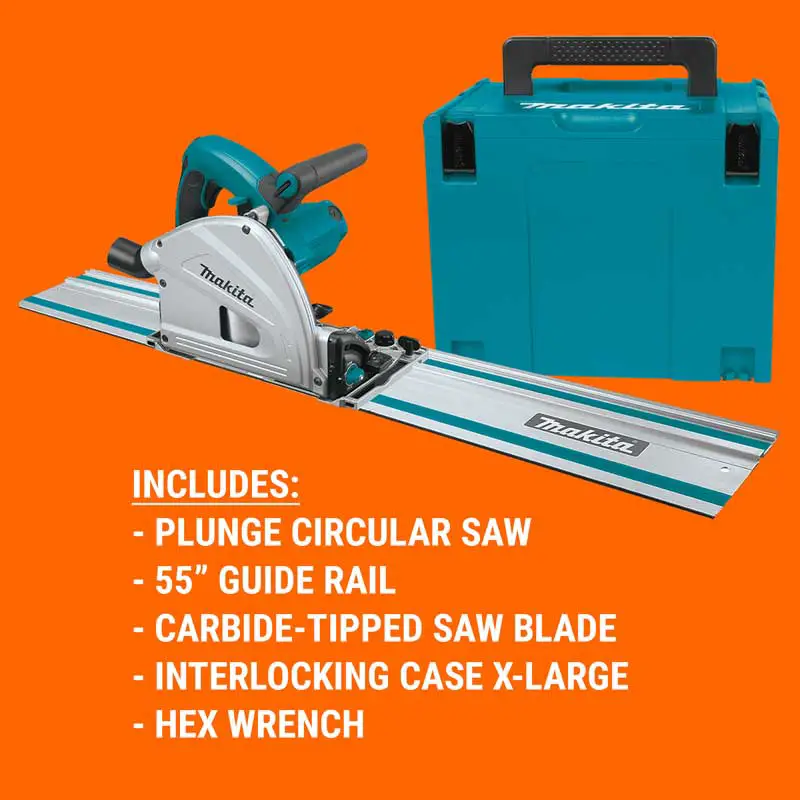 Hopefully, you don't need to buy any parts individually. You'll get all the necessary parts that you need for a track saw with this model. Below we list all the things that you have got with the package.
Plunge Circular Saw.
Carbide-Tipped Saw Blade.
55″ Guide Rail.
Interlocking Case X-Large.
Hex Wrench.
Now let me tell you some of the pros and cons of the Makita SP6000J1 plunge saw.
Pros
Powerful plus precise performance.
Lightweight and durable design.
Superb smooth cutting.
Easier to assemble and use.
Cons
One of the issues is that the cord is short for some projects. But, you can easily fix it with an extender cord.
Why Should You Buy a Makita SP6000J1 Track Saw?
Makita brands have a worldwide reputation for producing best saws in the market. Their SP6000J1 track saw is no exception, another excellent example of them. It has a powerful 12 amp motor with variable electric speed control. You can maintain a suitable speed at 2,000-5,200 rpm for a smooth and precise cut.
The Makita SP6000J1 track saw has a large cutting capacity with good bevel capacity.
This saw can easily make 56mm deep cuts with plunge cutting ability. Its plunge release level is also a very easy-to-reach place for optimum operator comfort. This saw will finish perfectly straight cuts without extra clamps when used with the guide rail.
Although the saw can cut lots of heavy materials, it works best for cutting large wood panels. Along with this, it gained popularity for its portability.
Lastly, the SP6000J1 is a high-performance track saw that comes with unique features and affordable price. When you're on a tight budget but looking for the best for precision cutting, then the Makita SP6000J1 is surely the right saw for you.
Final Verdict
Makita SP6000J1 track saw stands out for its powerful performance at reasonable prices. You don't need to worry about constant speed maintenance during cutting. This track saw is a complete package, so you don't need to buy any parts individually. You'll get all the necessary parts that you need for a track saw with this model. We always suggest this saw as the best budget-friendly track saw. Hopefully, this Makita SP6000J1 plunge saw review will help you to make your buying decision for your task.
Read More
Top-Rated Cordless Circular Saws
Our Favourite Pick Corded Circular Saws
Reciprocating Saw Reviews & Buying Guide
Review Of Makita XSR01PT Review