For straight or curvilinear cuts, your wood or metal materials require an efficient circular kit with much portability. And this efficiency cannot be afforded by any circular saw. Therefore, to ease your job, we've found the best circular saw kit for reviewing. We're going to represent the Makita XSR01PT review to show you how compatible this tool is.
Besides, a convenient tool quickens your job to a great extent and saves you from hard labor as well. Keeping the Makita XSR01PT circular saw kit in your DIY arsenal will bring completeness to it. However, the cordless advantage evokes more positive vibes. Also, the powerful batteries load enough energy to do the tiles cutting or woodcutting job smoothly.
So, let's dive deeper into the product to learn its seamless features accurately.
Specification Of Makita XSR01PT:
| | |
| --- | --- |
| Model | XSR01PT |
| Weight | 12.4 Pounds |
| Dimensions | 10.7 x 23.6 x 14.2 inches |
| Power Source | Battery Powered |
| Voltage | 36 Volts |
| Batteries | 2X 18V LXT® Lithium-Ion |
| Wattage | 180 Watts |
| Batteries Included | Yes |
| Blade Diameter | 7-1/4″ |
| Arbor | 5/8″ |
| Max. Cutting Capacity (at 90°) | 2-9/16″ |
| Max. Cutting Capacity (at 53°) | 1-1/2 |
| Max. Cutting Capacity (at 45°) | 1-3/4″ |
| No Load Speed | 5,100 RPM |
| Overall Length | 17-1/2″ |
| Motor Type | Brushless |
| Includes | Includes (2) 18V LXT® 5.0Ah batteries, dual port rapid charger, 24T blade, wrench, bag |
| Instruction Manual | Read Manual |
| Warranty | 3 Years |
| Price | Check Latest Price |
Makita XSR01PT Review In Details:
A circular saw eases the DIY project big time. Either you want to hang drywall or straight-cut a big piece of wood for woodworking, you'll need a quality circular saw. However, there have many corded and cordless circular saw in the market but you've to choose the most convenient and compatible one. And Makita XSR01PT is that kind of circular saw that comes with maximum energy and cordless benefit.
Battery Advantage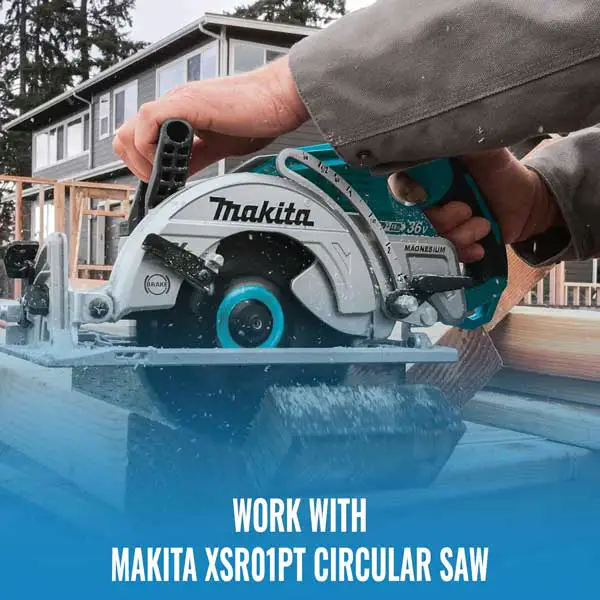 One of the primal reasons for our choosing this product for reviewing is its battery power. Because the circular saw is cordless, it has to be powered by batteries. But in most cases, ordinary batteries run out of charge in one or two conduction. But Makita XSR01PT has come with many exceptions.
LXT Advantages of the Batteries – This is the best feature of the circular saw. Having two 18Vx2 LXT arguable Lithium-Ion batteries for a single tool provides immense energy to do the particular job. You'll not find this benefit in many conventional circular saws.
Much workability and Less Charge-time – Makita has a great ability to work nonstop for several hours and still doesn't require recharging for a long time. Besides, the dual-port rapid optimum charger provides the privilege of charging the two batteries together. The port also operates, controls, and optimizes battery life, voltage, and efficiency.
Cordless Advantage – A tool with cordless privilege brings bliss to the work in a sense. A circular saw happens to be a major tool to do heavy-duty with metals and woods. Therefore, the tool has to come with some benefits to alleviate its harshness. And the batteries do the favor by removing the cord and powering the tool with the Lithium-Ion batteries.
Features of Motor Power
Motor power defines how arguable the tool is. Most of the corded circular saw comes with a different motor power that is counted in amps than the cordless ones. The 36V batteries produce enough energy for the motor in cordless circular saws.
BL Brushless Motor Technology – This motor technology is electronically controlled. It can produce 5100 RPM with high energy. This x2 LXT technology offers a maximum cutting advantage with 50 percent advanced running time charge-wise.
Sustainable Privileges – Because the BL Brushless motor comes with a cooler, it cancels the toxic carbon fumes. Thus it helps to sustain the eco-friendly environment. This cooler also reduces the hit and keeps the motor fresh for a long time.
Advantages Of X2 LXT Technology
Most of the conventional circular saw doesn't offer cordless experience. Therefore, they are deprived of x2 LXT technology in most cases. It advances the cutting speed along with the torque. Makita, being a cordless tool happens to have the same advantages.
Speeding up the Batteries – The technology allows the 5.0 Ah batteries to provide 558 crosscuts with the rate of 2×4 SPF lumber. Sometimes, when it's a heavy task, the batteries can do 291 crosscuts with the rate of 2×10 SPF lumber.
Great Adjustability – The x2 LXT technology helps in adjusting the performance of charge and usage. For heavy workability, the technology allows the tool to cut 3X large metal or other materials in single conduction.
Preferable Designs
Makita is not only efficient in performance but also appears with a convenient design. From its size to its portability, a circular saw should be built up considering the comfort of the users. It's important because the tool is mostly used for heavy jobs and the structure of the circular saw can restrain the hard labor that the user had to put.
Compact and Retractable – Makita comes in a compact size for easy portability. This compactness is necessary when you try to cut tiles of a narrow space. Besides, the retractable advantage lets it be stored securely in any small space.
Ergonomic Materials – Materials play a significant role in making a good tool. However, Makita is also made with ergonomic materials. This material helps the tool to resist rust.
Comfortable Handle – The rear handle of the Makita circular saw is made with rubber. This rubberized handle is non-slip and offers a fatigueless job to users. The comfort also amplifies the workability of the roofers, farmers, or builders.
Lightweight – Because the tool is lightweight as it weighs only 12.4 pounds the tool is very much demandable. It assures maximum portability of the circular saw as well.
Accurate Blade Size – An ideal circular saw comes in an ideal-sized blade. 7-1/4 inches long blade is considered to be the ideal size that can cut large and thick materials in a single pass. Makita also comes in a standard-sized blade. And the blade is guarded with a die-cast aluminum coating.
Warranty
The Makita XSR01PT circular saw comes in a limited 3 years of warranty. This warranty includes the batteries and chargers along with the tool.
Final Thought
A circular saw is a common tool that you have to use if you are a DIYer, builder, former, or woodworker. Therefore, you should know what tool will save some precious energy of yours. If you learn enough about a top-notch and high-end circular saw, your task would become a lot easier.
So, we have already put the Makita XSR01PT review here, in case you wanted to learn about it more. These detailed features would definitely make you win in buying the right circular saw with a hefty amount of money.
Read More
Top Rated Track Saws
Reciprocating Saw Buying Guide