The router is, without a doubt, one of the most innovative electric tools that can be found in almost any woodwork shop.
A plunge router will get the job done for you, whether you are trying to smooth up the edges of your wood piece, thinking about mortising or circle routing.
Routers are designed in two different forms. They are the fixed base router and the plunge base router. The multidimensional plunge router uses as one of the most versatile tools available and a favorite among woodworkers.
So without further ado, let us check out the 8 most popular plunge router uses that can boost your productivity and make the woodwork project go without a hassle.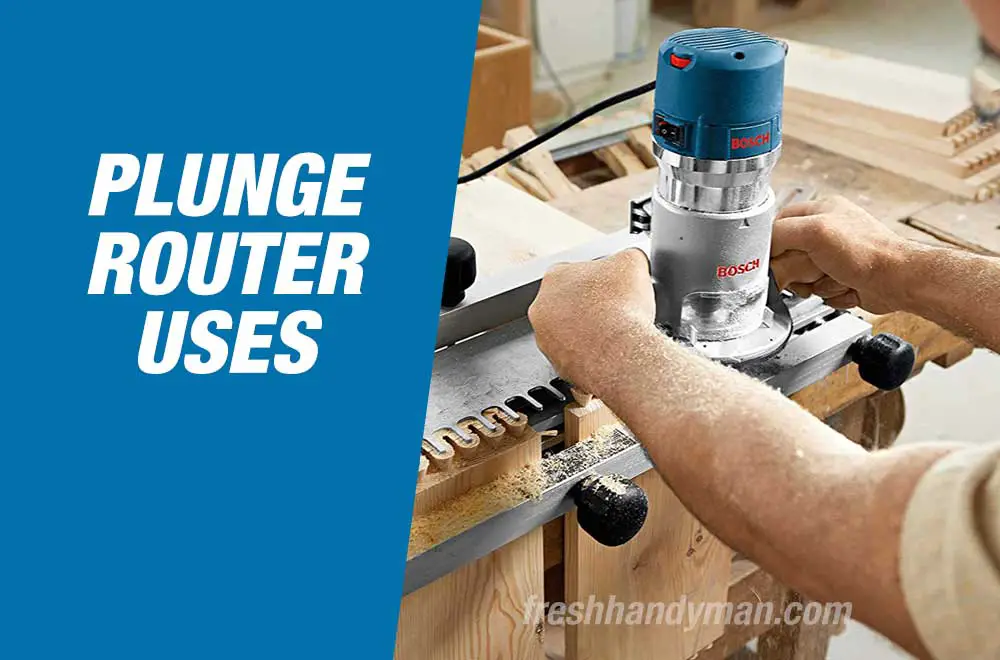 8 Plunge Router Uses
1. Mortising
If you are trying to look for a way to cut a mortise, using a plunge router will be the most efficient and easiest way to do it. All you need is a working plunge router and an edge guide.
Start by zeroing the router and setting the depth of cut you want to achieve. Now you will look to position your router with the help of the edge guide.
Make sure to secure the piece you will cut to the benchtop. You can also use another table lag to keep the router from tipping.
Now start with one end of the mortise and slide the plunge router to the other side to get your job done without any need for additional clean-up.
Tip: Using a plunge router for mortising can create round edges. So if you want to square the edges with a chisel after your work is done. 
2. Doweling
If you are using a plunge router for mortising, you can get away without any other experience when it comes to doweling because you have to make the same jigs you made for mortising.
To achieve multiple dowel setups, try making a couple of tops. And make sure that the spacing between the holes is different if you want to gain unique dowel setups.
Now using your unique jigs, set the plunge router up just as did for mortising, and set the depth of the cut you want to achieve and plunge the holes.
3. Circle routing
The plunge router will be your best friend if you want to create a perfect circle piece. To achieve the circle, mount the router to an arm that can rotate around a center point.
Now, with the plunge router's help, you can cut a perfect circle wood piece without the additional need for any saw whatsoever.
4. Making signs
One of the most popular plunge routers uses is making signs. If you have very steady hands and experience using a router, you can sketch the movement on your wood piece and route along the borders to make it.
But doing that can be risky because one slip of the hand or one mistake may require you to start the project all over again. SO it is advised you buy a commercially available sign-making system to be your guideline while routing.
5. Making Keyholes
With the help of a slotted keyhole, you can hang something without needing an additional hanger or wires. And you can very quickly make keyholes with a Plunge router.
There are many routers available on the market created specifically to create keyholes. But any good-quality plunge router will get the job done for you.
6. Cabinet making
Cabinet making is a work of art and needs perfect steady hands to get the job done with chisels. But you can do it very quickly with a plunge router.
Firstly, set the depth of cut for the router and then guide your way around the piece to make the necessary cuttings.
7. Trimming
With the outstanding portability, a plunge router provides, you can do trimming works with ease. Trimming can be a tricky job.
But the side fence of the router can be adjusted to make sure the user does not make any mistakes. In addition, the control a plunge router provides makes it one of the best for trimming purposes.
8. Inlays
Plunge routers are excellent tools to make inlays. But just like sign-making, you need high precision and accuracy to make the correct cuts. Otherwise, you will have to start working from scratch. There are many commercially available templates to prevent this from happening.
Recommended Ruter: Bosch 1617EVSPK Wood Router
Pro Tips
The plunge router can also be used like its counterpart fixed base router on a router table. But adjusting the height can get be a very tedious task.

Before doing any DIY woodwork project, read the manual thoroughly to get the most out of your Plunge router uses.
To Conclude
A plunge router is a versatile tool, and it is always advised to have one in your arsenal before you start working on any wood piece.
So now that you know, all the popular plunge routers used, get your hand on the right one and start working on your report.
---
Read More