A great chainsaw can be handy for homeowners who want to maintain their property throughout the year. This tool can be beneficial, especially after a natural disaster or a large storm. And a well-performing chainsaw that can cut through the most challenging wood like a hot knife through butter is a woodworker's dream.
Whether you are a homeowner, landscaper, builder, or anyone who wants to rapidly and efficiently cut tree logs, branches, stumps, etc. – Remington has a wide range of chainsaws that will match your needs. But it's not always easy to choose the right Chainsaw from this company as they have a wide selection of chainsaws of different features, designs, capabilities, and prices. That's why we have come up with these Remington chainsaw reviews where we have reviewed six of the best Chainsaw from Remington. But, before we get into the details, let's look at the key specifications.
A Quick Comparison of Best Remington Chainsaw 2022
Image
Product
Details  
Price
Remington RM4216 Gas Chainsaw
Dimensions (Inches): 19.19 x 12.44 x 12.5
Weight: 22 Pounds
Power Source: Gas-powered
Engine: 42cc
Bar& Chain Size: 16 In
Check Price
Remington RM1645 Electric Chainsaw
Brand: Remington
Dimensions (Inches): 32.8 x 9.8 x 8.8
Item Weight: 9.2 pounds
Item model number: RM1645
Power Source: Corded Electric
Check Price
Remington RM4214 Gas Chainsaw
Brand: Remington
Dimensions (Inches): 18.25 x 10.78 x 11.63
Item Weight: 14.72 pounds
Item model number: RM4214
Power Source: Gas Powered
Check Price
Remington RM4218 Gas Chainsaw
Brand: Remington
Dimensions (Inches): 19.19 x 12.44 x 12.5
Item Weight: 22 pounds
Item model number: RM421
Power Source: Gas Powered
Check Price
Remington RM4618 Gas Chainsaw
Brand: Remington
Dimensions (Inches): 34 x 12 x 12
Item Weight: 16.4 pounds
Item model number: RM4618
Power Source: Gas-powered
Check Price
---
Top 5 Remington Chainsaw Reviews
The RM4216 is exceptionally well-made. Both commercial landscapers and homeowners will find this chainsaw very reliable, versatile and powerful. This model features a 42 cc engine and has a 16-inch sprocket tip guide bar and chain. It is a rear handle saw with all the features you would expect to see in a model of this type. This chainsaw is suitable for occasional use and light cutting duties. And you should also be able to clear minor storm damages and cut a modest amount of firewood.
In terms of handling this isn't the lightest option on the market, but that can be said of many gas models. However, thanks to its ergonomic design, anti-vibration system, and cushion wrap handle, user's should find the chainsaw easy to operate and manoeuvrable – provided they are comfortable handling relatively heavy power tools. This package includes a chain, a heavy-duty carrying case, and chain oil.
The Remington RM4216 comes with the QuickStart technology which allows you to have it up and running with minimal effort. This feature also works excellently during cold weather. The adjustable oil dispenser is automatic and it ensures that the chain is kept lubricated. And to provide safety to the user the Remington RM4216 comes with a host of safety such as ON/OFF switch, low kick-back cutting equipment, throttle lockout switch, front handguard, chain brake, and chain catcher.
SPECIFICATIONS
| | |
| --- | --- |
| BRAND: | REMINGTON |
| POWER SOURCE: | GAS-POWERED |
| DIMENSIONS (INCHES): | 19.19 X 12.44 X 12.5 |
| ITEM WEIGHT: | 22 POUNDS |
| MANUFACTURER: | REMINGTON |
| ITEM MODEL NUMBER: | RM4216 |
---
The next model in this Remington electric chainsaw reviews is the RM1645 Versa. This is a compact saw and it packs a powerful punch. It is powered by a powerful motor – rated at 12 amps and comes with a 16-inch bar and chain length. This electric chainsaw is designed for smooth operation and does an excellent job at cutting through small tree limbs.
It features a handy external tensioning screw that you can adjust easily and quickly to have your machine running at its best. This machine features an automatic oiler as well, making it a highly convenient, low-priced electric chainsaw.
Weighing around only 9 pounds, this is a very lightweight unit, which makes it a favorite for many users as it makes it possible to work for a long period without getting fatigued. And for safety, the chain has been fully optimized for low-kickback to lower the chances of any deadly incident occurring and injuring the user or damaging your machine.
It has a unique wrap-around handle that makes operation safer for you and allows you to reach any angle and keeps large debris away from your hands during operation. This machine features an automatic oiler which means your chain remains lubricated while you are busy working.
Soft-touch rear and front handles reduce tension and provide comfort to the user's hand. However, with this electric saw, you can only cut as far as the cord allows you to. Apart from this limitation, the Remington Versa chainsaw is a versatile, reliable machine that is perfect for anyone who wants the feel of a high-end machine at a pocket-friendly price.
SPECIFICATIONS
| | |
| --- | --- |
| BRAND: | REMINGTON |
| DIMENSIONS (INCHES): | 32.8 X 9.8 X 8.8 INCHES |
| ITEM WEIGHT: | 9.2 POUNDS |
| POWER SOURCE: | CORDED ELECTRIC |
| MANUFACTURER: | REMINGTON |
| ITEM MODEL NUMBER: | RM1645 |
The Remington RM4214 Rebel is a 14-inch gas chainsaw that comes with a powerful 42cc 2-cycle gas engine that provides greater power and less vibration. This is a lightweight, compact and efficient chainsaw, engineered with pro-grade components to tame those tougher branches and smaller trees.
Its 14-Inch sprocket tipped bar and chain cut through wood and branches with ease. In addition, the 14-inch bar and chain have a low-kickback feature to provide comfort to the user. It is an excellent choice to prune trees, branches, and shrubs in your garden. This saw is suitable for pruning branches up to 12 inches thick.
The RM4214 comes with a QuickStart technology that makes it easy to start the chainsaw, allowing you to pull start it easily, quickly, and smoothly. Handling of the saw is also pretty convenient with its ergonomic handle that has cushion wrap to make the saw more maneuverable, balanced and comfortable to operate. In addition, it comes with a 5-point anti-vibration system that will reduce fatigue on your hands and make the cutting secure.
The adjustable automatic oiler keeps the chain in quality condition by keeping the proper amount of lubricant on the chain to ensure the saw cuts smoothly and safely. The saw weighs around 15.7 lbs which is not bad considering that it is a gas chainsaw.
SPECIFICATIONS
| | |
| --- | --- |
| BRAND: | REMINGTON |
| DIMENSIONS (INCHES): | 18.25 X 10.78 X 11.63 |
| ITEM WEIGHT: | 14.72 POUNDS |
| POWER SOURCE: | GAS POWERED |
| MANUFACTURER: | REMINGTON |
| ITEM MODEL NUMBER: | RM4214 |
---
The Remington RM4218 Rebel is one of the most versatile models in this Remington chainsaw review. Whether you want to prune or trim your lawn or cut up logs and trees for firewood, this chainsaw will serve you right. With its 42cc gas-powered engine, this saw gives you a long runtime and maximum torque during high throttle. The 18-inch blade is not too feeble to cut through tough trunks, nor destructive on delicate saplings.
Its durable construction combined with the heavy-duty performance and compact design is what users love about this product. The high-quality engine with essential safety features, like the anti-vibration system and low kickback, is housed in an all-metal body. The ergonomic handles ensure a balanced operation and reduce stress to the user, so it can be used by beginners as well.
The Remington RM4218 sports QuickStart technology, so you can get going easily at once. This chainsaw package includes a portable carry case and bar oil, so you get everything you need to immediately start using it.
Although the Rebel chainsaw is a great option if you want to use it for small to medium tasks, it comes with its shortcomings. Constant heating up could be an issue, meaning you will have to take frequent pauses to rest the machine, and the leakage of oil during operation can annoying. But if you can have patience while operating the saw, the engine power, and safety features are great.
SPECIFICATIONS
| | |
| --- | --- |
| BRAND: | REMINGTON |
| PRODUCT DIMENSIONS (INCHES): | 19.19 X 12.44 X 12.5 INCHES |
| ITEM WEIGHT: | 22 POUNDS |
| POWER SOURCE: | GAS POWERED |
| MANUFACTURER: | REMINGTON |
| ITEM MODEL NUMBER: | RM4218 |
---
The Remington RM4618 Outlaw has been designed with advanced power to help cut through wood faster than other models. It has a powerful engine that combines with an overly long bar and chain – 18 inches – to deliver an all-around superior performance. It features a side-access tensioning screw, so keeping your chain tension consistent for long hours becomes pretty easy. This makes the saw excellent at handling longer projects like clearing disaster damages.
The main reason behind the chainsaw's superior performance is the powerful 46cc engine it incorporates. The engine delivers more than enough power to run the low-kickback 18" chain to cut through woods faster, efficiently, and for long hours.
The chain will always have sufficient lubrication with the automatic oiler. This feature is essential for the good health of the bar and chain as well as for smooth cutting.
The chainsaw is built to stand the test of time. The pro-grade components, as well as the die-cast chassis, are the primary materials that enhance its durability. The machine also features Remington's proprietary QuickStart technology, so you will always have an easy time starting the engine.
The Remington RM4618 Outlaw is unlike other models from the same manufacturers as it has been designed with superior power. Durable, powerful, and comfortable, this particular chainsaw from Remington will be an excellent companion for your cutting needs.
SPECIFICATIONS
| | |
| --- | --- |
| BRAND: | REMINGTON |
| DIMENSIONS: | 34 X 12 X 12 INCHES |
| ITEM WEIGHT: | 16.4 POUNDS |
| POWER SOURCE: | GAS-POWERED |
| MANUFACTURER: | MTD PRODUCTS |
| ITEM MODEL NUMBER: | RM4618 |
---
Things to Consider Before Buying a Remington Chainsaw
As mentioned above, Remington has a wide range of chainsaws – both gas and electric models. Which means it won't be easy to identify the most suitable one for you.
If you ask yourself the following questions, the whole process will become much more manageable.
Where will you be using the saw?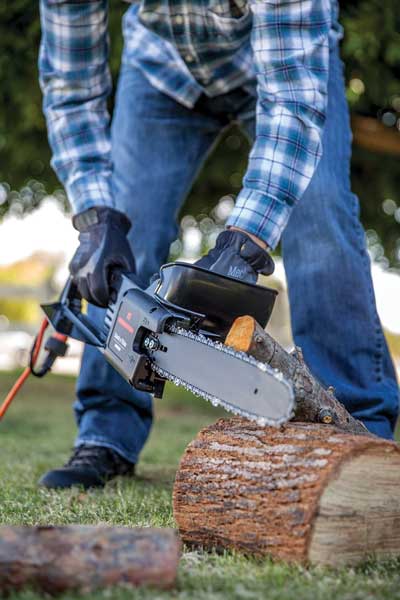 Man Using Remington Chainsaw. Image Source: Amazon
If you already know where you'll be using your Chainsaw, the whole selection process will get much easier than you thought!
Typically, electric models are ideal for trimming, pruning, and light cutting tasks around your home. Depending on the capabilities of the Chainsaw, you could even use them to cut down smaller trees and large limbs. However, an electric model depends on electricity and has a cord, limiting your reach.
If you plan to fall on large trees in the woods, you'll need to get a gas chainsaw. For this model, you'll just have to carry enough fuel, and you'll smoothly cut down trees all day long.
What do you plan to cut with your Remington chainsaw?
The more significant tasks require a more powerful machine, and the gas versions are perfect for big jobs like felling medium-to-large trees or routine cutting of firewood.
Moreover, gas models tend to cut faster than electric ones, allowing you to cut a lot of wood in a short time.
How thick is the wood you will be cutting?
Knowing the thickness of the wood you wish to cut will also point you to the best Remington chainsaw. Finally, determining the right bar and chain length to get your job done smoothly will help you greatly. For example, to cut a log that measures around 2 feet in diameter, a 12″ guide bar would be perfect.
Electric chainsaws tend to come with smaller guide bars. This means they'll be suitable for cutting down trees of lesser diameter.
That said, don't forget to look at the hardness of the wood you plan on cutting. For example, if you're planning to cut walnut or oak, you'll need a more powerful chainsaw– a gas model- as the wood could be challenging for the electric Chainsaw.
How big a chainsaw can you handle comfortably?
Gauging your strength is essential if you want to buy the right Chainsaw that you're comfortable with. As you're already aware, Remington designs chainsaws of varying sizes and weights.
Selecting the one light enough for you to handle ensures that you can control it with ease and comfort and, therefore, fully concentrate on your projects.
Compared to the electric versions, the gas models of this company tend to be smaller and lighter. Keep this in mind: a lightweight chainsaw is easy to maneuver, and your safety is also ensured.
How easily do you want to start your cutting?
You know that Remington electric chainsaws require only a button press to start. They also require minimal effort to maintain.
On the other hand, gas versions are complex machines and require more to run efficiently. For instance, you'll have to mix fuel and perform some routine maintenance.
FAQ:
Are Electric Chainsaws as good as Gas Chainsaws?
The answer depends mostly on what you will be using the saw for. Gas saws are the standard for professionals and those who get heavy recurrent use out of their chainsaws. While electric chainsaws are not as powerful or capable as gas-powered chainsaws, typically, they are best for most homeowners.
Do chainsaw Chains Stretch?
Chainsaw Chains will begin to "stretch" out and wear out over time. Also, if your saw is not receiving enough Oil, the friction of the chain rubbing against the guide can heat the chain and will wear it down quicker than you would expect.
Does Chainsaw need Oil?
Yes, proper lubrication of your Chainsaw will keep it running efficiently and smoothly and reduce overheating and wear over time.
Final Thoughts
Well, that concludes this Remington chainsaw review. Remington is one of the brands that cross the mind of many when it comes to getting the most powerful, durable, and comfortable gas or electric Chainsaw. Moreover, their chainsaws are packed with lots of user-friendly features that give you an easy time operating the machine and add to the convenience of working them.
The Automatic oiler, QuikcStart Technology, and 5 point anti-vibration system are the top features you'll get in any Remington machine. However, due to this company's wide variety of appliances, it might not be easy to pick the best Remington chainsaw for your cutting needs.
Our Remington chainsaws reviews above feature six excellent models covering all your cutting needs. With varying capabilities, features, and prices, you'll surely get your perfect match.
---
Read More