The nineties were an amazing time for chainsaws. Different brands were coming up with new and innovative technologies that were pushing the boundaries almost daily. And every time a new chainsaw hit the market, huge debate and discussion ensued among enthusiasts about its features and whatnot.
But as time went by, a lot of those features became obsolete, and many chainsaws were forgotten. Looking back, though, a couple of chainsaws made a massive mark in the industry. In fact, those chainsaws are still a viable pickup, granted you can find one in a decent condition.
The Stihl 039 is one such chainsaw – a forgotten gem that's hard to come by as it was discontinued in 2002. But old stocks often crop up here and there, and sometimes you might even find one in decent condition. However, if you do find one, it's natural to ask – is it still worth buying?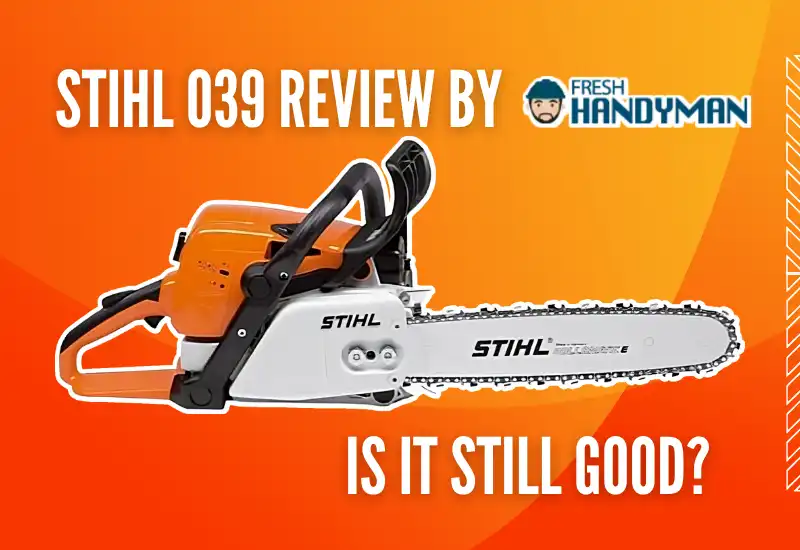 That's the question that I will try to answer in this article. Having tried it out myself recently, I believe I can help you get a good idea of all that the Stihl 039 has to offer. So, let's hop in.
STIHL 039 Specs
| Specifications | Stihl 039 |
| --- | --- |
| Displacement | 50.2 cc |
| Tension Problems | Adjust the tension of the chain |
| Dirty or Damaged clutch | Clean the clutch or replace it with a new one |
| Worn-out sprockets | Replace with new ones |
| Chainsaw Brake Engaged | Disengage the chain brake, reset chain brake system |
A Complete Review of the Stihl 039
The Stihl 039 chainsaw was way ahead of its time when it first came out. It features amazing quality-of-life features such as an improved anti-vibration system and chain brake to make your time with the chainsaw as productive as possible.
This chainsaw was also equipped with a pre-separation air filter system that reduced maintenance requirements. In this section, I will talk about all the things that made the Stihl 039 such an amazing chainsaw.
Engine Performance
The Stihl 039 chainsaw was one of the most powerful chainsaws in its class when it first came out back in 1993. Sure, it might not look much when you compare it to chainsaws of the current generation, but for heavy-duty applications, this was widely considered the go-to chainsaw for many loggers and arborists.
It comes with a single-cylinder two-stroke engine with a displacement rate of 50.2 ccs. This translates to roughly 6.5 HP power output. That, combined with a cut-off speed of 13000 RPM, made this chainsaw a complete powerhouse capable of handling just about any project you set your mind to.
Fuel Capacity and Efficiency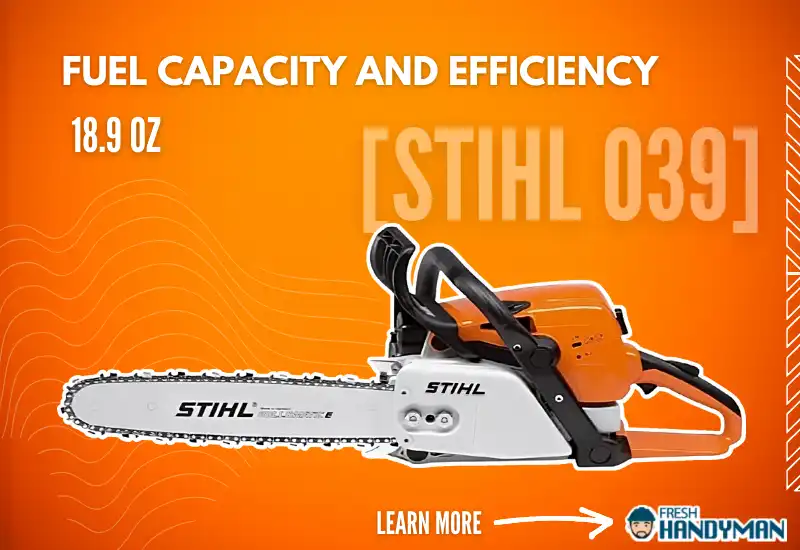 Of course, engine power means little when your chainsaw doesn't have the capacity to churn through longer projects. If you need to refill your chainsaw's fuel tank every half hour, it's a safe bet that you will quickly grow tired of using it. Not to mention, the rising cost of fuel will be hard for you to keep up with.
Thankfully, Stihl chainsaws always had a reputation for their efficient design that kept fuel usage at a minimum, so you don't need to worry about all that here. In addition, the 18.9 ounces of fuel capacity that you get with the Stihl 039 also lets you get amazing mileage with the chainsaw.
Weight and Handing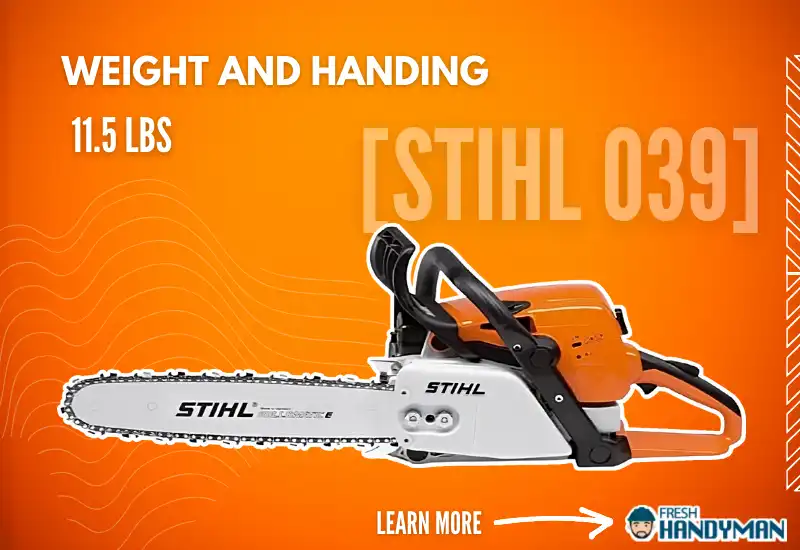 The Stihl 039 is not your usual run-of-the-mill home-maintenance chainsaw. It packs a lot of power in the tank. The engine in the chainsaw is quite powerful and can tackle large forestry applications pretty efficiently. But with greater power often comes the issue of greater weight.
However, the weight of the Stihl 039 is not really all that alarming. It weighs around 11.5 pounds which is not that much when you consider the amount of cutting power that it brings to the table. Yes, you won't love carrying it around all day, but it's still light enough not to make that a big issue.
And on top of that, the design of the chainsaw is quite user-friendly. It has a large ergonomic handle at the top, and the balance is pretty good. I'm sure you've noticed how many of the heavy-duty chainsaws tend to be bottom-heavy. However, I didn't find this to be a problem with the Stihl 039.
Guide Bar Compatibility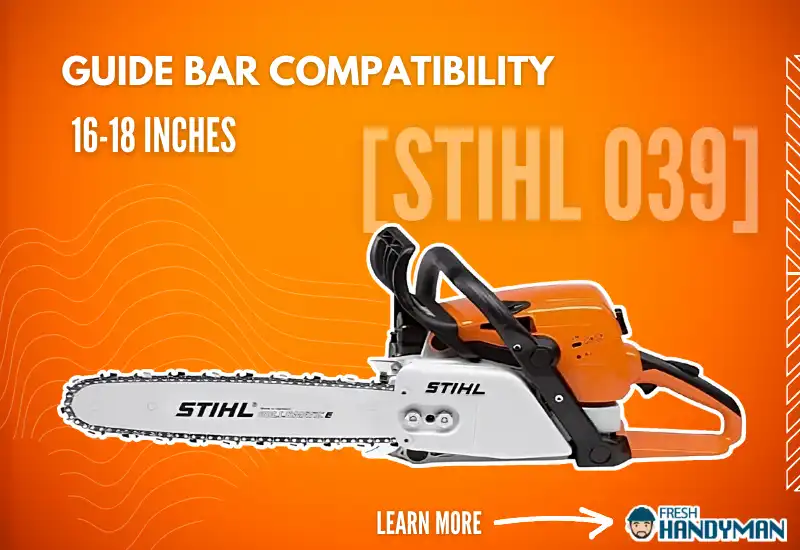 The Stihl 039 also had a pretty nice range for its guide bar, offering you plenty of flexibility for all sorts of applications. With this chainsaw, you can use guide bars ranging from 16 inches all the way up to 20 inches. So, you can use it for just about any project you can think of.
Price and Availability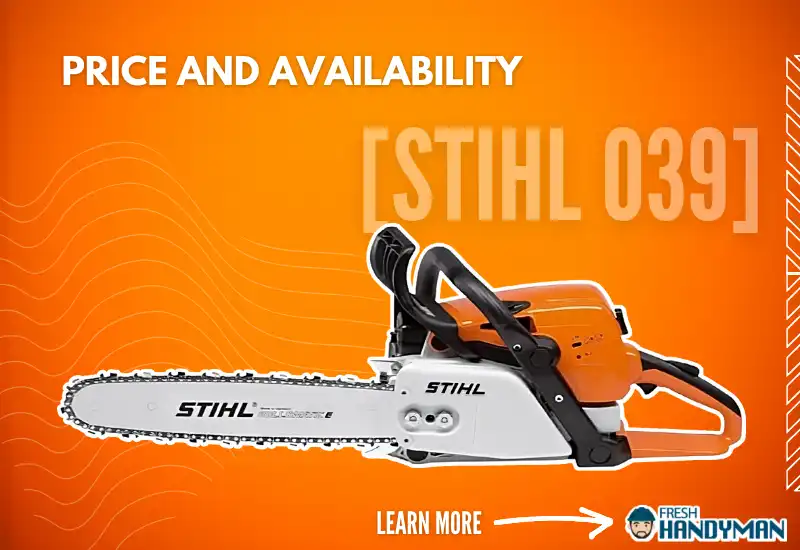 While the Stihl 039 is still a pretty popular chainsaw, unfortunately, you are not likely to find brand-new models readily available in your local hardware stores. You see, as of 2002, Stihl officially closed the production for this chainsaw and replaced it with the MS 390 model.
Of course, you can still buy one second-hand, and some stores might still have old stocks left over that they are willing to sell. And since it's discontinued, you might find some great deals on a Stihl 039 in decent condition.
Back when it was in production, a new Stihl 039 would set you back around 700 dollars. But as a second-hand option, you should be able to pick one up with a budget of around 500 dollars. That's not a bad deal for such a versatile and high-performance chainsaw.
Uses of Stihl 039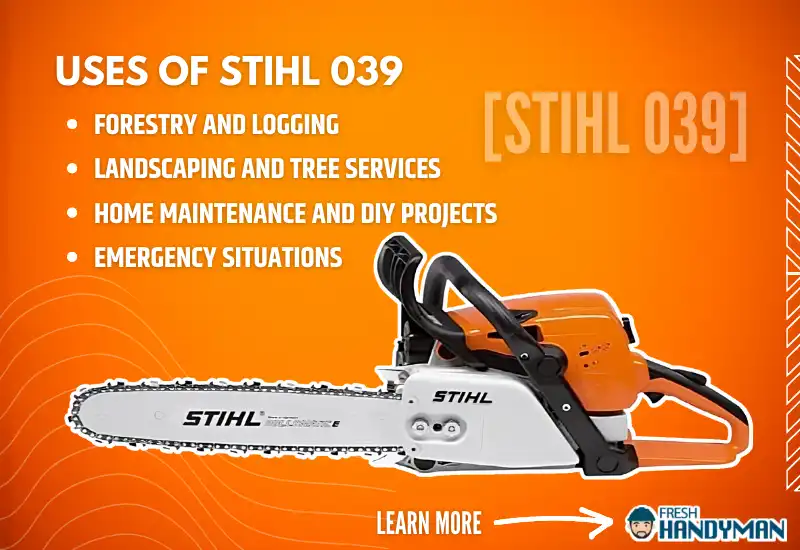 The best part about the Stihl 039 is its versatility. When the model first came out, it quickly gained fame as a reliable chainsaw that can handle demanding cutting jobs with little effort. In addition, its ergonomic, lightweight construction made it perfect as a home maintenance chainsaw around the house as well.
Now that you have a clearer picture of what the chainsaw is all about let me talk a bit about its fields of application.
Forestry and Logging
The formidable engine power and flexible bar length options of the Stihl 039 make it a popular chainsaw for those involved in logging and forestry professionally. This chainsaw makes short work of large trees, allowing you to quickly chop them down to more manageable sizes.
Landscaping and Tree Services
Those involved in landscaping or tree service business can hugely benefit from owning a Stihl 039 chainsaw. Remember, the chainsaw is not only powerful but also lightweight and efficient. So, you will be able to move around the property removing unwanted limbs and branches from small trees around the lawn.
Home Maintenance and DIY Projects
DIY enthusiasts or those who like to help out around the house can also get some decent use out of this chainsaw. It might be a bit of an overkill, but with a smaller bar, you should be able to use the chainsaw to chop up firewood or even do some minor renovation work.
Emergency Situations
You never know when a chainsaw will come in handy, and if you have a chainsaw in your tool shed, it's better to have one that is powerful enough to handle any situation. With the Stihl 039, you will be able to cut down fallen trees or clean up debris around your property after a storm.
And if push comes to shove, you will also be able to use it for emergency rescue missions to cut through walls or other structures.
Professional Construction
Those working in construction can also get good use out of the Stihl 039 chainsaw. It can quickly cut through large lumber, wooden beams, and even concrete. Thanks to its powerful engine and durable chassis – you can use this chainsaw for demanding projects.
Stihl 039 Manual
Why Was Stihl 039 Discontinued?
With so much to offer, needless to say, it came as a shock for many when Stihl decided to discontinue production of the 039. It came out in around 1993 and was doing quite well in terms of sales, and people were happy with the performance of the chainsaw.
Afterwards, in 2002, the brand decided to cancel production of the 039 and offer the Stihl MS 390 as an immediate replacement. At first glance, it seems like a renaming of the product, but there were some pretty noticeable differences in the newer model.
But what was the problem? Why did the Stihl 039, after such widespread popularity, suddenly get renamed?
The answer is simple – the technology was simply getting old. You see, Stihl, like any other top-tier chainsaw brand, has a reputation to uphold. They are constantly looking to improve upon their design.
And when the design of the Stihl 039 was becoming comparable to the other chainsaws being produced at the time, the brand decided that it was time for an upgrade.
This, however, doesn't change the fact that the Stihl 039 is still a fantastic chainsaw. Yes, the design is a bit dated, but if you still manage to pick one up in decent condition, you can expect excellent performance from this chainsaw. And since it's discontinued, you might find a good price for it also.
Stihl 039 Alternatives
Getting your hands on a new Stihl 039 can be tough since it's been discontinued for a while now. So, if you want a similar chainsaw, there are a couple of alternatives I can suggest.
Stihl MS 390
If the Stihl 039 seems like a hard find, you can simply go with the chainsaw that replaced it – the Stihl MS 390. On paper, the two chainsaws are almost identical, but the MS 390 offers slightly better efficiency.
In addition, the chassis is also a bit lighter, which means you will have an easier time carrying it around with you from one spot to another. You will also find some quality-of-life improvements with this model, and the best part is that it costs the same as the Stihl 039 when it first came out.
Stihl 038
Yes, I know, the Stihl 038 is also discontinued, but in my experience, it's much easier to find than the 039. This is only a good choice if you work on the heavier side of things with your chainsaw.
Although it's slightly heavier than the Stihl 039, the 038 offers a lot more power. On top of that, it's also compatible with up to 25 inches of guide bar, allowing you to cut through big trees with little to no effort. Of course, you have to search around a bit for it since the manufacturers discontinued this chainsaw.
If you don't need that much power and prefer something that's lightweight and comfortable to use, the Husqvarna 455 Rancher might be a good fit. Husqvarna chainsaws much like Stihl, are top-tier and considered some of the finest ones available in the market these days.
The biggest strength of the Husqvarna 455 is that it's extremely fuel efficient. And since it has a larger fuel tank than other options in its price range, you will be able to use this chainsaw for long stretches at a time. The 455 Rancher is also cheaper, retailing for around 500 bucks which is really not much considering its performance.
The Bottom Line
With the Stihl 039, the brand brought massive innovations to the chainsaw industry. And even to this day, this chainsaw holds a special place in the heart of many enthusiasts. I count myself as one of them.
A second-hand Stihl 039 can give you an amazing experience if you manage to find one. And if you want something that's a bit more modern, the Stihl MS 390 can be a good pickup. The MS 390 is the direct successor to the old-school 039 models, after all.
I hope my in-depth review of the Stihl 039 could help you better appreciate the quality of this impressive chainsaw. Good luck!