A table saw is a woodworking tool that is used for cutting material things, especially wood. A table saw consists of a circular saw blade that is mounted on an arbor. A table saw is driven by an electric motor. In England, a table saw is also known as a saw bench, or bench saw.
Importance And Methods of Table Saw Dust Collection
Compact, benchtop, Jobsite, contractor, hybrid, cabinet, etc., table saws can be found easily in the market. But dust collection is an essential part of all kinds of table saws in any woodworking shop because wood dust is bad for health and time-consuming to clean up.
While cutting wood, a table saw creates dust, which needs to be cleaned as early as possible. So one should put his concern on the table saw's dust collection system.
Although newer table saw models offer well-built dust collection features, the older models do not have these features. In such cases, one can upgrade their table saw according to its use.
As cleaning wood dust is time-consuming and a health peril, collecting more dust would be better. Table saw dust collection can mean various things such as a broom or brush, a dustpan, etc.
Recommended dust collection bag: Bosch TS1004 Table Saw Dust Collector Bag
By Installing Dust Extractor
The simplest way to absorb dust away from table saw is by installing a dust extractor. Newer models already provide this feature, but the users should install it in older models.
The dust port should be placed below the blade anywhere. But it needs to be ensured that the port is large enough to accommodate the size of your vacuum's hose.
Overarm Dust Collection
The dust that spits off the back of the blade is the hardest to capture because it flies into the air and could blast a large amount of dust into your hair and beard.
So it's essential to eliminate the dust before inhaling, which could wreak havoc on your lungs and overall health.
The overarm dust collector can solve this problem. There are different commercially available overarm collectors that one can purchase or design by themselves.
But the overarm collector should fit entirely of your tool, so before choosing an overarm collector, you should inspect the measurement of your tool and the overarm collector carefully.
Filling Gaps
Another dust collection system is to fill the gaps. Unfortunately, around the saw, there are many gaps, which are responsible for the most dust-collection inefficiencies.
So you should ensure that there is no hole or gap in the table saw so that you can keep the dust collection port as airtight as possible.
In this case, the more air is drawn from the port, the better the dust collection will be. These gaps can be filled with a bit of foam and a bit of duct tape quickly.
After cutting the foam according to the size of the hole, one should place the foam in place, and then the exterior surface of the hole should be roofed with duct tape, through which one can fix this problem quickly.
Close The Back
A contractor or portable table saw is one of the essential types of table saws known as an open stand saw. The saws are heavier, more prominent, and attached to a frame or base or with wheels.
But the rears of the saws are open, so dust collection is ineffective or problematic now and then. So it should be customized to make the tool effective in terms of dust extraction.
One can solve the problem by using an MDF panel that needs to be cut to the size of the bare area which attaches magnetically.
Besides, the same MDF panel can be used to drill through the housing. In this way, one has to drill a hole and lock the panel using wing nuts or screws through the housing. But wingnuts are easier to diverge than screws.
Table Saw Dust Collection Guard
The table saw dust collection guard is used to keep the fingers of users safe, serving as a visual reminder to keep your fingers away from the blade.
But the primary purpose of using a blade guard is to control and prevent. So it is not impossible to move hands into the whirling blade. The blade guards block your fingers from the side and back of the saw, but its front side is not covered.
So everyone should be very remindful about the position of their hands before every cut. Besides, they should wear safety glasses to protect their eyes from any small chips flying into your eye the wood from falling on a spinning blade.
Tips and Guides About Table Saw Dust Collection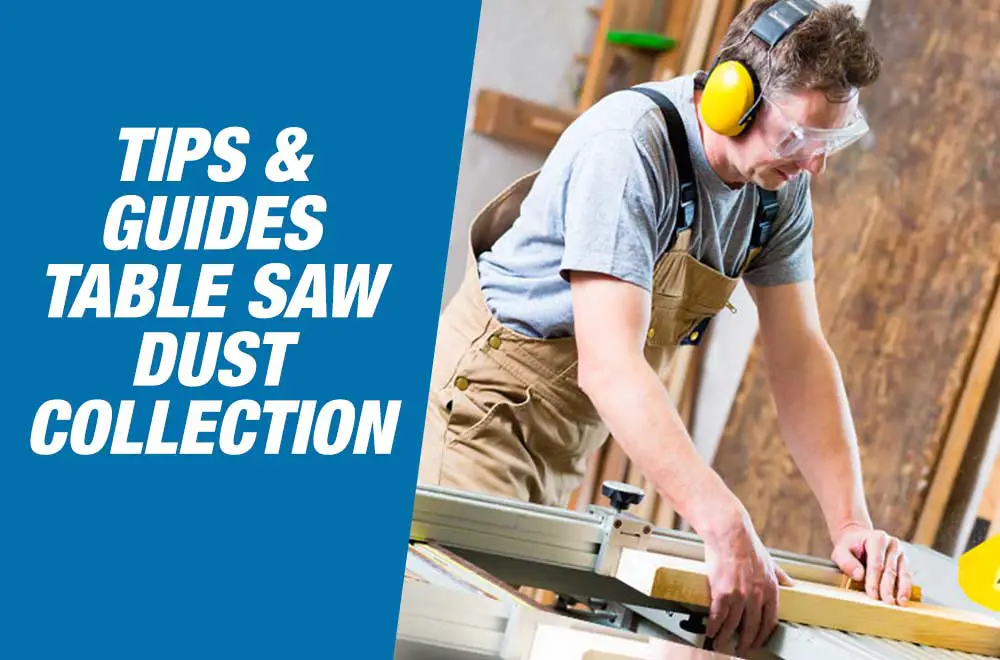 Man Wear Safety Equipment During Work with Table Saw
Table saws are very hazardous tools because it is used to cut heavy material substances. So safety is essential for all who use table saws. We can easily understand that many physical damages are possible if anyone becomes unconscious while working with the table saw.
One should not wear gloves while using a table saw and collecting dust.

One should take the proper eye and ear protection to avoid physical damage such as hearing loss and loss of eyesight.

One should not wear too loose clothes but short sleeves and not use ties and dangling jewelry to avoid dangers.

One should take the correct position so that the body is not placed in line with the blade.

One should not reach behind or over the blade ever because it increases kicking back.

One should keep blade guards, anti-kickback fingers, splitters in the right place and operate accordingly.

Before using such dangerous tools, one should learn all safety measures and the correct procedures.

One should take the necessary actions before collecting the dust from the table saw adequately to avoid any health hazard and save time.
So everyone should have a clear view of the tool to get good service.