Pole saw is a tool that has an elongated pole for helping you to make long-distance cuts. In the market, you may find different kinds of them. To purchase the proper one, you should have a clear basic plan about them. Otherwise, you will find it very difficult to get the perfect, appropriate and accurate pole saw according to your needs. The cutting works should be carefully done with delicacy. If you are confused about which model to pick up, do not worry as we are here. In today's post, let's figure out the types of pole saws. This article will be your ultimate solution for getting the basic knowledge!
As a cleaning tool, pole saw is a versatile machine. The basic uses of different types of pole saws are almost the same. Although from the multiple purposes, speciality, uses, some categories are as follows:
Different Types Of Pole Saws
An electric pole saw is the most common home tool for a gardener. Mostly, all kinds of users buy this. The tool has little weight due to being powered by electricity. It can help you in cutting about 8 – 9 inches branches in the garden. If you have this kind of tool, you can save lots of time. Apart from this, money-saving is also possible. Most interestingly, an electric saw helps you for cutting up to the level of 6 -15 feet high. They are easily adjustable and automatically manipulated to use. Therefore, you should purchase an electric one for your heavy work without any kind of hesitation.
Another good example is a gas-powered pole saw. It can be a perfect tool to do heavy cutting like massive tree pruning. This saw will provide versatility with greater power. Also, they are easy to handle while working for cutting jobs. But, you have to keep in mind that this saw will create a loud sound. For preventing your ear from this, users can wear soundproof headphones. Besides, a strong helmet can be used. With the main portion of the tool, a cord is located. After pulling, the saw begins to work. Therefore, you can smoothly cut the branches of trees while adjusting the blade speed from the switch.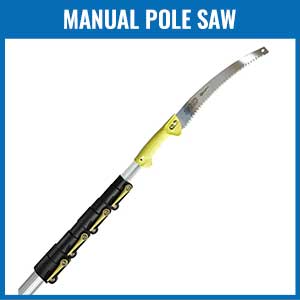 The manual pole saw is particularly built for cutting the longer limbs of your tree. This model is one of the oldest ones. Although, you can rely on it due to the strongness of the tool. The design looks similar to any pole saw. Additionally, the blade of the saw has big teeth. For this reason, you can make efficient cuts. They don't require any electricity or fuel for running the tool. So, if you have a small garden, the manual pole saw is best for you. You will be able to cut about 7-10 feet above, according to your models. Having big teeth will enable you to cut any materials.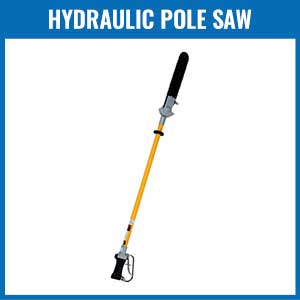 This specificity type is suitable for use by professionals. You can work with it on the trees by the roadside. Indeed, the hydraulic one will be a great option for cutting the large farms or forest. This equipment is a wonderful heavy-duty saw. You can find various types of special models of them in the market. Generally, a skid steer will attach with them. Most positively, it is a fast cutting tool. On the flip side, an electric saw is heavy which is difficult to handle. Whereas, hydraulic pole saw is lighter than the electric saw. Apart from this, they are reasonable and durable too. The tool is installable on the tractors.
To work uninterruptedly, you should use a corded pole saw. It will be the perfect tool for you. Set the pole saw in where the wire can reach you properly. You will be able to cut safely almost anything with this magnificent saw. The tool will allow you to operate the projects for a longer period. On the other side, another special tool is cordless pole saw. You can carry it for work anywhere. This will increase the freedom in finishing the work in remote places. The battery is changeable and lightweight. While changing the battery, take a rest and then start again.
Main Uses
The main use is pruning. So, you can properly remove the dry branches of trees. This will allow proper growth of your trees. Another good use is trimming. By using the tool, you can be able to reach the higher tree branches safely.
Final Words
Taking this information into consideration, you already understand about types of pole saws. All pruning workings are not the same. Moreover, big projects require a heavy-duty pole saw. On the other hand, small gardens need normal tools. Each one has its attributes and capabilities.
Every kind of pole saw will provide speciality in the particular task. Knowing the suitable one for your projects can make the job easier. For this reason, it is essential to acquire knowledge on various kinds of pole saws. Then, you will be able to find the right one accordingly!