A table saw is a wonderful woodworking tool. Generally, you can use a table saw for ripping long pieces of wood. Most latest models include the dust collection port with the connection of a shop vac for removing dust. This will help to keep your work area clean. So, if you are confused about the type of table saws, then stick with us. In this post, we will discuss it. Before finishing, we will pinpoint the important features of the table saw which will help you to find out the perfect one. Let's jump on the topic!
There are different types of table saw available in the market. But we will discuss the basic types. Firstly, based on portability, two basic types of saws are available. They are portable and stationary. There are more classifications within each of these two types. Let's have a look.
Portable Table Saws

Portable table saws are three basically three types. They are benchtop, compact, and lastly Jobsite table saws. They are specially designed with portability. Therefore, they are lighter and smaller.
1. Mini Table Saw
Mini table saw are usually 4 inches in size. They are commonly used by model builders and hobbyists. This saw is safer and easier to carry and transport because of the smaller size. With costing much lesser than the other saws, these are the best option for the small craft projects. These saws will provide you extra accuracy as they are made of a solid steel frame. For safety and better visibility, you will get a clear protective plate. This saw includes a miter gauge and 3 blades. These will allow you to work with a variety of materials.
2. Benchtop Table Saw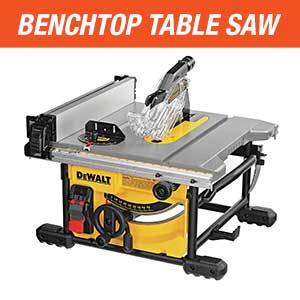 Benchtop table saws are particularly designed for lightweight. They are purposely built for the users who prefer the light-duty tool in their workshop or garage. Although they haven't any transport wheels or stand. But they are also portable due to their small weight. This will allow us to carry it to anyone. It is usually built with lightweight materials like
aluminum and other materials. Most amazingly, they are affordable.
3. Compact Table Saw
They are stepped up from the bench table saws. This table saw features characteristics like lightweight construction and straight drive universal motors. Some of them may seem like full-size table saws, but their rip capacity is a lot smaller. They are much bigger than portable saws. The motor is driven by the smaller toothed belts. Some saws may contain cast iron tops and are the same as in appearance with the larger contractor saws. Whereas the tables are smaller while made of lighter construction. Some designs feature the sliding-miter tables.
4. Jobsite Table Saw
They are a lot more rugged and robust in their construction. It can be purchasable either a compact table saw or benchtop table saw. They are most regarded and used by the constructors because of the portability. Another feature of this table saw is the presence of the stand in which transport wheels are included. Other standard features such as onboard storage space, riving knives, and dust collection ports available with this saw.
Stationary Table Saws:

Basically, three types of stationary table saws are available. They are contractor, hybrid, and lastly cabinet table saws. If we compare it with the portable type of table saws, these are much heavier and larger and more powerful and more accurate. But these are not portable at all. Some latest stationary table saws feature router tables, outfeed tables, and extended fence rails, etc
5. Contractor Table Saw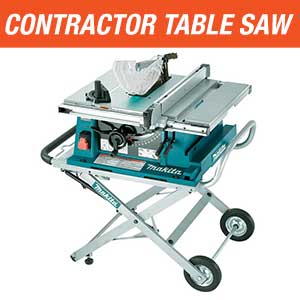 This special contractor table saw is used by the professional that features elongated outboard induction motors and belt drive. It may be envisioned as an alter to the full-size cabinet saw. Their motors are very powerful with the heavy units. In comparison with the cabinet saws, they are less expensive and heavier than the portable one. For this reason, these saws are very popular in any workshop or house. Their greater power and larger size are the perfect features for any larger projects. They are also accurate, longer-lasting, more durable than the bench-top saws.
6. Hybrid Table Saw
Many people are confused about the hybrid table saw because of the complicated category of it. The old contractor saw features a huge outboard motor and the hybrid saw has similar characteristics as the contractor saws. But the hybrid saw has induction motor features with an inboard belt drive. Usually, it has an open leg stand. Whereas there is some design with having full enclosures. This may create confusion by making it further difficult for buyers to understand the difference between industrial cabinet saws and hybrid saws.
7. Cabinet Table Saw
They are considered as the most powerful table saws. Each component of this saw is designed to be robust and durable so that it can withstand the stresses of prolonged use. They are bulky, extremely precise, heavy and built to last for decades. For this reason, you can find them in any workshop or factory shop. The fences of the cabinet saws are robust and more accurate rather than other types of woodworkers table saws. Therefore, there is anything a cabinet table saw can cut through the hardwood,pressure-treated lumber, plywood, pine, and so on. So, this saw is a great tool for users.
8. Sliding Table Saw
Usually, a sliding table saw is used for cutting large sheet goods and panels like MDF or plywood. This saw has a sliding table which is situated on the left side of the cutting blade. Sliding table saws are the biggest table saw which is generally used by big production cabinet shops. Therefore, if you want anything for any large project, this is the tool of choice.
How To Choose The Right Table Saw
The type of saw to buy for you depends on the pattern of woodworking you prefer. And it also depends on your budget, your work duration, and most importantly your projects. If your work duration is only a few hours each week for making any small projects, a cabinet table saw will be best to have. On the other side, if you have a small professional shop to operate, and are searching for the saw that you can reliably and comfortably run for long hours, a contractor model may be disappointing you. Besides, a hybrid table saw is a perfect option for beginning type professional operators and serious hobbyists.
With so many variations in table saws, picking one will be a difficult task. Let's focus on these four steps before buying the table saw:
Step #1: Think about Where and How The Saw Will Be Used?
Step #2: Consider the Category which Fits You perfectly.
Step 3#: Consider the important features of the Table Saw.
Step #4: Research And Buy one.
Important Features Of The Table Saws:
Flat top: Consider the flatness deviation for cutting with accuracy.
Fence type: The rip fence should be completely parallel to the blade with lockdown perfectly. You can buy an upgraded one for your saw.
Miter gauge: A perfect miter gauge will stop at 45 and 90 degrees. Also, be sure the saw has the miter gauge slot at the table which is completely parallel to the blade.
Dust collection: If you will use the saw at the house, be sure the saw contains a dust port.
Power: Be sure the saw is powerful for the project.
Other features: Wing additions, blade factors, bevel capability, and safety.
Conclusion
So, this is all about the type of table saws. We hope this post will help you to decide the best tool for your work. Among various types, you can pick the appropriate one after reading this post. Table saws are one of the most important tools for any small or large project. We think buying one may not seem a daunting task for you. Let's choose one accordingly!
Read More