A couple of months back, I wanted to pick up a heavy-duty chainsaw to cut down some thick oak trees – don't ask me why.
Now, I like to do things my way, and for property maintenance, I already had a pretty nice and compact chainsaw sitting in my toolshed. Sadly, it was not enough to cut through larger trees.
My wallet being tight, I started looking around the second-hand marketplace for a decent chainsaw that could get the job done. And that's when a Stihl 045 AV caught my eye. Those well-versed in chainsaws already know about the quality and power of this chainsaw, but I wanted to try it out for myself.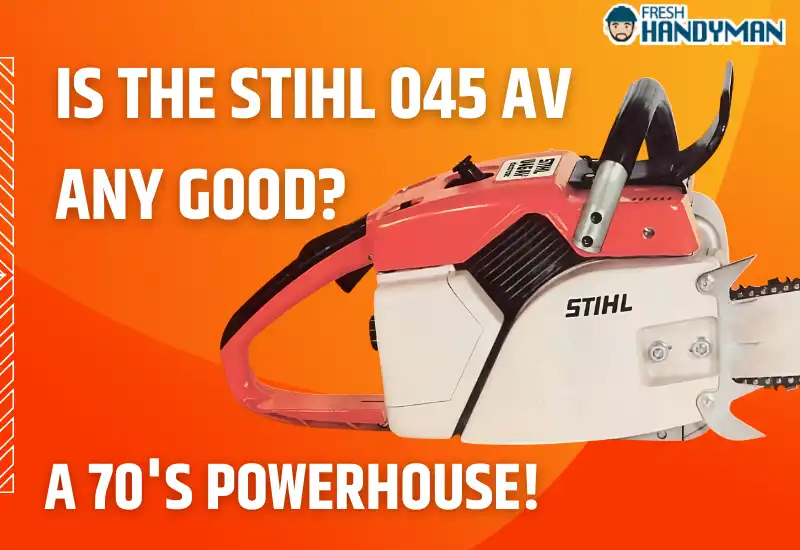 So, I shelled out around 350 bucks and picked it up. And after trying it out and putting it through the tests, I was happy. It didn't blow me away or anything, but all things considered, it's still a pretty nice chainsaw that has plenty of power to cut through thick logs without breaking a sweat.
It's not all good, however – there are plenty of things that I didn't like about the chainsaw. So, if you are considering picking up a Stihl 045 AV for yourself, perhaps this review, based on my experience with it, can help you get a better idea.
What Made the Stihl 045 AV Special?
The "AV" in the Stihl 045 AV stands for anti-vibration. While anti-vibration dampeners are pretty common in most chainsaws these days, back in the seventies, it was a whole other story. In those days, chainsaws were loud and required a lot more effort to control because of their excessive vibration.
The Stihl 045 AV was the first chainsaw of its class that came with rubber dampeners in the chassis to absorb a lot of the shock and vibration that the chainsaw produced. As a result, handling it was much easier than its competitors.
In addition to reducing vibrations, the rubber dampeners also drastically improved the noise level of the chainsaw. It was still loud, but the sound level came down quite a bit which made the overall experience of using the chainsaw a lot more pleasant.
Now keep in mind the Stihl 045 was a professional-grade chainsaw designed mainly for forestry and logging applications. It has an extremely powerful engine that's designed for chopping through thick wood with little effort.
Thanks to the shock-absorbing dampeners, the chainsaw quickly became the go-to choice for many loggers who wanted to ensure their own safety when they worked. Less vibration meant less risk of losing control of the chainsaw, which in turn meant less risk of losing your limb when you are going all out with it.
This is not the only good thing about the chainsaw, but this is one of the main highlights of this model. Apart from introducing new technology to the market, the chainsaw also had excellent construction and featured a powerful engine that offered reliable cutting performance.
Stihl 045 Specs
| Specifications | Stihl 045 AV |
| --- | --- |
| Displacement | 76.5cc |
| Engine Power | 5.2 bhp |
| Fuel Capacity | 54 oz. |
| Chain Oil Capacity | 24 oz. |
| Weight | 17 pounds |
| Guide Bar Compatibility | 16 – 28 inches |
| Production Run | 1974 – 1980 |
| Current Status | Discontinued |
A Complete Review of the Stihl 045 AV
While the Stihl 045 AV is a bit dated compared to most of the other chainsaws on the market, the specs in the model are still amazing. It's a true powerhouse with an impressive engine and fuel capacity. And its flexible bar compatibility also makes it quite versatile.
Let's start with a quick look at the key specifications of the Stihl 045 AV.
Engine Performance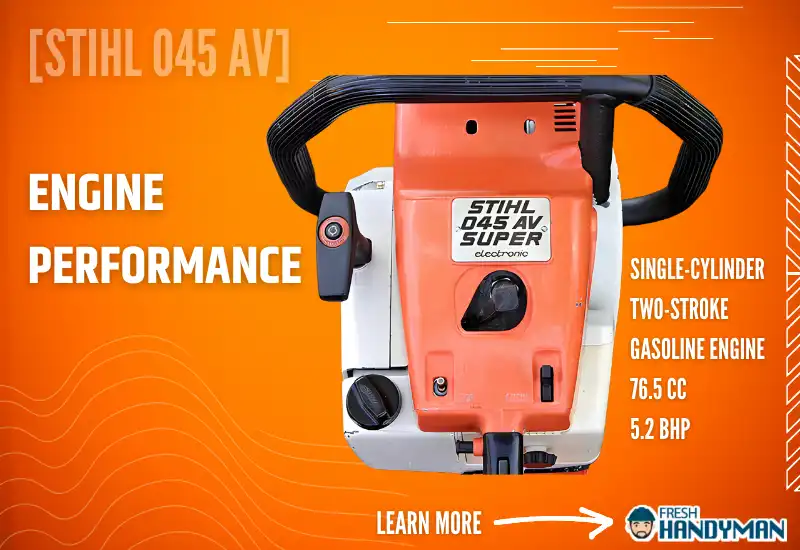 The Stihl 045 AV chainsaw came out as a high-performance, professional-grade chainsaw. Since it was designed mainly for loggers and those working in forestry, the manufacturers made sure that there would be no lacking in the engine department.
This chainsaw has a single-cylinder, two-stroke, 76.5 cc gasoline engine that can deliver up to 5.2 bhp. Even to today's standard, the power output of the engine is pretty decent. That, combined with the versatile bar length options in the chainsaw, makes it capable of cutting down a tree of any size with little effort.
Fuel Capacity and Efficiency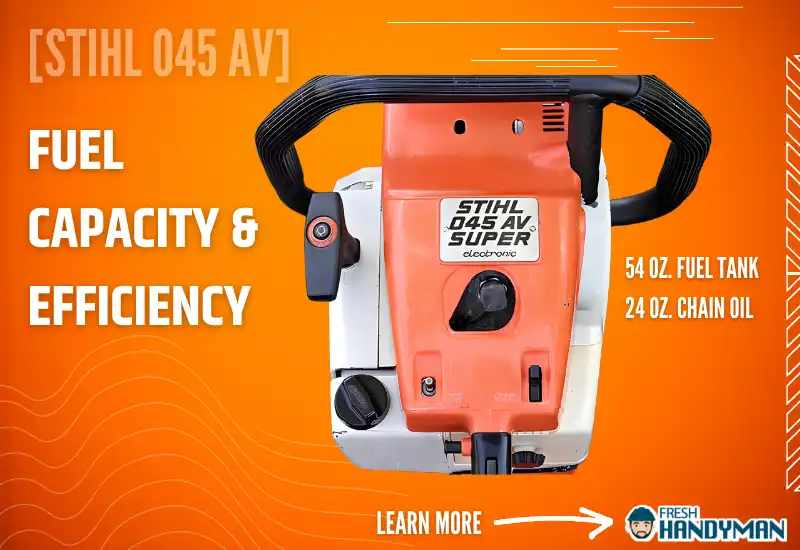 Chainsaws in the seventies were not exactly known for their efficiency. They mostly ran on two-stroke engines that chugged up gasoline like no tomorrow. So, expecting a Stihl 045 AV to have a similar level of efficiency as current-gen chainsaws is not exactly realistic.
What the chainsaw lacks in efficiency, though, it makes up for it by giving you a massive fuel tank that can hold up to 54 ounces of fuel. So, you will get decent uptime with your chainsaw when you start working with a full tank of gas.
The chain oil capacity in the chainsaw is also pretty decent. It can hold up to 24 ounces of chain oil, meaning you will be able to keep the chain lubricated at all times.
Weight and Handling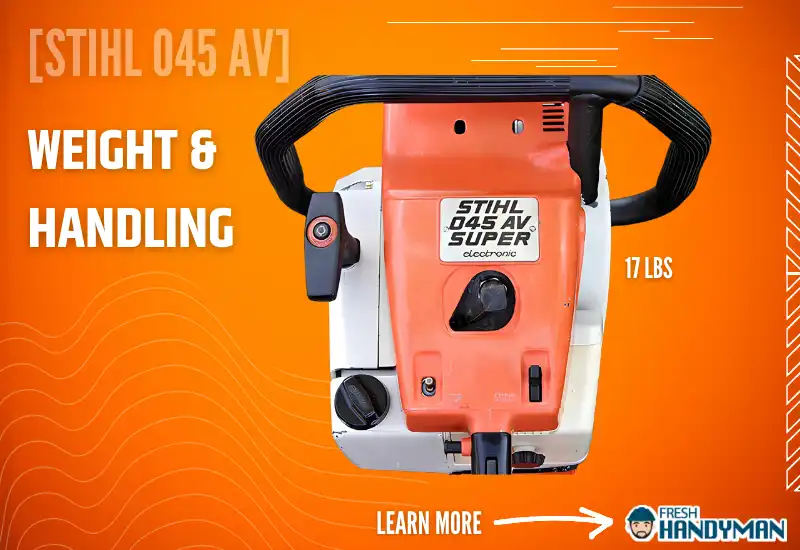 If I'm being honest, the weight of this chainsaw is what led to its downfall. Yes, it's extremely powerful, and while it's not as fuel efficient as current-gen chainsaws, the large fuel capacity of the Stihl 045 AV makes up for it. However, the chainsaw is extremely heavy and takes a toll on the user when you are using it for a long time without a break.
Now back in the seventies, a bit of weight in your chainsaw was considered normal. The manufacturers didn't have access to modern machine technologies that focused on cutting down the weight of a chainsaw. So, at that time, if a chainsaw was powerful, it was also normal for it to be heavy.
So, while the 17 pounds of weight might not be a big issue for the time, compared to the chainsaws of today, it's pretty absurd. If you plan on working for long stretches at a time, you will have a hard time handling the chainsaw. It gets tiring pretty fast, and you will have to take a break before long.
Guide Bar Compatibility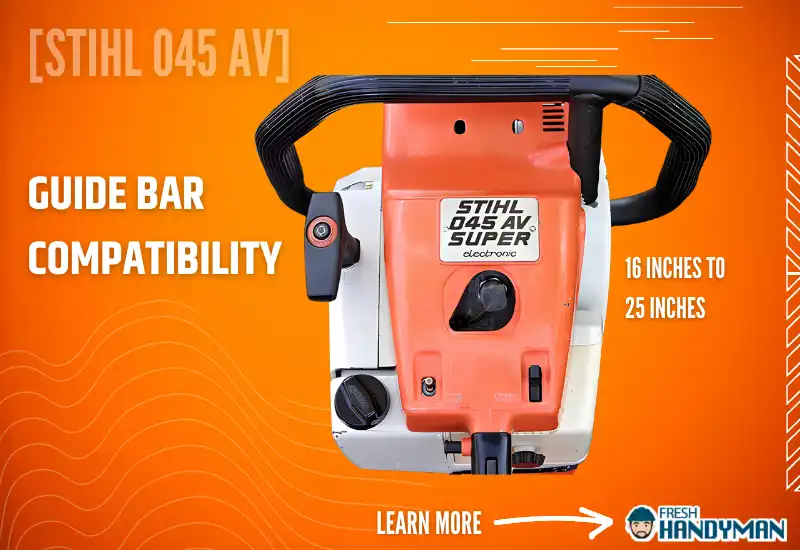 Though the Stihl 045 is considered a heavy-duty chainsaw, it is by no means a one-trick pony. It can host a wide length of bar sizes, allowing you to modify the chainsaw to suit different cutting requirements.
For lightweight applications, you can use a 16-inch bar with the chainsaw to keep the weight low. And if you want to get the most cutting strength out of it, you can move up to a 25-inch bar for the best power. The range is huge, making the chainsaw extremely versatile.
Price and Availability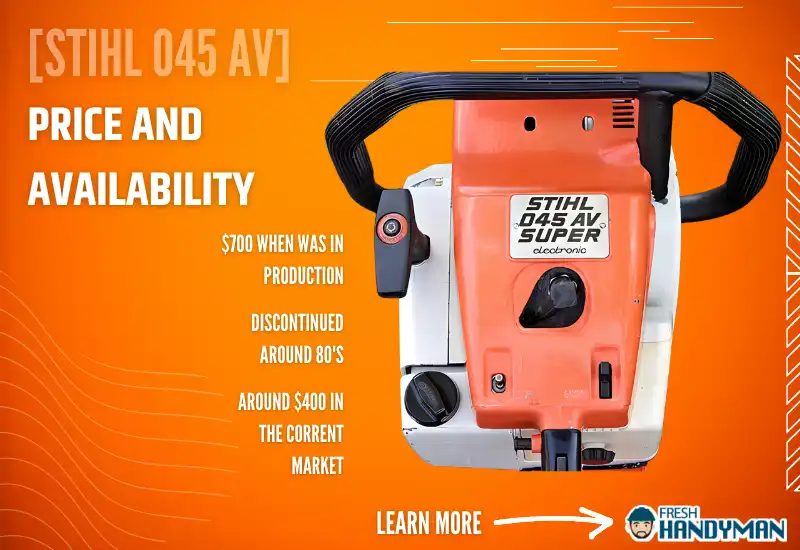 The Stihl 045 AV had a great run for around seven years or so until it finally got discontinued around 1980. It had a decent number of sales, but as chainsaw technologies were shifting towards a lighter chassis, Stihl decided it was time to throw in the towel for the 045 AV.
So, if you want to pick one up today, you won't find one in any stores. When it was in production, a new one would cost you around 700 dollars. But the good news is that if you manage to dig up a second-hand Stihl 045 AV from the market, you will be able to pick it up for a fraction of its original price.
A second-hand Stihl 045 AV in decent condition shouldn't cost you any more than 400 bucks, which is amazing considering the level of cutting performance that this chainsaw brings to the table. Of course, the weight of the chainsaw is still a big problem, but if you are fine with it, then this can be a great pickup for you.
The bigger issue here is finding replacement parts for it if it breaks down on you. Since it's a discontinued chainsaw, you will have a hard time tracking down spare parts for it. So, if you do get a Stihl 045 AV, make sure the chainsaw is in good condition and doesn't require any parts replacements.
Is the Stihl 045 AV Still a Good Chainsaw?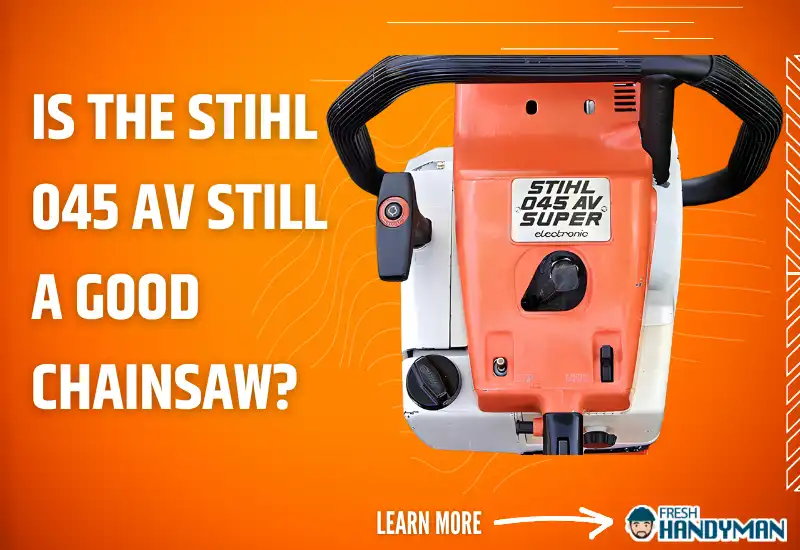 When it first came out, there's no doubt that the Stihl 045 chainsaw was an amazing option. But how well does it hold up against the chainsaws of this generation? It's been half a century since it first hit the market, after all.
Frankly, the Stihl 045 is not very appealing when you put it up against modern chainsaws that are available these days.
It's heavy and inefficient, and while it pioneered the anti-vibration system that's present in today's chainsaws, the system is much better with the newer chainsaws.
Stihl MS 045 AV Manual
Why Is Stihl 045 AV Discontinued?
The Stihl 045 AV chainsaw was discontinued for a variety of reasons.
One reason is that it was an older model, and newer models with updated features were introduced. Additionally, changes in emissions regulations and safety standards meant that the 045 AV no longer met the requirements.
Finally, advancements in technology allowed for the development of more efficient and powerful chainsaws that ultimately replaced 045 AV.
Best Alternatives
So, if you are planning to pick up a high-end chainsaw for some heavy lifting, there are better options out there. Here are a couple of alternatives: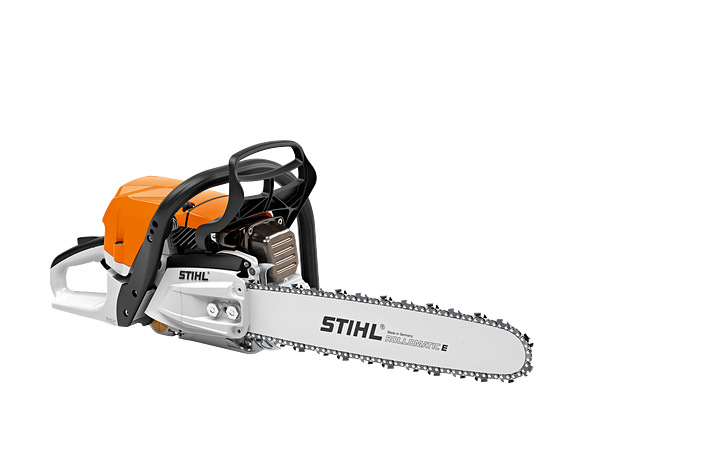 The Stihl MS 400 is, in many ways, the spiritual successor to the Stihl 045 AV. It has the same engine capacity as the older model and can cut through thick logs with little to no hassle.
With the MS 400 C-M, you will also get the benefit of having better fuel efficiency, and finding replacement parts for it should also not be that difficult if things go wrong. The only real drawback here is that the MS 400 is pretty expensive, and its guide bar size caps out at 25 inches.
Of all the top chainsaw brands, if there's one name that gets talked about just as much as Stihl, it would have to be Husqvarna. Many consider them to be rivals in the marketplace, but personally, I don't think it matters as long as both brands continue to bring quality chainsaws to the community.
The Husqvarna 455 Rancher is a fantastic alternative if you can't find it or don't want to go with the Stihl 045 AV. You will get many amazing features like the X-Torq engine, Low-Vib system, etc., with this chainsaw. It's priced well and should help you take on any project you want.
The Echo CS-590 is another top-tier professional-grade chainsaw that serves as an amazing alternative to the Stihl 045 AV. It not only does everything that the Stihl 045 AV does, but it does it better.
The engine power in the CS-590 is greater than what you get with the Stihl 045 AV, and it also has a modern design with features like a toolless air filter cap and side-access chain tensioner. And for the level of performance that this chainsaw offers, its price is extremely reasonable.
The Bottom Line
There's no doubt that the Stihl 045 AV paved the way for many of the technologies that we see in current gen chainsaws. But it still doesn't change the fact that it is a chainsaw from the seventies. A lot of the things that made this chainsaw special are done better in chainsaws that are available in the market these days.
The main thing that holds this chainsaw back is its weight. And while its power is pretty formidable, lugging it around with you as you work your way around the forest chopping down trees can quickly get exhausting. There are better options out there, and that too, at a decent price range.
If you still want to go for a Stihl 045 AV, by all means, go for it. For heavy-duty projects, you will find little worth complaining about with this chainsaw. However, as a chainsaw for property maintenance and basic tasks like chopping down firewood, it might not be the best option out there.
I hope my in-depth look at the Stihl 045 AV gave you a clearer picture of what made it such a great chainsaw when it first came out. Good luck!