When it comes to giants in the industry of power tools, two brands always pop up, DeWalt and Festool.
Whether you are a professional woodworker or occasionally dabble in DIY crafts, there is a high chance that you have a tool by at least one of these brands in your workshop.
I myself am a bit of an eccentric. Not only do I like to work on various woodworking projects, but I also get a bit carried away when it comes to power tools.
Over the years, I have gathered a lot of different tools from both of these brands. When it comes to track saws, however, I went with DeWalt.
Does that mean Festool is the inferior brand? Not At All. Festool is, in fact, one of the "top-rated brands" in the industry, offering superb performance and an admirable warranty policy with their every product.
However, Festool power tools also tend to be a bit more expensive than the rest.
But enough with the small talk, it is time for some Hardcore Data. In this head-to-head comparison between DeWalt vs Festool track saw, I will give you an unbiased look at both of the saws so that you can decide for yourself which one you want in your workshop.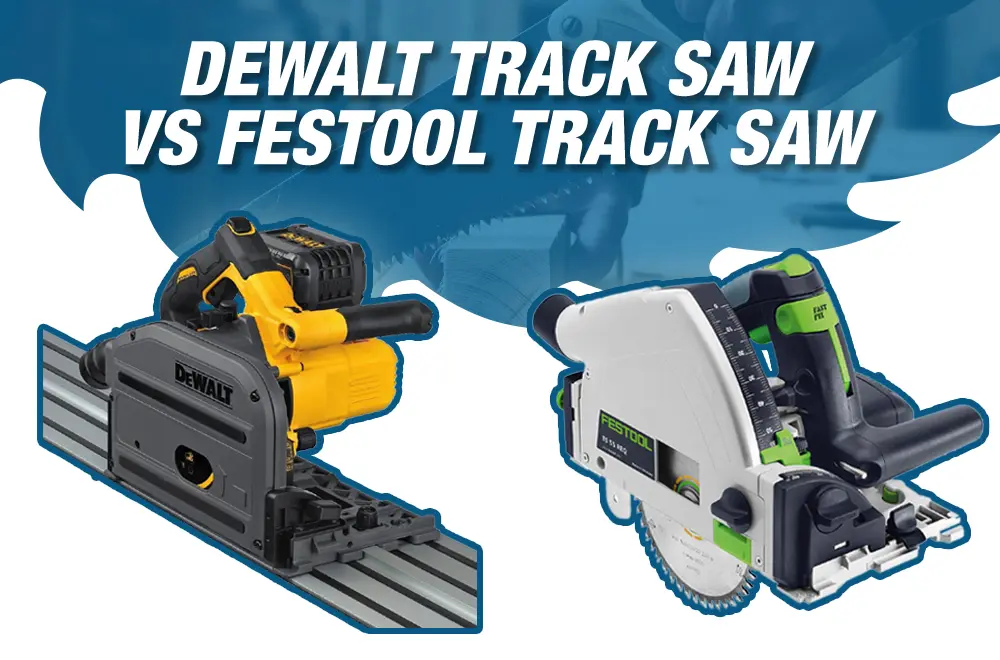 A Comparison Table Between DeWalt vs Festool Track Saw
If you are in a rush, take a look at the handy comparison table between DeWalt dws520sk vs Festool TS 55 Req. It would give you all the information you need to make a quick decision about choosing the next track saw for your workshop.
| DIFFERENTIABLE FACTORS | DEWALT TRACK SAW | FESTOOL TRACK SAW |
| --- | --- | --- |
| BRAND : | WEN | 9570 |
| MODEL NAME : | DEWALT DCS520T1 | TS 55 REQ-F-PLUS |
| POWER : | 1300W | 1200 WATTS |
| BLADE SIZE : | 6-1/2 INCHES | 6-1/4 INCHES |
| MINIMUM RPM UNDER NO LOAD : | 1700 RPM | 2000 RPM |
| MAXIMUM RPM UNDER NO LOAD : | 4000 RPM | 5200 RPM |
| MAXIMUM CUTTING DEPTH AT 90 DEGREES : | 2-1/8 INCHES | 2-1/8 INCHES |
| BEVEL CAPACITY : | UP TO 47 DEGREES | -1 TO 48 DEGREES |
| MAXIMUM CUTTING DEPTH AT 45 DEGREES : | 1-5/8 INCHES | 1-7/16 INCHES |
| UNIQUE FEATURES : | ENCLOSED BLADE SHROUD AND RIVING KNIFE AND ANTI-KICKBACK DIAL | MICRO-ADJUSTABLE DEPTH CONTROLS AND ZERO-TEAROUT CUTTING AND FASTFIX BLADE |
| | | |
Right off the bat, you will see some standout differences between the two products. However, if you want an in-depth review of the different features, then read on. In the following section, I will give you my impressions of the two track saws to help you make the right choice.
---
About DeWalt
DeWalt is a beloved brand to DIY enthusiasts and professionals alike. The initial conception of the brand came back in 1923.
Its founder, Raymond E. DeWalt, after inventing the radial arm saw, had a vision of providing people power tools that brings unprecedented performance for the price.
Over the years, the brand has gone through many changes and shifting hands. However, never has there been a steep decline in the quality of products. Gradually, the name rose to prominence, and today, it is the go-to brand for many professionals and hobbyists.
DeWalt has a vast catalog of power tools and saws such as circular saws, or high-quality table saws. They provide both cordless and corded equipment; however, most people go to them for their cordless units.
One of the main reasons behind it is their proprietary battery Flexvolt, which provides excellent battery utilization and power.
Their warranty policy is also pretty good. Most products will give you at least three years of service warranty, whereas some even come with limited lifetime warranties. So, if you invest in a DeWalt tool, you are covered for life.
If anybody asked me what my favorite track saw is, I would point them to the Flexvolt 60V sitting in my workshop. I had the good fortune of buying one a long time back and have never looked back since.
The ability of the unit to deliver precise straight cuts quickly makes it a must-have in the arsenal of any woodworker.
The RPM of the unit ranges from 1750 to 4000 revolutions per minute under no load. An easy-access speed dial lets you switch between the speeds without any fuss.
That, combined with the maximum cutting depth of 2-1/8 inches at 90 degrees, makes it a devastating tool to have in your arsenal.
I also loved the bevel capabilities of this track saw, albeit a small complaint. It was capable of cutting up to 47 degrees. However, the lack of a 45 degree stop meant it was a bit more difficult to get the perfect cut at that angle.
Still, the cutting depth of 1-5/8 inches at 45 degrees is an excellent option to have.
The part that ensures such flawless performance is the brushless motor that powers the track saw. It offers premium quality cuts, and thanks to the powerful Flexvolt™ batteries, you get massive uptime.
The battery capacity is 60V and should get you through a full project without having to recharge in the middle.
To further boost your cutting precision, you can mount the track saw on the dual-edged track in both orientations.
You get three different track lengths to choose from. And the best part is, you can even combine the tracks if you need to cut a longer area.
The unit comes with a six-and-a-half-inch blade. Compared to the exposed blade design in other units, this one comes with a shroud to keep the blade covered.
This design gives two benefits; improved Safety and better Dust Collection. In fact, the manufacturers claim it enhances dust collection by 90%. So, you no longer have to put up with a dusty workshop.
Most track saws you find on the market feature a pull-down plunge mechanism. However, this unit goes the other direction, and you need to push the plunge to get it into position.
Though it might seem a bit awkward at first overtime, I felt like this is the better approach and makes it a lot easier to work with it.
For 600 bucks, this track saw was one of my best investments. Its overall safety systems and anti-kickback dial make it a handy tool to have in my workshop. It is one of those machines that I am fully comfortable with recommending to a friend when he is looking to buy a track saw.
It's a top-tier cordless saw– no doubts there!
Features
No load speed from 1700 to 4000 RPM
High-quality brushless motor for premium power
Compatible with any TrackSaw™ dual-edged tracks
FLEXVOLT® 6.0Ah Battery for excellent uptime
Riving knife and Anti-kickback dial
An enclosed shroud around the blade
2-1/8 inch cutting depth at 90 degrees
Up to 47 degrees of bevel capacity
1-5/8 cutting depth at 45 degrees
---
About Festool
Festool is to the world of woodworking, what "Rolls Royce" is to the world of cars; Premium brand offering premium quality. It is a German brand established in 1925 under the name of Fezer & Stoll. Later on, the name was shortened to Festo in 1933, and gradually it became known as Festool.
The first notable tool of the brand that shook the world was a portable chainsaw back in 1925.
Today, anything you buy from them is guaranteed to give you quality like none other. Mostly, professionals tend to get behind the brand since it is a bit too expensive for DIYers.
All products by Festool are covered by three years of limited warranty from the date of purchase. The different saw types available in their arsenal can cover most, if not all, woodworking tasks.
Its customer service is the best in the industry, and as long as you operate the tool as it is meant to, you will be able to get help from the company if anything goes wrong.
They also offer one month of guarantees if you end up with a faulty product. Although the price of most of their products is a bit higher, you also get a much better quality regardless of what you are buying.
The TS55 Req-F Plus is actually a Revamped Version of the TS55 EQ model. It is better in every way and comes at the same price point.
When it comes to quality, there have never been too many complaints about this unit, apart from maybe the price. Some may say it costs a bit much, but personally, I think the quality it offers does justice to the steep cost to some degree.
When I was buying my track saw, I had a tough time deciding between DeWalt and Festool.
In the end, I went with DeWalt because I found a better deal. However, if I sniff any offer, I think I would go with Festool in a heartbeat.
It offers a greater range of RPM which means you will not feel any lack of power ripping through sheets or any other materials you work with. With this saw, you have the option to go from 2000 RPM all the way up to 5200 RPM under no load by easily adjusting the variable speed dial.
When it comes to bevel cutting, you can switch from -1 degrees to 47 degrees which lets you work on a wider angle than DeWalt. Though it might not seem much, this small increment in angles lets you make an inclusive 87 degrees cut with the track saw.
It is a powerful saw capable of cutting up to 2-1/8 inches of materials without a guide rail at 90 degrees. On the guide rail, you can achieve a cutting depth of 1-15/16 inches at 90 degrees and 1-7/16 inches at 45 degrees. The versatility it offers is unmatched among its competitors.
It comes with a 6-1/4-inch blade which is a bit smaller than what I have in my DeWalt. However, thanks to the FastFix system they have in place, it is extremely easy and risk-free to replace the blade.
This means you have "less downtime" if the blade dulled out over time.
It is an extremely safe track saw featuring a spring-loaded riving knife to ensure the material stays far from the end of the blade. As a result, you will have zero chance of kickback.
The depth control in the unit is adjustable to micro-points giving you complete control over your material processing.
Despite so much power, it is a compact and portable tool. It weighs only around 10 pounds and can give you excellent uptime using a single lithium-ion battery that you need to power it. The total power consumption in the unit is around 1200 watts.
One gripe that I have with the unit is the steep price of accessories. The unit itself is expensive, coming at around 600 to 650 bucks. But to make it work, you have to invest in additional accessories that can ramp up the price a lot more.
Sure, the brand offers multiple tracks and blades that you can switch easily. But investing in each of them will set you back a decent amount. You even have to get a dust blower exclusive to the brand to make it work with the track saw.
If you are still worried about investing in a Festool track saw, there is another comparison between the Makita vs Festool Track saw. You can check that out to get a more comprehensive understanding of the saw.
Features
No load speed from 2000 to 5200 RPM
Requires 1 lithium-ion battery
Precision guiding rail system
FastFix blade changing system for faster blade replacement
Zero-tearout cutting
Spring-loaded riving knife for reduced kickback
6-1/4 inch blade diameter
2-1/8 inch cutting depth at 90 degrees without guide rail
-1 to 47 degrees of bevel capacity
1-7/16 inch cutting depth at 45 degrees with guide rail
1-15/16 inch cutting depth at 90 degrees with guide rail
---
FAQ
Here are a few common questions I come across from friends and colleagues every now and then. I've answered all of them, if you have more, just let me know.
Is Festool better than DeWalt?
Well, professionals do tend to "prefer" Festool over DeWalt. However, for DIY applications, DeWalt power tools are capable enough to handle any sort of project at a much cheaper price. Both brands offer a wide range of saws in their catalog.
Does the DeWalt saw fit on a Festool track?
Yes, it does. However, you will not be able to fit the Festool track saw on the DeWalt track because of its unique design.
Which one has the better warranty, DeWalt or Festool?
Both DeWalt and Festool offer excellent warranties with their track saws. With DeWalt, you get a 30-day money-back guarantee along with a limited lifetime warranty.
Festool also offers a 30-day money-back guarantee. However, all the parts and accessories you get from the brand also come with a service warranty for up to 10 years.
Is Festool suitable for DIY users?
Definitely. The main reason why you do not see Festool in the arsenal of DIYers normally is the steep price. However, the quality and performance they offer can come in handy in any sort of workshop environment, whether DIY or professional. DeWalt is typically much CHEAPER in comparison.
My Recommendations: DeWalt Vs Festool Track Saw
When it comes to DeWalt vs Festool cordless track saw, it is very hard to recommend one over the other. Both the track saws offer exceptional performance, and since both of them are priced quite similarly, it mostly comes down to personal preference.
As a DIY enthusiast, I have owned many DeWalt tools. I even have a pole saw by them that I love. So, my choice would be to go with DeWalt. However, the quality that Festool offers cannot be overlooked either. And the brand itself is a tag of royalty for most woodworkers.
Final Thoughts
As you can see, both the track saws by the two brands come with similar features. They are also priced quite similarly, making the choice between DeWalt vs Festool track saw a toughie.
Since I have had a good experience with DeWalt, I can wholeheartedly recommend this track saw. But the massive popularity of Festool should not be overlooked.
The major difference between the two saws is the accessory cost of DeWalt is much "cheaper" than Festool. If you need extra tracks for your saw or even a dust collector, you need to be prepared to spend a decent chunk of money.
The blade diameter of Festool is also a bit smaller; however, the better bevel capacity is a solid trade-off.
Besides, the blade diameter is not too small that it will impact your projects severely. As long as you keep the blade sharp, you can cut through any material you need.
I personally love the enclosed low-profile blade shroud in DeWalt. It is one of the main reasons why I went with it. Because of this small feature, my workshop remains dust-free all the time.
In the end, it comes down to your specific situation and requirements. I have given you an unbiased look at both of the track saws. So, you should have no trouble deciding which track saw you want for your workshop.