If you are somebody who wants to make an accurate cut, you need to follow a two-step process. At first, you have to get your hands on a circular saw to cut the large piece of wood. Hence, you have to cut the piece of wood that is small. For instance, you need a table saw to make the job perfect.
However, these all will take a lot of time that nobody wants in general. For minimizing the delay, you can pick out a track saw, which will help you to get an efficient job within a short period!
Further, it can cut a large piece as well as a short piece of wood with ease. See, you can kill two birds with one stone by just getting your hands on a track saw! Want to know the process of using it? Stay tuned until the end to know how to use a track saw in the right way.
What is a Track Saw?
A track saw is one of the most efficient power tools that allows cutting the piece of wood along a straight line. It runs by a superior motor that provides the power to the spinning blades for cutting a variety of woods including plywood, hardboard, particle board, and a lot more things. A track saw is also known as a plunge saw or plunge-cut saw.


Benefits of Using a Track Saw
There are a couple of benefits of using a track saw, like:
Not for straight cuts only, but it is also used for angular cuts, long rip cuts, and cross-cut with accuracy.
Along with the accurate cutting, it is easy to use compared with most of the saws.
It is a piece of cake to cut in multiple directions by this saw. But, it is the best choice if you want to make a straight cut on a short/a long piece of wood.
It is highly portable when you're comparing it with the table saw.
Rather safe compare with the table saw. However, minimal safety is required for using (we will talk about it later).
It doesn't even require a lot of room, unlike the table saw needs lots of floor space.
How to Use it?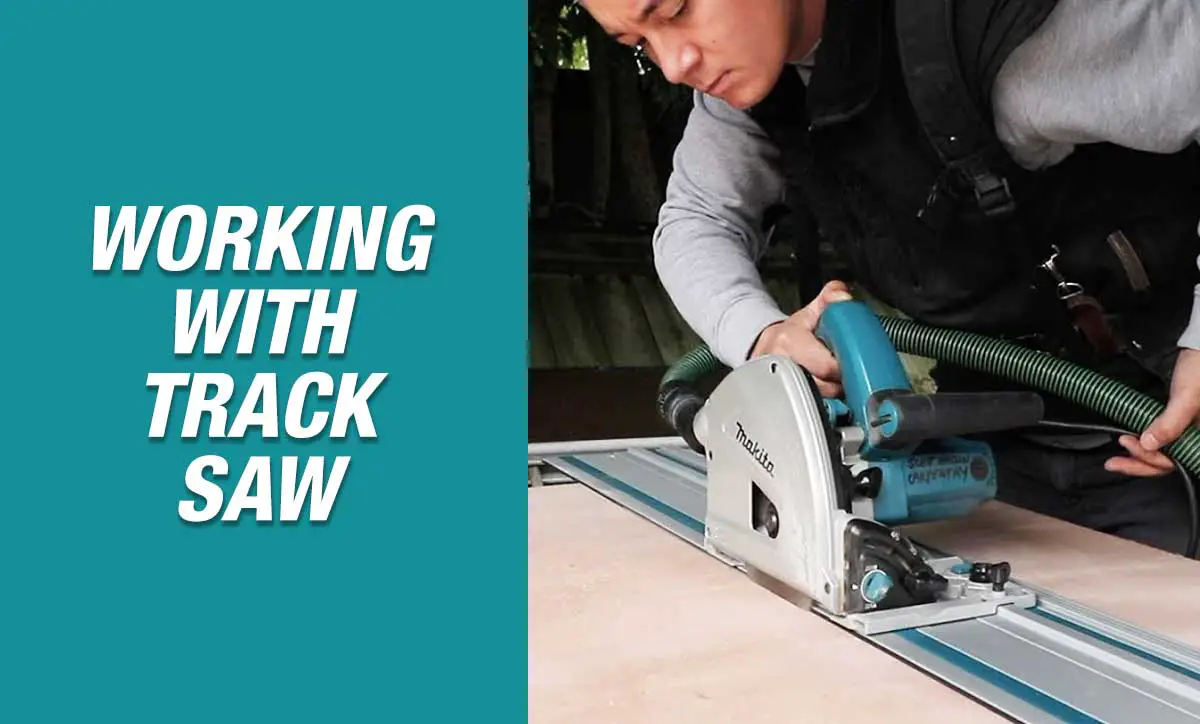 Now, we are going through this write-up for showing how to use a track saw. It can be a bit complicated if you are a newbie. But, don't worry. With a few tips, you can run a track saw by yourself. Make sure to read each and every point regarding this article:
Step-1: Picking Out the Right Blade
It allows the track saw to offer quality cuts. Since it plays the role to cut through the workpiece, it is essential to make sure which blade is ideal for your projects.
In general, a blade with 14-teeth is more than enough for woodcutting purposes. But, the blade which has got 48-teeth is the best choice for working with plywood, hardboard, and melamine.


Step-2: Set the Riving Knife Correctly
It is counted as another necessary part of a track saw, as it keeps the operator safe from unexpected kickbacks! Before turning the saw on, make sure that you have adjusted it correctly.
It is better to check out the alignment along with the blade as well as ensure that it is located at the safe distance. By fixing it correctly, it will help you to prevent kickbacks.
Step-3: Fix the Depth of Cutting
The next step is to adjust the cutting depth. It determines how deeply the blade can cut. As per our knowledge and the guide of manufacturers, you need to avoid cutting through the wood, which has got the depth less than 1/8-inch.
Things to be noted that it should not be so deep whereas it can hinder accuracy. However, the blade should be deep enough for minimizing the risk of kickbacks as well as blade damage!
Step-4: Hold the Saw Firmly
Never ever try to underestimate the size of a track saw, even though it is one of the handiest tools out there. Once you start it, you can actually feel the real strength and power of a track saw!
So, make sure to hold the saw firmly while cutting arsenal. Otherwise, there is a chance of getting a kickback from it! If you don't hold it correctly, the possibility of losing track will also increase. Luckily, most of the saws have got dual handles to ensure that you can have a better grip.
Step-5: Using Track Rails
A rail track is like a guide for you to make a precise cut with your track saw. And, this is the good thing of using a track saw. It is secured as well as attached to your workpiece by using f-clamps or strips. Due to its rubber lip (which is at the bottom), it can protect you from splinters.


Step-6: Have Focused on the Cutting Path
A track saw is not only for straight cuts, but it also used for making plunge cuts. It is easy to focus on the cutting path while you're cutting through straight.
On the other side, a sufficient amount of focus is required during blind plunge cuts. So, ensure that you've checked the entire path first, especially for unnecessary wires or objects. Or else, these may cause a serious unexpected accident!
Step-7: Beginning the Tool
You need to enable both the power trigger and the plunge release. At first, you have to start the plunge release for extending the blade. Then, you need to push the power trigger to successfully activate the motor before letting run of the plunge release. For activating the tool successfully, you have to press both switches.
Step-8: Wait Until it Reaches its Top Speed
Your device has been activated, it doesn't even mean that you can start your work right now. You have to wait for a few minutes till it reaches its maximum speed. It will ensure an accurate cut and will save you from kickbacks as well.
A Few Safety Tips
Don't need to throw caution to the end, focus on the safety tips on below:
Never try out to use it for the non-wooden type of materials like aluminum, metal, steel, ceramic, etc. The track saw can lose its performance by using it for such materials!
Before starting the job, we suggest picking up the safety equipment which can be gloves, goggles, protective gear for your feet, ears. Always try to keep yourself out of danger as much as possible!
Conclusion
In the modern age and day, a track saw is the best thing since sliced bread for completing a variety of woodworking tasks. As we've elaborates on everything about how to use a track saw, so you don't even need to do a lot of struggle using it from now. Make sure to pick out the best one for your upcoming DIY projects, break a leg today!