For quick and easy handy home maintenance, the Husqvarna 435 Chainsaw is a great option. It is lightweight, which means it's easy to maneuver, so I can easily handle it in a flexible way to get the result I'm looking for.
The Husqvarna 435 Chainsaw is not only great for domestic maintenance but also a beast of a machine for other higher-powered activities. 
In the view that nothing is, there will always be little issues here and there; I faced some problems while using this chainsaw. Some of them were around the engine not starting, chain oil leak, poor running of the engine, and sometimes, overheating. I refer to these problems as minor since they are easy to discover and fix.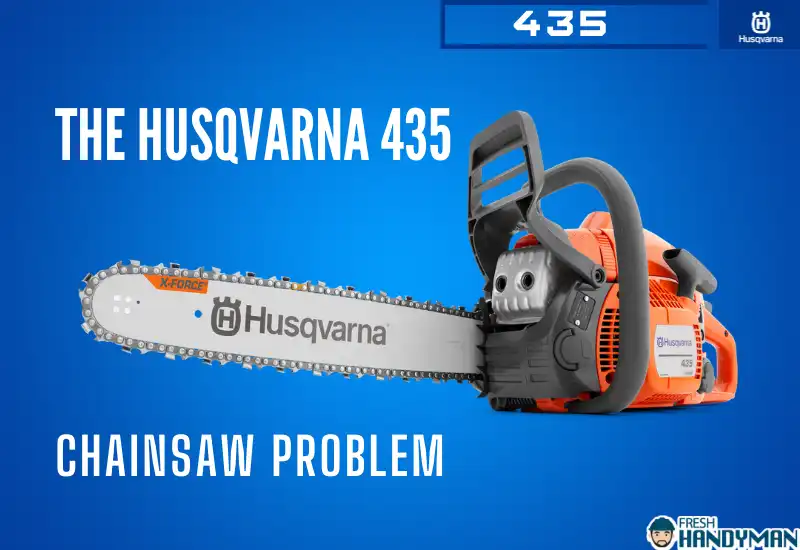 I have a small garden in my house I tend to, and the Husqvarna 435 Chainsaw has not had any problems taking care of any of my garden trimming and maintenance needs. It has been able to handle it with auto efficiency and ease. 
As efficient as the Husqvarna 435 is, there are a few problems that I've encountered using it. Let's look at some of the issues I encountered and had to deal with.
My Personal Experience With the Husqvarna 435 Chainsaw
I've had the pleasure of utilizing a variety of chainsaws throughout the years as a skilled woodworker. The Husqvarna 435 chainsaw has particularly caught my eye. I've found that using this tool has greatly simplified my cutting and trimming jobs because it is lightweight, effective, and adaptable. 
The Husqvarna 435 chainsaw does, however, have its share of issues, just like any other piece of equipment. In this article, I'll discuss a few frequent problems users have encountered and how to fix them.
I'll also discuss some of the Husqvarna 435 chainsaw troubleshooting tips I applied. After these tips, I will also provide you with the specifications and features of this chainsaw. The methods of preventing and maintaining the chainsaw will not be left out. Keep reading to learn all you need to know about the Husqvarna 435 chainsaw so you can easily fix it as I did mine. 
Husqvarna 435 Chainsaw
40-cc 2.2-HP, 2-Cycle X-Torq Engine, 16 Inch Chainsaw with Smart Start, For Wood Cutting and Tree Trimming
Husqvarna 435 Problems and Fixes: Quick Table
| Husqvarna 435 Problems | Quick Fixes |
| --- | --- |
| Engine Won't Start | Check the fuel level, wash or replace the air filter, and clean the carburetor to resolve this. |
| Engine Stalls | Clean the carburetor and air filter, and look for obstructions in the fuel line |
| Chain Oil Leak | Change the oil pump or seals and clean the oil line. |
| Chain Comes Off the Bar | To resolve this problem, tighten the bar nut, buy a new sprocket, or do both. |
| The chain won't Cut Properly. | This may be because of a worn-out or damaged bar or chain tensioner. To resolve this issue, swap out the tensioner, the bar, or both. |
| Engine Running Poorly | Either the air filter is clogged, or the carburetor or the spark plug is dirty, so to fix this, you can clean the air filter and carburetor or change the spark plug. |
| Overheating | Check the oil level; it could also be a clogged muffler or dirty air filter. Unclog the muffler and clean the air filter if the oil level is okay. |
How To Quickly Fix the Problems with Husqvarna Chainsaw?
Here, I'll go into specific details about what may have caused the problems I faced with the Husqvarna 435 Chainsaw. Sometimes it's hard to pinpoint the exact cause, so I'll outline some things to look out for if you experience any of these problems with this chainsaw.
Problem 1: Engine Won't Start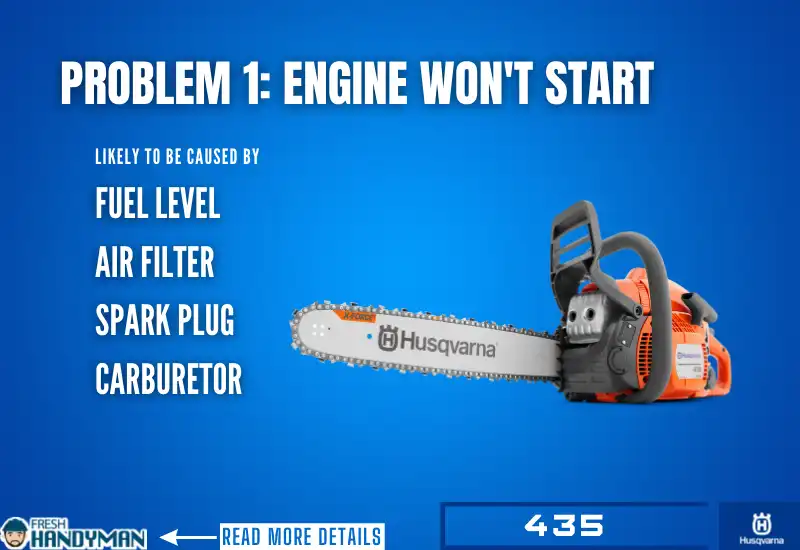 Having a chainsaw that won't start is one of the most annoying issues you could encounter. Here are a few things to look for if your Husqvarna 435 won't start:
Fuel Level: Check the quantity and quality of the gas in your fuel tank. Old gas might clog the carburetor and make it impossible for the engine to start.
Air Filter: A blocked air filter may make it impossible for the engine to start. If required, clean it or replace it. You can accomplish this by pulling off the air filter cover and the filter. If it's filthy, scrub it with a soft brush or replace it.
Spark Plug: Inspect the spark plug for rust or damage. Replace it if it is broken. An engine with a broken spark plug may have trouble starting or operate poorly.
Carburetor: The carburetor is susceptible to clogging from debris or dirt. Take it to a professional cleaner or clean it yourself. An engine with a clogged carburetor may have trouble starting or running poorly. Consider a Husqvarna 435 carburetor removal.
Problem 2: Engine Stalls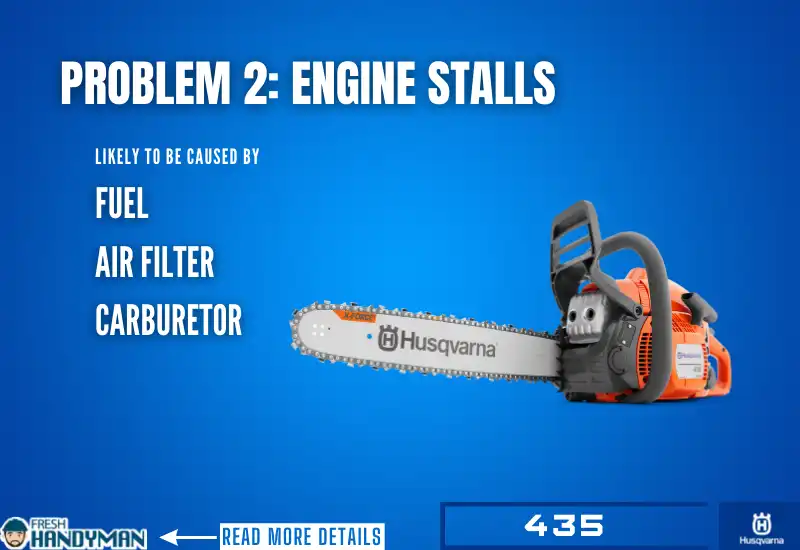 There may be a few causes for the chainsaw's motor to stall while it is in use. You should check
Fuel: Ensure the gasoline tank has adequate new gas and is filled to the brim. The engine could stall if the gas is stale.
Air filter: The engine may stall if the air filter becomes clogged and restricts the engine's airflow. If required, clean it or replace it.
Carburetor: The machine can stall when the carburetor is blocked with dirt or other particles. Take it to a professional cleaner or clean it yourself. The engine may also perform poorly, stall, or not start due to a blocked carburetor. You may consider a Husqvarna 435 chainsaw carburetor adjustment if all that doesn't work.
Problem 3: Chain Oil Leak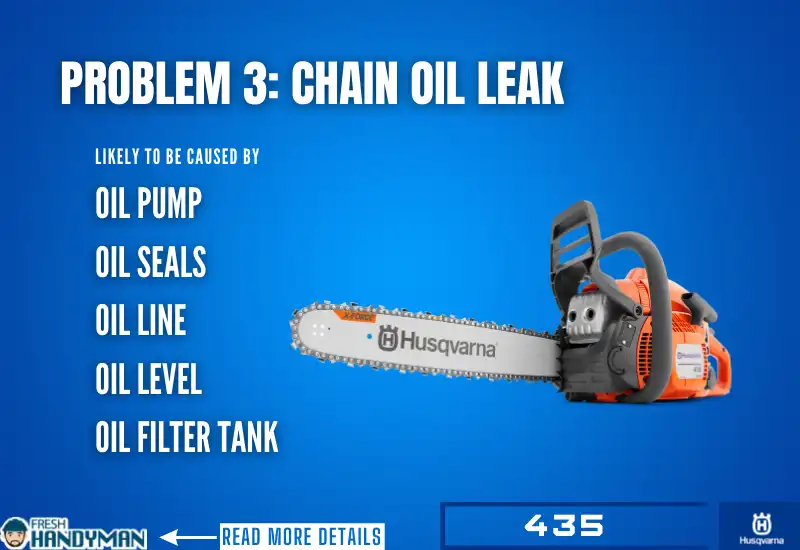 Oil pump: The chainsaw may leak oil if the oil pump is damaged. Oil pumps need to be replaced if they are damaged.
Oil seals: Oil leaks from the chainsaw might also be brought by worn oil seals. The seals must be replaced if they are worn.
Oil line: Oil may flow from the chainsaw due to a clogged oil line. The oil line should be cleaned to guarantee adequate oil flow and to stop leaks.
Oil level: If the chainsaw is overfilled with oil, this can cause oil to leak out. Ensure the oil level is checked, correct, and not filled.
Oil filter tank: Oil can spill from the chainsaw due to a faulty oil tank. The oil tank must be replaced if it is damaged.
Problem 4: Chain Comes Off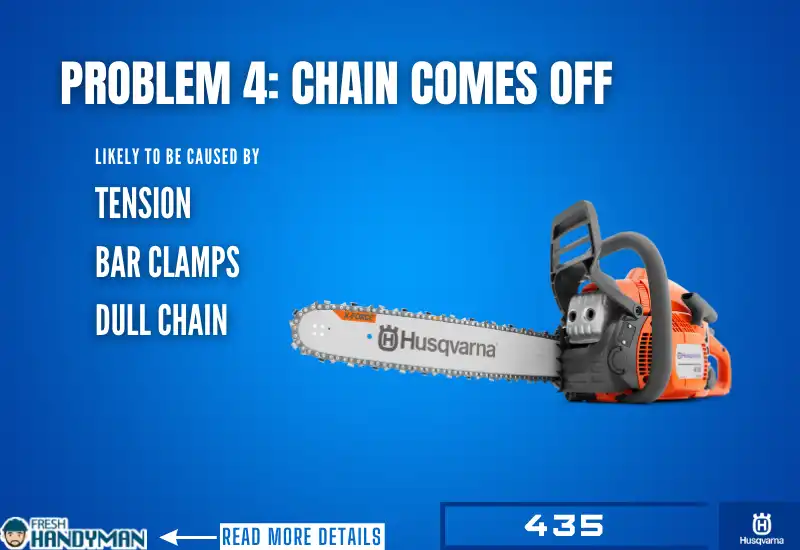 It can be frustrating if the chain keeps coming off the bar. You should check
Tension: Make sure the chain is sufficiently tensioned on the bar. It will come off if it is too loose. Once the chain is snug on the bar, tighten the tensioning screw by releasing the bolts holding the bar clamp.
Bar Clamps: Examine the clamps to ensure they are attached firmly. The chain may come off the bar due to loose bar clamps.
Dull Chain: A dull chain may be easier to remove from the bar. If required, hone it or replace it. A dull chain can be risky since it can make cutting more difficult or even dangerous, causing the chain to come off the bar.
Problem 4: Chain Won't Cut Properly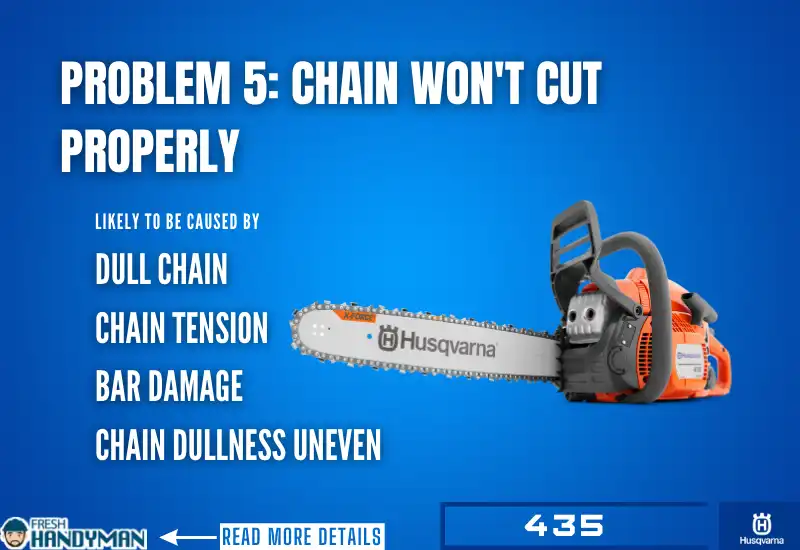 There are several possible causes for improper cutting. What you should check is as follows:
Dull Chain: A dull chain can be risky in addition to making cutting more difficult. If required, hone it or replace it.
Chain Tension: Make sure the chain is sufficiently tensioned on the bar. It will only cut correctly if it's tight enough. Once the chain is snug on the bar, tighten the tensioning screw by releasing the bolts holding the bar clamp.
Bar Damage: Check the bar for signs of wear or damage. The chain may not be cut cleanly if the bar is worn or broken. If necessary, swap out the bar.
Chain Dullness Uneven: The cuts may be uneven if the chain is dull on one side. If necessary, sharpen the chain or replace it.
Technical Specifications & Interesting Features of Husqvarna 435
With these specifications and features, you'll see why the Husqvarna 435 is truly an impressive device. It's optimized for both professional and domestic use.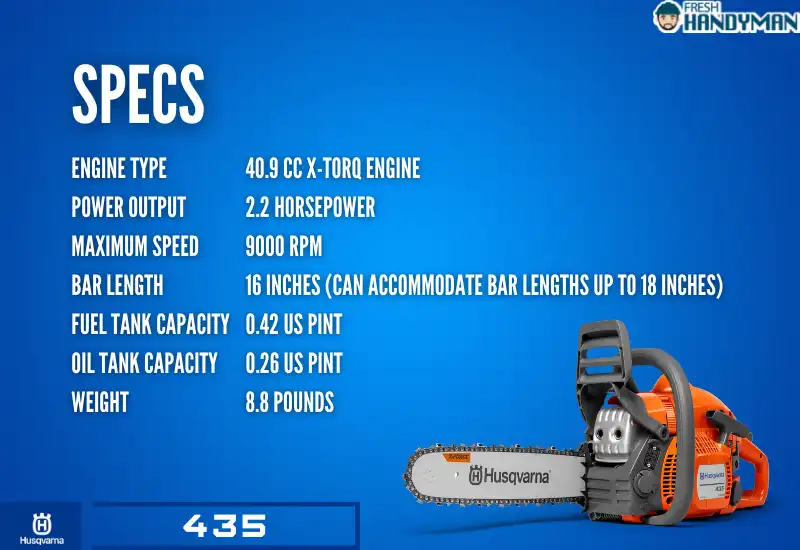 Technical Specifications
Engine Type: 40.9 cc X-Torq engine
Power Output: 2.2 horsepower
Maximum Speed: 9000 RPM
Bar Length: 16 inches (can accommodate bar lengths up to 18 inches)
Fuel Tank Capacity: 0.42 US pint
Oil Tank Capacity: 0.26 US pint
Weight: 8.8 pounds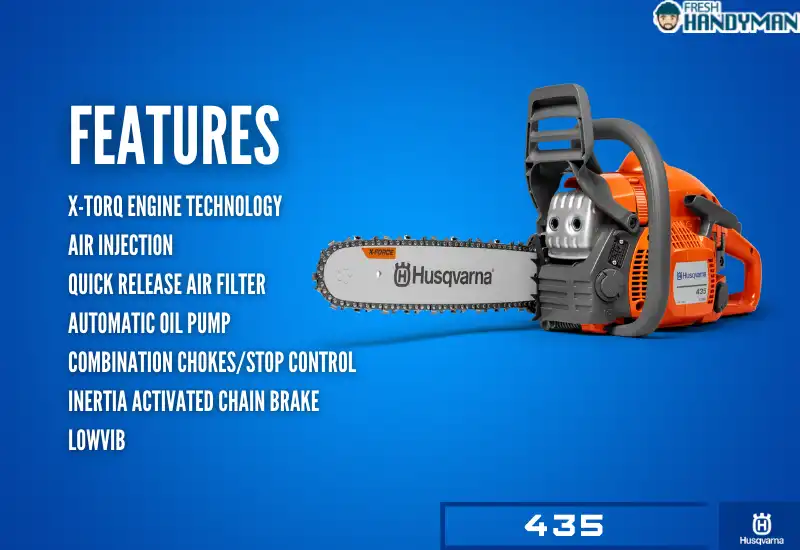 Interesting Features
X-Torq Engine Technology: The X-Torq engine technology offers a powerful performance while cutting down on fuel use and pollution.
Air Injection: Removing dust and other contaminants from the air before reaching the engine prolongs engine life.
Quick Release Air Filter: The quick-release design makes maintenance and cleaning simple and practical.
Automatic Oil Pump: The automatic oil pump ensures that the bar and chain always have oil available, extending the life of both parts.
Combination chokes/stop control: This feature makes it simple to start the engine quickly and effortlessly and stop it quickly when necessary.
Inertia Activated Chain Brake: The inertia-activated chain brake stops the chain if kickback occurs, adding an additional layer of protection.
LowVib: By lowering vibration levels, this feature makes it more bearable to use for prolonged durations.
Prevention and Maintenance of Husqvarna 435 Chainsaw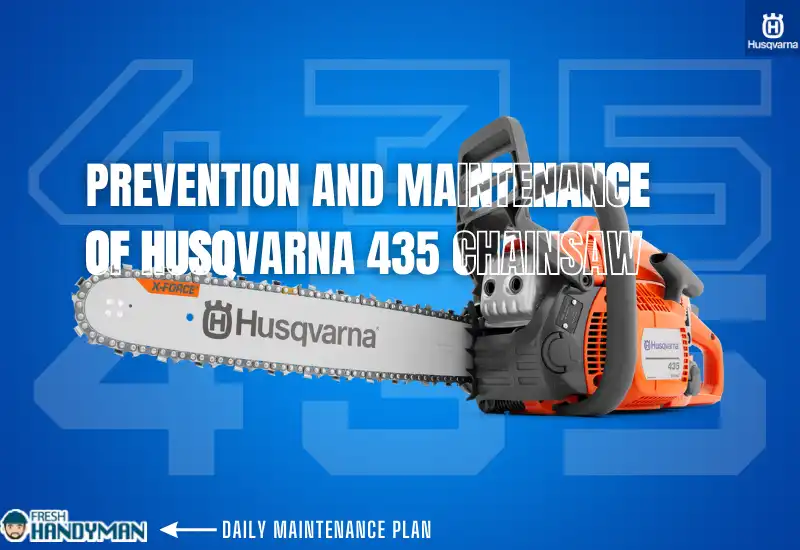 I will now proceed to provide some trusted ways to care for chainsaws. These steps have helped me maintain a neat and working chainsaw for a long time. I ensure to carry out my maintenance routine every day so that my chainsaw doesn't run into malfunctions. 
It would be nice if you follow my daily maintenance plan. Your chainsaw will function adequately, and malfunctions will hardly be recorded if you choose to care for it daily. 
Daily maintenance plan
Clean the external surfaces of the chainsaw with a brush or compressed air.
Wipe the chain break mechanism on the clutch cover's interior.
Examine the lockout mechanism on the throttle to ensure it is working correctly.
Check for damage on the chain catch to see if replacement is needed.
Inspect the guide bar to ensure it is free of burs and debris. 
Clean the lubrication holes on the rear of the guide bar.
Wipe the groove in the guide bar properly to ensure oil distribution.
Look at the chain and check for cracks in the rivets and links.
Check for normal wear, and ensure a correct tension.
Chain has to be sharp; if not, sharpen it before use.
Inspect the drive sprocket for excessive wear, and replace it if needed. 
Clean out the air intake of the starter unit and tighten all screws as you attach the side cover. 
Ensure that the stop switch works correctly. 
Check out the engine tank and your fuel lines for any fuel leaks.
Frequently Asked Questions
What Is The Fuel Ratio For A Husqvarna 435 Chainsaw?
Husqvarna 435 chainsaws have a fuel ratio of 50:1, which means you should combine 50 parts gasoline with 1 part two-stroke motor oil.
How Many HP Is A Husqvarna 435?
The 40.9 cc X-Torq engine in the Husqvarna 435 chainsaw produces 2.2 horsepower, which is more than enough power for various cutting chores. It is simple to manage and use.
What Size Bar Can You Put On A Husqvarna 435?
The Husqvarna 435 chainsaw's regular bar length is 16 inches, although it can accept bars up to 18 inches. It is crucial to select the proper bar size for your cutting requirements because selecting a bar that is too long might reduce control and put more stress on the chainsaw.
How Many CCs Is A 435?
An X-Torq engine measuring 40.9 ccs is included with the Husqvarna 435 chainsaw. This engine size is appropriate for commercial and residential use since it offers an excellent combination of power and efficiency. While providing solid performance, X-Torq technology helps to lower fuel consumption and pollutants.
Conclusion
Although the Husqvarna 435 chainsaw is well-liked and versatile, it could have some problems.
Oil leaks, excessive vibration, and starting issues are typical.
To avoid these problems, it's crucial to maintain the chainsaw routinely and, if necessary, seek professional assistance. 
The Husqvarna 435 is a dependable chainsaw that is adaptable enough to perform various cutting jobs.
Husqvarna 435 Chainsaw