A logger's job is never easy. And when you don't have the right chainsaw to accompany you, then you can forget about finishing your project.
So, you need to make sure you are well-equipped. But how do you do that?
Well, for starters, you should do your due diligence and dig up some information on the top brands and their popular models. Now, you have done your research and managed to narrow it down to two options – the Husqvarna 592 XP and Stihl MS500i.
What next?
To be honest, if these are the two choices, then I must say you have already done most of the brunt work.
Both of these chainsaws are amazing and can offer you excellent value for your price. But there's still the question of which one you should go for between the two since neither of them is exactly cheap.
And there are certainly some huge differences between the two models. Don't worry, though – you can leave the rest to me.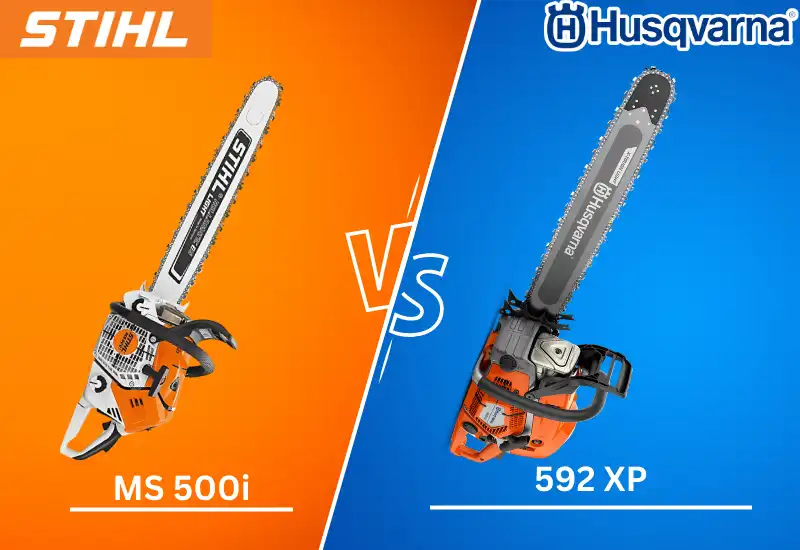 In this article, I will give you an extensive comparison between the Husqvarna 592 XP and the Stihl MS500i chainsaws. And by the time I'm done, you should be able to decide for yourself which chainsaw is right for you. So, let's start with a quick chart comparing the key specs of the two models.
Comparison Table with Specs for Stihl MS500i and MS661
| Key Factor | Husqvarna 592 XP | Stihl MS 500i |
| --- | --- | --- |
| Powerhead Weight | 16.3 pounds | 13.2 pounds |
| Displacement | 92.0cc | 79.2 cc |
| Fuel Capacity | 29 oz. | 26.5 oz. |
| Engine Power | 8.3 bhp | 18 – 24 inches |
| Price | CHECK LATEST PRICE | CHECK LATEST PRICE |
Main Features of Husqvarna 592 XP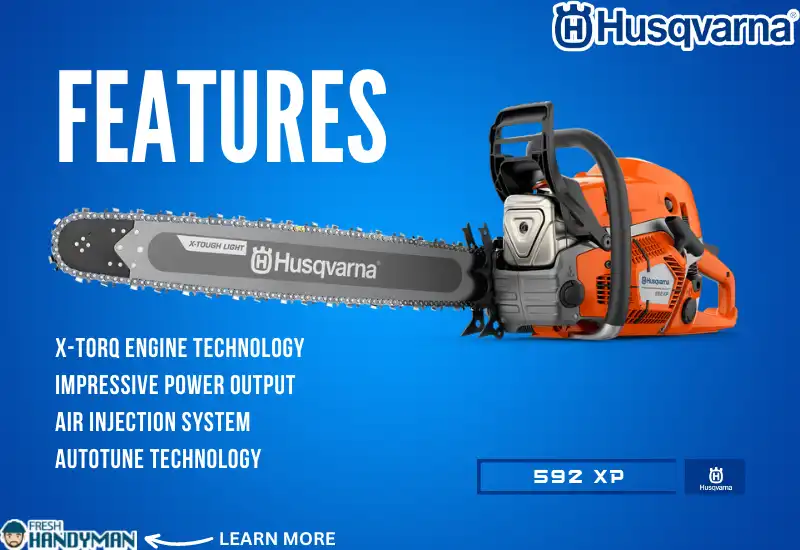 X-Torq Engine Technology
One of the main highlights of the Husqvarna 592 XP is its X-Torq engine. This engine technology promises unparalleled fuel efficiency and promises to reduce fuel emissions by about 20 percent. Needless to say, it's a massive step up over the traditional two-stroke engines used in many professional-grade chainsaws.
Impressive Power Output
When it comes to raw power and cutting performance, the Husqvarna 592 XP is hard to beat. It is equipped with a 92cc gasoline engine that can produce 8.3 horsepower. So, if you want to cut through thick, dense logs or shrubbery, this chainsaw will make things easy for you.
Air Injection System
Don't you hate it when the air filter in your chainsaw gets clogged up, and its performance suffers? Well, with the Husqvarna 592 XP, that's no longer an issue, thanks to its air injection system. This technology protects your air filter and increases the lifespan of your engine.
AutoTune Technology
The AutoTune technology in the 592 XP is another thing of beauty. It offers a decent quality-of-life improvement to the user by automatically adjusting the carburetor to provide optimal performance depending on the current situation. This means you won't have to manually adjust the saw whenever you want to use it.
Main Features of Stihl MS500i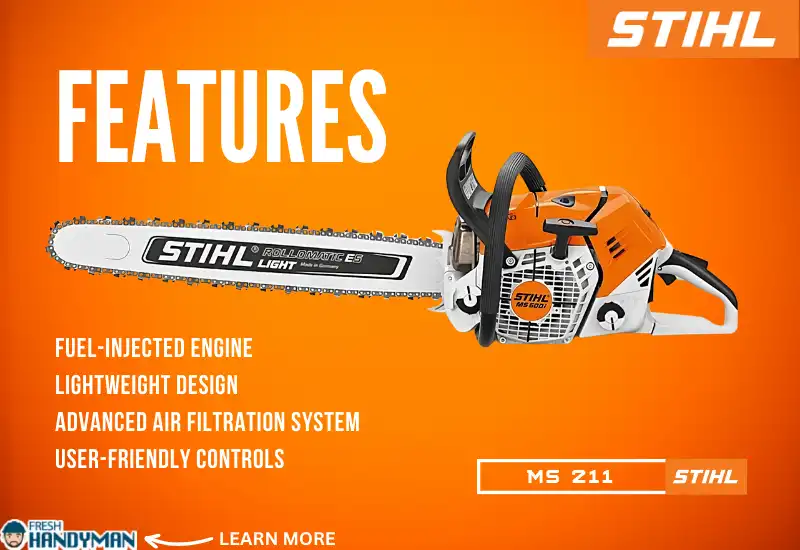 Fuel-injected Engine
Stihl went in a new direction with the MS500i by implementing EFI technology in the chainsaw. Electronic Fuel Injection technology is a clever system that enhances fuel efficiency, engine performance, and throttle response of the chainsaw compared to older engines relying on a carburetor.
Lightweight Design
The main selling point of the MS500i, though it's pretty powerful, is its lightweight chassis that weighs only 13.2 pounds. This means you will be able to handle the chainsaw much easier and can also use it for longer projects with minimal fatigue.
Advanced Air Filtration System     
The MS500i is equipped with a cutting-edge air filtration system that protects the air filter and enhances the performance of the engine. This system utilizes a pre-separation stage that essentially prevents large particles from reaching the air filter, thus minimizing the risk of clogging.
User-Friendly Controls
Another key aspect of the MS500i is its user-friendly design and intuitive controls. With automated features like adjusting to changes in temperature and altitude, ElastoStart™, quick acceleration, and an adjustable chain oiler, your experience with the chainsaw should be as hassle-free as possible.
Read Also: Stihl 500i Problems
Differences Between the Husqvarna 592 XP and Stihl MS500i
A quick glance at the key specs of the two chainsaws should already give you an idea of all that they have to offer. But how do they fare when you pit them up against each other? Well, that's exactly what you are about to find out in the following section.
Weight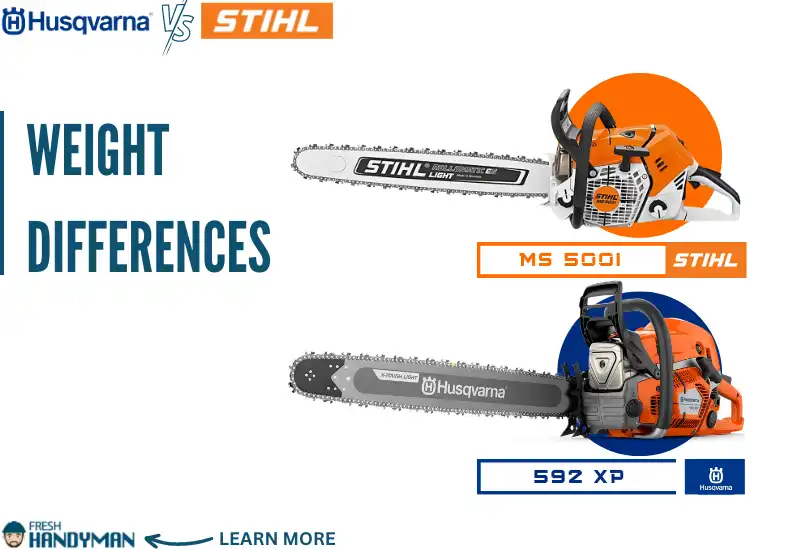 If you ask me, I would always prefer going with a lightweight chainsaw for most of my daily chores. Granted, more weight often implies a more powerful motor; in most of your logging projects, you don't even need that much power in your chainsaw.
And if you are like me, then you would favor the MS500i over the 592 XP, at least when you are going for a chainsaw that you can use daily. The Stihl MS500i weighs only 13.2 pounds, while the Husqvarna 592 XP weighs around 16.3 pounds excluding the cutting equipment.
In fact, one of the main reasons why many people migrated to the MS500i when it first came out was its weight. It's quite literally the lightest professional-grade chainsaw available in the market, making it a pretty no-brainer choice when you are planning to buy a daily driver chainsaw.
That being said, the extra two pounds of weight with the 592 XP isn't too much of a big deal, though, especially if you have a hefty physique. So, in the end, this comes down to your personal preference. But for me, the MS500i is the clear winner here.
Winner: STIHL MS500i
Power and Performance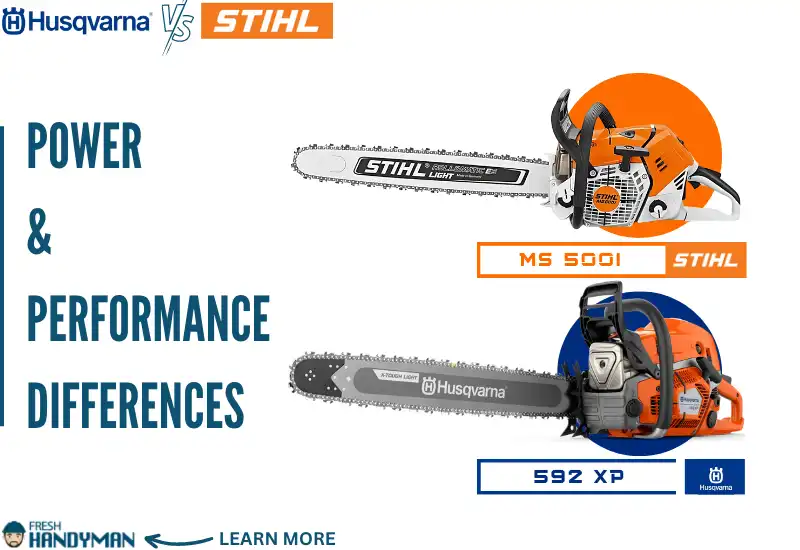 It doesn't really matter if the chainsaw you end up buying has lots of fancy features but can't hold its own when you get down to business, right? That's why it's essential to focus on the power and performance of the chainsaw before you commit to it. And that means looking at the motor, the bar length options and also the chain speed.
While both the Husqvarna 592 XP and Stihl 500i are considered professional-grade chainsaws, there's a slight difference in their power output. The Stihl MS500i is equipped with a 79.2cc engine that can deliver around 6.7 HP engine performance.
On the other hand, the Husqvarna can go as high as 8.3 horsepower thanks to its powerful 92cc engine. The numbers alone give you a basic idea of how impressive the Husqvarna chainsaw is in terms of raw performance.
But horsepower isn't everything though, and the bar length options and chain speed also play a critical role in determining a chainsaw's performance. Well, here again, the Husqvarna edges ahead thanks to its bar length compatibility of up to 32 inches.
Comparatively, the Stihl MS500i can only handle up to a 28-inch bar. As for the chain speed, the difference between the two models is pretty negligible. The Husqvarna 592 XP can rotate at a speed of 9600 RPM. And though the MS500i is not clearly stated anywhere, it's pretty close to the speed that the 592XP delivers.
Winner: Husqvarna 592 XP
Fuel Efficiency and Emissions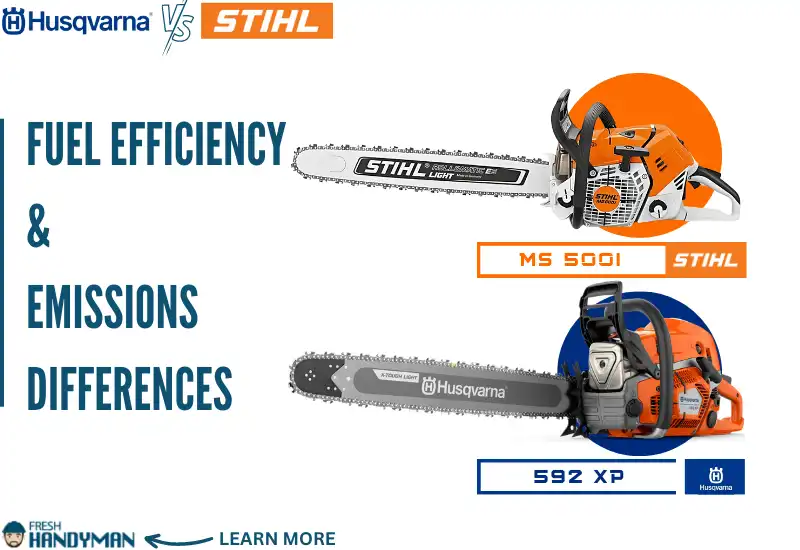 A good chainsaw is one that has less upkeep cost, or at least that's what I believe. Think about it – if you bought a chainsaw that chugs fuel like a maniac, it would skyrocket your cost. So, if you want to keep your expense low, it's best to go with a fuel-efficient chainsaw.
And both the Husqvarna 592 XP and Stihl MS500i run on gasoline. If you know your chainsaws, you should already know how fuel-hungry these machines are. Thankfully, both of these models come with some clever features to make them more efficient at fuel consumption.
For example, the X-Torq engine that the Husqvarna 592 XP comes with features enhanced fuel efficiency and reduced emission and consumption rates by around 20 percent. Not only does that reduce your fuel cost, but it also leaves less of a carbon footprint in the environment.
As for the Stihl MS500i, the advanced engine management system in the chainsaw ensures minimal waste while adjusting the air-to-fuel ratio. This means you will be burning fuel efficiently, which will, in turn, make sure your fuel cost remains low.
While both of these systems are pretty efficient, in my testing, I found the Stihl MS500i to be the better one. The difference, however, is pretty negligible, so if you prefer the Husqvarna 592 XP, this is no reason not to go for it.
Winner: Stihl MS500i but only by a slight margin.
Ease of Use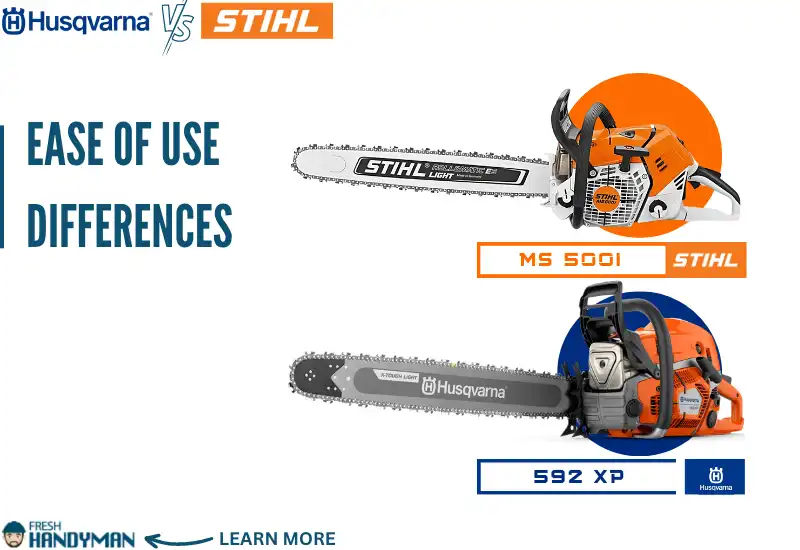 Let's forget everything for a second. Imagine you are using the chainsaw for the first time. What would be the most important thing for you? In most cases, I found that people prioritize the user-friendliness of a chainsaw over the fancy features that comes with it. That means ergonomics and ease of use are extremely important here.
Now, I know ease of use is a subjective thing. What feels simple to an expert logger might not be that easy to grasp if you are a beginner. So you need to do some quick thinking here to determine which features seem more practical for your particular situation.
Both of these chainsaws come with clever designs to make things as easy as possible for the user. For instance, the Husqvarna 592 XP has a top-tier air filtration system which means less maintenance on your part. And its ergonomic design also reduces fatigue if you plan on using it for long stretches of time.
But let's be real here – the Stihl MS500i is miles ahead when it comes to ergonomics. It's extremely light, which means you will be able to maneuver it easily and also carry it around for longer without any fatigue. Besides, the air filtration system in the Stihl MS500i isn't any slouch either.
Then again, it's entirely up to you to decide which chainsaw to go for. If you are a beginner, though, I cannot say enough good things about the Stihl MS500i.
Winner: Stihl MS500i
Price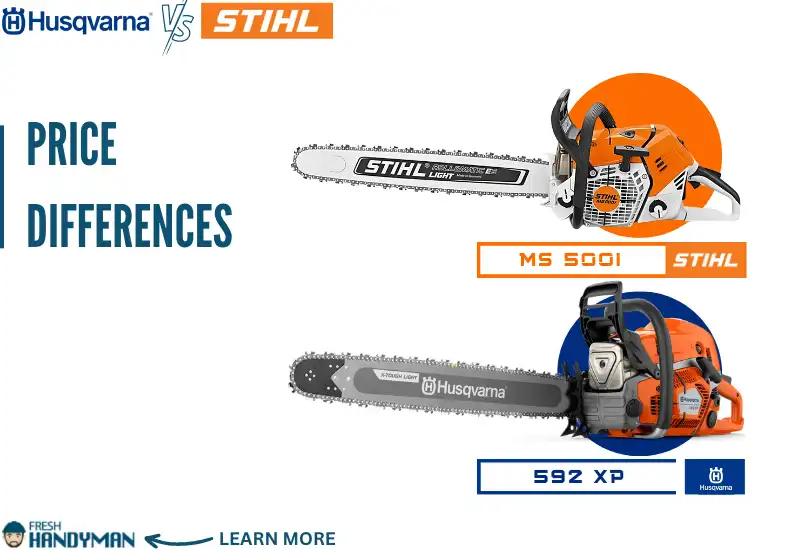 When you are shopping for a top-tier professional-grade chainsaw, you should already be prepared to spend a fair bit of money. But that doesn't mean you need to go all out on expenses. It's always smart to consider the price of a chainsaw before you commit to it.
Now between the Husqvarna 592 XP and the Stihl MS500i, the price difference is only around 100 dollars, which isn't huge, but it's still worth knowing. The Husqvarna is the more affordable model and can offer a decent value for your investment.
However, if the compact nature of the Stihl MS500i seems appealing to you, then shelling out the extra 100 bucks for it isn't really a bad idea. So go with whichever one feels right to you. But from an objective standpoint, the Husqvarna 592 XP takes the lead here.
Winner: Husqvarna 592 XP
Husqvarna 592 XP Vs Stihl MS500i: What's The Verdict?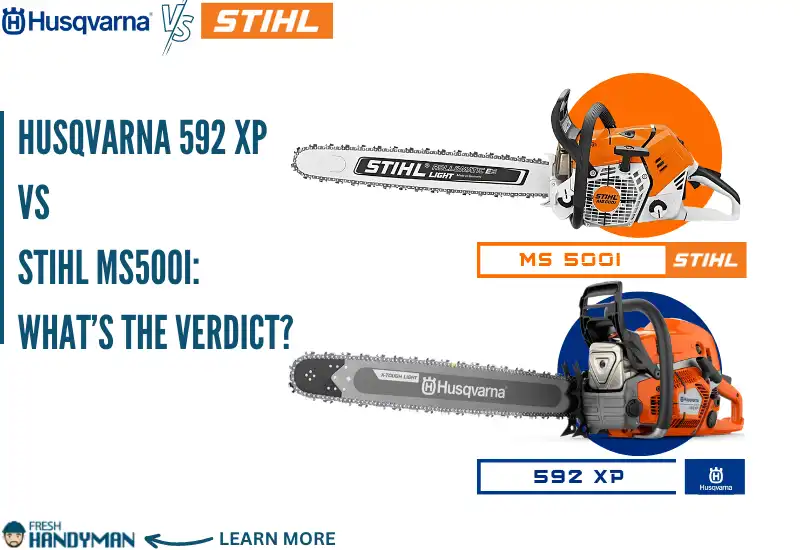 While there are plenty of differences between the Husqvarna 592 XP and the Stihl MS500i, when it comes to performance, they work at a similar level. Of course, there are slight trade-offs here and there, and that's what your decision should come down to.
For example, if you prefer mobility over raw power, the Stihl MS500i should be your choice because of its lightweight, ergonomic design. However, the engine power and larger fuel tank in the Husqvarna 592 XP make it a pretty formidable tool to have in your arsenal.
After all, it comes down to what features you prioritize over the others. All I did was equip you with all the information you need to make the decision. There's no wrong choice here, especially between these two high-performance chainsaws. So, pick out whichever one you like more.
I hope my in-depth comparison between the Husqvarna 592 XP and Stihl MS500i can help you figure out which chainsaw is right for you. Good luck!