Planning on picking out a new chainsaw to chop off some firewood? Or maybe you want to take on milling as a hobby on the side?
In either case, Husqvarna is an amazing brand to go with. The Husqvarna 555 and 460 Rancher are both capable chainsaws that are perfectly up to the challenge.
But which chainsaw is the winner here? Looking at the price alone, you can see a huge difference between the two chainsaws. The Husqvarna 555, for instance, costs around 150 dollars more than the 460 Rancher. Does that mean the 555 is the better chainsaw? Well, yes – but there's more to it.
You see, both of these chainsaws are extremely popular among enthusiasts, and while they share many similarities, they also have quite a few differences. And to understand which of these chainsaws is right for you, you need to dig deep and do some research on your own.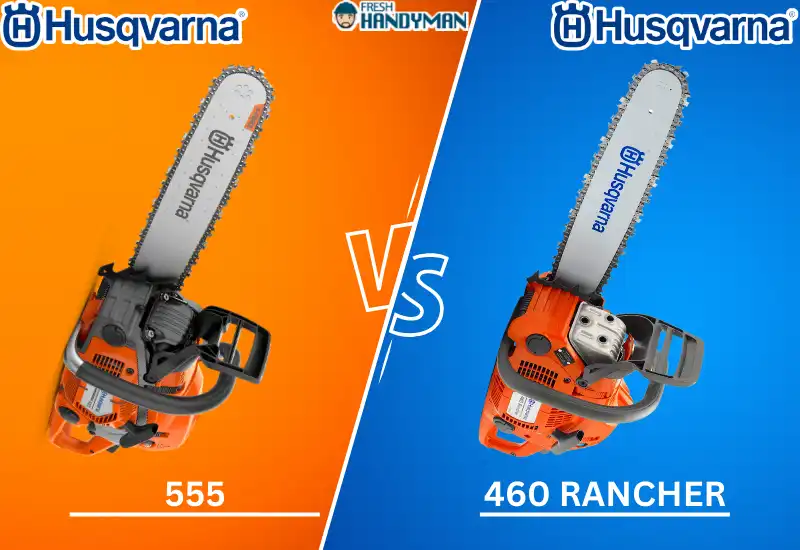 But then again, that can be quite tedious. So, I'll try to make things as simple as possible for you by giving you a thorough comparison between the Husqvarna 555 and 460 Rancher. Let's start with a quick chart looking at the key specs of the two chainsaws for an overall idea about them.
Comparison Table with Specs for Husqvarna 555 and Husqvarna 460 Rancher
| Key Factor | Husqvarna 555 Rancher | Husqvarna 460 Rancher |
| --- | --- | --- |
| Powerhead Weight | 12.3 pounds | 13.2 pounds |
| Displacement | 59.8 cc | 60.3 cc |
| Fuel Capacity | 22 oz. | 14.87 oz. |
| Engine Power | 4.16 hp | 18 – 24 inches |
| Price | CHECK LATEST PRICE | CHECK LATEST PRICE |
Main Features of the Husqvarna 555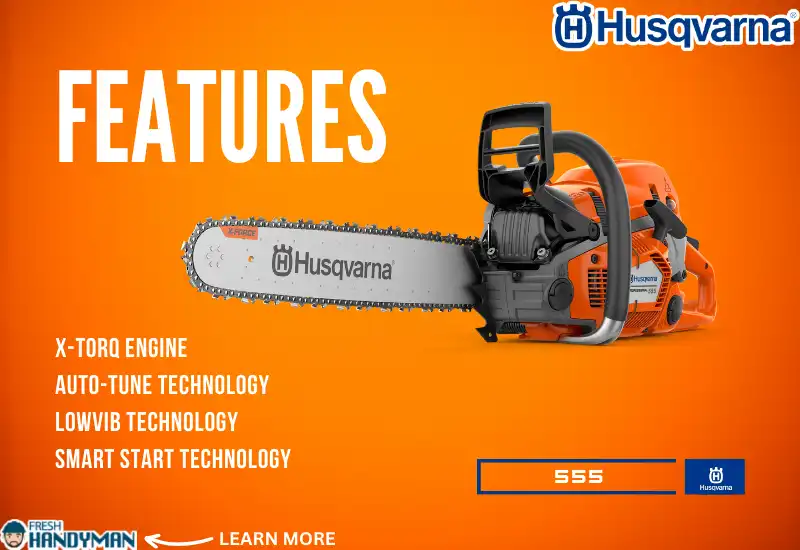 One of the main highlights of the Husqvarna 555, or any Husqvarna chainsaw for that matter, is its X-Torq Engine. The engine is capable of delivering up to 4.16 HP thanks to its displacement capacity of 59.8 ccs. So it will make your job of felling trees all the easier.
The Husqvarna 555 is also equipped with Auto-Tune technology that can drastically simplify operating the chainsaw. This system allows the chainsaw to automatically adjust the carburetor based on your current operating temperature to ensure optimal performance.
It's natural for a chainsaw to vibrate when you use it, but if the vibration is excessive, it's not a good thing. The Husqvarna 555 features a LowVib technology that essentially eliminates a lot of the rattling to ensure you have a safe, danger-free experience with it.
Another feature of the Husqvarna 555 is its implementation of the Smart Start Technology. Both the engine and the starter in the 555 are designed to make the job of starting the chainsaw as easy as possible, even in cold operating conditions. So, you can get started on your project with little time wasted.
Main Features of the Husqvarna 460 Rancher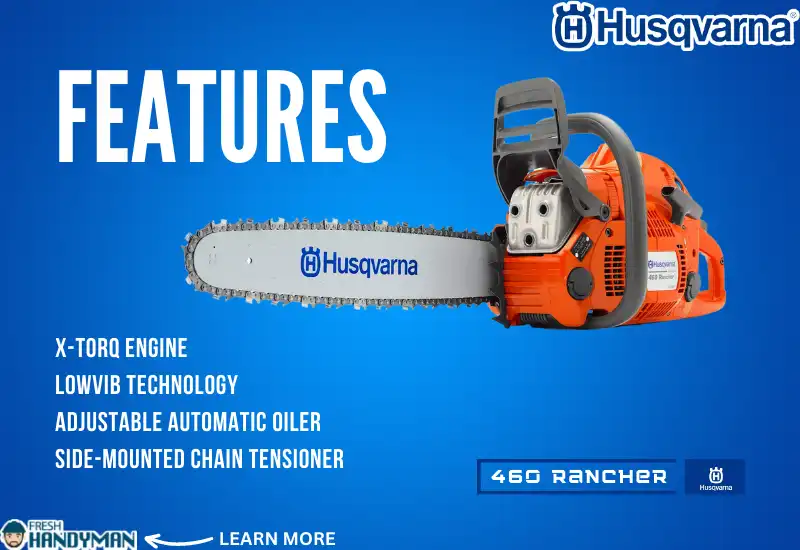 The Husqvarna 460 also comes with an X-Torq engine. Its power output goes up to around 3.62 HP, and the engine displacement capacity is around 60.3 ccs. While it is tuned at a lower power rating, the performance of this engine is pretty decent when you put it under a moderate workload.
Similar to the Husqvarna 555, the 460 Rancher is also equipped with the LowVib technology to eliminate excessive vibration. This might not seem like a big deal if you are a seasoned veteran with a chainsaw. But for a new user, it offers a massive improvement and serves as an excellent safety feature.
Adjustable Automatic Oiler
We all want our time with the chainsaw to be as smooth as possible. But when the chain oil runs out, your cutting quality can take a massive hit. Well, to tackle that issue, the Husqvarna 460 Rancher comes with an adjustable automatic oiler that quickly disperses lubricant to the chain to keep your chainsaw running smoothly.
Side-Mounted Chain Tensioner
The chain tensioner in the Husqvarna 460 Rancher is mounted on the side for easier access. This means you will quickly be able to adjust the tension on the chain depending on the type of cut you are making with minimal hassle.
Differences Between the Husqvarna 555 and 460 Rancher
Now that you have a basic idea of the features of the two chainsaws let's look at what sets them apart. So let me share my personal insights into the strengths and weaknesses of the Husqvarna 555 and the 460 Rancher so that you can get a real-life picture of what you might experience with either of these chainsaws.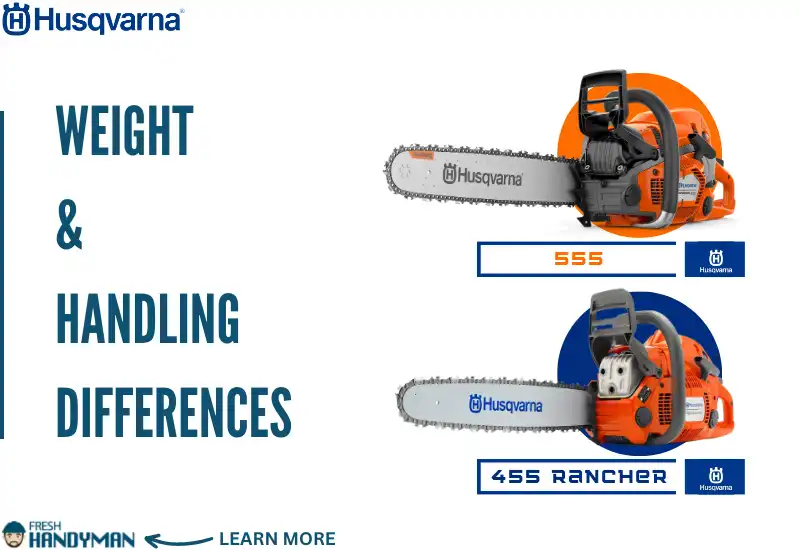 The good thing about both of these chainsaws is that they are relatively light compared to some of the more heavy-duty options out there. And as I like to put it – a heavy chainsaw doesn't necessarily mean it has more power in the bank. Sometimes, a lighter chainsaw performs just as well as a heavy one.
Assuming you will be using these chainsaws for milling, chopping firewood, or trimming shrubbery, a lighter weight will mean a better value. And in that sense, the Husqvarna 555 edges ahead of the 460 Rancher, albeit slightly. The weight difference between the two models isn't really that much.
The Husqvarna 555 chainsaw weighs around 12.3 pounds, while the Husqvarna 460 Rancher weighs just over 13 pounds. Rounding up, you could say that the 460 Rancher is a pound heavier than the 555. Frankly speaking, unless you've been using the chainsaw for 24 hours, the extra pound of weight won't make any difference.
Still, credit where credit is due, the 555 does manage to keep things lightweight while providing more engine performance. So, I would still have to hand the crown to the Husqvarna 555 when it comes to its weight and handling.
Winner: Husqvarna 555 by a slight margin.
Engine Power and Performance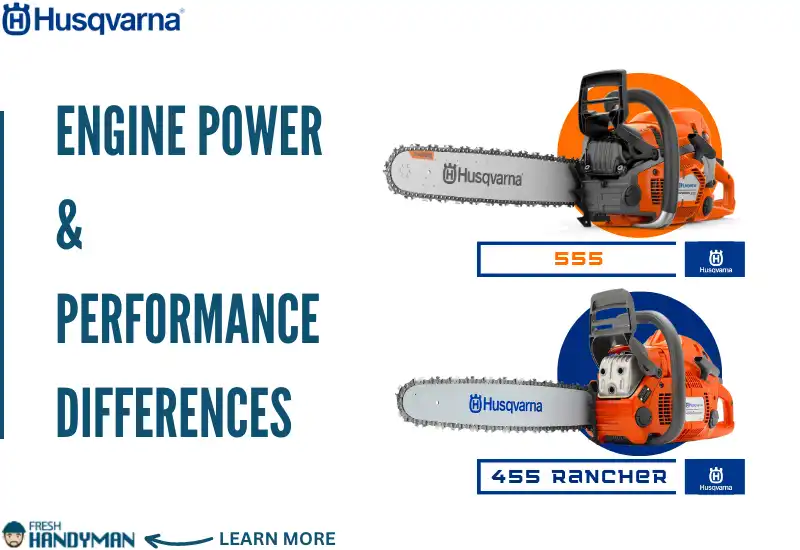 I think most would agree that engine power is the primary dictator of the quality of a chainsaw. Now I'll be honest, both the Husqvarna 555 and 460 Rancher are catered towards moderate workloads. So don't expect this chainsaw to do any heavy lifting.
But if you use them for the type of projects these chainsaws are designed to handle, you will be pretty happy with their performance. Both of these chainsaws work well and can deliver top-notch performance for tasks such as cutting through medium-sized trees and bushes.
When looking at the displacement rate, both of these chainsaws manage to stay around the same ballpark. With the Husqvarna 555, you get around 59.8 ccs, while the 460 Rancher manages to go up to 60.3 ccs. However, looking at the horsepower, the story changes.
The 460 Rancher caps out at an engine power of 3.62 HP, which is fine for most projects. But with the Husqvarna 555, you will be able to push the chainsaw further, reaching up to 4.16 HP. This means on paper, at least, the Husqvarna 555 can deliver more power output.
Winner: Husqvarna 555
Fuel Capacity and Efficiency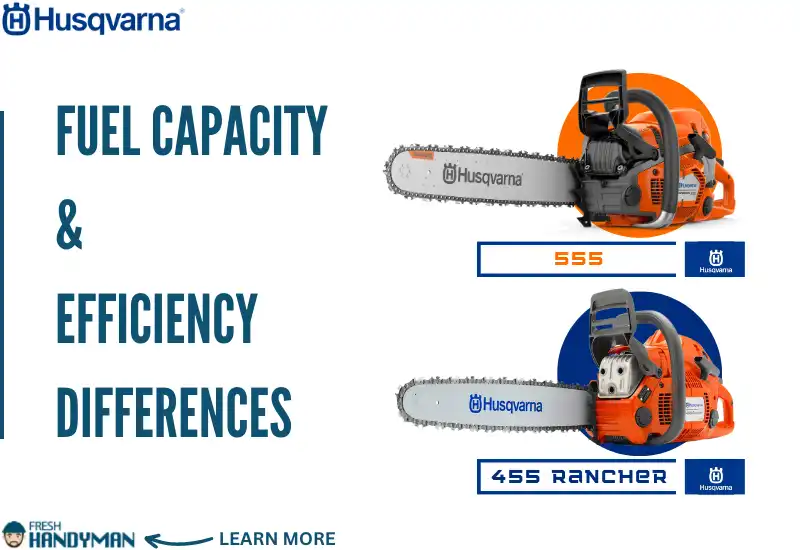 With the weight and power covered, next up in your consideration comes the fuel capacity. Now if we were talking about the best electrical chainsaw, this wouldn't matter much. But gasoline chainsaws are extremely fuel-hungry. And if you want to keep your upkeep cost low, getting a fuel-efficient chainsaw is an absolute necessity.
There are a couple of different things to check here. While the efficiency of the engine is important, you also need to check the fuel capacity of the chainsaw. If the fuel tank is of low capacity, then you will have a tough time finishing your entire project at a go. You might need to stop and refuel midway, and nobody wants that.
If you've been paying attention so far, you already know what's coming – Husqvarna takes the cake again in terms of fuel capacity and efficiency. Now that doesn't mean the 460 Rancher is inefficient in any way. But the fuel capacity in the 555 is simply on a level of its own.
The total fuel capacity in the Husqvarna 555 is around 22 ounces which means you can use it for a long time continuously before you need to refuel. In comparison, the 14.87 oz of fuel capacity in the Husqvarna 460 Rancher is a bit lacking.
As for efficiency, I would say both of these chainsaws have an even footing. On a single refill, you can get decent uptime with either chainsaw. And on top of that, the emission level with both of these chainsaws is also pretty low. So, the Husqvarna 555 wins again because of its bigger fuel tank.
Winner: Husqvarna 555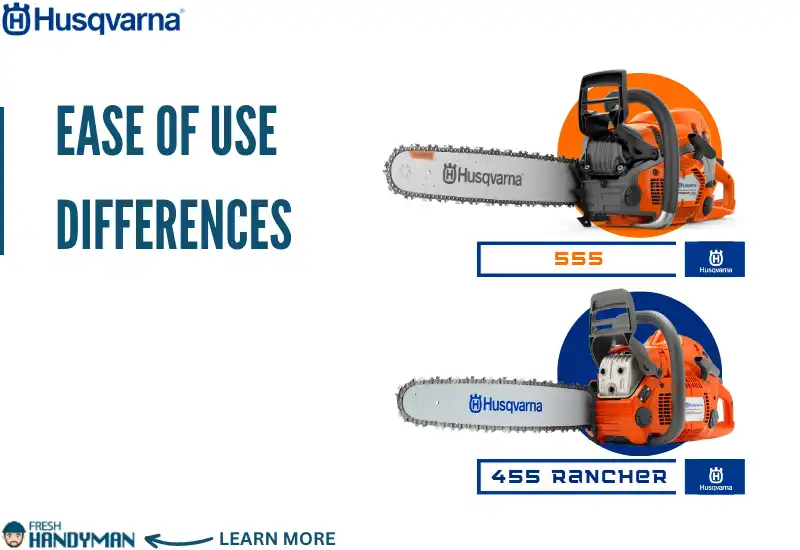 Husqvarna chainsaws, in general, have a solid reputation when it comes to user-friendly design. Most of their chainsaws are designed to provide a good experience, even for an inexperienced user. Needless to say, it makes my job difficult when I have to pick between the two models based on their simplicity of use.
Both the Husqvarna 555 and the 460 Rancher come with an X-Torq engine along with LowVib technology to eliminate excessive vibration. In addition, both of these models feature a quick-release air filter and Air Injection technology to make maintenance easy and enhance the lifespan of the filter.
But what gives the 555 a slight advantage is that it comes with an Auto-Tune technology that can eliminate a lot of the hassles of operating a chainsaw. This is one thing that's lacking in the 460 Rancher. That, combined with the lighter weight of the chainsaw, makes it much easier to handle for a beginner.
So, the Husqvarna 555 wins again, but only ever so slightly.
Winner: Husqvarna 555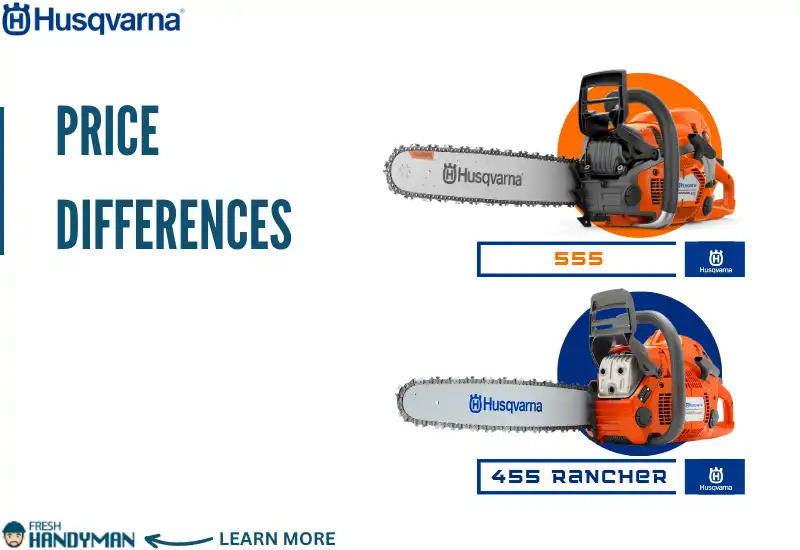 I know what you're thinking – so far, it seems like the Husqvarna 555 is just steamrolling over the 460 Rancher. And that's true. But when it comes to price, the 460 Rancher offers a much better value for your investment.
You see, the MSRP for the Husqvarna 555 is around 750 dollars. In comparison, you can pick up a new 460 Rancher if you just have around 600 dollars in the bank. The price difference might not be huge to a professional, but if you are getting a chainsaw on a budget, it might make all the difference.
The main appeal of the 460 Rancher is not in what it can do but rather in what it can do in its price range. At this price point, the level of performance that this compact little chainsaw can deliver is quite amazing.
And don't forget the fact that it's a tried-and-true Husqvarna product at its core. It still comes with all the intelligent features such as the X-Torq engine, the Air Injection Technology, or even the LowVib Technology that makes their chainsaws amazing. So, if you are after value on a budget, the 460 Rancher is a formidable option.
Winner: Husqvarna 460 Rancher
Husqvarna 555 vs 460 Rancher: What's the Verdict?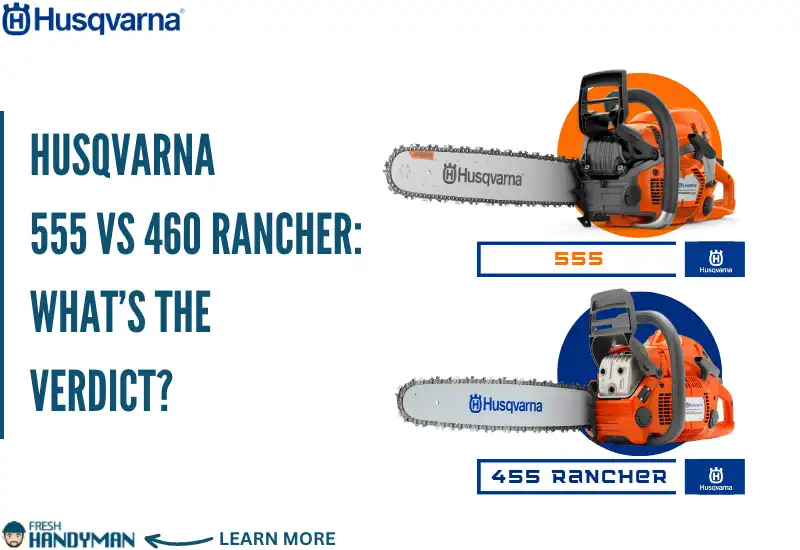 On paper, the 460 Rancher really seems like a slightly toned-down version of the Husqvarna 555 at a much lower price tag. But once you really get into the details, you will start noticing some big differences between the two models. In the end, it's entirely your decision.
If you ask me, though, I would always recommend spending the extra 150 to 200 bucks and getting the 555. It's an amazing chainsaw that's designed to tackle a wide range of milling and logging tasks. And on top of that, it's a relatively newer model compared to the 460 Rancher.
The 460 Rancher isn't a bad choice either if your budget is tight. But remember, it does weigh a bit more, making it more difficult to handle when you are working for long stretches at a time. And its power output isn't as high as the Husqvarna 555 either. But there are definitely some nice features built into it for the price.
I hope my in-depth comparison between the Husqvarna 555 and 460 Rancher gave you some valuable insights. Cheers!