There are two brands that consistently battle it out when it comes to producing high-quality and reliable chainsaws: Husqvarna and Stihl. Both of these brands are well-known among professional arborists and domestic users.
Today, I will be comparing two of their popular models: the Husqvarna T435 vs Stihl 201T. Both of these chainsaws are designed for optimal performance and have a lightweight design for better handling. Each chainsaw, however, has its own set of distinguishing features that set it apart from the others.
This article dives into the details of the features and specifications of the Husqvarna T435 and the Stihl 201T. I'll also compare their performance, durability, ease of use, price, and customer reviews and ratings.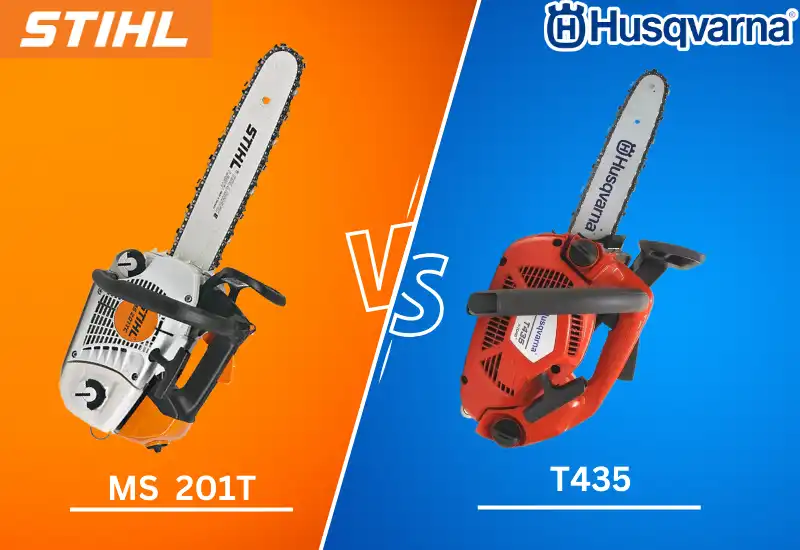 By the end of this comparison, you will have a better understanding of the differences between these two chainsaws and their pros and cons. Please continue reading to find out more.
Why Compare The Husqvarna T435 Vs Stihl 201T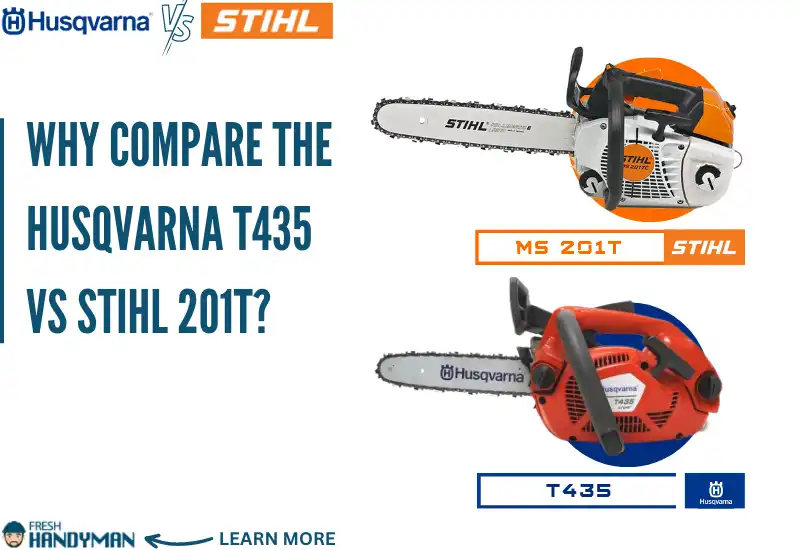 Comparing these chainsaws will help you know what the Husqvarna T435 and the Stihl 201T have to offer. This will help you make a more informed decision before purchasing one.
I carried out research and analyzed feedback from various customers. This, combined with my own experience using the two chainsaws, helped me come up with a comprehensive comparison.
In this article, I am going to look at every aspect to help you determine which model suits your needs best, so stick around. I've also provided a quick comparison of the Husqvarna T435 vs the Stihl 201T.
Husqvarna T435 Vs Stihl 201T Quick Comparison
| Key Factor | Husqvarna T435 | Stihl 201T |
| --- | --- | --- |
| Engine Power | 2.01hp | 2.41hp |
| Displacement | 35.2cc | 35.2cc |
| Compatible Bar Length | 12, 14, and 16 inches | 12, 14, and 16 inches |
| Weight | 7.5 lbs | 8.16lbs |
| Fuel Capacity | 8.8 oz. | 10.5 oz. |
| Fuel Type | Gas | Gas |
| Warranty | 2-year | 2-year |
| Price | CHECK LATEST PRICE | CHECK LATEST PRICE |
Overview of the Husqvarna T435
The Husqvarna T435 is a great chainsaw for professional pruning and trimming applications. Its lightweight and compact design provides maximum comfort during usage and makes it easier to navigate tight spaces.
With an X-Torq engine, this machine delivers maximum performance while emitting less. To get a clear grasp of its capabilities, I am going to take a closer look at its features and specifications, as well as its pros and cons.
Features of the Husqvarna T435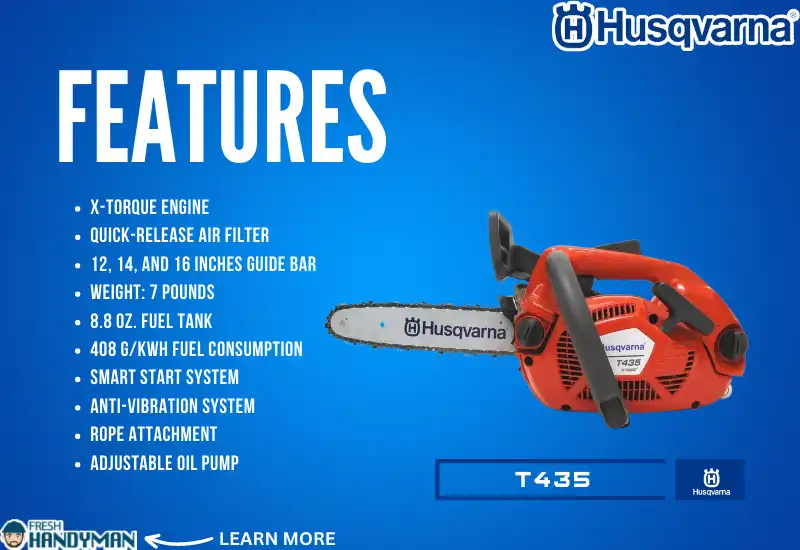 Husqvarna loaded the T435 with a bunch of features that make it stand out from similar-sized chainsaws. Here they are:
Powerful Engine
This chainsaw comes with a 35.2 cc X-Torq engine that delivers a maximum of 2.01 horsepower. The X-torque engine is a feature that is unique to Husqvarna's chainsaws.
It was designed to reduce emissions by as much as 60% and fuel consumption by 20%. This makes the T435 a suitable choice for users concerned about the environment.
Compared to other two-stroke engines, the X-Torq engine is able to deliver high torque at low revolutions, which enables efficient cutting.
Efficient Air Filter
The T435 is equipped with a quick-release air filter for easy maintenance. You can easily remove it and clean it to ensure that the chainsaw is operating at peak performance.
Another function of this air filter is to prevent dirt and debris from entering the engine, which leads to damage.
Bar Length
If you're looking for a compact chainsaw with a short but lightweight bar, then the Husqvarna T435 will be a perfect fit for you. This chainsaw comes with three bar variations: 12, 14, and 16 inches.
However, the minimum recommended length is 12 inches, and the maximum is 14 inches. This is the appropriate length that will enable you to cut through branches while maintaining total control of the chainsaw.
Weight
How light is the Husqvarna T435? A little over 7 pounds. It is extremely rare to find a chainsaw that is this light but still performs remarkably. Its lightweight design comes in handy when maneuvering through tight spaces.
You can easily climb a small tree with them and work for extended periods without feeling fatigued. That is why many homeowners prefer it when carrying out routine tasks such as pruning and clearing bushes.
Fuel Capacity and Consumption
The Husqvarna T435 has an 8.8 oz. fuel tank that is able to help run the machine for several hours without the need for refueling. This will be important for professionals who need to work for extended periods without interruptions.
In addition, this chainsaw has a fuel consumption of 408 g/kWh, which is pretty decent if you ask me. To access this tank, Husqvarna provided a flip-up tank cap that is very easy to open.
Smart Start System
One of the most common problems that chainsaw users face is a machine that takes too long to start. However, the T435 has a patented Smart Start system designed to reduce resistance by up to 40%. So, you won't struggle when pulling the starter cord.
This system also includes an air purge feature that expels air from the carburetor, making it easier to start the engine. In combination, these features help to increase productivity when using the T435.
Anti-Vibration System
There is Low Vibration Technology in place to reduce vibration and make you more comfortable. This consists of rubber mounts that separate the engine from the chassis and spring-mounted handles that dampen vibration. Reducing vibration also helps reduce the chances of injury.
Rope Attachment
If you want to work at height, the Husqvarna T435 has provided an allowance for rope attachment, allowing you to easily hoist the saw up into a tree.
Adjustable Oil Pump
The T435's adjustable oil pump allows you to regulate the amount of oil that is delivered to the bar and chain. This helps to ensure that the chainsaw is always lubricated and running smoothly. In turn, this prolongs its lifespan and reduces the need for maintenance. It also helps reduce total oil consumption by eliminating waste.
Pros and Cons of the Husqvarna T435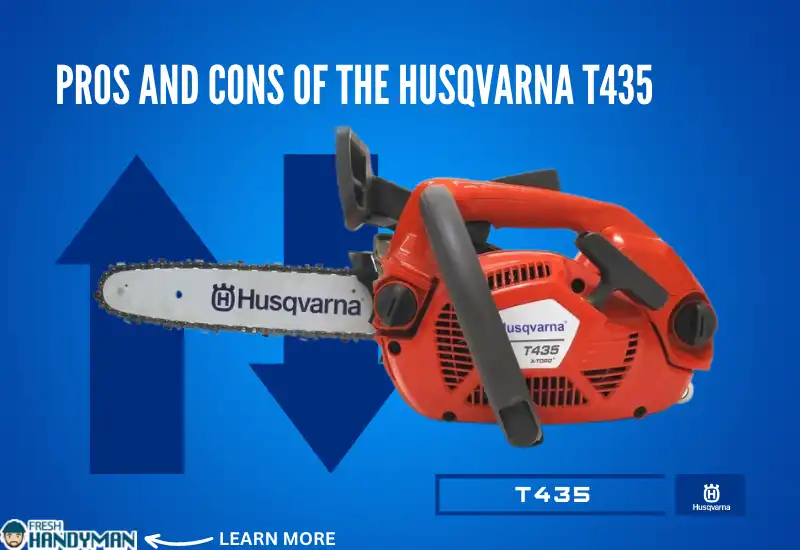 Here are some of the pros and cons of the Husqvarna T435
Best Uses of the Husqvarna T435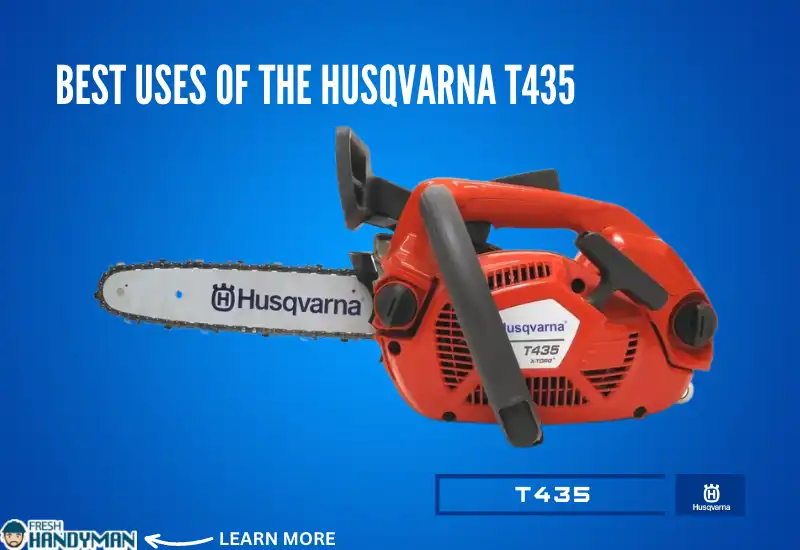 The Husqvarna T435 is an ideal chainsaw for trimming and pruning small trees. Unfortunately, its power rating makes it unsuitable for cutting through larger trees and logs.
However, its lightweight and compact design makes it easy to move through tiny spaces with it. Additionally, its low emissions and fuel consumption will make it a good choice for you if you're environmentally conscious.
Customer Reviews and Ratings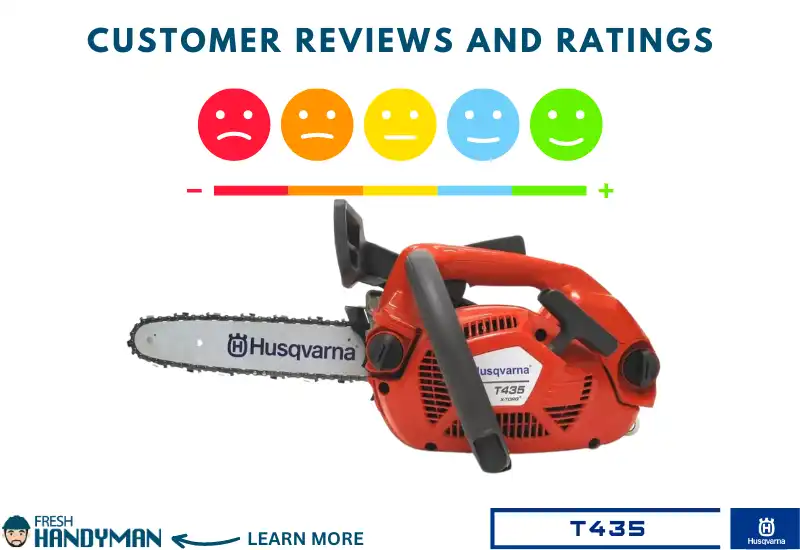 Many customers who have purchased this machine praise it for its lightweight design, ease of use, and reliability. The T435 has an average rating of 4 out of 5 stars based on 41 customer reviews.
One of the users who had owned the saw for close to 3 months said that he was happy he bought it since it ran great and was easy to break down and clean.
Another user gave it a 5-star rating and recommended it, stating that it had great quality. He added that the handle was lightweight and designed properly.
One complaint that a user made was that the kill switch was placed in the most inconvenient spot, making it hard to use.
Read Also: Stihl MS 291 VS Husqvarna 455: Which One Reigns Supreme?
---
Overview of the Stihl 201T
When it comes to professional-grade chainsaws, Stihl always wins. The Stihl 201T is a fan favorite among chainsaw enthusiasts due to its flawless performance. Many people refer to it as the "ultimate arborist saw."
Stihl designed the 201T to be more balanced and durable than its predecessors. It, like the Husqvarna T435, is classified as lightweight. Here are more of its features:
Features of the Stihl 201T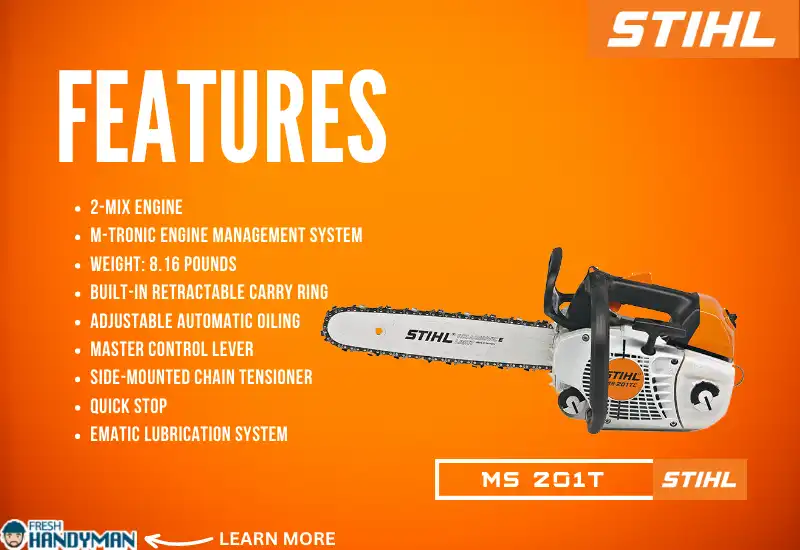 The Stihl 201T has some impressive features that might make you consider it. They include:
Engine
At the heart of the Stihl 201T is a powerful 35.2 cc engine that produces 2.41 horsepower. It features advanced 2-MIX technology, just like every other Stihl engine.
The 2-MIX technology injects fuel directly into the combustion chamber rather than mixing it in the carburetor. This is popularly known as stratified charge combustion. It helps lower fuel consumption and reduces emissions.
M-Tronic
The 201T has an advanced M-Tronic engine management system, unlike other chainsaws in the lightweight category. This system is designed to automatically adjust the engine for optimal operating conditions.
You won't have to keep adjusting the carburetor screws based on the air temperature, altitude, and fuel quality, as this system does that for you. In the end, the chainsaw delivers consistent performance and becomes more efficient.
Weight and Handling
This chainsaw is light and compact to enable you to handle it easily. It weighs only 8.16 pounds, making it one of the lightest professional-grade chainsaws on the market.
Another special feature that makes handling easier is the built-in retractable carry ring. Its ergonomic design provides a comfortable grip and will allow you to maneuver tight spaces with ease.
Guide Bar
It is usually important to select the correct guide bar length based on the task you want to carry out. The 201T comes standard with a 12-inch guide bar that can be upgraded to 14- or 16-inch guide bars.
However, the manufacturer's recommended bar length is 14 inches. This bar is made of high-quality material to provide durability and performance when cutting small branches and limbs.
Adjustable Automatic Oiling
The Stihl 201T comes with an adjustable automatic oiler. Its main function is to regulate lubrication to suit different cutting needs. Like Husqvarna's, this oiler ensures that the bar and chain are well-lubricated.
Master Control Lever
You can control all the functions of this chainsaw from one single location thanks to the Master Control Lever. This feature conveniently places the choke, start, throttle, and stop switches in one location so you can precisely control the chainsaw.
Side-Mounted Chain Tensioner
Adjusting the chain can be quite a hassle for some chainsaws, but not the Stihl 201T.  This machine has a side-access chain tensioner that you can use to reduce or increase the chain's tension without using any complicated tools.
A properly tensioned chain reduces the risk of damage and improves cutting performance.
Quick Stop
For added safety, every Stihl 201T chainsaw comes with a Quickstop chain brake that brings the chain to a halt instantly whenever it kickbacks accidentally.
This feature helps to reduce the risk of injury or damage to the chainsaw.
Ematic Lubrication System
The Stihl 201T comes with an Ematic lubrication system that reduces oil consumption significantly. It does this by delivering the optimal amount of lubricant to the chain links, driver holes, rivets, and bar. This has the potential to save up to 50% on bar oil consumption.
Read Also: Husqvarna 3120XP Vs Stihl MS 880: The Ultimate Showdown
Pros and Cons of the Stihl 201T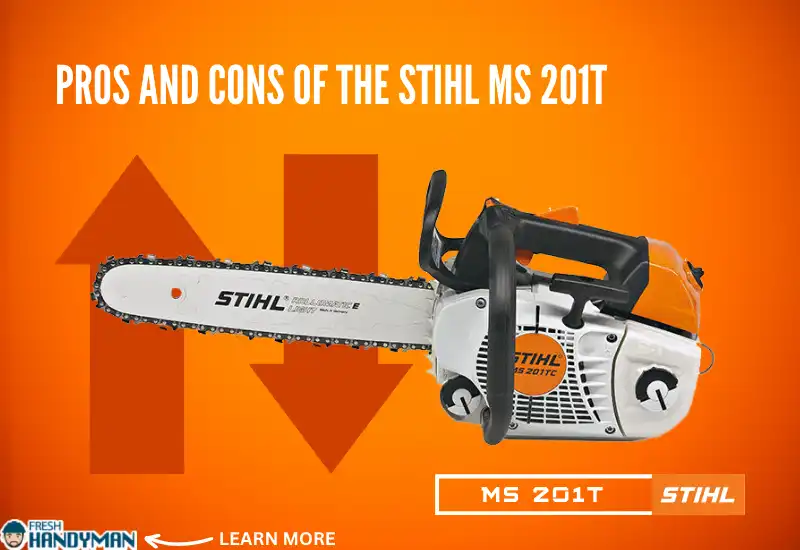 Here are some of the pros and cons of the Stihl 201T:
Best Uses of the Stihl 201T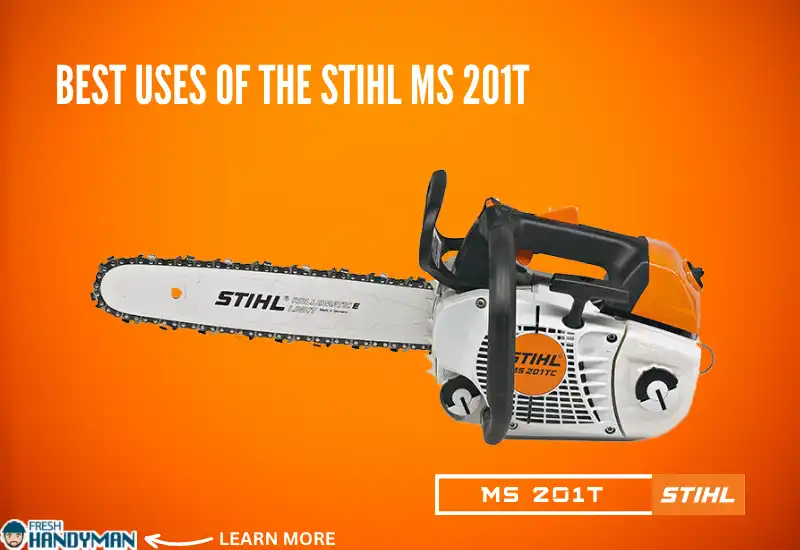 The Stihl 201T is a professional-grade chainsaw that was specifically designed for use by arborists and tree care professionals. It is portable enough to handle for several hours.
Additionally, it is versatile enough to handle cutting tasks such as limbing small to medium-sized trees, pruning, and firewood cutting.
Customer Reviews and Ratings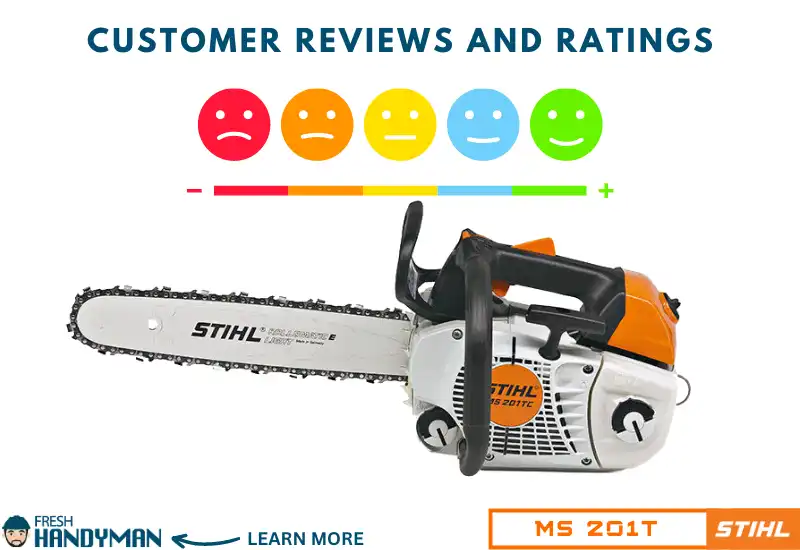 This chainsaw has received several positive reviews due to its powerful engine and flawless performance. According to the reviews on Stihl USA's official site, it has an average rating of 3.7 out of 5.
One user who had bought it recently wished that they had bought it earlier because the chainsaw had a magnificent power-to-weight ratio.
Another user claimed that the Stihl 201T was a little saw with big power. He claimed to own a tree service and that this saw was extremely useful and powerful on a daily basis.
One user complained that the M-Tronic in the Stihl 201T continued to fail him. He claimed that the saw did not perform as well as he had hoped and that it became even worse around fall. He urged Stihl to step up a little.
Comparison of the Husqvarna T435 Vs Stihl 201T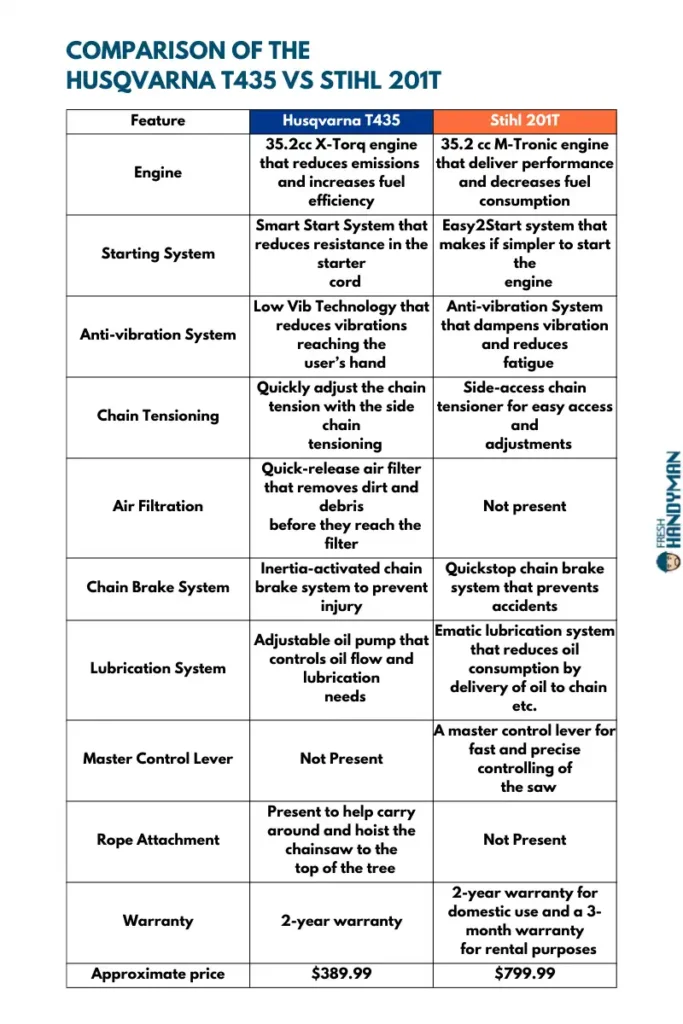 Both the Husqvarna T435 and Stihl 201T pack a lot of power and features into a compact and lightweight design. However, there are some key differences between the two models that make them ideal for various tasks.
To help you compare the Husqvarna T435 vs. the Stihl 201T, I have put together this side-by-side comparison table that breaks down the key features and specifications of each saw. You can review it to get a clear idea of the model that will suit your needs best.
| Key Factor | Husqvarna T435 | Stihl 201T |
| --- | --- | --- |
| Engine | 35.2cc X-Torq engine that reduces emissions  and increases fuel efficiency | 35.2 cc M-Tronic engine that delivers performance and decreases fuel consumption |
| Starting System | Smart Start System that reduces resistance in the starter cord | Easy2Start system that makes if simpler to start the engine |
| Anti-vibration System | Low Vib Technology that reduces vibrations reaching the user's hand | Anti-vibration System that dampens vibration and reduces fatigue |
| Chain Tensioning | Quickly adjust the chain tension with the side chain tensioning | Side-access chain tensioner for easy access and adjustments |
| Air Filtration | Quick-release air filter that removes dirt and debris before they reach the filter | Not present |
| Chain Brake System | Inertia-activated chain brake system to prevent injury | Quickstop chain brake system that prevents accidents |
| Lubrication System | Adjustable oil pump that controls oil flow and lubrication needs | Ematic lubrication system that reduces oil consumption by delivery of oil to chain etc. |
| Master Control Lever | Not Present | A master control lever for fast and precise controlling of the saw |
| Rope Attachment | Present to help carry around and hoist the chainsaw to the top of the tree | Not Present |
| Warranty | 2-year warranty | 2-year warranty for domestic use and a 3-month warranty for rental purposes |
| Approximate price | $389.99 | $799.99 |
Which Chainsaw Is Best for You? Husqvarna T435 or Stihl 201T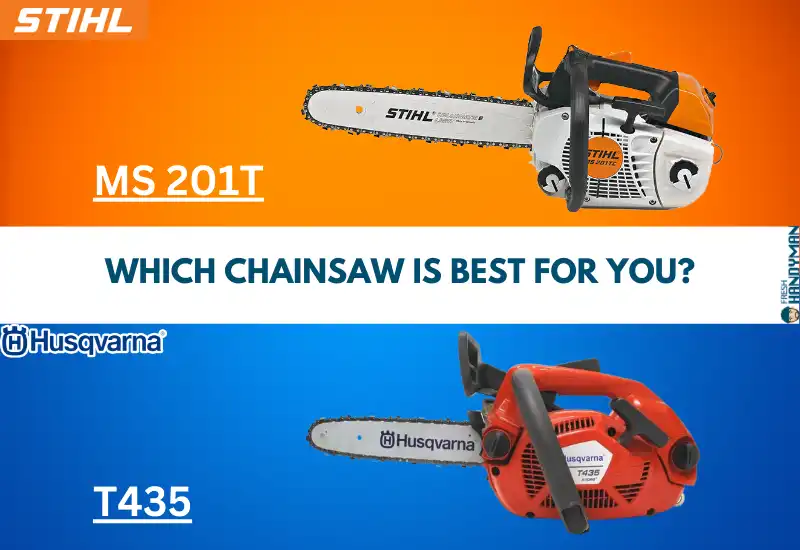 It is difficult to decide the winner between these two chainsaws. That is because they are both loaded with unique features. To start with, the Husqvarna T435 is best for people who want to do trimming and pruning work in vineyards, orchards, or parks. This is because its engine doesn't pack much power. However, it is light and easy to handle.
On the other hand, the Stihl 201T is a powerful chainsaw that can perform slightly heavier tasks such as cutting firewood and limbing small trees. It is more suitable for professionals such as arborists.
Both chainsaws have features that are similar in function and are equally effective. Some examples are anti-vibration systems, lubrication systems, chain brake systems, and chain tensioning systems. Additionally, they both have the same warranty period.
The Stihl 201T edges the Husqvarna T435 when it comes to engine power and fuel capacity. It also has some features that the T435 doesn't, such as a master control lever that consolidates all control functions.
However, the T435 is lighter and cheaper and also has a better air filtration system. With all that under consideration, I would go for the Stihl 201T. Despite the T435 being cheaper, the 201T still has more power and a larger fuel capacity.
Read Also: Echo 355T vs Stihl M S201T
Frequently Asked Questions
Which chainsaw is better for cutting down trees?
The Stihl 201T is better at cutting down trees since it produces comparatively more engine power (2.4 hp) than the Husqvarna T435 (2.10 hp).
Which chainsaw is better for precision cutting?
The Husqvarna 435 is much better at precision cutting because it is lighter (7.5 lbs.) than the Stihl 201T (8.16 lbs.). It is also better at handling due to the Low Vib technology, which reduces vibration and gives you more control.
What is the maximum bar length that can be used with the Husqvarna T435 and the Stihl 201T?
Both the Husqvarna T435 and the Stihl 201T can accommodate a maximum bar length of 16 inches.
Final Verdict
The Husqvarna T435 and the Stihl 201T are both high-quality, lightweight chainsaws. Whichever of the two you pick boils down to your specific needs and preferences. If you want a more powerful engine and larger fuel capacity, then go for the Stihl 201T.
However, if you prioritize ease of handling and price, then you should choose the Husqvarna T435. Just ensure that you follow the proper safety guidelines and maintain the saw well to get the most out of your chainsaw.