Pole saw it is a versatile tool for pruning and trimming trees. It has an extended pole which helps you in making far distance cuts.
As for cleaning equipment, the primary uses of various kinds of pole saws are the same. However, from the specific speciality and purposes, categories are classified variously.
Like any other power tool available in the market, the pole saw is saturated with never-ending choices. This will make the things difficult to pick up the best pole saws for your works.
But, you are in the proper place as below we will outline the pole saw buying guide. These helpful tips will help you to pick the right one for you. Let's get deep into the post.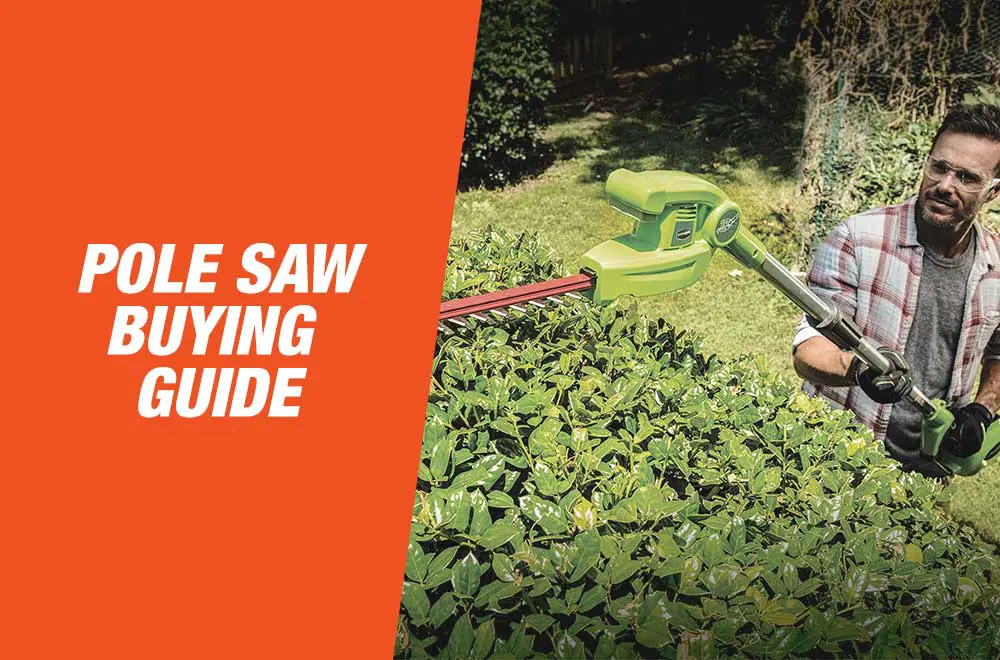 Criteria For Choosing The Right Pole Saw
Compared with other saws, different models will offer the buyer a range of options and features. You will know elaborately about these features after reading this article of pole saw buying guide.
Generally, some of the points to be considered as:
Power Type
The power type or pattern is the first and foremost thing to consider when purchasing the pole saw.
After knowing accurately, you can approach grabbing one. Different types of power sources enable the proper functioning of the tools.
Although powered mainly by electricity. These models have various types of power. Some of them are corded saws. Also, some are cordless models.
You will find some of them are operated by gas engines. These three different power patterns have their advantages and disadvantages.
The gas-powered model is perfect for portable users. But, it is a loud tool.
On the other hand, cordless models are powered by recharged batteries. In contrast, corded models are affordable and provide decent performance. So, the choice should be according to your requirements and needs.
Power Rating
If you want to buy a pole saw for heavy-duty work, you need a robust model. Before buying one, you should observe the power rating.
The rating will differ with various power types of the pole saw. For example, corded pole saws have 6 amps or 8 amps given a power rating.
On the other side, gas-powered saws have 20 CC or even 30 CC given power rating. Although, you will find some given power rating from 20 volts to 40 volts on average.
Taking this into consideration, a more excellent power rating will provide better performance. Therefore, you should give priority to the point of power rating.
Saw Size
Saw is a significant factor that will affect the overall performance of the pole saw. A large blade size can provide a higher commission for you.
For example, a 10-inch saw blade performs better than a 6 or 8 inches saw cutting blade. Thus, a larger blade cuts a lot of materials and saves you time.
Warranty
Pole saw is a tool that can frequently be used depending on your work pattern. As a consequence, the tool is more prone to wear and tear.
Hence, it would help if you always kept checking the warranty duration. Moreover, most models provide an extended warranty with two years warranty. Nevertheless, you will get a more reliable course from 4 years to 5-year warranty.
Recommended Pole Saw To Buy: Scotts Outdoor PS45010S Corded Electric Pole Saw
Basic Types Of Pole Saw
Electric Pole Saw
The electric pole saw is the most used tool for any gardener. Facilitating with little weight, an electric pole saw can save your time by cutting large branches of your trees. They are reasonable, automatically manipulated, and easily adjustable for doing heavy work.
Gas-Powered Pole Saw
A gas-powered saw is a perfect tool for heavy cutting like any extensive tree pruning. It provides versatility as well as greater power. Besides, they are easily manageable for cutting jobs. But, this tool creates an annoying sound. Therefore, protective gear should be used.
Manual Pole Saw
A manual pole saw is a specially designed tool for cutting larger branches. This is powerful and durable equipment that makes efficient cuts without using any power sources. Using manually, a small garden will be the proper workplace for it.
Hydraulic Pole Saw
Professionals mostly use this saw. By using a hydraulic pole saw, roadside trees can be pruned effectively. This heavy-duty tool is excellent for cutting any big forest. Besides, the equipment is lightweight, which provides fast cutting.
Corded And Cordless Pole Saw
For non-stop cutting, a corded pole saw is the best. You can make safe cuts with this versatile tool. The saw allows you to run the projects uninterruptedly. In contrast, a cordless one is a portable tool. This recharge and lightweight saw will be a fantastic tool for working in any remote place.
Final Words
Considering this description, you already get enough idea about the pole saw buying guide. You have to consider buying one according to your pruning work pattern.
However, big projects need a heavy-duty ones. On the flip side, a common type of pole saw is appropriate for small gardens with different capabilities.
Each class provides a particular speciality in multiple tasks. Knowing the proper one for the functions will make your work easier. Let's have a great sawing!
---
Read More