Chainsaws can be quite expensive when you buy them new. And going with a popular chainsaw that's currently riding the production hype can run you a couple of thousand dollars easily.
But truth be told, if you are planning on getting the chainsaw for some property maintenance, chances are you don't need the shiniest model available on the market. A discontinued chainsaw that is in decent condition can often give you a much better value in this situation.
And as weird as it sounds, many people follow this philosophy when they are shopping for a new chainsaw. The Husqvarna 240 and 435 are two such chainsaws that are extremely popular in the community despite being technically discontinued for a while now.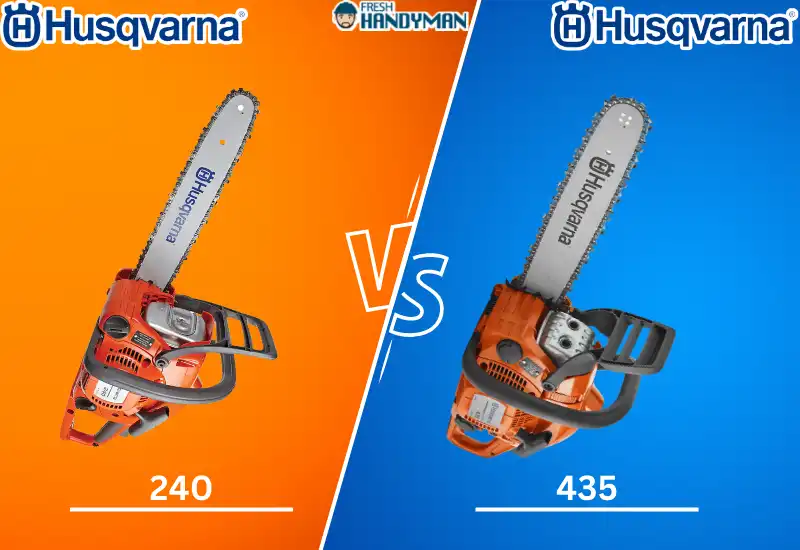 However, are they really worth the investment? Yes, you can find them on the cheap, but that doesn't exactly inspire confidence in your purchase, right? And which one do you go for anyways?
Well, in this article, I will give you a thorough comparison between the Husqvarna 240 and 435 and help you understand which chainsaw is a better pickup for you. So, let's get started.
Comparison Table with Specs for the Husqvarna 240 and 435 Chainsaw
| Key Factor | Husqvarna 240 | Husqvarna 435 |
| --- | --- | --- |
| Powerhead Weight | 10.3 pounds | 9.7 pounds |
| Displacement | 37.6 cc | 50 cc |
| Fuel Capacity | 10.1 oz. | 12.5 oz. |
| Engine Power | 2 hp | 2.2 hp |
| Oil Capacity | 6.42 oz. | 8.5 oz. |
| Price | CHECK LATEST PRICE | CHECK LATEST PRICE |
Main Features of Husqvarna 240
The X-Torq engine powering all Husqvarna chainsaws is a true masterpiece. It drastically enhances the fuel efficiency of the chainsaw and also reduces emissions by a significant margin.
The Husqvarna 240 features a centrifugal air cleaning system that prevents large debris and dirt particles from reaching the air filter element. As a result, the filter remains healthy for longer, and the engine performs better.
Quick Start with Air Purge
When starting the Husqvarna 240, the system automatically purges air out of the carburetor. This lowers the amount of cranking your chainsaw requires to start up and also ensures faster combustion.
Inertia Activated Chain Brake
Safety is always important in a chainsaw, as any misstep can lead to a dismembered limb. Well, thanks to the inertia activated chain brake system, the chainsaw instantly shuts down automatically if it notices a sudden kickback. So, you will have a safer experience using the chainsaw.
Main Features of Husqvarna 435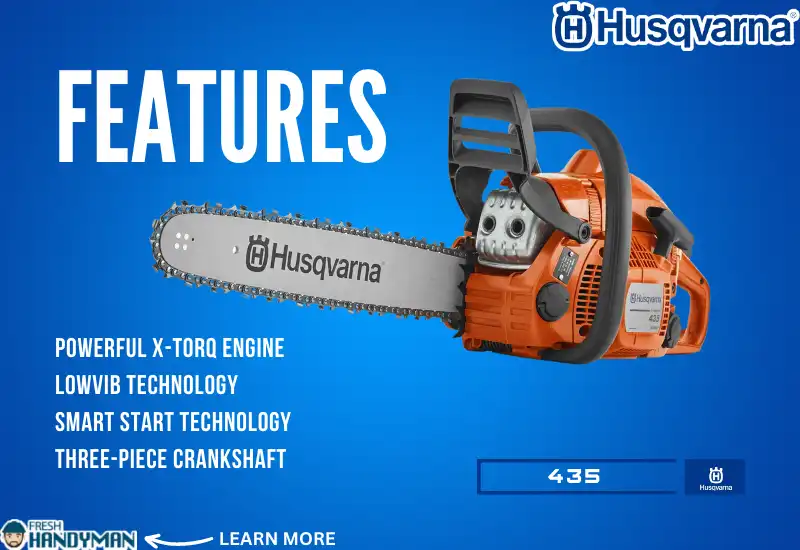 The highly efficient X-Torq Engine also makes an appearance in the Husqvarna 435. As a result, you can expect amazing fuel efficiency with the chainsaw. It boasts amazing uptime on a single refill.
To reduce excessive vibration from the engine, the Husqvarna 435 chainsaw comes with shock-absorbing dampeners between the engine and the chassis. So, your experience won't be ruined by excessive rattling from the chainsaw.
The cleverly designed starter system in the Husqvarna 435 ensures quick and efficient combustion whenever you want to use the chainsaw. You no longer have to worry about cranking your saw endlessly.
Forged three-piece crankshaft in the Husqvarna 435 promises unrivaled durability for the toughest jobs. So even if you decide to push your chainsaw on a constant basis, you don't need to worry about repairs any time soon.
Differences Between Husqvarna 240 and 435 Chainsaws
Since the two chainsaws are made by the same brand, they share many of the features that makes them special. So, you can't look at things like the X-Torq engine or air-injection technology to help you decide which chainsaw is better between the two. You need to look at the specs and crunch some numbers.
In the following section, I will share my personal experience with the two chainsaws and help you get a clearer understanding of the differences between them.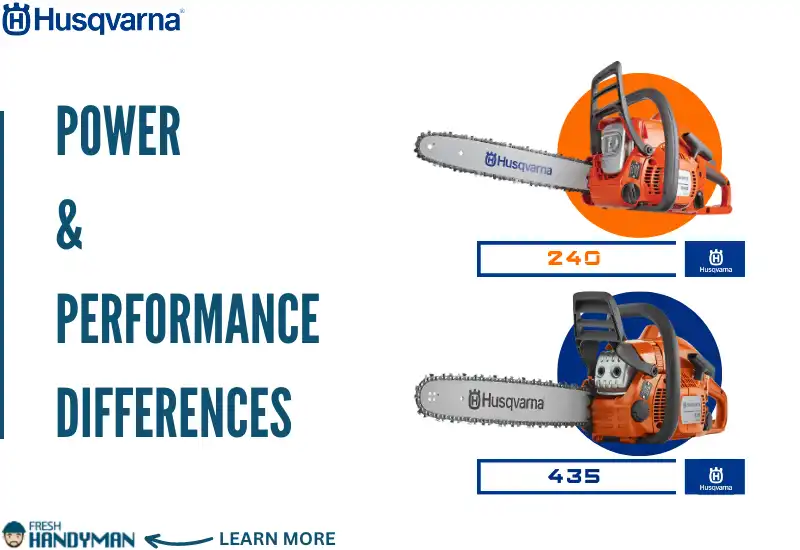 The performance and usability of your chainsaw ride almost entirely on the power that its engine can deliver. For instance, cutting down small branches and shrubbery doesn't require as much engine power as you would need to chop down thick oak trees.
Remember – both the Husqvarna 435 and 240 are considered lightweight chainsaws that are only designed for property maintenance. If you expect to use it for heavy-duty forestry projects, you will be sorely disappointed. It's important to manage your expectations when buying your new chainsaw.
Now, as for the engine power of these two chainsaws, the Husqvarna 435 performs slightly better than the 240 models. The 435 comes with a 50.2 cc engine that can deliver around 2.2 HP cutting power. On the other hand, the 240 caps out at 2 HP because of its smaller 37.6 cc engine.
But the difference in terms of real-world performance is pretty minimal between the two chainsaws. If I didn't look at the numbers beforehand, I would have had a hard time distinguishing between the two power that these two models deliver. Both chainsaws can pretty much do the same thing.
The difference in power becomes slightly more apparent when you look at the bar lengths that the two chainsaws can take. While they both come with 16-inch bars as standard, you can, in fact, use 18-inch bars with your Husqvarna 435 if you want to push it a bit further.
But since you are limited to the maximum 16-inch bar with the Husqvarna 240, it can't match the performance of the 435 when you really push the boundaries of the two chainsaws.
However, when you are using the standard 16-inch bar with both chainsaws, the difference in performance is pretty minimal. Still, credit where credit is due – as the manufacturers fleshed out the engine in the Husqvarna 435 and also made it compatible with longer bar sizes, I would have to hand the crown to this chainsaw.
Winner: Husqvarna 435
While a bit of weight might be a good thing for a chainsaw that you plan to put under a heavy workload, it's really not welcome in a daily driver chainsaw such as the Husqvarna 435 or 240. In this case, less weight is better as it means you will be able to move around with it much easier.
Personally, I don't like using a heavy chainsaw when I am cleaning up around my yard after a storm or simply want to chop up some firewood. Since I have to move from one place to another for these sorts of tasks, a lighter chainsaw will lead to less fatigue.
Here again, the Husqvarna 435 takes the lead, and this time it's pretty noticeable. While the weight difference between the two is pretty slim on paper (only around 0.6 pounds), when you are carrying it around with you for an hour or so, the extra weight starts to feel like a burden.
Don't get me wrong – the Husqvarna 240, with its 10.3 pounds of weight without the cutting equipment, is still pretty light. But if the comparison is with the Husqvarna 435, which weighs a measly 9.7 pounds, it's obvious which chainsaw is the winner.
Winner: Husqvarna 435
Fuel Capacity and Efficiency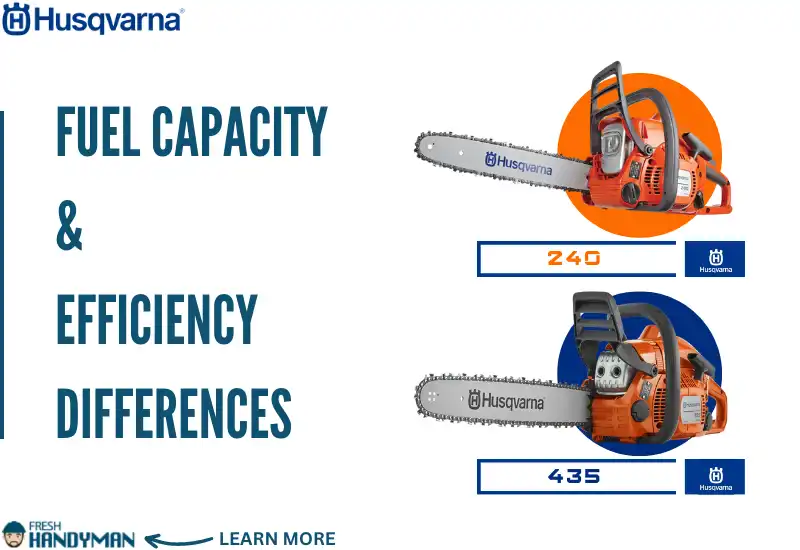 Never overlook the importance of fuel capacity in a chainsaw – that's one of the main mistakes that most new buyers make. Think of it this way if the chainsaw you are buying doesn't come with a good fuel capacity, you will have a hard time getting through your projects without having to stop for refueling.
You also want to make sure your chainsaw is fuel-efficient. Otherwise, you will have a tough time keeping up with the cost of fresh fuel. But since both of these chainsaws feature the Husqvarna X-Torq engine, you don't really have to worry about their efficiency.
The capacity, though, is an important consideration nonetheless. Once again, you will notice that the Husqvarna 435 takes the lead thanks to its large 12.5 oz. fuel tank. And frankly, compared to the 435, the 10.1 oz. fuel tank in the Husqvarna 240 doesn't really look all that appealing.
In its defense, though, the Husqvarna 240 is a pretty old model, and when the 435 came out, manufacturers were shifting towards larger tanks to make the chainsaw more sustainable. Still, if you want a decent uptime when you are using your chainsaw, the Husqvarna 435 would make the better investment.
Winner: Husqvarna 435
The oil capacity in your chainsaw, much like its fuel capacity, is another important element to consider. Since the chains require regular lubrication, chainsaws often come with an on-board container to disperse the chain oil with the press of a button.
While both of these chainsaws feature a similar oil dispersal system, the oil capacity is different. The Husqvarna 240 can hold around 6.42 oz. of chain oil, and the 435 has a slightly larger 8.5 oz. oil tank.
Yes, the Husqvarna 435 is, again, the better of the two models. But frankly, I would have preferred a larger chain oil storage for both chainsaws. Still, for property maintenance and other lightweight tasks, the Husqvarna 435 is outfitted with a better oil tank.
Winner: Husqvarna 435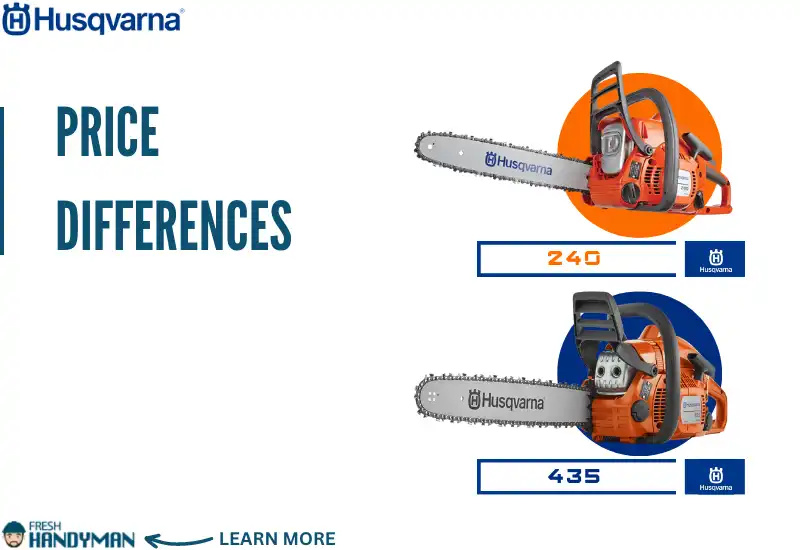 If you are considering picking up a discontinued chainsaw like the Husqvarna 435 or the 240, then it's a safe bet to assume that you don't want to spend too much for it. Now, it's true that you can find some amazing deals for the two chainsaws, but which one offers you the better value?
Well, typically, the Husqvarna goes around for 300 to 350 bucks, which isn't much for chainsaws that are good for property maintenance. And if you are lucky, you might be able to find one that's even cheaper.
But if you really want to save money, the Husqvarna 240 is the better choice. You can find one even under 200 dollars if you know where to look. However, I would still recommend spending the extra bucks and getting the 435 since it's newer and has better specs than the 240.
Winner: Husqvarna 240
Husqvarna 240 Vs 435: What's the Verdict?
Discontinued chainsaws offer better value, that's true, but only if you know what you want. For instance, while both of these chainsaws are amazing at what they are designed to do, you won't really have a good experience with them if you want to put them through a heavier workload.
But as long as you manage your expectations and understand the limitations of these chainsaws, you can expect a good performance from them. They are both Husqvarna chainsaws, after all, and come with all the excellent features that the brand has to offer.
Between the two, though, my choice would always be the Husqvarna 435. Overlooking the fact that the 240 is much older, even when you compare the specs directly, you would see that the 435 offers a lot more performance. And with a longer bar, you will be able to squeeze even more performance out of it.
Of course, if you plan on only doing lightweight tasks with the chainsaw and the money is tight, the 240 can be a great choice too. The fuel capacity is not great, but you can definitely get a decent uptime for it if you don't push it too much. It all depends on the type of work you are planning to do with it.
There's one thing that I should mention about the Husqvarna 240, though – during its production run, many users reported issues with starting the chainsaw. Personally, I didn't face any similar issues, but it's worth knowing if you plan on getting this chainsaw.
I hope my extensive comparison between the Husqvarna 240 and 435 could help you figure out which chainsaw is worth buying for you. Good luck!
Husqvarna 435 Chainsaw(Best Choice)