Husqvarna is a pretty well-known brand for its high-performance power tools and chainsaws. And among their vast catalog, two chainsaws often seem to surface as a topic of many debates. The chainsaws in question are the Husqvarna 365 and the 372 XP.
Now I'll be honest, both of these chainsaws are amazing and having used them both, I can say one thing for certain – you will be happy with either one. But if you want to get the most value out of your investment, it's natural to wonder which chainsaw is the better one of the two.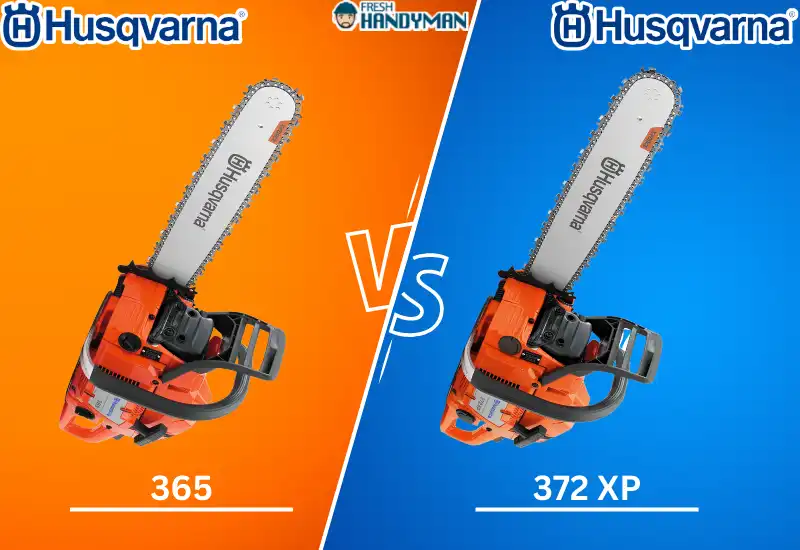 Well, let's put an end to that debate once and for all. In this article, I will give you a head-to-head comparison between the Husqvarna 365 and 372 XP, laying out all their features for you to see so that you can decide for yourself which chainsaw is the right choice for you. So, let's get started.
Comparison Table with Specs for Husqvarna 365 and Husqvarna 372 XP
| Key Factor | Husqvarna 365 | Husqvarna 372 |
| --- | --- | --- |
| Powerhead Weight | 14.1 pounds | 14.6 pounds |
| Displacement | 70.62 cc | 70.62 cc |
| Engine Power | 4.9 HP | 5.5 HP |
| Bar Length | 20 – 28 inches | 20 – 32 inches |
| Fuel Capacity | 26 oz. | 26 oz. |
| Price | CHECK LATEST PRICE | CHECK LATEST PRICE |
Main Features of the Husqvarna 365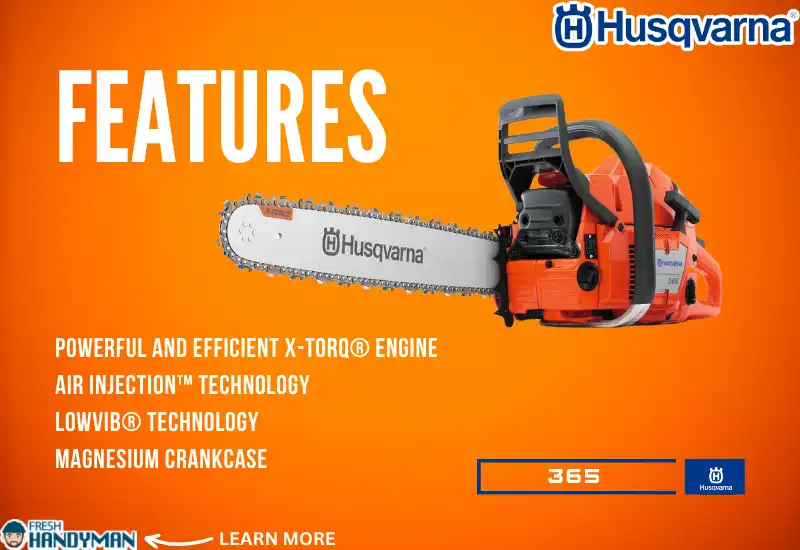 Powerful and Efficient X-TORQ® Engine
The staple to any good chainsaw is its engine, and Husqvarna doesn't hold back in that sector. With the Husqvarna 365, you will get access to their trademark X-Torq engine that drastically enhances engine efficiency and reduces emissions by almost 60 percent.
Air Injection™ Technology
The air injection technology used in the Husqvarna 365 protects your air filter and enhances its lifespan dramatically. In layman's terms, it is a centrifugal air cleaning system that repels larger debris and dirt particles and expels it out of the system before they can settle on the air filter.
To reduce unpleasant rumbling, the Husqvarna 365 features the LowVib technology. Essentially, there are multiple shock dampeners installed between the chassis and the engine to absorb any excessive vibration that your chainsaw produces while you operate it.
The Husqvarna 365 also comes with a sturdy heavy-duty crankcase made of magnesium that can withstand just about any abuse you throw at it. It can easily withstand the force of high RPMs and should last you quite a while if you treat it well.
Read Also: Husqvarna 365 Problems
Main Features of the Husqvarna 372 XP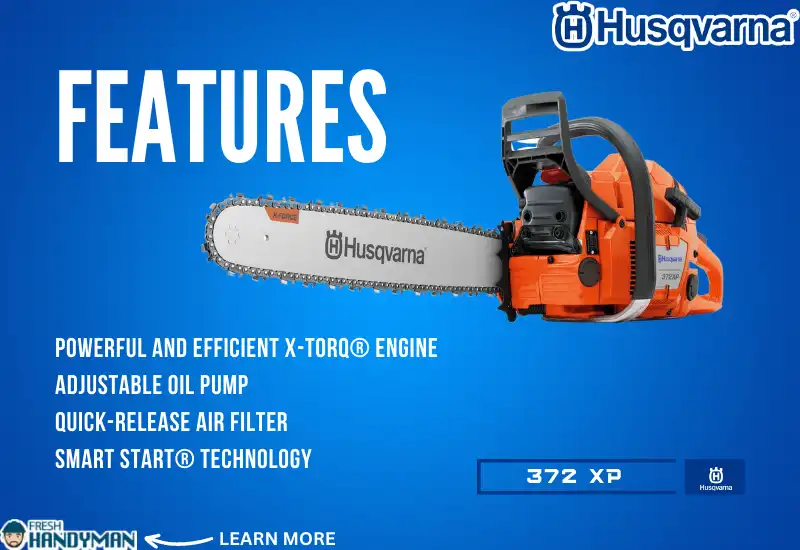 Powerful and Efficient X-TORQ® Engine
Similar to the Husqvarna 365, the 372 XP is also equipped with the X-Torq engine technology. However, the engine in the 372 XP is rated for higher power output giving you plenty of juice to chop down big trees or use in other heavy-duty applications with less hassle and effort.
With the adjustable oil pump put in place in the 372 XP, you will be able to control and adjust the chain oil flow easily to meet your requirements. And the best part – you don't need to stop the chainsaw for that.
If your old air filter is clogged and requires a replacement, the quick-release system in the Husqvarna 372 will come in handy. You can easily extract the filter without having to tinker around with tools whenever it needs maintenance.
The Husqvarna 372 XP comes with a specially designed engine and starter system that makes it extremely easy to start up your chainsaw. Cranking your chainsaw endlessly is no longer a thing.
Read Also: Husqvarna 372XP Problems
Differences Between Husqvarna 365 and 372 XP
Frankly, the Husqvarna 365 and 372 XP are pretty similar in most of their specs. However, keep in mind that I am talking about the new and improved version of the 365 that's been updated. If you have an older 365 XP, then its performance would be noticeably different from the new one.
That being said, the new 365 model is pretty close to the 372 in terms of quality. Sure, there are a couple of differences here and there which I will discuss in the following section.
For chainsaws, engine power is what matters the most to most users. And it makes sense considering how the engine power dictates the overall cutting capacity of your chainsaw. For heavy-duty applications, you need a chainsaw that has a powerful engine to back you up.
While both the 365 and 372 XP feature the same 70.6 CC petrol-driven engine, the power output is capped at different levels for the two chainsaws. The 372 XP can deliver an output of around 5.5 HP. On the other hand, the Husqvarna 465 is capped at only 4.9 HP.
To be fair, though, the difference between the power output isn't really that much between the two models. You should be able to use the two chainsaws interchangeably, and while the 372 XP does give you a bit more punch, the cutting prowess of the 365 isn't that far off.
In fact, there are a couple of mods you can do to your 365 to boost its engine power and get it on the same level as the 372 XP. But since that means extra work on your part, I will hand the crown to the 372 XP. If you are using the chainsaw for demanding projects, it will serve you better in the long run.
Winner: Husqvarna 372 XP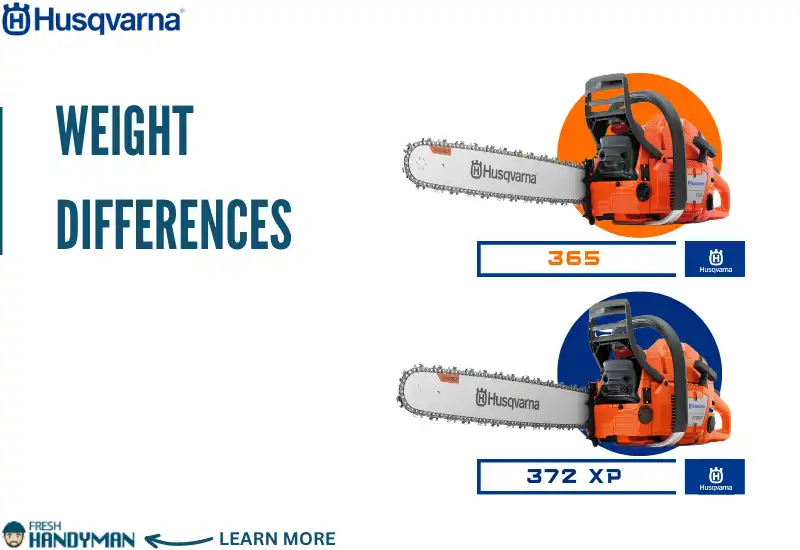 If you want to get a chainsaw that you will use regularly, it's important to put some thought into its weight. Think about it – if the chainsaw is heavy and cumbersome, you would have a hard time moving around with it from one tree to the next. On top of that, the fatigue of carrying it around all day will catch up with you sooner or later.
Now the two chainsaws in question both weigh about the same. The Husqvarna 365 is slightly lighter than the 372 XP. But both of them are quite even in terms of how they feel when you pick them up.
Of course, the length of the bar that you are using with the chainsaw will also affect its weight. A longer bar means more weight in most cases. But without any cutting equipment attached, the Husqvarna 365 weighs 14.1 pounds, while the Husqvarna 372 XP goes up to 14.6 pounds.
In all fairness, though, unless you are moving around with a weight scale, you shouldn't be able to tell the difference if the bar size is the same in the two chainsaws. Still, I do have to pick a winner – and the Husqvarna 362 takes the lead here.
Winner: Husqvarna 365 but only by a slight margin
Chain Type and Bar Compatibility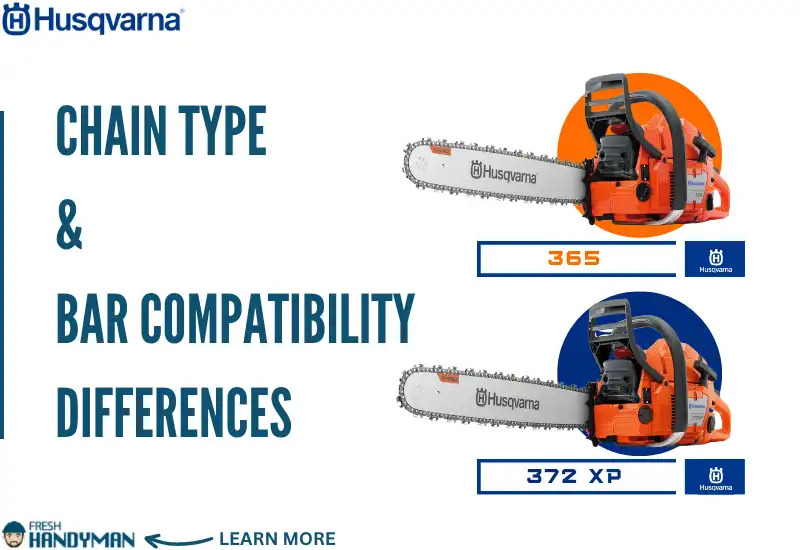 The real major difference that you start to notice between the Husqvarna 365 and 372 are when you look at the types of chains they use and their bar length options. Yes, the engine power and other features matter – but the ability of your chainsaw often is limited by the type of chain it can equip.
Both the Husqvarna 365 and 372 XP can use H42 chains with a cutting depth of .58 gauge. The bar length for this chain type ranges from 20 to 28 inches. In addition, you can also use the C83 chain type with your Husqvarna 365 if you want less cutting depth of .50 gauge.
But the bar length option for the Husqvarna 365 caps out at 28 inches. Going with a longer bar is not an option with the chainsaw. However, with the Husqvarna 372 XP, you have the option to switch to the H83 chain that lets you outfit your chainsaw with 32-inch bars.
What that means is, with the long bar along with its powerful engine, you will be able to fell larger trees if you have a Husqvarna 372 XP. The Husqvarna 362 might be pretty similar to the 372 XP when you look at the spec sheet, but in practice, the bar flexibility gives the 372 XP a massive advantage.
Winner: Husqvarna 372 XP
Fuel Capacity and Efficiency
Another important thing that most people forget to think about when getting their first chainsaw is its fuel capacity. A lot depends on it, such as how long you can keep your chainsaw running between each refill or even how much fuel you need to spend per use.
You may have noticed from the chart above the Husqvarna 365, and 372 XP features the same capacity fuel tank. Both chainsaws can hold up to 20 ounces of fuel which should give you a pretty decent runtime even under a heavy workload.
But efficiency-wise, the Husqvarna 365 edges ahead of its big brother. Since the engine in the 365 is rated to operate at a lower power rating, it is not as hungry for fuel as the 372 XP. Then again, if you decide to mod your 365, it will lose its advantage.
As you can see, there's an obvious trade-off here. Since the 372 is more powerful, it consumes more fuel. And if you are okay with the performance of the 365, which you should be if you are doing mostly property maintenance with the chainsaw, then the Husqvarna 365 will give you a better value in terms of fuel costs.
Winner: Husqvarna 365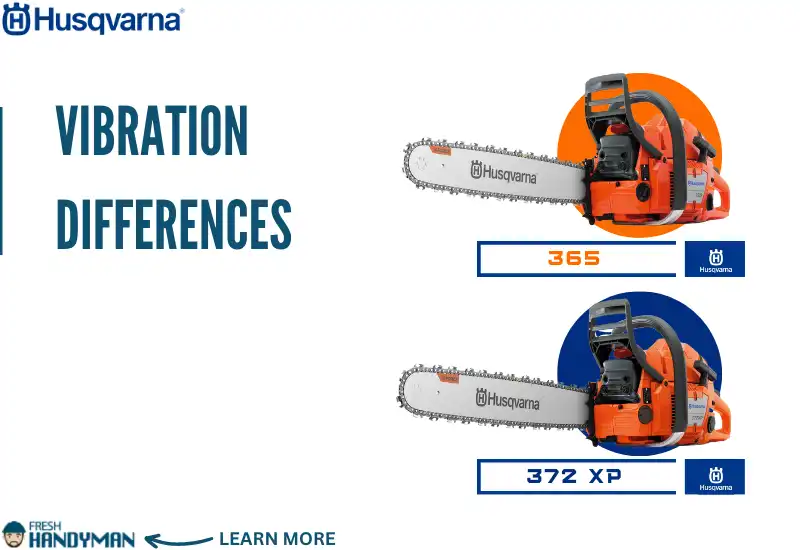 Both the Husqvarna 365 and 372 XP feature anti-vibration technology to ensure the utmost user comfort. But if I had to compare them head-to-head, the 365 is slightly ahead of the 372 XP.
Now it might be due to the higher power output of the 372 XP, but in my testing, the vibration in this chainsaw felt a bit too strong for my liking. The Husqvarna 365, on the other hand, felt perfectly fine in my hands, producing a gentle rumbling sensation that, in fact, enhanced my experience with it.
Winner: Husqvarna 365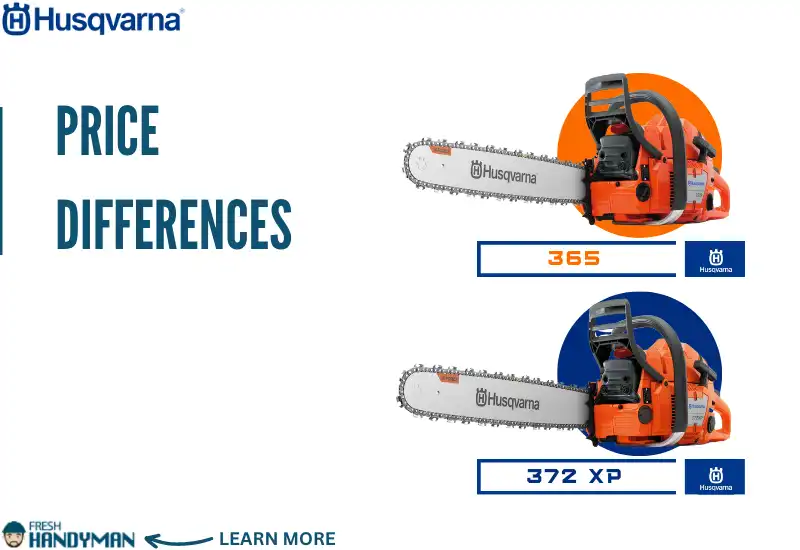 The price is always a big concern for those on a budget. Now I'll be honest – neither of these chainsaws is exactly cheap. Even the Husqvarna 365, which is considered the toned-down version of the 372 XP, costs around a thousand bucks. On the other hand, going for the 372 XP will run you around 1200 dollars.
So, the price wouldn't necessarily be the main thing that makes you pick one model over another. You should be able to save up to around 200 bucks to get the 372 XP if you require additional horsepower. But if you are on a tight budget, the 365 should serve you just fine.
Winner: Husqvarna 365
Husqvarna 365 vs 372 XP: What's the Verdict?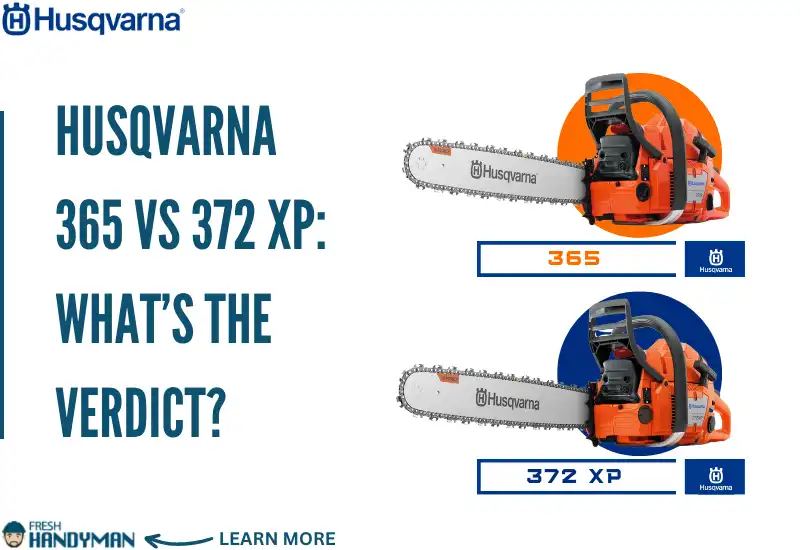 If you have your heart set out on either of these chainsaws, I would suggest focusing more on features that matter to you. Since both of them are made by Husqvarna, you should expect a lot of similarities between them in terms of features.
For instance, both of these chainsaws come with a powerful X-Torq engine and have air injection technology. Their side-mounted chain tensioner, along with the adjustable oil pump, also will enhance your experience with it regardless of the model you end up with.
The only real difference between the two chainsaws that matter to me, at least, is their rated power output and bar compatibility. With the Longer bar options that you get with the 372 XP, you will be able to chop down bigger trees with less effort than the 365.
Then again, it costs around 200 dollars more, so if you want to save a few bucks, I won't blame you. The good news here is that the 365 can be upgraded to meet the power specs of the 372 XP with a few tweaks. A quick google search should help you find more info about the process.
I hope my in-depth comparison between the Husqvarna 362 and 372 XP could help you. Cheers!