For any professional or amateur user, a high-performance chainsaw is key to handling heavy-duty cutting jobs. However, choosing one can be quite hectic because there are many popular brands and models on the market.
Husqvarna and Stihl are the first names that come to mind when it comes to producing reliable chainsaws. In this article, I will be comparing the Husqvarna 395XP vs the Stihl MS660 to help you determine which one would be the best fit.
Both chainsaws have been designed to take on heavier tasks, such as cutting tough wood and felling large trees. Their powerful engines, anti-vibration systems, and other impressive features make them a top choice for loggers, arborists, and other professionals.
Despite their numerous similarities, the Husqvarna 395XP and Stihl MS660 still have major differences that make them suited to specific tasks.
If you're in need of a good chainsaw but don't know which of the two to pick, then you've come to the right place. I am going to look at the factors you should consider, the features of each chainsaw, and their pros and cons. So, keep reading as I dive into the details.
Factors to Consider When Choosing Between the Husqvarna 395XP vs Stihl MS660
Before I dive into the details of each chainsaw, it is important to consider the factors that might play a role in decision-making: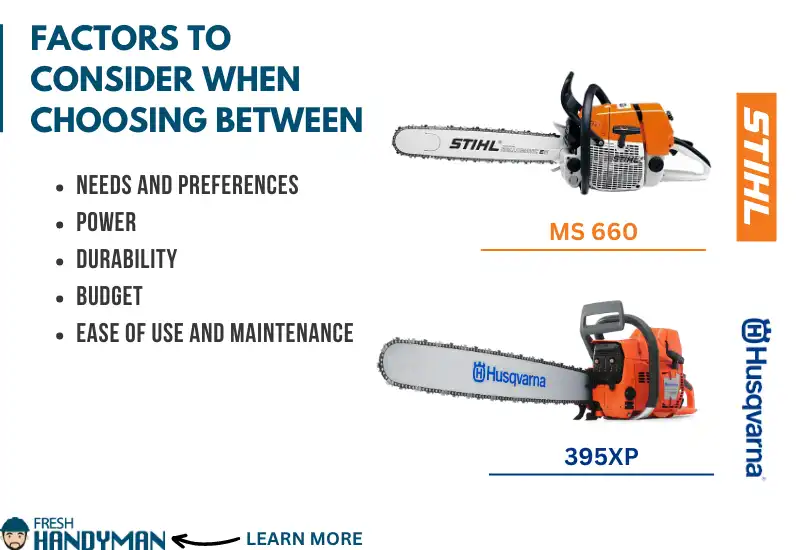 Needs and Preferences
This is the most important aspect to consider before you choose between the Husqvarna 395XP and Stihl MS660. Different types of work may require saws with specific types of features or power levels.
For example, if you'll be working in smaller spaces, a smaller and more maneuverable chainsaw may be suitable. On the other hand, you may need a bigger and more powerful chainsaw when working in remote areas or when cutting larger trees.
Some users prefer a specific brand since they find it more trustworthy. Others will go for any reputable brand so long as the chainsaw has the features they need.
Power
After evaluating your needs and preferences, you should now consider which of the two chainsaws has a more powerful engine.
The engine size is measured in cubic centimeters (cc). Typically, a larger engine size means more power, which is essential for cutting through wood and large trees. However, a larger engine can also mean a heavier saw.
Durability
A chainsaw is an expensive investment, so it is crucial to pick a model that will last. You should weigh the two chainsaws and see which one has been made with better materials and which brand has a better reputation.
Additionally, you'll want to consider the warranties offered by both Husqvarna and Stihl. This will help you determine who is better at carrying out repairs and replacements when the saw breaks down.
Budget
Another important factor to consider is how much you're willing to spend. You should have a set budget in mind since the two saws have different prices.
Typically, highly-priced chainsaws have more features than their cheaper counterparts. However, some of the features may not be very essential if you plan to use the saw for DIY projects. In that case, a cheaper chainsaw will be fine.
Ease of Use and Maintenance
Chainsaws can be quite difficult to handle if they have not been designed properly. You should weigh the two models and determine which one has better features that make it easier to use, e.g., ergonomic handles.
Additionally, consider the features that make the chainsaw easier to maintain. This may include quick-release air filters, chain tensioning systems, etc. A saw that is easier to use and maintain will reduce the potential risk of injuries. It will also last longer.
Why Compare the Husqvarna 395XP vs Stihl MS660?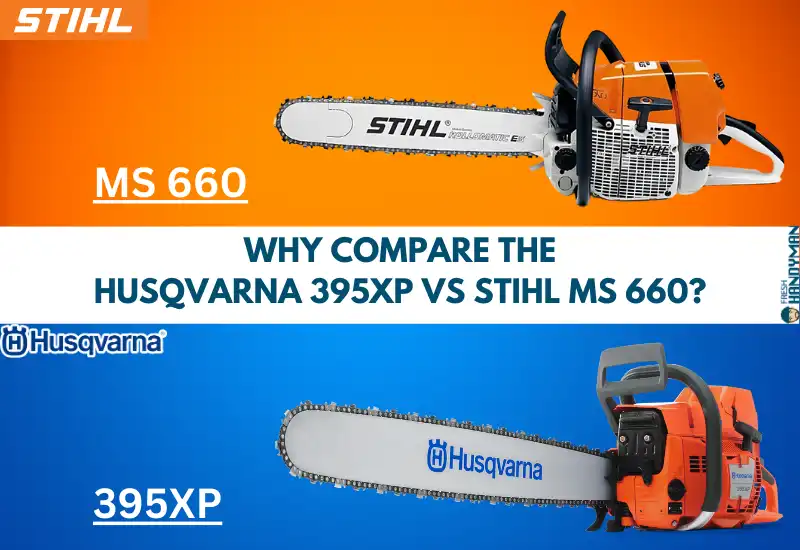 The Husqvarna 395XP and the Stihl MS660 are both reputable models on the market for a good reason. However, when it comes to picking one of the two, you'll need to compare several key features to ensure that you're getting the right chainsaw for the job.
Although both saws are designed for heavy use and have powerful engines, they still have slight differences that set them apart. That is why I will give you a breakdown of each of their features to help you decide which chainsaw to purchase.
But first, let's take a look at a comparison table that highlights the key differences between the Husqvarna 395XP and Stihl MS660.
Husky395XP vs Stihl MS660 Quick Comparison Table
Read Also: Husqvarna 395XP vs Stihl MS661
1. The Husqvarna 395XP
The Husqvarna 395XP is a robust chainsaw that was made with professional loggers and arborists in mind. Its powerful engine, long bars, and good power-to-weight ratio have made it a fan favorite for professional loggers as well as arborists.
Let's explore some of its technical specifications, features, advantages, and disadvantages to help us see how it compares with the Stihl MS660. 
Technical Specifications of the Husqvarna 395XP
Features of the Husqvarna 395XP
Here are some of the standout features of the Husqvarna 395XP:
Engine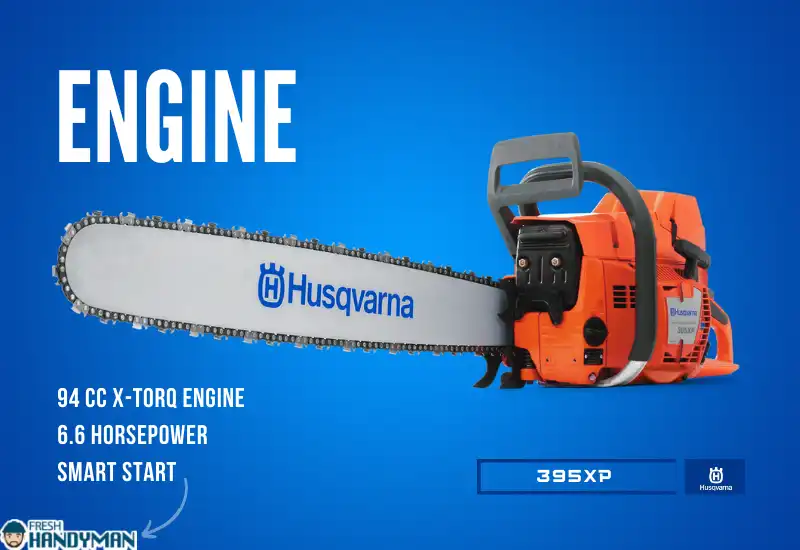 Perfomance
This chainsaw features a powerful 94 cc X-Torq engine that produces 6.6 horsepower. The Husqvarna 395XP packs a lot of power for cutting through wood. It is also designed to use a lesser amount of fuel while producing low emissions.
Smart Start
Starting a powerful chainsaw is not a walk in the park. Thankfully, the Husqvarna 395XP comes with a Smart Start system that makes it easier to fire it up.
Design
Ergonomic Grip
I found the Husqvarna 305xp to be easy to handle despite its immense size. This is due to its angled handle, which has been designed to give you a firmer grip and reduce discomfort.
Felling Marks
The Husqvarna 395XP has felling marks to help you make more accurate cuts when taking down large trees. These marks come in handy, especially when you're trying to control the direction the tree will fall to prevent unwanted damage.
Three-Piece Crankshaft
All Husqvarna 395XP chainsaws come with a three-piece crankshaft that immensely contributes to their performance. Unlike conventional one-piece crankshafts, a three-piece crankshaft is less prone to breaking and is easier to maintain and repair.
Durability
Air Injection
There is a centrifugal air injection system that pulls air from the surrounding environment and passes it through a filter, which gets rid of harmful particles, e.g., dust and debris.
After that, it channels the filtered air into the engine, where it mixes with fuel. In the long run, the engine is protected, thus reducing the need for maintenance and repair.
Adjustable Oil Pump
An adjustable oil pump is usually present in many Husqvarna chainsaws. It allows you to increase or decrease the flow of oil to the bar and chain depending on their use.
This feature is crucial since different cutting tasks will require different levels of lubrication. For example, cutting through dense hardwoods may require more oil than cutting through softwoods. Therefore, optimizing the amount of oil for every operation helps reduce waste.
Quick-Release Air Filter
For easy cleaning of the air filter, the Husqvarna 395XP has a quick-release air filter. This is important because a dirty and clogged air filter can reduce the chainsaw's performance, increase fuel usage, and damage the engine.
Magnesium Crankcase
A magnesium-built crankcase has been put in place to ensure that this chainsaw can withstand heavy use and prolonged exposure to extreme conditions without breaking down. On top of that, magnesium is very light, which helps to reduce the total weight of the saw while maintaining a sturdy frame.
Safety
Low Vibration Technology
Fatigue and injury are some of the main concerns that most people have when using chainsaws. However, the Husqvarna 395XP comes with LowVib Technology.
This is composed of dampers that have been strategically placed between the engine and the handles to dissipate the vibrations generated by the engine.
Inertia Activated Chain Brake
There are a couple of instances where I could have lost my fingers but didn't due to the inertia-activated chain brake. This feature engages the brake and stops the chain from moving anytime a kickback occurs, preventing a potential injury.
Advantages and Disadvantages of the Husqvarna 395XP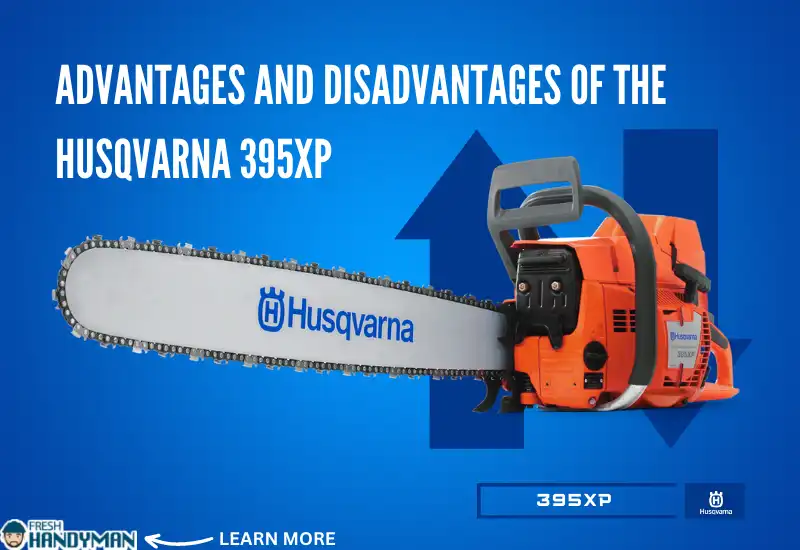 Like every other chainsaw, the Husqvarna 395XP has its advantages and disadvantages. Here are some of them:
---
2. Stihl MS660
When it comes to chainsaws, few names are as synonymous with quality and performance as Stihl. This company's chainsaws are known for their power, durability, and advanced features, and the Stihl MS660 is no exception.
Designed to handle demanding tasks in extreme conditions, the MS660 makes light work of felling large trees or cutting through hardwood. In addition, it comes with a bunch of advanced features that improve its efficiency. Let's dive into the details.
Technical Specifications of the Stihl MS660
Features of the Stihl MS660
The main features of the Stihl MS660 that give it an edge over its competitors include:
Engine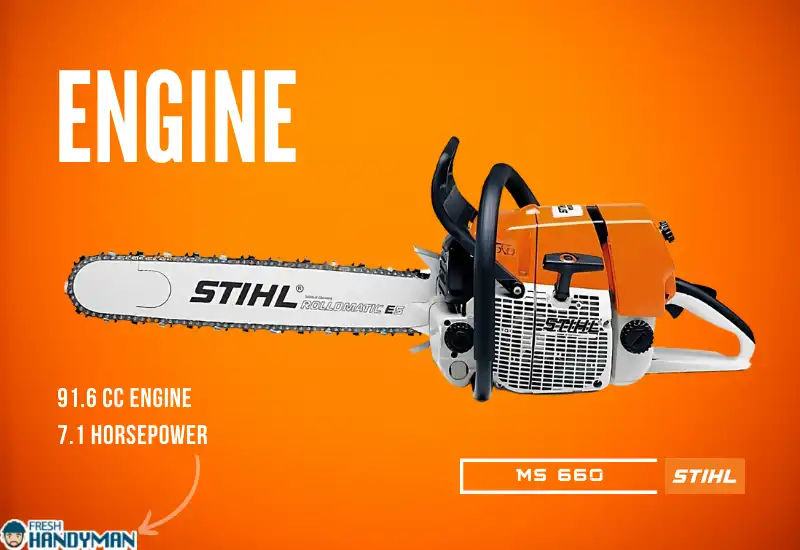 What impressed me the most about the Stihl MS660 is its power output. Its 91.6 cc engine produces 7.1 horsepower, which is more than enough to cut through tough wood and dense stands. Like Husqvarna's, Stihl's engine is also designed to be fuel-efficient and produce low emissions.
Design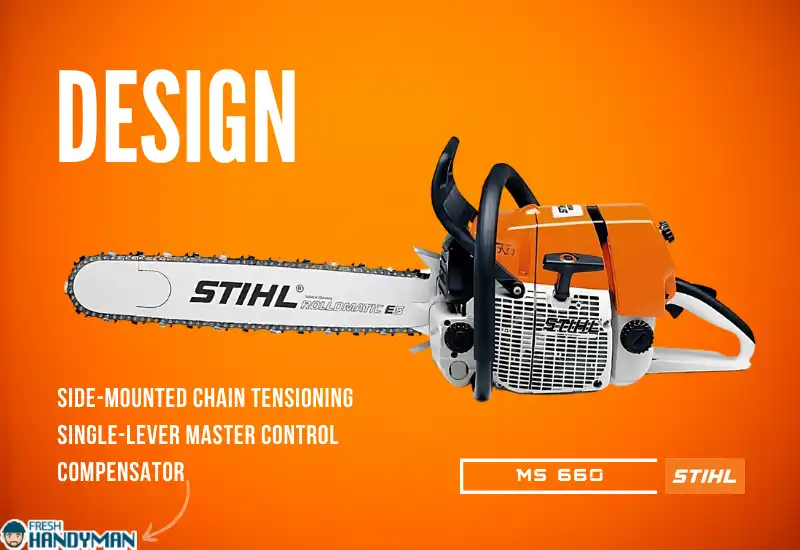 Side-Mounted Chain Tensioning
The Stihl MS660 comes with a side-mounted chain tensioner that eases the process of adjusting the tension of the chain without having to remove the sprocket cover.
Single-lever Master Control
It is easy for any user to adjust the setting of the chainsaw thanks to the single-lever master control. This feature places all the important functions of the saw on a single lever. Additionally, there are clear markings and easy-to-read icons that make it easy to operate the machine.
Compensator
The compensator helps to ensure that the engine is running smoothly even if you have not adjusted the carburetor. This is because it automatically controls the fuel-to-air ratio whenever there is a change in altitude, air density, or temperature.
Durability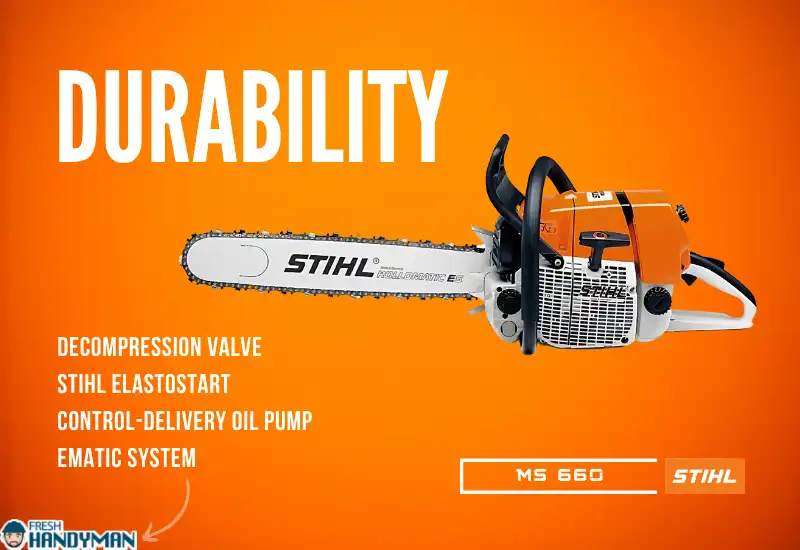 Decompression Valve
As the name suggests, the decompression valve is meant to reduce the amount of compression in the engine during startup. This, in turn, reduces the amount of force needed to start the chainsaw.
This not only makes the chainsaw easier to start but also prolongs its life. It does this by reducing the wear and tear that occurs during startup.
Stihl Elastostart
Stihl's ElastoStart system is quite similar to Husqvarna's SmartStart system. It uses a damping mechanism to absorb the forces of the starter cord when you pull it resulting in a smoother pull.
This feature makes it easier to start the chainsaw even if you don't have sufficient upper-body strength.
Control-delivery Oil Pump
This feature functions by delivering oil to the engine and guide bar depending on the engine's RPM. By ensuring that the engine and guide bar receive the correct amount of lubrication, the control delivery oil pump makes the saw more efficient.
Ematic System
The Stihl MS660 has an Ematic system that provides a precise amount of lubrication to the chain, reducing friction and allowing the chain to run smoothly. This reduces oil consumption by increasing the amount of time between refills.
Safety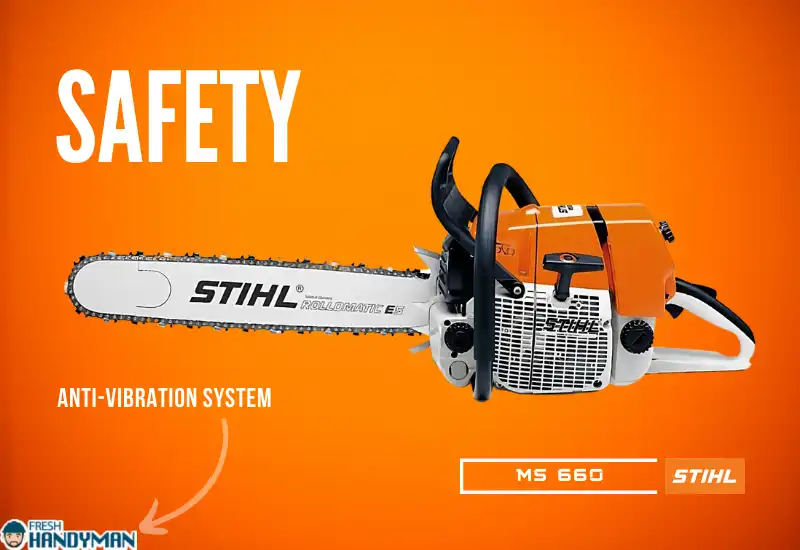 Anti-vibration System
Working with the Stihl MS660 is relatively smoother and more comfortable. This is due to the reduced vibrations at the front and rear handles caused by Stihl's anti-vibration system. You can therefore use this saw without risking physical strain or injury.
Advantages and Disadvantages of The Stihl MS660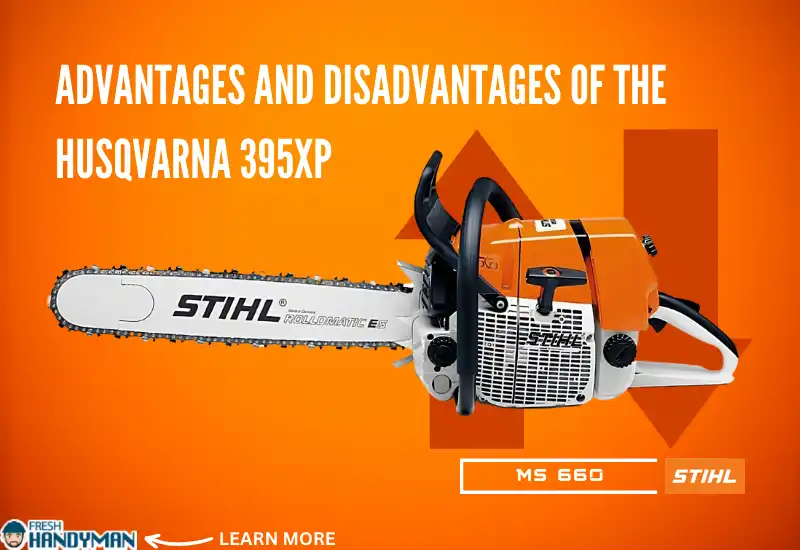 The Stihl MS660 has its fair share of pros and cons. Here are some of them:
Read Also: Stihl MS 261 VS Husqvarna 550 XP
Comparison of the Husqvarna 395XP vs Stihl MS660
Below is a comparison table that I made to give you a better picture of the key differences between the Husqvarna 395XP and the Stihl MS660:
Which Chainsaw is Right for You?
Frequently Asked Questions
The Bottom Line
In conclusion, both the Husqvarna 395XP and the Stihl MS660 are powerful and durable chainsaws designed to carry out highly demanding cutting tasks. However, they differ in some key areas, such as weight, price, and features.
The Husqvarna 395XP is the more expensive option and is also heavier. However, it still comes with great features such as felling marks, an adjustable oil pump, and a quick-release filter.
On the other hand, the Stihl MS660 is lighter but more powerful. It also comes with a single-lever master control, an anti-vibration system, an Ematic system, and many other valuable features.
You will be getting a reliable machine, regardless of which chainsaw you choose.  However, I'd say that the Stihl MS660 takes the day due to its sheer power and cutting ability.