Pro-level chainsaws are great, and all, but not many homeowners want them. Yes, they are big and powerful, but think about it for a second – if you are doing property maintenance most of the time with your chainsaw, its size, and power might put you at a disadvantage.
That's why most homeowners opt to go for smaller chainsaws that rock a smaller form factor while providing enough power in the tank for most of the daily chores around your household. And when talking about compact, residential-grade chainsaws, one name still holds sway in the community – the Stihl 025.
The fact that the Stihl 025 is discontinued isn't exactly breaking news. It's been more than 20 years since the brand stopped manufacturing this chainsaw. But even to this day, it's one of the most sought-after chainsaws in the second-hand market.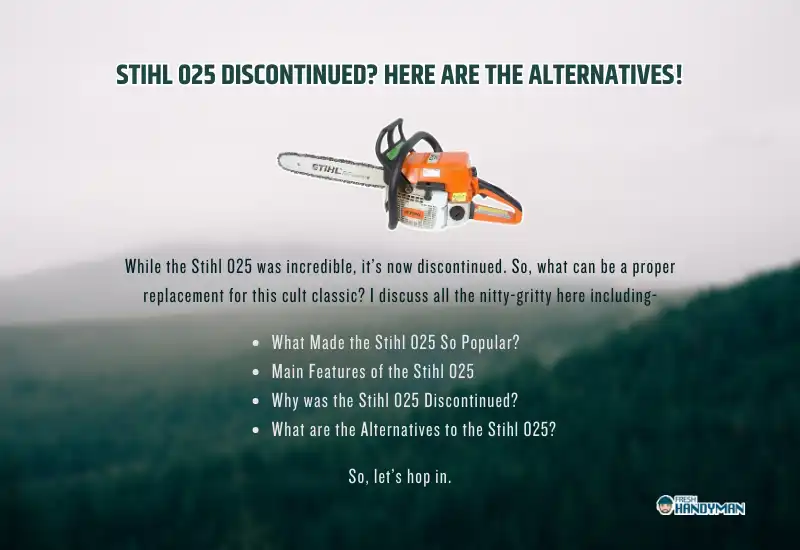 But what was it that made this chainsaw so special? What made the manufacturers discontinue production of this chainsaw? And more importantly, are there any good alternatives today?
These are the questions that I will address in this article. And by the time you are done, you should have all the information you would need to know about the Stihl 025 if you want to buy one. So, let's hop in.
What Made the Stihl 025 So Popular?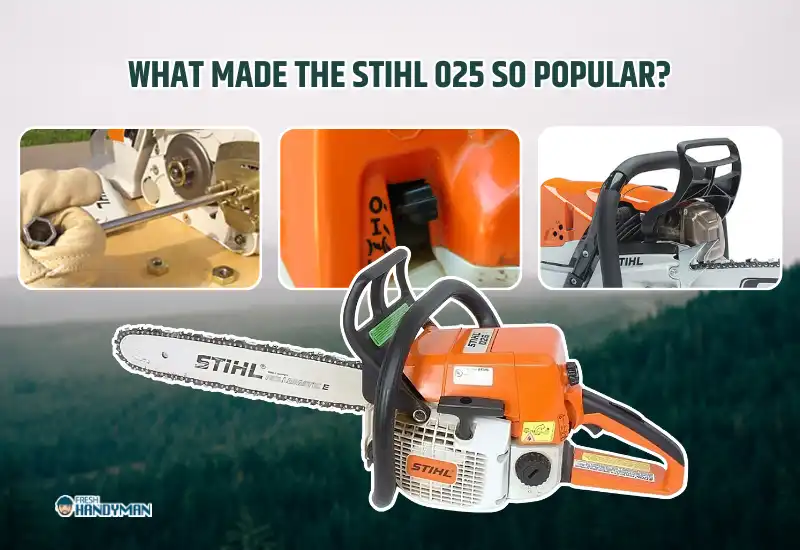 The Stihl 025 first came out in 1991 and brought many innovative features to go along with it. It showcased a lot of quality-of-life features that improved upon the existing chainsaw technology on top of boasting solid power and engine performance.
I will talk about the engine performance, fuel efficiency and other specifications in a bit, but first, I want to talk about the things that made Stihl 025 stand out from the competition.
1. Side-Access Chain Tensioner
The Stihl 025 is one of the first chainsaws that came with the chain tensioner mounted on the side for easier access. While this is a common feature in many chainsaws these days, back then, most chainsaws had the chain tensioner mounted at the front. With this design change, making tension adjustments became extremely quick and easy.
2. One-handed Operation
Chainsaw controls can be tough to manage if you are a beginner. But thanks to the clever positioning of the panel in the Stihl 025, you could operate the on/off, choke, and throttle control with your one hand without things getting too awkward.
3. Inboard Chain Break
Chainsaws getting clogged up by dirt and leaves isn't that uncommon even to this day. To counteract this problem, the Stihl 025 comes with an inboard-mounted chain brake mechanism that expels dirt and leaves and also reduces kickback to minimize the risk of accidents.
While these features might seem quite commonplace to today's standards, when you compare them to the chainsaws of that time, the Stihl 025 really felt exceptional. And even to this day, this chainsaw holds a lot of sway in the community.
Main Features of the Stihl 025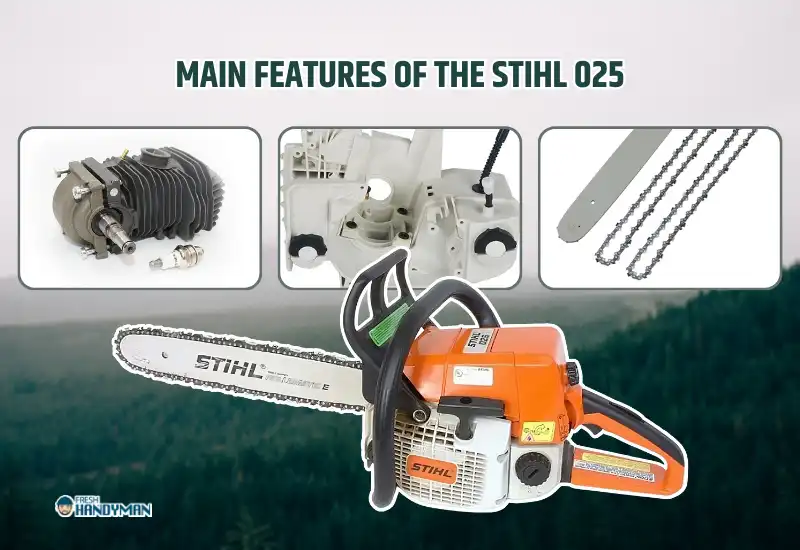 The Stihl 025 is still considered an amazing chainsaw. And it wouldn't be possible if it didn't have the raw power to back up the innovations it brought to the market. It can still keep up with modern chainsaws in terms of performance and power.
Let's start with a quick look at the main specifications of the Stihl 025.
| Specifications | Stihl 025 |
| --- | --- |
| Displacement | 45.1 cc |
| Engine Power | 3 bhp |
| Fuel Capacity | 19.5 oz. |
| Chain Oil Capacity | 7.6 oz. |
| Weight | 10.3 pounds |
| Guide Bar Compatibility | 12 – 18 inches |
1. Engine Performance
The Stihl 025 features a powerful 45.1 cc engine that can deliver three bhp output. Needless to say, it isn't much when you want to do demanding work such as chopping large trees or harder materials. But the chainsaw is perfectly capable of basic tasks around the property, such as cutting smaller branches and shrubbery.
2. Fuel Capacity and Efficiency
The Stihl 025 also has a pretty decent fuel tank that can hold up to 19.5 ounces of fuel. Of course, when you compare it to the chainsaws of today, you will see a pretty noticeable difference in fuel efficiency. But you will still get a decent uptime with it, nonetheless.
3. Weight and Handing
A measly 10.3 pounds of weight means that you can carry the chainsaw around with you from one place to another without getting tired. This is one of the best things about the Stihl 025, and since it's a home-maintenance chainsaw, you can really appreciate its lightweight construction.
4. Guide Bar Compatibility
The guide bar options in the Stihl 025 range from 12 to 18 inches. Yes, the upper limit is not huge, but it's still decent enough to help you collect firewood or do other basic maintenance tasks without too much hassle. And it also keeps the overall weight of the chainsaw pretty manageable.
5. Price and Availability
Since the Stihl 025 is a discontinued chainsaw, it's hard to tell you a specific price. Usually, a second-hand 025 in decent condition goes for around 200 -250 bucks, which is pretty cheap for the level of performance it delivers. Keep in mind, though, finding replacement parts for it can prove difficult due to its unavailability.
Why Was the Stihl 025 Discontinued?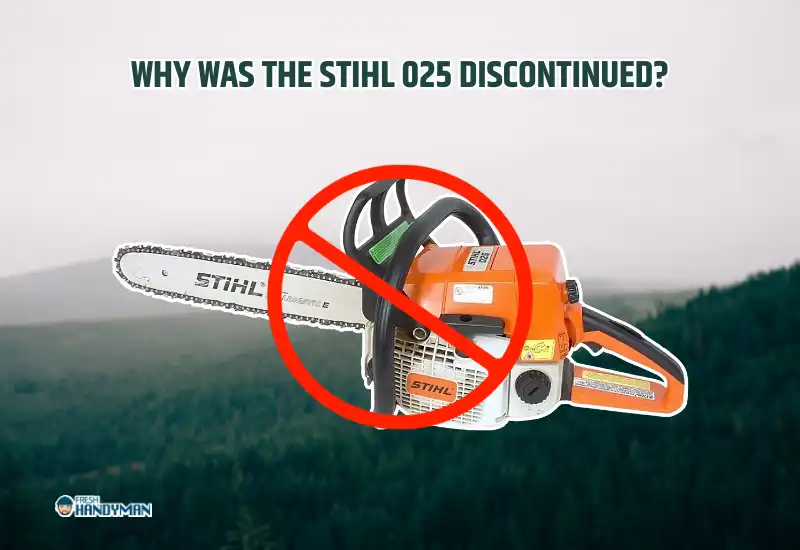 The Stihl 025 came out in 1991 and had a solid 10-year run until it got called off at the year 2002. Now you might think that since it is discontinued, there was a design flaw, but the reality is – it simply required an upgrade.
You see, the thing I love about Stihl as a brand is that they are always looking to upgrade their design. They never shy away from innovation, and when they realized that the things that made Stihl 025 special were becoming common, they opted to improve their design.
And the engine of the chainsaw required some tweaking to further enhance its efficiency. That is why eventually, they discontinued the chainsaw and came up with upgrades to overcome the limitations of the model.
What are the Alternatives to the Stihl 025?
The Stihl MS 250 was considered the direct alternative to the Stihl 025 featuring pretty much the same specifications. It was more of a rebranding of the old chainsaw rather than a replacement.
When you look at the Stihl MS 250 and compare it to the specs of the 025, you will see that they are nearly identical. The MS 250 had a slightly better emission rating and fuel efficiency giving you a bit more mileage on a full tank. It also weighs marginally less than the older 025 models.
Some other more-noticeable improvements that they brought with the MS 250 is toolless fuel and oil caps. While there are many who still prefer the older fuel and oil cap design, the MS 250 is definitely better since it allows you to access it swifter.
The Stihl MS 250 also has a better kickback protection system enhancing its safety, and the air filter in it can be accessed much easier. This means replacing the air filter in the MS 250 will require less hassle on your end.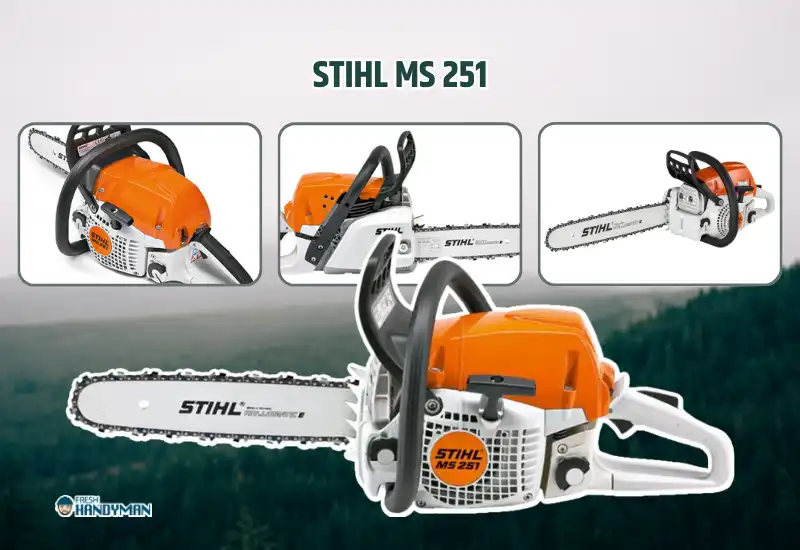 If you want something that offers a bit more bang for your buck, giving you drastic improvements over the old Stihl 025, I would recommend giving the MS 251 Wood Boss a try. It's a major improvement over both the Stihl 025 and MS 250.
Spec-wise, the MS 251 is pretty similar to the 025 and MS 250, but when it comes to performance, you will notice a drastic boost. And its fuel efficiency is also much better, meaning you will have excellent runtime with your chainsaw.
Now That We're Here
It's always sad to see your favorite chainsaw coming to an end in its production line, but it's part of the process. Since Stihl is always looking to go ahead in the competition, they constantly need to cycle out old chainsaws and bring substantial improvements with its newer models.
The Stihl 025 was one of the finest chainsaws of its time, and the replacement MS 250 is every bit as good, if not better. So, if you want a Stihl 025 after hearing so many good things about it but can't find one second-hand, the MS 250 can be a great investment.
However, I wouldn't recommend going with it if you are looking for an upgrade over your old 025. Since the two chainsaws are pretty similar in performance, you will not notice a huge difference here. In that case, the Stihl MS 251 Wood Boss might be a better choice.
Then again, if you find a good deal for a well-preserved Stihl MS 025, by all means, go for it. You can expect the chainsaw to perform well even when you compare it to today's chainsaws.
I hope my extensive look into the discontinuation of Stihl 025 and its alternatives could help you learn more about this cult classic. Cheers!
Read Also: