So, both are back to back models and you are confused about choosing the best? I know it's hard. But, you are not alone. I personally used both of these tools and I will tell you which one should you opt for.
Stihl 194tt is better than 193t. In terms of features and usefulness, it outstrips its preceding model. However, neither of the models offers almost the same features and both are pro chainsaws.
That's merely just the tip of the iceberg and there is a lot more to dig in. Come along with me?
Head To Head Comparison: Stihl 194t Vs 193t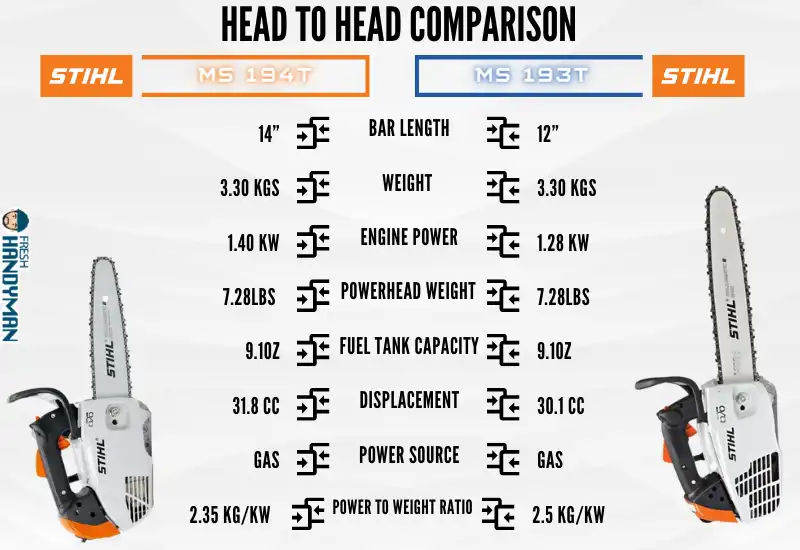 | Key Factor | Stihl MS 194 T | Stihl MS 193T |
| --- | --- | --- |
| Bar length | 14" | 12″ |
| Weight | 3.30 kgs | 3.30 kgs |
| Engine power | 1.40 kW | 1.28 kW |
| Powerhead weight | 7.28lbs | 7.28lbs |
| Fuel tank capacity | 9.1oz | 9.1oz |
| Displacement | 31.8 cc | 30.1 cc |
| Power source | Gas | Gas |
| Power to weight ratio | 2.35 kg/kW | 2.5 kg/kW |
Detailed Comparision Between Stihl 194t And 193t
In this section, I'll be comparing these Stihl models and help you pick the very best one.
To do that I will come up with all the features either of the model offers and then count which model offers the most (and important) features. I'll take the data into account to figure out the best model.
Seems intriguing? Well, let's dive in.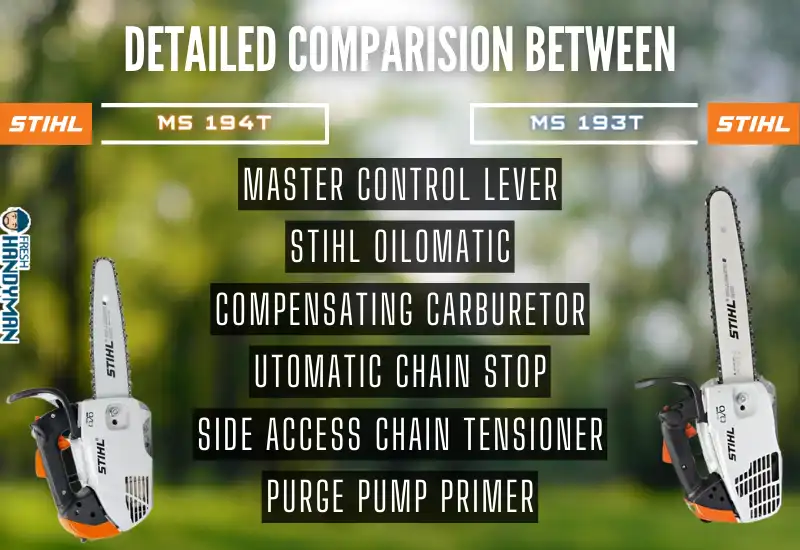 Master control lever
So, here's what the master control lever does. It's like a central control system for all the levers. Immediately need to stop or start the throttle lock? 
You got master control lever. Or, control the choke from one place? Master control lever got your back.
Automatic Lubrication system
Stihl calls this "Stihl OILOMATIC". Don't bother yourself with the name they put on their automatic lubrication tech. You need to how it works and what benefits it can reap for you.
So, the one thing I can tell to make everything understandable is- this system can save oil and lubrication! Whoah, what else do you need? The company said it can save oil consumption as much as 50%.
The system works in combination with another Stihl's tech known as Stihl Ematic guide bar. 
The intelligent guide bar slides in proper time and contains the flow of oil and directs the lubricant reach into the faces and links of the bar yielding less consumption of oil and lubricant.
Compensating carburetor
When you heard something like carburetor, you might be getting some aura of airflow into it.
Yes, airflow into the engine is cruical and a filter which can maintain proper air ratio can make turbocharge the efficiency of the chainsaw's engine.
And, that's exactly what the compensating carburetor does. An air filter of an engine filters and cleans the air coming into it. But, when the air filter itself gets dirty- a big problem arises. Air becomes less available to the carburetor resulting in less fuel release.
A compensating carburetor acts smartly in those situations and helps adjust the fuel level. And, without compensating carburetor, the engine might have stopped leaving you the unfinished task in hand.
Automatic Chain Stopping System
Chainsaw can be dangerous when it kickbacks. It might get you severely injured. However, if you use an automatic chain stopping system- you can reduce the chances to zero.
Side access chain tensioner
So, what sides access chain tensioner? And, exactly what it does do? Well, it makes the chain saw adjustment process way more convenient than the typical process.
Conventionally user had to adjust the saw chain with a guide bar adjustment screw. The side access chain tensioner, on the other hand, allows you to do it by hand with a wrench.
Purge pump primer
Priming the carburetor with fuel through the purge pump primer feature makes starting easier. Priming the carburetor too many times can flood the machine due to the design of the purge pump primer. If the choke remains in place after the engine is started, flooding the engine will still occur.
Differences Between Stihl 193t And 194t
This section will be heavily dependent on the previous section, so if you skipped the previous section make sure you go through it.
In the preceding section, I included all the shared and unique features each of the two models offers. Now, it's time to distinguish each model and come up with what sets each stands out from the other.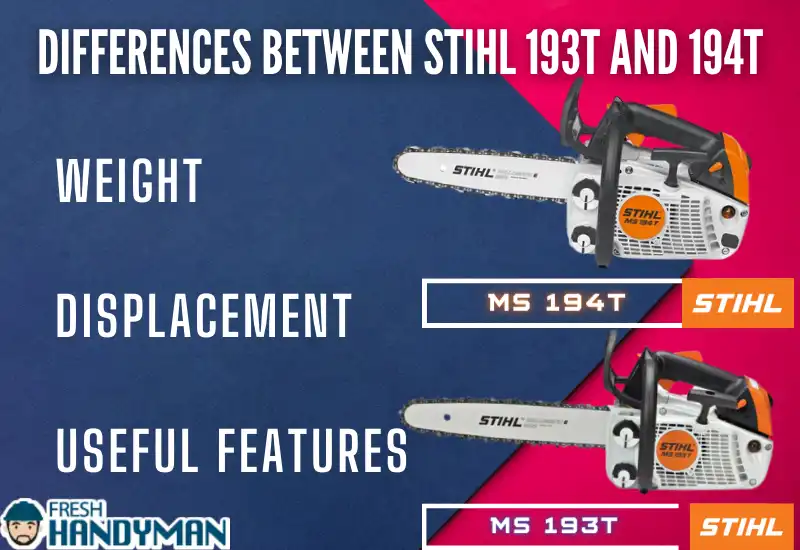 Weight
So, weight could be a key differentiator and serious factor to choose chainsaw over others. 
The weight of both chainsaw is the same and it is 3.30 kg. Therefore, either model is lightweight. 
Displacement
Higher displacements are better. When engine displacement is higher, it would pass more air into the engine.
Between the two models, the 194t has more engine displacement. It has 31.8 cc engine displacement while 193t has 30.1 cc.
Useful Features
Since both are back to back models, both have similar features. So, it's hard to distinguish one from the other in terms of features.
Upon my careful observation, I found that Stihl 194t offers more features than its counterpart. Despite 194t having fewer features, it still offers enough important features.
Related: Stihl 194T Vs 201T (Differences, Mods and Recommendation)
FAQs
Is the Stihl 194t a good chainsaw?
Yes, Stihl 194t is a good chainsaw. In terms of features it's better than 193t.
Is the 194t a pro saw?
Yes, stihl 194t is an affordable and professional chainsaw.
How many cc is a Stihl 193T?
There are 30.1cc oin Stihl 193T.
Which Is Better Between 193t and 194t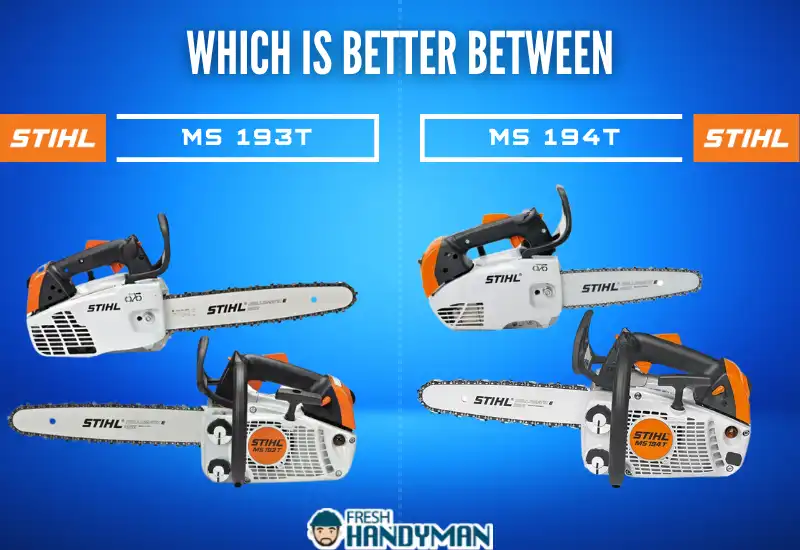 So, here's the deal- you have to pick one of the two. But, which one should be right for you? Well, I can't tell you which one could be right since choices and requirements vary.
However, based on the differences and number of features- I would say Stihl 194t is better than its preceding model.
Wrap Up
Both of the models from Stihl are lightweight and almost similar in features and have little to no differences.
That's why it's hard to pick the winner. However, depending on the features and uses, I have selected a winner and that's in Stihl 194t.