I recently stumbled upon two chainsaws from Stihl that piqued my interest. Honesty speaking, I found both saws to have similar features, the MS 194 T and the 201 T.
Even though it may seem surprising, the price gap between them exceeds $350. So what makes these products so different in price if they share so many features?
Based on my research, I discovered that the Stihl 194T and 201T differ drastically in terms of their chain, horsepower, fuel capacity, and weight. Moreover, the 201 T employs an intelligent engine management system, while the 194 T does not.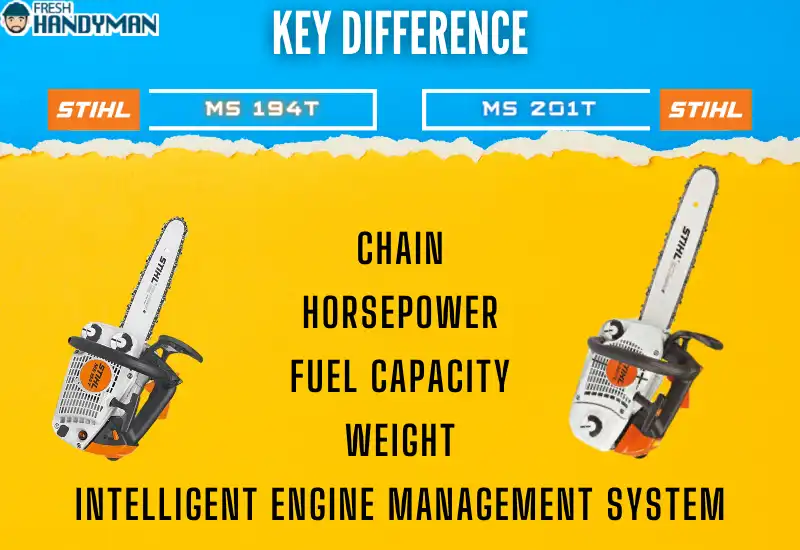 In the article, I describe whether these differences are significant or not. I will also discuss how you can modify these chainsaws to ensure they are more efficient.
Let's kick things off!
Features of Stihl 194T
Before I get into the differences, let's quickly review the 194T features.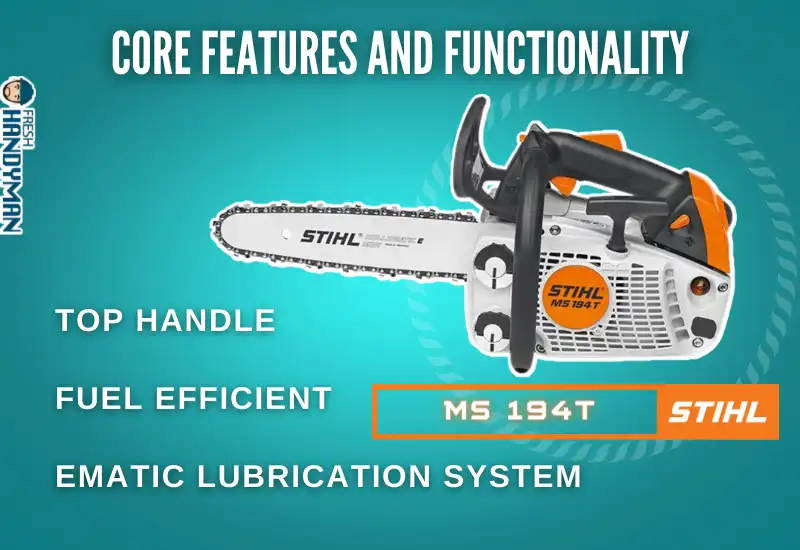 Top Handle
The MS 194T has a multifunctional handle designed to improve user comfort and control.
It is ergonomically crafted with multiple grip positions to suit different grip styles. This reduces operator fatigue and prevents hand injuries.
Fuel Efficient
With its fuel-efficient engine, the MS 194 allows for longer run times and lower fuel consumption. Therefore, it is a cost-effective choice for professional users who constantly need to cut.
Ematic Lubrication System
The chainsaw features the Ematic Lubrication System for optimal chain lubrication. It has a special guide bar and oil flow control for distributing the oil evenly along the chain.
Features of Stihl 201T
Here are the 201T features.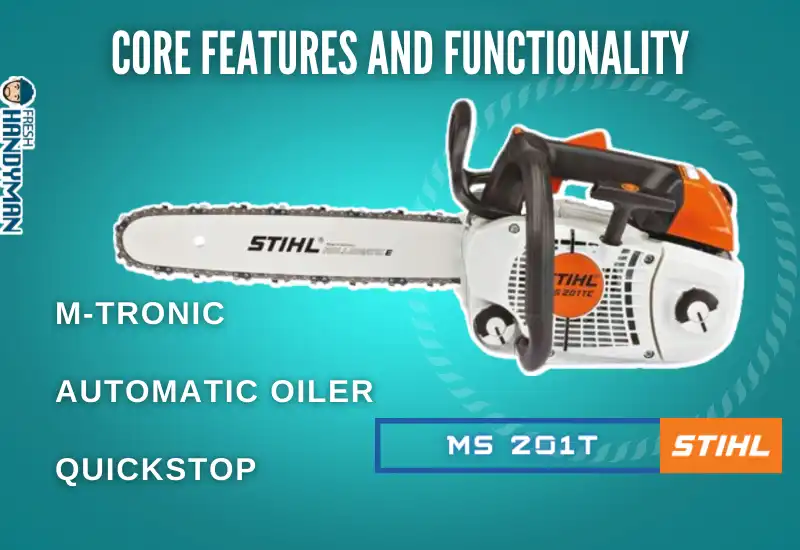 M-Tronic
You will have the M-Tronic technology with the 201. In case you didn't know, it optimizes the chainsaw's performance by using a fully electronic engine management program.
This system measures the chainsaw's operating conditions through sensors. Afterward, it adjusts the mixture of fuel and air automatically.
Automatic Oiler
The Automatic Oiler maintains the chain's lubrication during operation. When oil is needed, it automatically disperses it onto the chain. As a result, neither overheating nor abrupt stops will occur.
Quickstop
Quickstop is a safety feature for preventing accidents. If the chainsaw is accidentally dropped or kicked, it automatically stops cutting.
Comparison Table with Specs for Stihl MS 194 T and 201 T C-M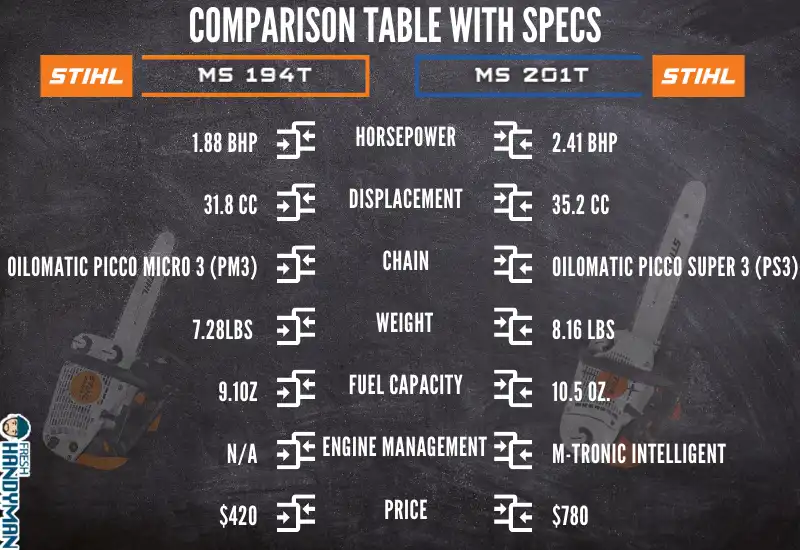 | Key Factor | Stihl MS 194 T | Stihl MS 201 T C-M |
| --- | --- | --- |
| Horsepower | 1.88 bhp | 2.41 bhp |
| Displacement | 31.8 cc | 35.2 cc |
| Chain | OILOMATIC PICCO Micro 3 (PM3) | OILOMATIC PICCO Super 3 (PS3) |
| Weight | 7.28 pounds | 8.16 pounds |
| Fuel Capacity | 9.1 oz. | 10.5 oz. |
| Engine Management | Doesn't have an engine management system. | M-Tronic Intelligent Engine Management |
| Price | CHECK CURRENT PRICE | CHECK CURRENT PRICE |
Differences Between Stihl MS 194 T and MS 201 T C-M
Here are the five biggest differences between the two: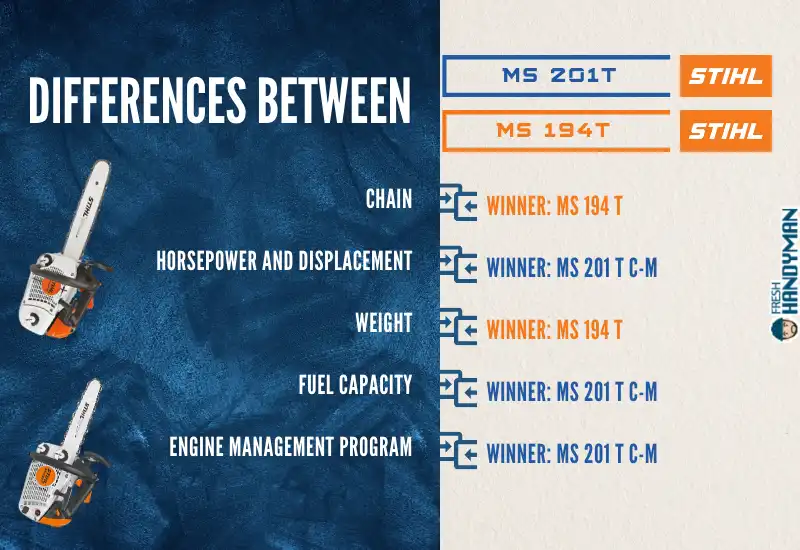 Chain
Whether cutting firewood or a tree, a saw needs a sharp, high-quality chain to be effective. Hence, the chain is perhaps the most vital part of a chainsaw.
In this comparison, the 194T is equipped with a slightly better chain called the Oilomatic Picco Micro 3. It is a narrow kerf chain that is capable of slicing through thick timber.
Moreover, users have said that they haven't experienced any kickback from the product.
On the other hand, the 201 uses the Oilomatic Picco Super 3. Cutting performance-wise, it is inferior to the PM3.
However, it is worth noting that this chain offers a 15% longer cutting life than its counterpart.
Winner: Stihl MS 194 T
---
Horsepower and Displacement
No matter how high-quality of a chain your saw uses, it will be useless without the right amount of power.
With the 201 chainsaw, you can expect reliable performance. It boasts a displacement of 35.2 cc and a power output of 2.41 bhp.
Thus, you can be sure that the 3/8″ PS3 chain will be put to good use.
There are 31.8 cubic centimeters of displacement in a 194 chainsaw, producing 1.88 horsepower. As you can see, the 194T isn't particularly power-packed.
Winner: MS 201 T C-M
---
Weight
There is a proverb that says with great power comes great responsibility. I would like to make one small change: with great power comes even heavier weight.
That is exactly what happened to the 201 T chainsaw. It has a stronger engine but weighs more at 8.16 pounds.
Compared to this, you only have to carry 7.28 pounds if you opt for the MS194 chainsaw.
Winner: Stihl MS 194 T
---
Fuel Capacity
I dread it when my saw abruptly shuts off due to running out of fuel. And if you have been using chainsaws for a while, you would know how frequently this type of incident occurs.
The main culprit behind this issue is the chainsaw's overeager appetite for fuel.
However, thanks to its 10.5 oz tank capacity, you are less likely to face this problem with the Stihl 201. Refilling it once will allow you to chop down many trees in one go.
The 194 chainsaw has less fuel capacity by over an ounce. It features a 9.1-ounce fuel tank.
Winner: MS 201 T C-M
---
Engine Management Program
As a result of the high demand, manufacturers are currently focusing more on autotune chainsaws. Autotune simply means automating the internal functions of a saw with engine management systems.
Stihl has already incorporated its autotuning technology, known as M-Tronic, into many of its chainsaws, including the 201 T.
Thanks to this innovative technology, it adjusts itself automatically to carburetors, air filters, and fuel quality changes.
The 194 T model has various automation features like Ematic Lubrication and IntelliCarb Compensating Carburetor, although they fall short of M-Tronic.
Winner: MS 201 T C-M
---
Also Read: Stihl MS 250 Vs. MS 271
STIHL 194T Mods
Now that I have explained the differences, it's time to talk about mods.
These two chainsaws would benefit from a few mods that could enhance their cutting abilities. Here are two appropriate mods for the Stihl 194T.
Muffler
With an aftermarket muffler, you can boost Stihl 194 T's power output by 20%. Keep in mind that performance improvement will vary depending on your choice of a muffler.
In summary, this mod will help you maximize your saw's power and enable you to cut hardwoods, softwoods, and even tougher materials.
Air Filter
Another popular mod for the Stihl 194T is a new air filter.
The stock air filter may clog with sawdust and other particles, reducing engine oxygenation. It has a detrimental effect on power and fuel economy.
If you replace the stock air filter with a high-performance one, you will not encounter this problem.
STIHL 201T Mods
Let's check out the two mods that the 201T desperately needs.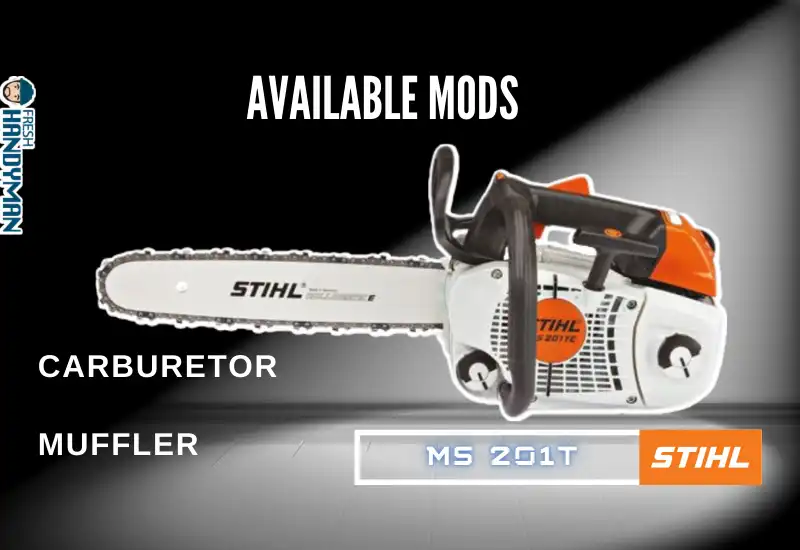 Carburetor
Adding an aftermarket carburetor to the Stihl 201T is another way to make it more efficient and powerful. This modification can increase the fuel efficiency of the chainsaw, thereby saving you money.
Muffler
I am not fond of the loud noise produced by the 201T. Hence, I recommend that you use custom mufflers in order to cut down on the sound level.
Among the benefits of a custom muffler is that it also enhances the performance of your saw.
STIHL MS194T Versus MS201T: Which One Is Better?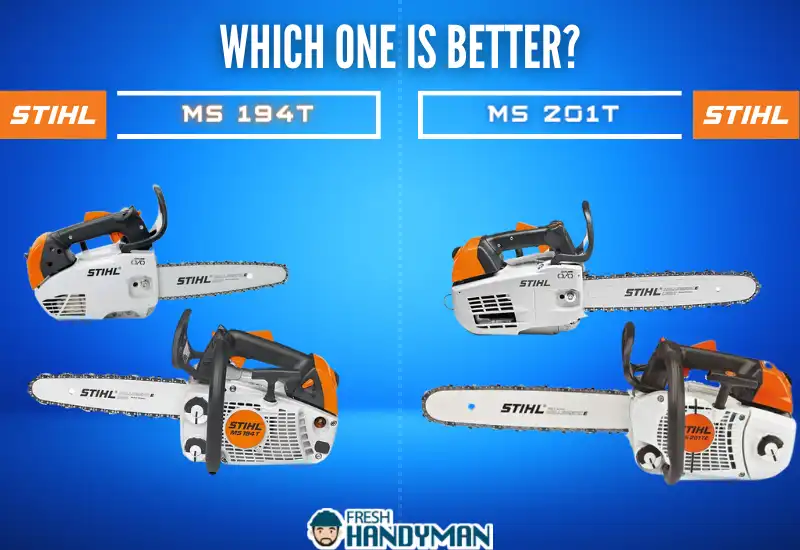 If you have a flexible budget, I recommend you purchase the Stihl 201 T chainsaw.
It delivers more horsepower and displacement. Both of these factors contribute to the product's superior performance.
Additionally, the M-Tronic engine management is a breakthrough technology that vastly reduces the time necessary to adjust the saw.
As for the 194T chainsaw, this power tool also deserves praise for its lighter weight and better chain quality. Nevertheless, it is not going to live up to your performance standards.
To Sum Up
The Stihl 194 and the 201 have quite a few differences, including performance, fuel capacity, and weight.
Those who are willing to shell out more than $750 should choose the 201T because of its exceptional performance and appealing M-Tronic features.
On the other hand, for less than $500, the 194T has a lot to offer as well. An excellent chain and a lighter weight are both desirable traits. And the performance isn't terrible, either.