It's a nice morning out there at the woodpile and you're planning to cut up lots of wood for next winter. However, you're undecided about which of the Husqvarna and Stihl saws to utilize. Both of them are trying to win your heart but which one should you pick?
Well, these two models have very few differences like the weight and fuel capacity. They provide the same amount of power, though the 462 is easy to work with in a stiff situation. Whereas, the 572 is more efficient in dealing with big logs.
Well, in this guide we'll be focusing on the Stihl 462 vs Husqvarna 572 more comprehensively. Solving the question of which chainsaw is best overall, and why! So, let's get started.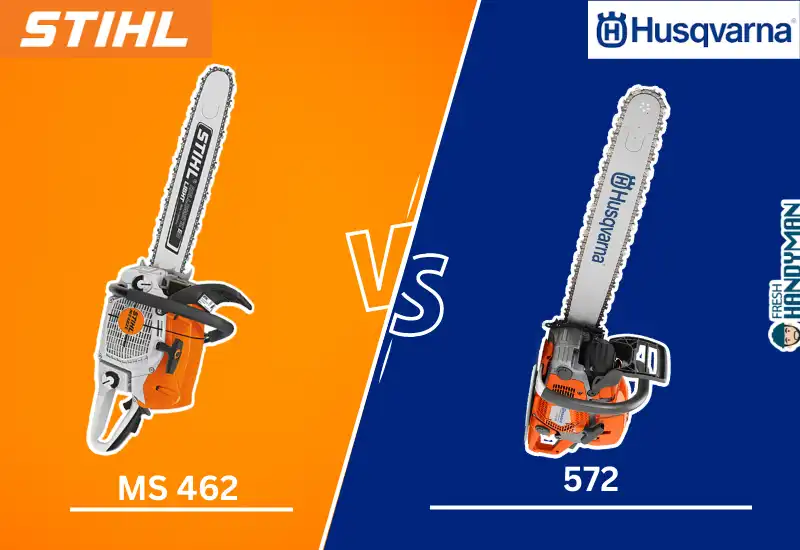 Quick Comparison Table
Take a Look at the table below to see how the Stihl 462 and Husqvarna 572 chainsaws compare.
| Key Factor | Stihl MS 462 | Husqvarna 572 |
| --- | --- | --- |
| Displacement | 72.2 cc | 70.0 cc |
| Weight | 13 lbs. | 14.5 lbs. |
| Engine Power | 4.4 kW | 4.3 kW |
| Guide Bar Lengths | 16-inches to 28-inches | 15-inches to 28-inches |
| Fuel Capacity | 24.35 oz | 24 oz |
| Power Source | Gas | Gas |
| Price | CHECK CURRENT PRICE | CHECK CURRENT PRICE |
In-Depth Differences Between Stihl 462 vs Husqvarna 572
The Stihl 462 and Husqvarna 572 are both chainsaws that are made to handle tough jobs. They both offer a lot of power, but there are differences between the two that make them suitable for different people and different types of work.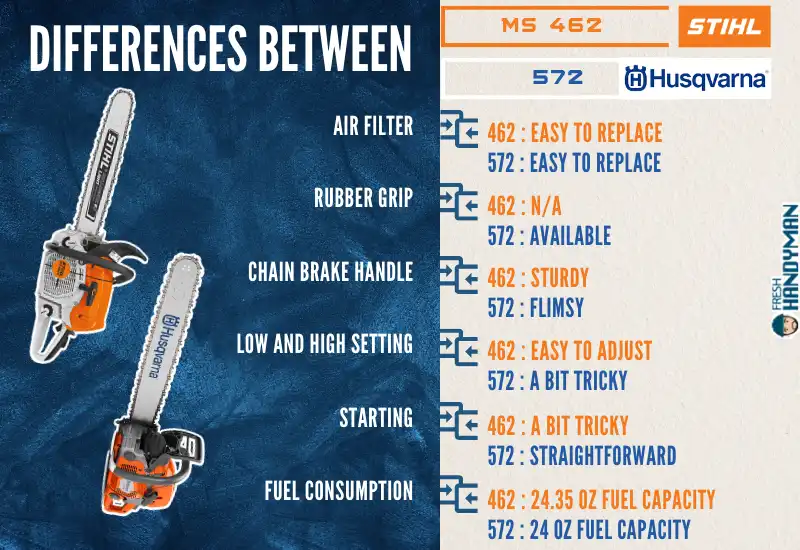 Air Filter
Stihl's air filter is one of the easiest to replace on the market. It's just a matter of popping it in place and twisting it around to lock it into place. That's it! It even has instructions printed on the filter itself, so you'll know exactly how to do it without having to look anything up.
The air filter on the Husqvarna 572 is a little different than that of the Stihl 462. Well, the Husky has a twist knob cool, that's kind of different. Yet it's also painless to detach the air filter whenever you need it.
Rubber Grip
You probably know that the rubber handle grips are nice. They make it easier to hold the trimmer and prevent your hands from slipping when you're using it.
That being said, the Husqvarna has a rubber grip on the handle which is amazing. It's really comfortable to hold, and it gives you a better grip on the trimmer when working with it.
However, it'd be definitely appreciated to see this feature on the Stihl trimmer.
Chain Brake Handle
When you're using a chain saw, you want to be sure that your chain brake handle is going to stay in place. That's why one of the first things you'll notice about the two different models is that the Husqvarna's chain brake handle feels a little bit flimsier.
The Stihl's chain brake handle, on the other hand, is sturdier and will take more abuse before giving it out on you.
Low and High Setting
The Stihl has a low and high setting under the plug, so you can just get in there and turn it using a screwdriver. You need to make a half-turn counterclockwise for the lowest settings using a screwdriver. And for the highest setting, you'll need to turn clockwise.
On the Husqvarna, it's a bit different. You'll need to go through a tricky method to complete the setting. Overall, the Stihl is considerably painless to get the job done.
Starting
The starting process of Husqvarna is pretty straightforward. To start, pull your lever out until the engine fires and set it to choke. Then pull again, and you should get a spark. Repeat pulling until the saw starts.
On the contrary, to start Sithl 462, you need to turn on the choke and pull the starter rope. It can take anywhere from three to five pulls before you get a spark and then wait for another two minutes for it to fire up.
Fuel Consumption
Fuel consumption is a major factor to consider when buying a new chainsaw, especially if you do a lot of work. The Stihl comes with a 24.35 oz fuel capacity whereas the husky has 24 oz, not a huge difference after all.
Since they little differences in terms of capacities as well as the engine power so it's hard to say which one uses more oil. But as far as we can tell, they perform equally well in this area. You can declare it a tie!
Difference Between 462 and 572
The Stihl 462 and Husqvarna 572 are both excellent multi-purpose handheld chainsaws, but they have their differences.
You can see that the 462 is lighter than the Husky 572 meaning you can use it for extended periods without any fatigue. Plus, it'll be easier for you to manuever the Stihl 462.
Though there's very little difference between these two chainsaws, you can choose which feels suitable for you. Both will get your job done.
Read Also: Stihl 362 VS 462 (In-Depth Comparison)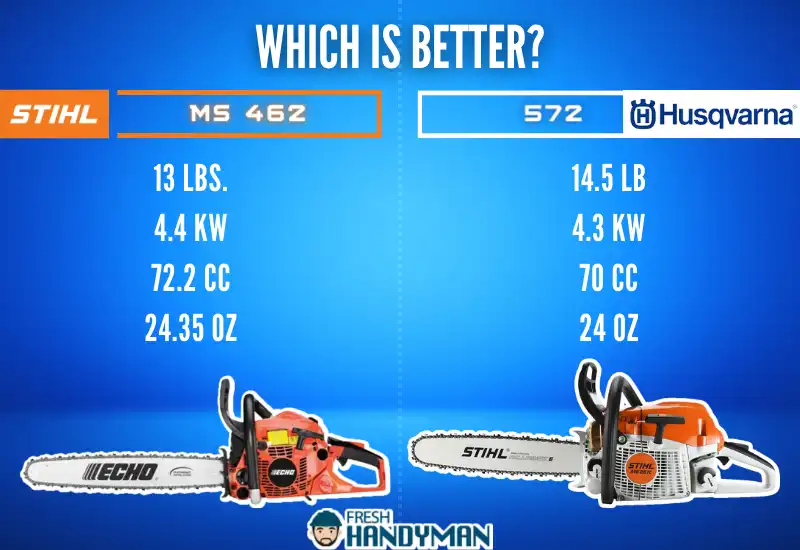 Which is Better? 462 or 572?
Undoubtedly these two are the most popular chainsaws on the market. They each have their own strengths and weaknesses, but both are outstanding pieces of equipment.
The Husqvarna 572 weighs about 14.5 lbs. whereas the Stihl 462 is only 13 lbs. Well, it means that it'll be easier for you to hold up the 462 for longer periods of time if you're cutting firewood or other large pieces of wood.
On the other hand, the Husqvarna feels smoother and has fewer vibrations, which is better for your hands and body. It's also better balanced with a 24-inch bar and has a lot better air filtration. Aside from that, both of these chainsaws have quite similar engine power.
If you need more power or have more extensive logs to cut, the Husqvarna 572 might be a better choice for you. But if you're looking for something lighter that still does an excellent job, the Stihl 462 is better for you.
Read Also: Stihl 462 Vs 661: Which Is Better?
FAQs
How much does the Stihl 462 vibrate while operating?
Well, the good news is that this chainsaw incorporates anti-vibration technology that reduces the vibration. So, you can expect to have minimal shakes yet improved control while operating it.
What is the largest bar I can attach to the Husqvarna 572?
You can mount 32-inch bar at max on your 572. However, you are unlikely to have much control over it. As a result, a 24-inch bar is frequently recommended for optimum balance.
Which chain should I use on 462?
Conclusion
Ultimately, with these two chainsaws, the choice is yours. The Stihl 462 and Husqvarna 572 are both efficient and easy to use, though there are a few subtle differences between them.
If you're not particularly bothered by the weight of the chainsaw, there really isn't a wrong choice between these two chainsaws thanks to their very similar specifications. By now you should have a good idea about the Stihl 462 vs Husqvarna 572.
You won't go wrong with either but if you have a large amount of volume, we recommend getting multiple chainsaws to make it go faster.
---
You Can Also Read: