With almost a century of experience and expertise, Stihl has refined its chainsaw technology to provide exceptional performance, reliability, and ease of use. These days, the name of the brand has become somewhat synonymous with high-end, high-performance chainsaws.
Now, the MS 261 and MS 362 chainsaws might as well be the most debated chainsaw in their catalog. While some claim that the more expensive MS 362 is a better choice, some consider the MS 261 to be the one to provide a better value. But who's right here?
Well, I can tell you which chainsaw I prefer, but that won't help you out much, would it? The truth is everybody has different needs and requirements for their chainsaw, and without knowing exactly what you want to do with it, it's hard to give you a definitive answer.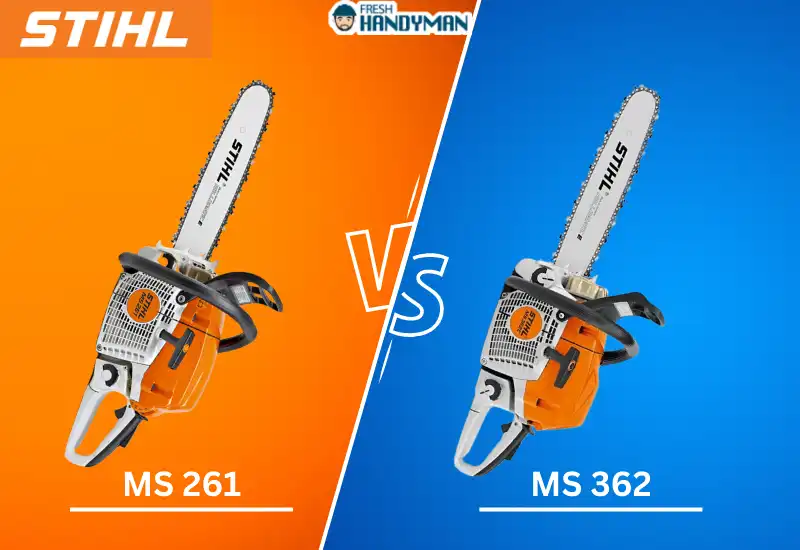 That's why to make things easier for both of us, I will let you be the judge. After reading through an in-depth comparison between the key features of the Stihl MS 261 and the MS 362, you will be able to decide for yourself which chainsaw is the better pick for you. So, let's get started.
Comparison Table with Specs for Stihl MS 261 and Stihl MS 362
| Key Factor | Stihl MS 261 | Stihl MS 362 |
| --- | --- | --- |
| Powerhead Weight | 10.8 pounds | 12.3 pounds |
| Displacement | 50.2 cc | 59.0 cc |
| Chain oil capacity | 9.13 oz. | 11 oz. |
| Fuel Capacity | 16.9 oz. | 20.3 oz. |
| Engine Power | 4.0 bhp | 4.6 bhp |
| Fuel Type | Gas | Gas |
| Warranty | 2-year | 2-year |
| Price | CHECK LATEST PRICE | CHECK LATEST PRICE |
Main Features of Stihl MS 261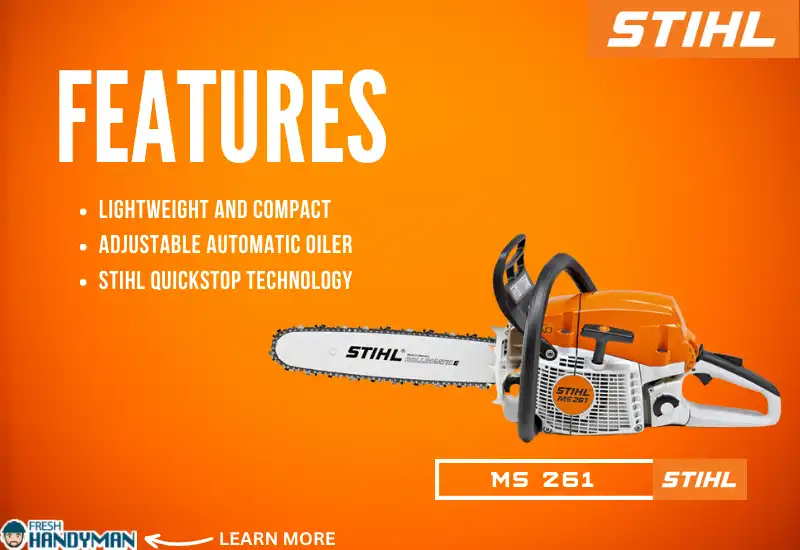 Lightweight and Compact
One of the true highlights of the Stihl MS 261 is its compact and lightweight design. It weighs only around 10 pounds allowing you to carry it easily for long stretches of time without tiring out.
Adjustable Automatic Oiler
The Stihl MS 261 is also equipped with an adjustable automatic oiler that quickly disperses lubricant to the chain whenever needed. This feature makes sure that the chain is well-lubricated at all times and keeps the cutting accuracy of the chainsaw precise.
Stihl QuickStop Technology
The QuickStop safety feature in the Stihl MS 261 protects you against any unfortunate accidents. This is essentially a well-designed chain brake system that freezes the rotation of the chain if there's a sudden kickback with enough force.
Main Features of Stihl MS 362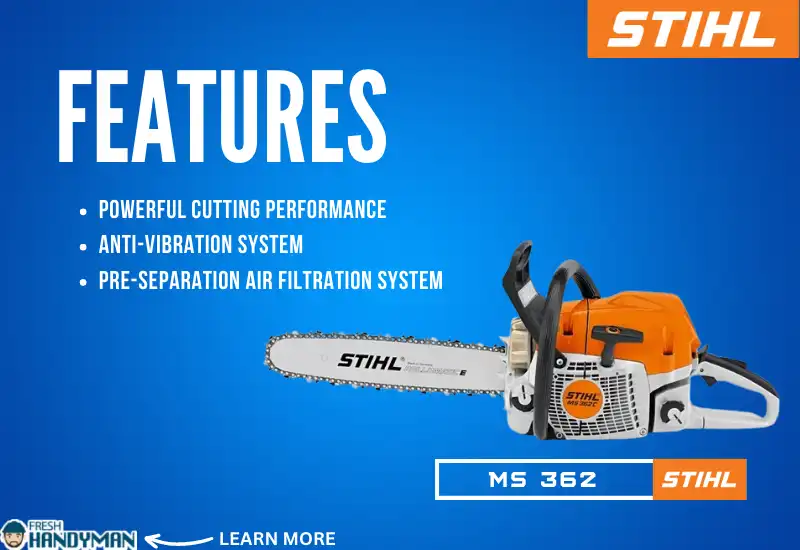 Powerful Cutting Performance
The Stihl MS 362 might be heavy, but it features plenty of power to back it up. This chainsaw is equipped with a powerful 59 cc gasoline engine that can deliver 4.6 HP to cut through large, thick trees with little to no hassle.
Anti-Vibration System
Nobody likes it when their chainsaw vibrates excessively when they use it. Stihl MS 362 comes equipped with some clever anti-vibration designs to eliminate excessive rattling, keeping your experience with the chainsaw enjoyable.
Pre-Separation Air Filtration System
The pre-separation air filtration system in the Stihl MS 362 does two things. It ejects the larger, heavier dirt particles out of the system to make sure your chainsaw runs smoothly. And secondly, it enhances the lifespan of your air filter in the chainsaw by keeping it clean.
Difference Between the Stihl MS 261 and MS 362
After looking at some of the main features of the two chainsaws and getting a general idea about them, it's time to head into the direct comparison between the Stihl MS 261 and MS 362.
Power and Performance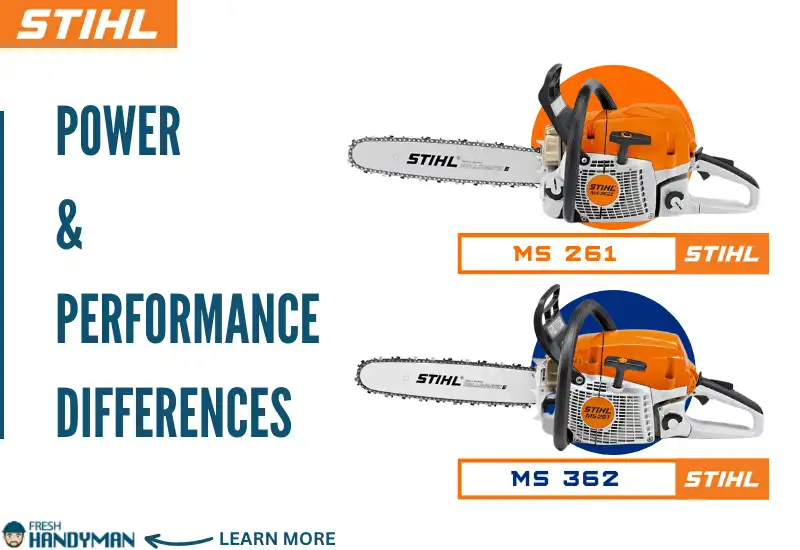 What good is a chainsaw if it doesn't have enough power in the bank to handle all your cutting needs? So, I figured comparing the cutting power of the two chainsaws is a good way to start out this showcase. And thankfully, both of these machines are powerful enough to tackle just about anything you throw at them.
But in terms of performance, I would place the Stihl MS 362 above MS 261. Don't get me wrong – the MS 261 is still an amazing machine that comes with a 50.2 ccs engine that can deliver up to 4 HP. But the MS 362 is simply stronger thanks to its 59 ccs engine and can reach up to 4.6 HP.
Then again, under moderate workloads, you shouldn't find the difference too big to make an impact. Both of these chainsaws are capable of cutting through thick branches and big logs without too much hassle.
Keep in mind, though, these chainsaws are not designed for heavy-duty applications. Rather, they serve more as a daily driver that you can bring out for most of your day-to-day projects involving a chainsaw. For serious tasks, you should go for a chainsaw with a bit more punch.
Winner: Stihl MS 362
Weight and Maneuverability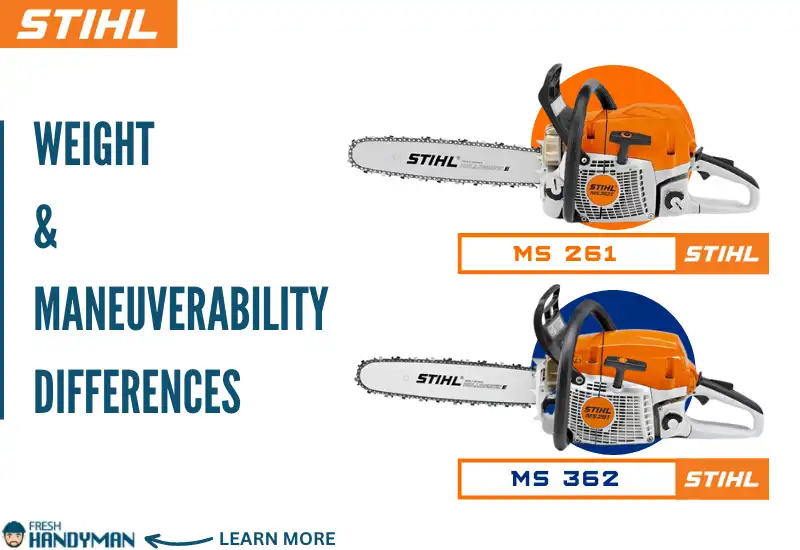 I'll let you in on a little secret – the weight of a chainsaw plays a huge role in dictating your overall experience with it. If you plan on using the chainsaw for a prolonged period, then a lightweight chainsaw will feel better. But for heavy-duty tasks, a heavier chainsaw is arguably the better choice.
So naturally, the next thing I checked when comparing the two machines was their weight. Since both of these chainsaws are suitable for regular use, and both of them are considered mid-range chainsaws, less weight would mean better experience and more maneuverability.
In that regard, the Stihl MS 261 is the clear winner as it's around 2 pounds lighter than the MS 362. The weight of the MS 261 without the cutting equipment is around 10.8 pounds. In comparison, the MS 362 weighs around 12.3 pounds which is pretty noticeable.
What that means is you will have a much easier time moving around with the MS 261. And you also won't be fatigued if you are working for long periods of time without a break when you are using this chainsaw.
The MS 362 is also pretty lightweight compared to other options on the market and should give you a decent experience as long as you have the fitness to wield it properly. But between the two chainsaws, the MS 261 is the better choice if you want to prioritize maneuverability.
Winner: Stihl MS 261
Fuel Usage and Capacity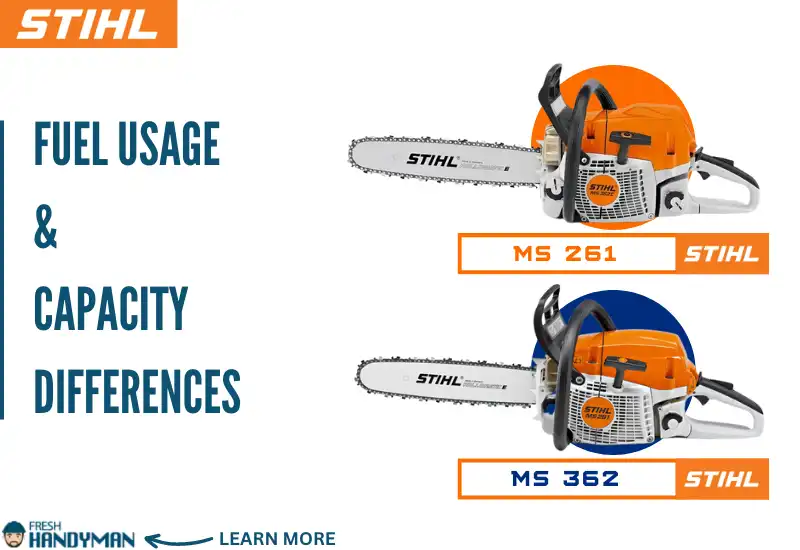 One mistake that many people make when buying their first chainsaw is not spending enough time looking at its fuel capacity and efficiency. Let me explain – if the chainsaw you are buying doesn't have a decent fuel tank, you will need to stop halfway through your work just to refuel it.
And the capacity of the fuel tank is not the only thing that's important here. Even if your chainsaw has a large capacity tank, if it doesn't use the fuel efficiently, you will not be able to get a decent uptime from it.
When it comes to Stihl chainsaws, fuel efficiency is almost a given. Most, if not all, of their chainsaws, are designed to maximize runtime giving you as much uptime as possible. As long as your chainsaw is designed with a large tank, you should be able to get a decent uptime with it.
That being said, the MS 362 takes the lead here with its large 20.3 oz. Fuel tank. In comparison, the MS 261 is not a competition at all, with its fuel tank capping out at only 16.9 oz. So, if you want a chainsaw that can last longer between each refuel, the MS 362 is the clear winner.
Winner: Stihl MS 362
Oil Storage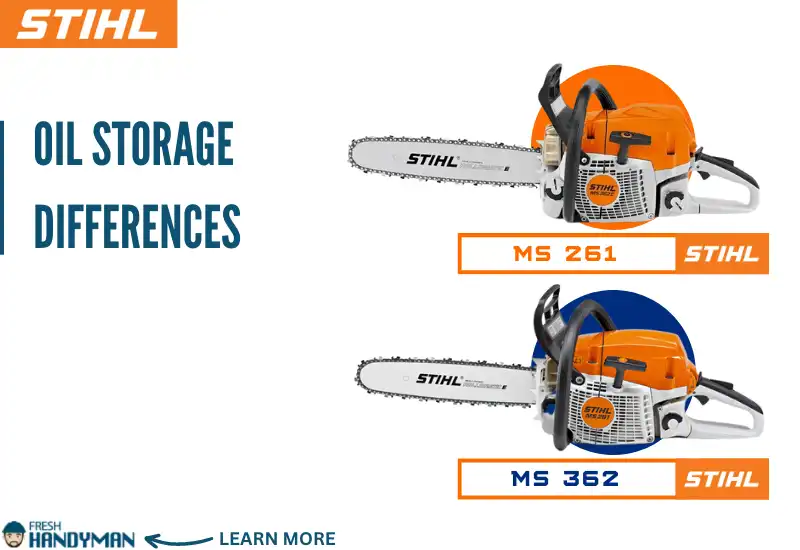 Chainsaw chains need to be lubricated periodically if you want to cut through timber smoothly. If the chain on your chainsaw is not lubricated sufficiently with chain oil, it can cause excessive wear and tear on the chain, damaging it sooner rather than later. It can also negatively impact the cut quality.
Both the MS 261 and MS 362 come with onboard storage for chain oil that you can activate to disperse lubricant with the press of a button. But the storage capacity for oil is different between the models.
The MS 261 can hold up to 9.13 oz. of chain oil, while the MS 361 can hold as much as 11 ounces of chain oil. Once the tank runs dry, you need to refill it with chain oil to use it again.
While the dispersal method for both chainsaws is excellent, the larger capacity on the MS 362 is always a good thing. So once again, I will hand the crown to the Stihl MS 362.
Winner: Stihl MS 362
Ease of Use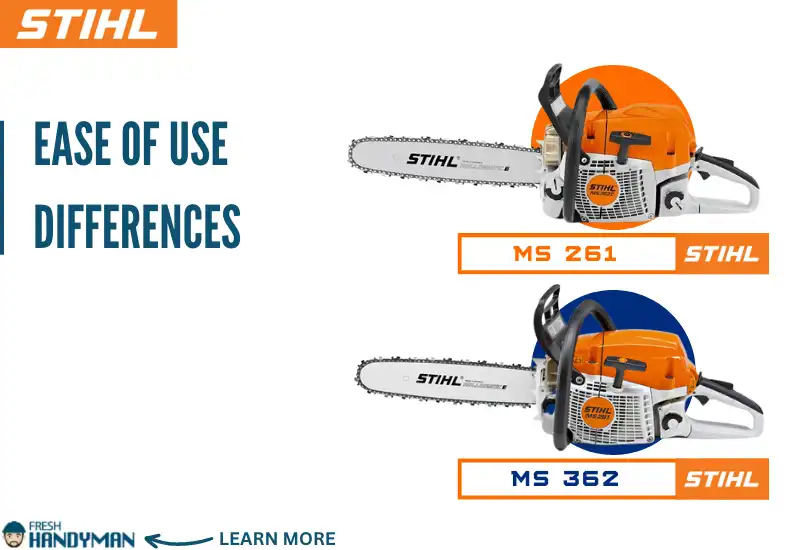 The MS 261 and the MS 362 are two of the most well-designed chainsaws available in the market. And the main reason behind their popularity is how easy they are to use, even for a new user. But if you were comparing the two – which one would be the winner?
Well, there are good cases to be made for either chainsaw. For one thing, the MS 261 is the lighter and more manageable of the two chainsaws. Because of its lightweight design, you will have an easier time maneuvering tight spaces.
Other quality-of-life features in the chainsaw include a side-access chain tensioner for quick and easy adjustments, the Stihl Quickstop chain brake system, and the Easy2Start system for fast startup.
The MS 362 also features the Easy2Start system. But it's a bit heavier compared to the MS 261. But that also means this chainsaw has more power available for you to access, which means more cutting capacity.
The truth is both of these chainsaws are shining examples of how to design a chainsaw. They are well-made and designed to provide a solid experience even to a new user. But if I had to choose, I would go with the MS 261 because of its lightweight design.
Winner: Stihl MS 261
Price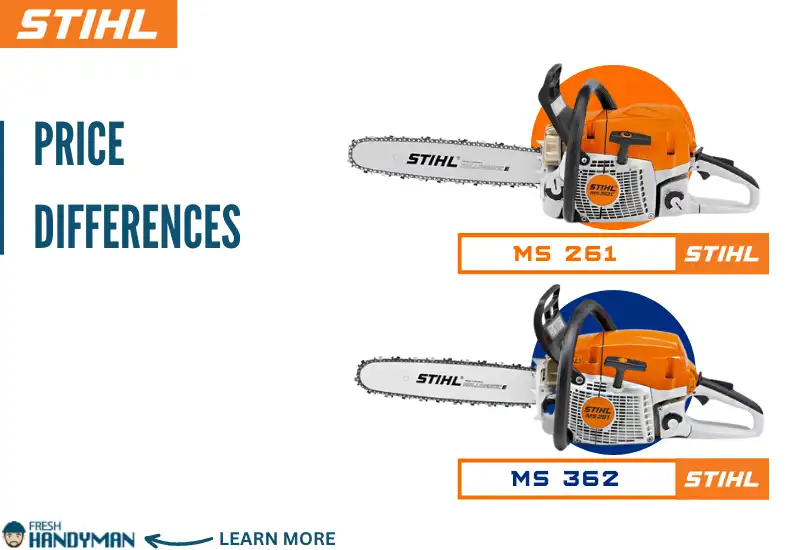 The final consideration in any purchase is the dreaded price tag. Even when you have your heart completely set on a specific chainsaw, a quick look at the price is often enough to quickly dissuade you from buying it. As much as we all hate it, the price of the chainsaw is extremely important to check before committing to it.
Now the MS 261 costs around the ballpark of 700 dollars with the standard bar size, which is pretty affordable considering the level of performance it offers. As for the MS 362, it costs a little under 900 dollars, which is also fine for its quality.
So, if you want to save a few bucks, going with the MS 261 will give you more value. But if you plan on doing heavy-duty projects, I would recommend spending the extra 200 bucks and getting the MS 362.
Winner: Stihl MS 261
Stihl MS 261 Vs MS 362: What's the Verdict?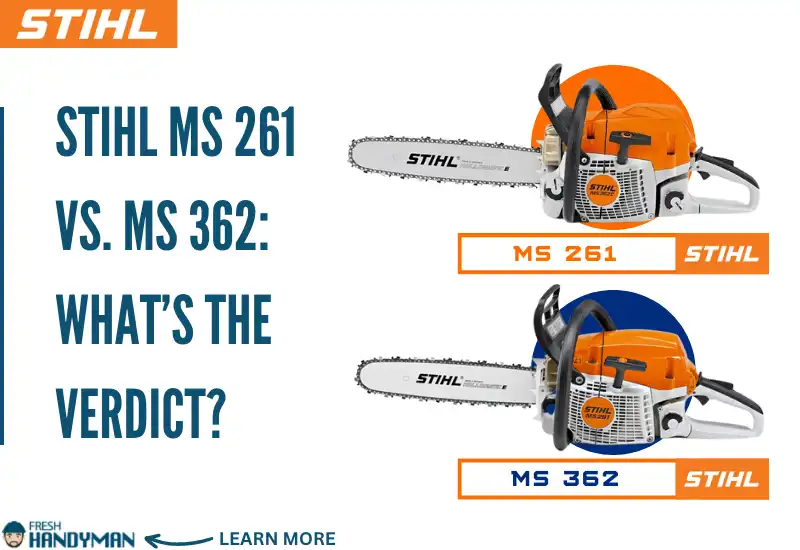 The comparison between the Stihl MS 261 and the MS 362 might not give you a definitive answer, but it shows how good both of these chainsaws are. And that explains all the debate around these two models in particular. Frankly, you would be fine picking either one up for at least a good couple of years.
But to get the most out of your chainsaw, you need to look inward. You need to figure out what it is that you want out of your chainsaw. If you want a lightweight chainsaw that doesn't cost you an arm and a leg, go with the MS 261. It has decent power and comes with some nice Stihl features to make it a worthwhile investment.
However, if you want to get the most power out of your chainsaw, the Stihl MS 362 is the better choice. Sure, it costs extra and is also a bit heavier. But if you want to tackle heavy-duty forestry projects, this chainsaw will be the perfect friend to bring along for the ride.
I hope my in-depth comparison between the Stihl MS 261 and MS 362 could help you figure out which chainsaw is the better fit for your needs. Cheers!