We all know that buying a new chainsaw can seem daunting, especially if you are new to the chainsaw industry. There are many things to consider, such as bar length, power, and cutting capacity. I break down the differences to make it easier for you to compare.
Compared in this article are two of the largest chainsaws on the market — Husqvarna 3120XP versus Stihl MS 880. They are designed for logging professionals and are powerful enough to easily cut large trees.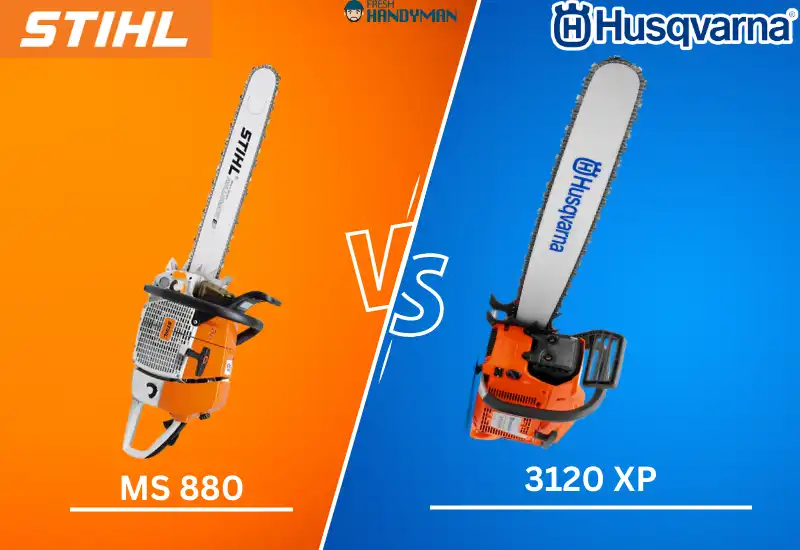 Purpose of Comparison
I have compiled this comparison article to give you an idea of what each chainsaw is capable of and what features they have. It will help make your decision easier when buying a new chainsaw. Each spec is carefully reviewed to help you decide which professional chainsaw is best for your needs.
Quick Comparison Table
| Key Factor | Husqvarna 3120XP | Stihl MS880 |
| --- | --- | --- |
| Weight | 22.93lb | 21.83lb |
| Bar Length | 24/42inch | 17/59 inch |
| Power Source | Fuel | Fuel |
| Power | 6200.0 w | 6400.0 w |
| Fuel tank volume | 2.64 US pint | 2.75 US pint |
| Torque, max. | 7.7 Nm | 8.0 Nm  |
| Idling speed :  | 2500rpm | 2700rpm |
| Maximum power speed | 9000 RPM | 11500 RPM |
Definition of Husqvarna 3120XP Vs Stihl MS 880
Husqvarna 3120XP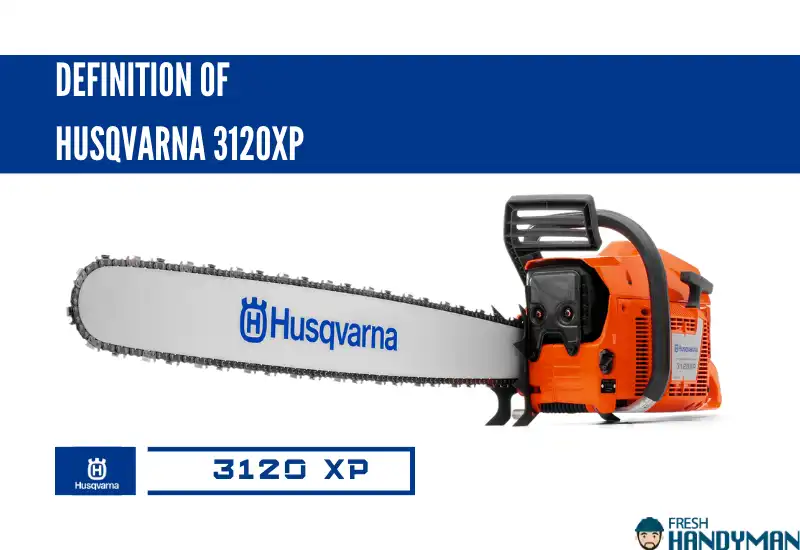 X-TORQ engines are included on all Husqvarna chainsaws. Meaning it consumes less fuel and emits fewer exhaust fumes. Husqvarna's largest model comes with a 118.8cc two-stroke engine with a speed of 9000 rpm, delivering 8.31 horsepower. 
Fuel consumption is 570 g/kWh, and the tank holds 2.64 US pints. It is a quieter running chainsaw. The chain pitches used by Husqvarna are 0.404," with bars ranging from 24″ to 42″. A chain speed of 65.95 ft/sec is achieved at maximum power. There is a weight of 22.9 lbs on the Husqvarna 3120XP chainsaw.
Stihl MS 880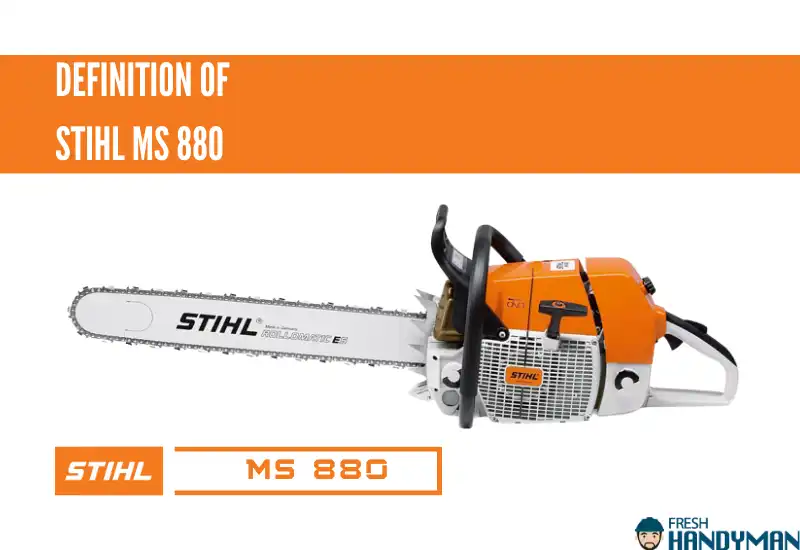 There is no doubt that the Stihl MS 880 chainsaw is one of the most robust chainsaws on the market. There is a slight advantage in power-to-weight over the Husqvarna 3120XP, as well as being lighter. 
Precision balance, great handling, and durability are all hallmarks of the Stihl. There is a displacement of 121.6cc in the two-stroke engine, producing 8.6 BHP. The guide bars can range in length from 17 inches to 59 inches – a total of almost five feet to take on the most challenging tasks. ElastoStart starter handles are equipped with shock absorbers to reduce shocks when engaging the starter cord. It is a unique feature of the Stihl.
Husqvarna 3120XP- Power, Performance, and Engine Specs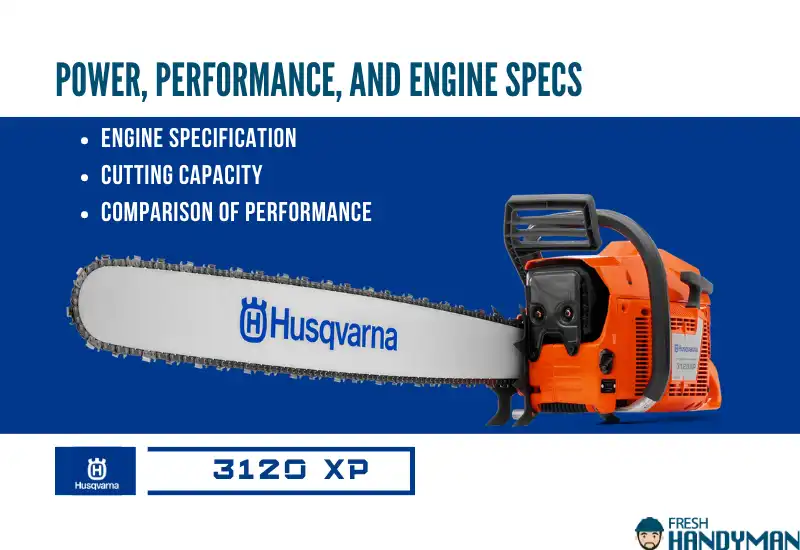 Engine Specification
The Husqvarna 3120 XP, which offers 8.31 horsepower and 118.8 CC of displacement. A quick-starting engine and starter are designed to make it as easy as possible for you to start the machine. At 6000 rpm, the 3120XP produces 7.7 Nm of torque.
The Cutting Capacity
Speed of the chain at 133% of the engine's maximum power is 
26.7 m/s. This saw can pull a six-foot bar! Despite the complexity of the job, the Husqvarna can handle it. For homeowners, the 3120XP chainsaw is an all-around, easy-to-use chainsaw. It is easy to handle firewood, light felling, and limbing with this saw due to its adequate cutting performance.  The chain is designed to make cutting jobs easier, more manageable, and with less pressure on the chainsaw itself.
Comparison of Performance 
A powerful saw that's among the best in the world. They are specially designed for felling large trees and extremely hard wood. It's an impressive chainsaw.  
Stihl MS880- Power, Performance, and Engine Specs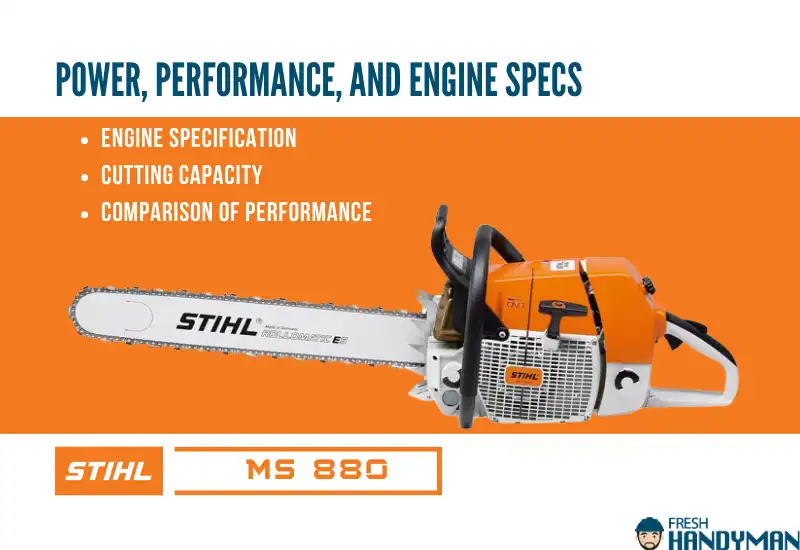 Engine Specification
Commercially available chainsaws with the highest power ratings are the Stihl MS 880, powered by 8.6 horsepower and 121.6 cubic centimeters of displacement.
Once the air filter is blocked, the controller cannot produce a richer mixture of fuel and air. Due to this, a constant fuel-to-air ratio is maintained throughout the combustion process, ensuring that the engine produces power as well.
The Cutting Capacity and Speed
Stihl chainsaws do well with tricky wood or brush, despite their slower rate than Husqvarna chainsaws. Although it can cut faster, Husqvarna saws struggle through joints and knots within the trees. 
So if you are cutting through these sorts of things, then the MS880 is also better for brush and dense wood.  Professionals use the Stihl 880 for several tasks, such as felling trees, clearing brush, and cutting firewood. Homeowners and hobbyists also value the impressive cutting performance of this chainsaw.
Comparison of Power and Performance 
Although the Stihl MS 880 took top honors, these two chainsaws perform similarly in the real world. An addition to its many features, the Stihl 880 is a top-notch tool. There is plenty of cutting power provided by its powerful engine. The chain also ensures a high cutting efficiency. As a result, even the most demanding cutting tasks can be handled by this chainsaw.
The Husqvarna 3120XP (Using)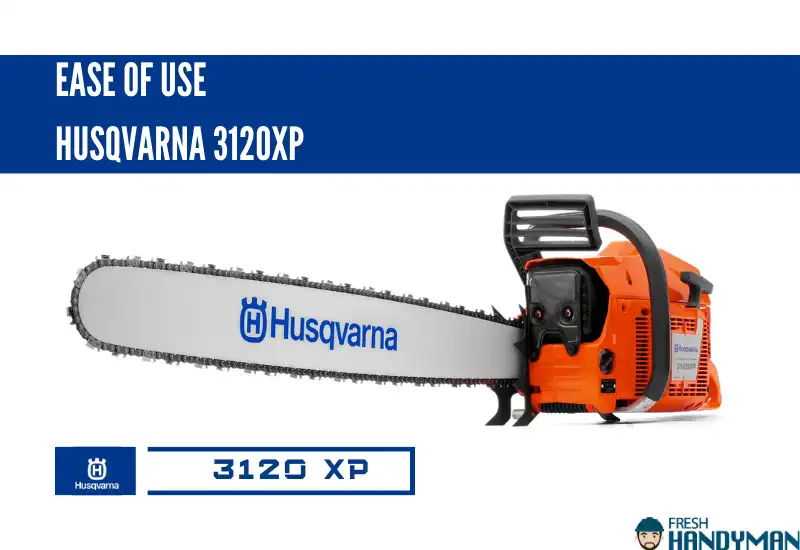 Ease of Use
Easy start is made possible by Husqvarna's Smart Start. To ensure maximum safety, the chain brake is fitted with a chain catcher and a right-hand guard, which makes it lightweight and easily portable. Just a few steps for easy starting. It is important to activate the chain brake before starting it, then make sure you move the guard forwards and push the ignition button left. Choke control should be set in the choke position. To start the throttle, press the lock and open it fully.
Ergonomic Design and Features 
The large handle makes it easier and safer to hold
This device is lightweight and slim with a high center of gravity.
Anti-vibration features
Maintenance
A centrifugal prefilter mounts on Husqvarna's flywheel, allowing air to enter the chainsaw. The technology is called air injection. Larger air particles are accelerated toward the outside, not near the flywheel. By funneling clean air toward the air filter, the air filter is supplied with clean air. In most conditions, the system works well but does not remove tiny dust particles. Small dust particles can't be accelerated enough by the flywheel to separate them from the air. It remains in the air path until it reaches the air filter, after which it is filtered.
Generally, Husqvarna air filters remain clean for a longer period when used under most conditions since they are equipped with air injection technology. 
Starting System
In keeping with Husqvarna's tradition of high power/weight ratios, the 3120 XP has the same features. Smart Start and ergonomics that minimize vibration make it easy to operate and start this large-sized saw.
Comparison Of Ease of Use
There is no trouble starting the Husqvarna. With just a few steps involved it is easy for those who are used to powerful chainsaws and those learning. The larger handles make it easier to hold and maneuver. 
The Stihl MS880 (Using)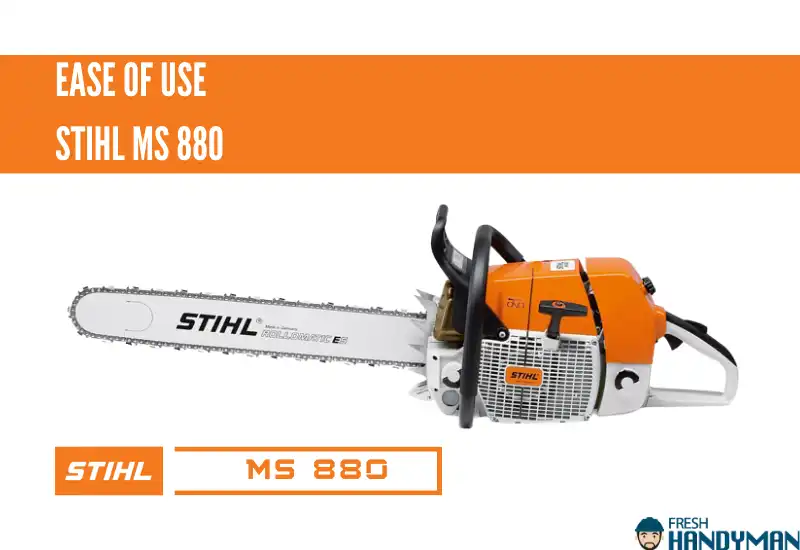 Ease of Use
An easy starting system includes the decompression valve. Before starting, it is recommended that you press the valve to ease the starting process and reduce the effort involved in pulling the starter cord. It is a semiautomatic valve; a manual press is required to open it, after which it automatically closes. Remember that this chainsaw has more power, so take caution when starting.
Both chainsaws have a few steps to follow before starting, and it will be easier to start when they are already warmed.
Ergonomic Design and Features 
You won't have to worry about your clothing getting caught on the edges because they are smooth and clean.
It is easier to grip because of the size of the starting handle
An ergonomically angled front handle makes it easy to grip.
Providing better control and preventing pull-in when cutting with bumper spikes.
Maintenance
Due to the lack of this technology, the MS 880 is more likely to suffer from filter blockages. It is imperative that the carburetor is supplied with clean air, thus maximizing airflow, which is why chainsaw manufacturers offer different mesh sizes of filters. The fine filter keeps air optimally clean, but it clogs quickly. Professionals often use stockings to keep their Stihl air cleaners clear of blockages.In recent years, some newer Stihl saws have also utilized air injection. Stihl refers to the system as "pre-separation filtration technology.
Starting System
A unique feature of Stihl is its ElastoStart starter handle. A shock absorber is built into the starter grip to ease the effort during starter cord pulling. As a result of using the ElastoStart starter grip, there is a noticeable reduction in the sudden peak force encountered when cranking the engine. After the first compression stroke, the forces at the grip become smoother.
Comparison of Ease of Use
With anti-vibration features and descent non-slip handles for comfort and stability, the ease of use for this chainsaw is impressive. Features to make cord pulling easier when starting are a bonus.
Husqvarna 3120XP- Durability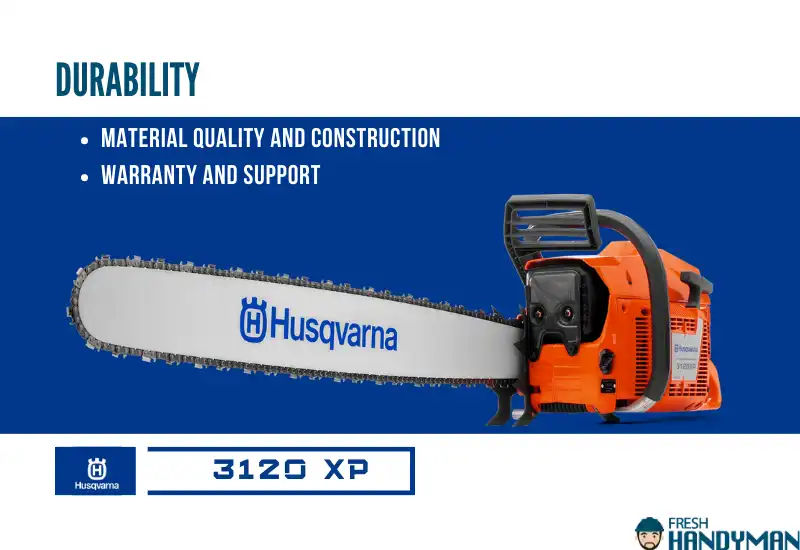 Material quality and construction 
The Husqvarna has a three-piece crankshaft that allows for tough jobs. The crankcase is built well and handles high rpms and complex jobs. Colored felling marks give you more felling accuracy.
Warranty and Support
All Husqvarna branded products are guaranteed to work by Husqvarna Forest & Garden. They  will replace or repair any part with a factory defect resulting from incorrect installation or defective components for free.
They are performed by Husqvarna-authorized workshops and done within the warranty period.
Comparison of Durability
The warranty is pretty basic but still offers good coverage. A good feature is the felling marks to give you more accuracy. 
Stihl 880- Durability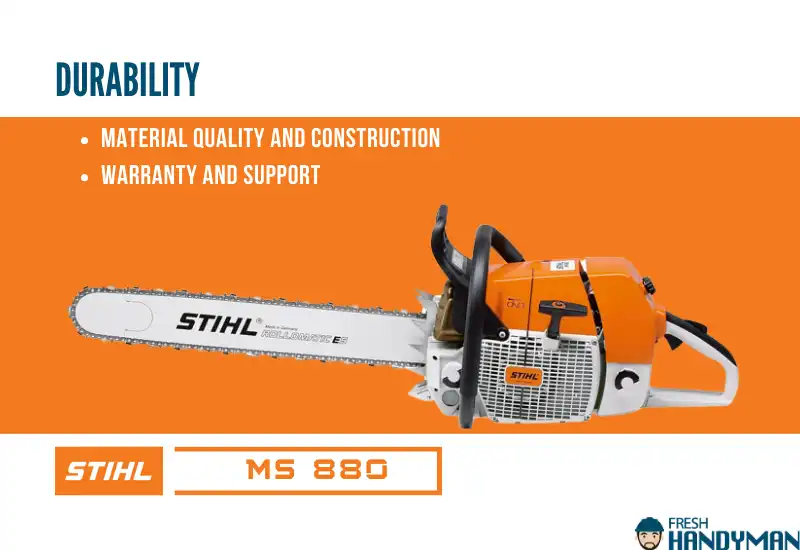 Material Quality and Construction
Chainsaws, like the Stihl 880, offer powerful, reliable cutting power to sawyers and arborists. Powered by a two-stroke engine of high quality, the 880 provides great power output and torque. In addition to the heavy-duty bar and chain, this saw is also designed to handle tough jobs.
Warranty and Support
Use for household purposes only, not for income-producing purposes, for three years from the date of purchase.  Whenever used for commercial, professional, or income-producing purposes, two years from the date of purchase.
Comparison of Durability
Warranty is reasonable with Stihl, and your chainsaw is bound to last with a high-quality two-stroke engine. The heavy-duty chain and bar mean they will last longer, even when doing tough jobs.
Side Access Chain Tensioner Husqvarna 3120XP Vs. Stihl 880
Stihl 880- Chain Tensioner 
In my opinion, this makes Stihl's chainsaw superior to Husqvarna's. You can adjust the tension on Stihl chainsaws on the side. The location is super convenient. The Stihl is the winner, having thought about the best location for the screw.
Husqvarna 3120XP – Chain Tensioner
Conversely, Husqvarna puts its tension screw on the bar's interior. Personally, I do not understand why they placed them there since it seems more difficult to maneuver than on the side.
---
Price- Husqvarna 3120XP and Stihl 880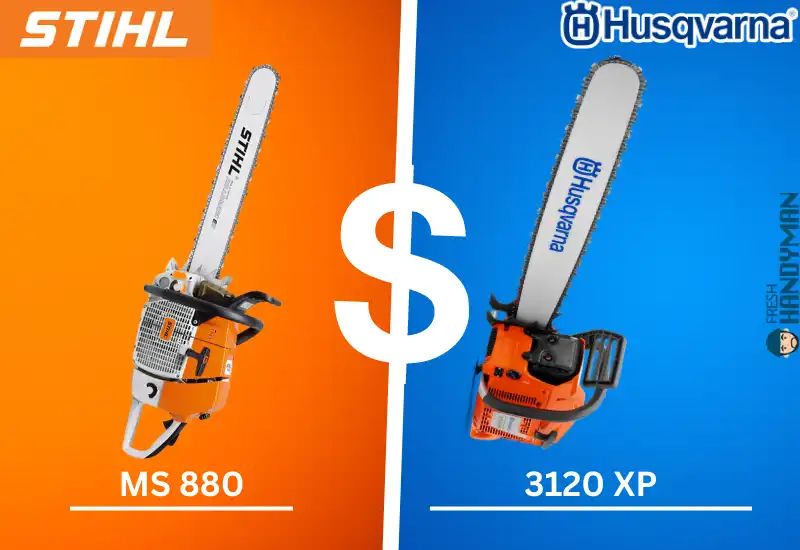 Husqvarna 3120XP – Cost
Starting Price $1,799.95 for the Husqvarna. 
Stihl 880 – Cost 
The Stihl comes in over $2,000. Comparison of price-to-performance ratio
Comparison of Cost 
It is well worth paying the extra to get the better-performing chainsaw. However, if you prefer not to spend the extra, you still get high performance for the price. Their prices fluctuate depending on where you buy the chainsaws, so it is best to shop around.
---
Pros and Cons of the Husqvarna 3120XP Vs. Stihl 880
The Husqvarna 3120xp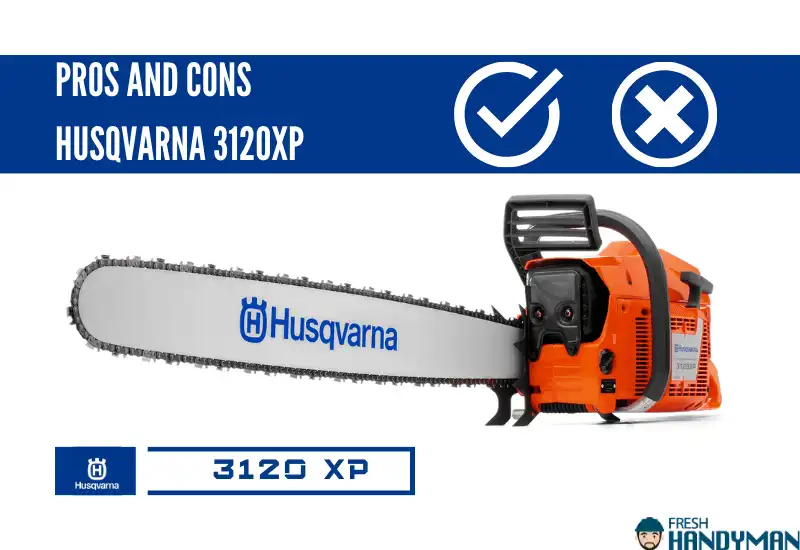 The Stihl MS880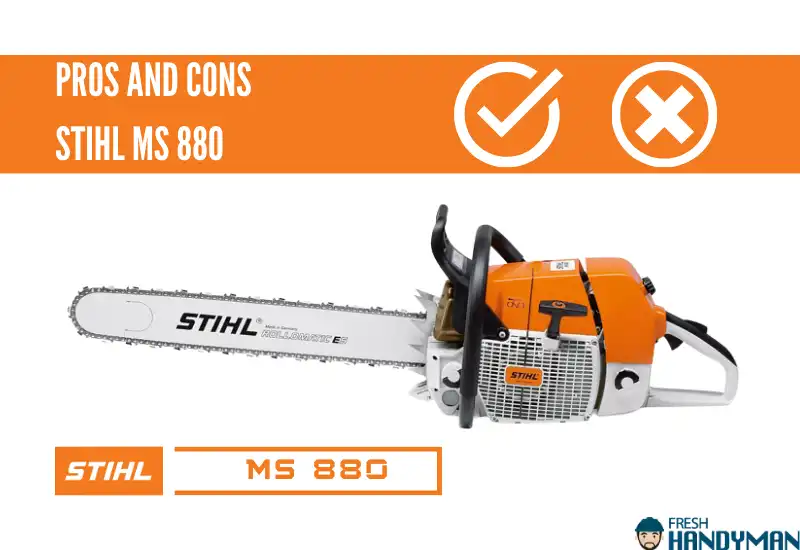 ---
Which One Should You Choose?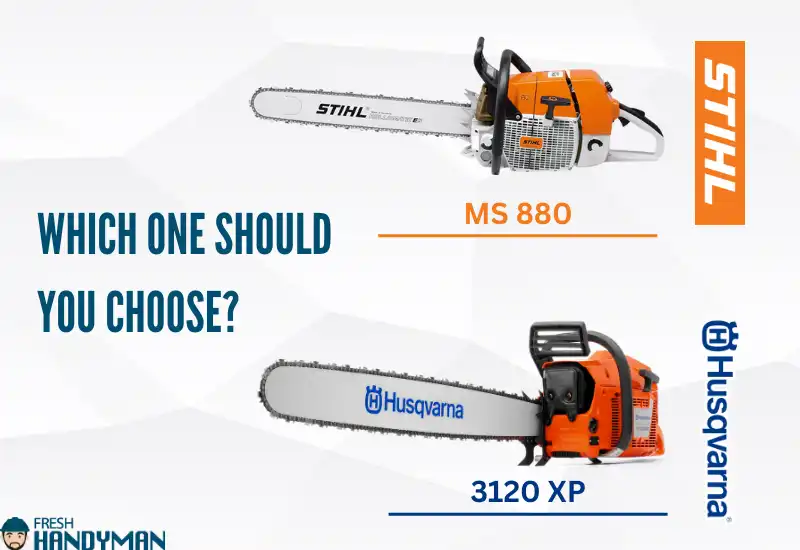 The Stihl 880 is the best choice as it has more power and handles cutting better than the Husqvarna. With its MS880 chainsaw, the Stihl professional chainsaw range has the most power available.
There is a slight advantage over the Husqvarna 3120XP in its power-to-weight ratio, and the machine's weight is lighter. Precision balance, excellent handling, and reliability are all hallmarks of the Stihl.
The Husqvarna cord seems a little short, which can be more challenging for some when starting the chainsaw. Good air filters, mobility, and power make it suitable for most heavy-duty jobs. 
In addition to the X-TORQ engine, Husqvarna chainsaws are fuel-efficient and emit low exhaust emissions, which may be more important to some rather than the features.
Which Chainsaw Has Better Customer Reviews and Ratings?
It is fairly equal here. There are both excellent reviews for each one. The MS880 sits around 4.4 out of 5 stars, and the Husqvarna is at  4.6 out of 5 stars. Only a slight difference, with the Husqvarna coming in first.
FAQ
Which Chainsaw Is More Affordable?
You can expect to pay around $1000 more for the Husqvarna. Given it is one of the most powerful chainsaws out there, it's worth paying the extra for the better power and performance. If you are looking for something more budget-friendly, the Stihl 880 will do just fine. 
How Do the Power and Performance of the Husqvarna 3120XP and Stihl MS 880 Compare?
There are 2.535 pounds/horsepower in the Stihl MS880. By comparison, the Husqvarna 3120XP has a weight-to-power ratio of 2.632 LBs/HP. Stihl is the better option here, but that amount of difference is not something you will notice when using the chainsaw. 
Which Chainsaw Has a Larger Cutting Capacity?
A guide bar length range spans from 17″ to 59″ on the Stihl – capable of cutting over five feet long.
The Husqvarna can cut up to 6 feet, slightly more than the MS880.
How Many Ccs Is a Husqvarna 3120XP?
How Many Ccs Is a Stihl 880?
What Does Xp Mean on Husqvarna?
Generally runs at a higher speed, meaning Extra Performance.
What is the power to weight ratio of the Stihl 880?
There is 2.535 pounds/horsepower in the Stihl MS880. 
What is the power to weight ratio of the Husqvarna 3120XP?
The Husqvarna comes in at 2.632 pounds/HP, giving Stihl the edge. There is a slight difference between the two. Their powerful engines won't bog down even under the most demanding circumstances. 
Is the Husqvarna 3120XP Discontinued? 
The 395, 390, and 3120XP are no longer available in Europe. As a result, they do not comply with EPA regulations. There is only a limited amount of stock that they can sell now.
Is the Stihl MS 880 Discontinued? 
What Is the Biggest Bar on an MS 881
48 inches is the biggest it can handle. Some have got bigger to work, but to preserve the motor life, it's best not to strain it by exceeding the recommended length.
Conclusion:
Both chainsaws have many benefits and features that either one will do the job. Two of the best chainsaws for professional loggers are the Husqvarna 3120XP and the Stihl MS 880.
These are the biggest chainsaws that each manufacturer has to offer. In the industry, both companies have a good reputation, and they have many loyal customers.
Depending on which one you purchase, you become a Husqvarna or Stihl user and won't look to any other brands.