The Husqvarna 460 Rancher is built to chew through woods, and I mean it.
If you want to take care of an oak tree that fell across your driveway, the Husqvarna 460 Rancher is the bouncer you hire to get rid of it.
Honestly, precision, accuracy, and subtlety have little to do with this chainsaw. It's all about power. It comes with the muscle that is capable of grinding through decent-size woods, and it has the weight that goes along with that.
Amongst the many Husqvarna chainsaws, the 460 has a special place in plenty of homeowner's hearts. Why?
It's not for the faint of heart, it is a beast of a chainsaw. It comes with a big fuel tank. Plus, the Husqvarna's X-Torq engine means fuel doesn't burn up as fast, and reduced fuel consumption means lower emissions.
Even with its size, this chainsaw is compliant with the air quality standards everywhere, which also means you won't be operating in a cloud of unpleasant fumes. Now, this is just the tip of the iceberg. If you want to know all about this incredible chainsaw, keep reading this Husqvarna 460 Rancher Review to find out more.
SPECIFICATIONS
| | |
| --- | --- |
| BRAND: | HUSQVARNA |
| WEIGHT: | 12.79 LBS |
| ITEM DIMENSION : | 29 × 12.75 × 10.5 IN |
| TYPE: | GAS CHAINSAW |
| ENGINE DISPLACEMENT: | 60.3 CC |
| FUEL CAPACITY: | 14.4 FL.OZ |
| ENGINE HORSEPOWER: | 3.7 HP |
| ENGINE TYPE: | 2-CYCLE |
| BAR LENGTH: | 24 INCH |
| POWER SPEED: | 9000 RPM |
| WARRANTY: | 2 YEARS LIMITED |
---
Features of Husqvarna 460 Rancher Chainsaw:
The anti-vibration technology of this machine helps to cut down on vibration, which results in reducing user fatigue.
Maintenance of this machine is pretty easy – there is a snap-lock cylinder cover that allows easy access to the spark plug and air filter.
And because of its X-Torq engine, this machine is perfect for low fuel consumption. You don't have to be concerned about the environment as the chances of emissions are low.
Oil adjustment has never been this easy. The adjustable oil pump allows you to control the flow as you see fit.
You get a firm, solid grip due to the ergonomic front handle. Plus, a better control results in less fatigue and more work.
There is a chain tensioner device mounted on the side for easy access. So, you don't have to use any tools to adjust the chain mid-work.
There is a cylinder depression valve set up to ensure easy start-up with less effort.
Its inertia-activated chain brake helps to reduce kickback injuries. And to ensure ease of operation, the engine has been designed to start with little or no trouble.
Design (User-friendly and Safe)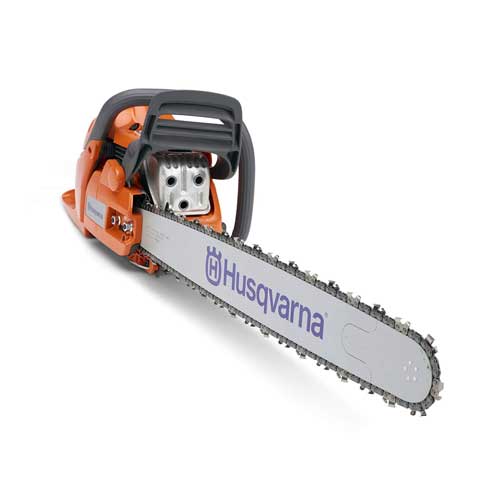 Looking at this machine, the design seems quite simple, and not so much different from the regular gas-powered chainsaw that can be found around.
However, don't let the look of this machine fool you, it has some excellent features to provide amazing performance and ensure safety during usage.
The machine is solidly built from durable materials, but it is not as heavy as you would imagine. If you are a frequent user, you could experience fatigue from long hours of carrying around and usage, but this shouldn't discourage you.
Because the power it can deliver makes up for the inefficiency to work long hours. Less work time and more power are a win-win in my book. If you put the Echo and Husqvarna next to each other, you'll know what I'm talking about.
Another admirable part of this machine is the handgrip features, though they are not as well-cushioned as other machines available on the market. However, the anti-vibe technology surely makes operating the chainsaw a comfortable experience.
Performance (Cuts Almost Everything You Put in Front)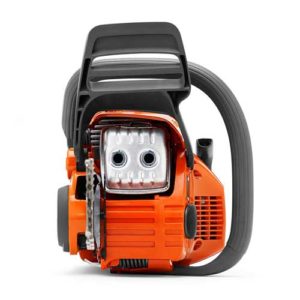 Now in this Husqvarna 460 review, let me tell you about its performance. To put it in simple words, the performance of this tool is fantastic. Oak is the same thing as the 460 Rancher as pine.
Its 3.62 hp is the most powerful output just a little shy of a professional-grade chainsaw. It will chew up wood like it is ripping paper, as long as you keep the chain sharpened.
This saw is versatile and capable of performing a wide range of cutting activities. The 60.3cc X-Torq engine delivers the power to take on both large and small projects.
The patented X-Torq does a lot of other things as well. The X-Torq engine's fuel consumption is certainly going to make you fall in love with this machine. It cuts down fuel usage by 30-40%, saving you quite a few bucks in the long run.
In addition, handling this tool is very easy and comfortable, all thanks to the ergonomic handling design of the Husqvarna 460 Rancher.
Compared to the Echo chainsaws, the inertia-activated chain brake of the 460 greatly reduces injuries from kickback while working with this tool.
Adjustable Oil Flow (Save Money, Increase Chainsaw Life)
Another great feature to talk about in this Husqvarna chainsaw 460 rancher review is the adjustable oil flow. This tool comes with an adjustable oil pump that can be set depending on the kind of work you need, and the weather you are operating in.
This feature is what separates this chainsaw from its immediate predecessor the 450 Rancher.
If you are in a damp condition and doing heavy work, you can set the oil flow accordingly. And if you are in a dry condition and you need to cut softwood, you can get your chainsaw running at optimal efficiency by readjusting the oil flow. In the long run, this will save you big bucks, and it also helps to prolong the life of your chainsaw.
Safety Features (Little to No accidents)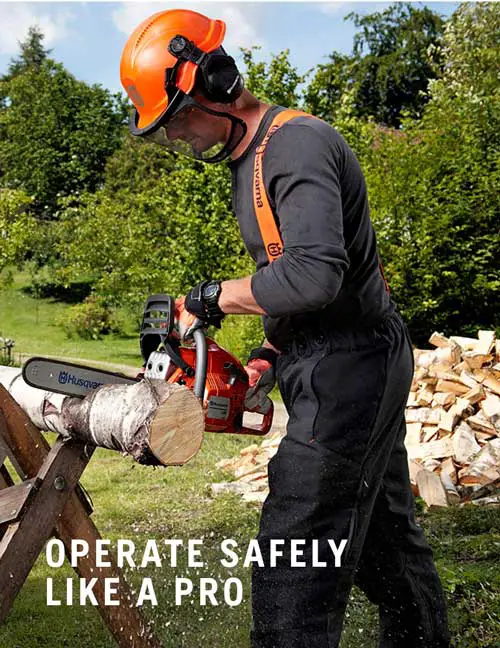 In order to avoid injuries and keep yourself safe, there are several safety procedures you need to follow while using a chainsaw. The number one priority for you should be your safety during the use of a chainsaw.
The 460 Rancher has a combo of chain brake and a front-hand guard. This is specially designed to stop the chain in the event of a kickback.
The chain brake can also be engaged manually by moving the front hand-guard forward. Also, there is an inertia-activated mechanism that automatically activates the brake. The inertia-brake identifies sudden chain movements and stops the chain in its tracks when things go south.
No amount of safety features can prevent accidents caused by operator error, negligence, or poor conditions. If you are a beginner, I would suggest you read the Husqvarna owner's manual first. It would give you a preliminary idea of how to cut down a tree with this chainsaw.
When using a chainsaw DO NOT forget to wear ear protection. Even relatively quiet models can produce enough sound to damage hearing over time.
You could also wear safety goggles, chainsaw chaps, better yet, a chainsaw helmet with a full visor. Even a quality chainsaw produces wood chips and sawdust, and scratching your eyes every now and then damages your productivity. In case of a kickback, a visor can save your face.
Having an awkward grip on the machine could easily lead to a drop, resulting in an injury. The carefully crafted ergonomic design of the rear and front grip on this chainsaw ensures that you have a firm grip when handling this chainsaw.
You have to be careful- yes! But a few mistakes are allowed because this chainsaw's safety features will have your back.
Compared to a $300-chainsaw, the 460 Rancher has a ton of safety features. It doesn't mean that a budget chainsaw is a recipe for disaster. What it means is that a budget chainsaw has a bigger learning curve than premium chainsaw.
Nevertheless, you should always wear safety clothes and helmets while operating heavy machinery.
Let's go over the main points once again in this Husqvarna 460 chainsaw review full product specifications:
Husqvarna 460 Chainsaw Product Specifications
| | |
| --- | --- |
| BRAND: | HUSQVARNA |
| WEIGHT: | 12.79 LBS |
| ITEM DIMENSION : | 29 × 12.75 × 10.5 IN |
| SERIES NAME: | 460 RANCHER |
| TYPE: | GAS CHAINSAW |
| HANDLE TYPE: | REAR HANDLE CHAINSAW |
| ENGINE DISPLACEMENT: | 60.3 CC |
| FUEL CAPACITY: | 14.4 FL.OZ |
| ENGINE HORSEPOWER: | 3.7 HP |
| ENGINE TYPE: | 2-CYCLE |
| BAR LENGTH: | 24 INCH |
| POWER SPEED: | 9000 RPM |
| SOUND LEVEL: | 104 DB |
| FUEL MIX RATIO: | 50:1 |
| QUICK-ADJUST TENSIONING SYSTEM: | YES |
| ANTI-VIBRATION HANDLE: | YES |
| CHAIN BRAKE: | YES |
| LOW KICKBACK BAR AND CHAIN: | YES |
| WARRANTY: | 2 YEARS LIMITED |
| CHAIN OIL DISPENSER TYPE: | AUTOMATIC |
Husqvarna 460 Rancher Review: Questions & Answer (FAQ):
Where is this Husqvarna 460 chainsaw made?
The Husqvarna 460 Rancher is made in Sweden.
How good is the Husqvarna 460 Rancher?
In all honesty, the 460 Rancher is an excellent chainsaw overall. The power, safety features, performance, and overtime savings you get from the X-torq make this chainsaw worth every penny. If you want to hit a middle-ground between professional and casual, the 460 Rancher should be right up your alley.
How much cc. is the Husqvarna 460 Rancher?
The engine size of the Husqvarna 460 Rancher is 60.3 cc. This engine can deliver 3.62 hp and it's capable of producing a maximum speed of 9000 RPM.
What is the maximum bar recommended for use with this model?
The maximum length should be 24 inches. Because of the weight of the saw, people with limited strength in the upper body should consider an even smaller bar.
Can you put a 20" bar on the 460 Rancher?
Definitely. Most Husqvarna 460 Ranchers come with a default chain size of 20". However, the bar can accommodate chains ranging from 13 to 24 inches. So, this gives you the added flexibility of choosing the proper chain for your project.
Final Verdict
Still wondering whether the 460 Rancher is the best fit for your workshop? Well, I've used it, tested it for different projects, and I can testify about the quality of this chainsaw.
If you want a chainsaw that's casual but can handle a lot of professional sawing jobs as well, the 460 Rancher is perfect. However, the cost, weight, and noise it generates can be a problem. But it's not a dealbreaker.
Besides, I think the price isn't that high if you consider the features and the sheer performance you get from this chainsaw. If you want to save a few bucks, I'd recommend looking into the 455 Rancher, it also packs a ton of features.
Anyways, I loved using this chainsaw, and if you use it properly, I don't see any reason why you wouldn't as well. I hope this Husqvarna 460 Rancher review was informative, and you were able to understand the ins and outs of this top-tier chainsaw. Cheers!
Read More