The Husqvarna T435 is a top-handled mid-size chainsaw. They are ideal for trimming residential properties, gardens, or parks. This is a perfect chisel model, especially for climbing trees and cutting branches. A lightweight and well-balanced body makes these chainsaws best for these types of jobs.
Although chainsaws are ideal for tree care professionals, they are unsuitable for heavy uses. You may also encounter some problems while operating this model of chainsaw.
Common problems with Husqvarna's T435 chainsaws include carburetor issues, idle problems, starting problems, etc.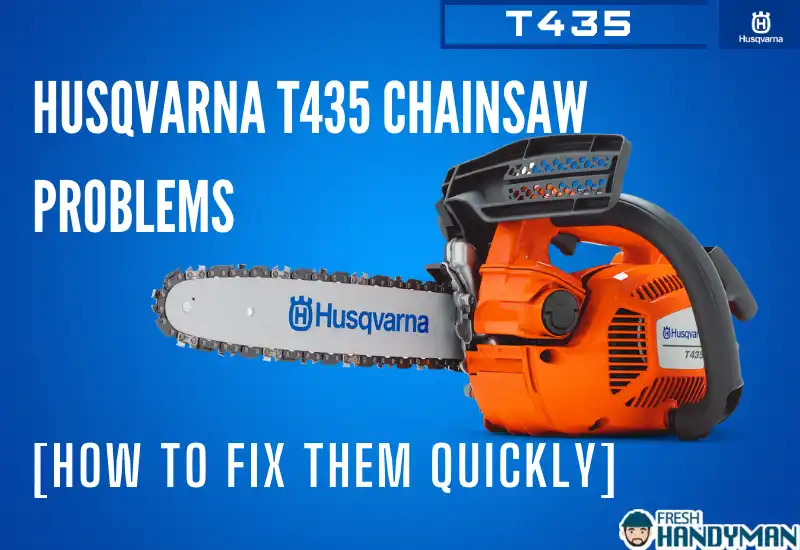 In this article, I will discuss the common problems with the T435 model, their causes, and quick solutions in detail. I believe this article will help you to solve these common problems quickly and keep your work running smoothly.
Before describing the main topic, I would like to describe the specifications and features in brief. This will give us a better idea about T435. Let's get started.
Purpose Of Discussing Husqvarna T435 Problems
When one wants to buy a chainsaw for light work like tree trimming, he has several options. Since the Husqvarna T435 is ideal for this type of work, many people are enthusiastic about these chainsaws first. Also, after learning about common problems with this chainsaw model, many people are hesitant to choose them.
The main purpose of this discussion is to give you a detailed idea about the common problems of the Husqvarna T435 model. As well as providing a proper guideline for how you can resolve the issues yourself and get back to work quickly.
Each chainsaw model has unique problems. If you are less experienced and have a Husqvarna T435 chainsaw, read the article till the end. It is also useful for those who want to buy a Husqvarna T435 chainsaw.
Quick Table: Husqvarna T435 Chainsaw Problems and Fixes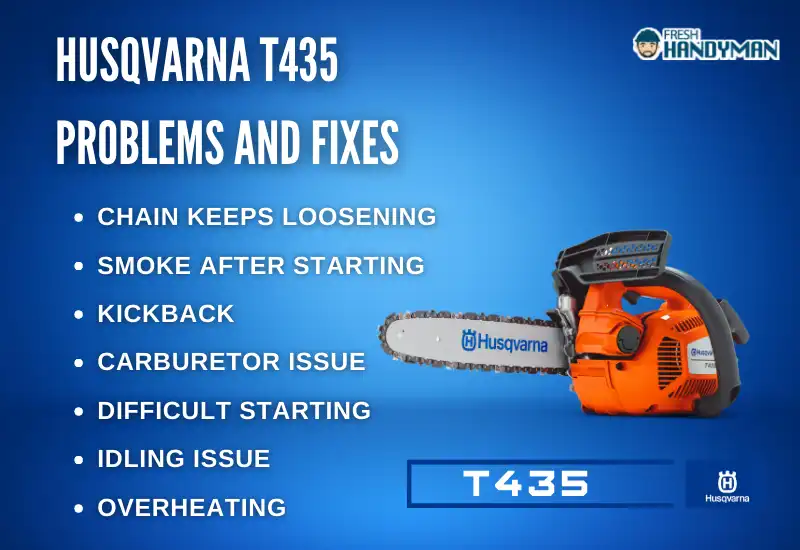 I would like to present a table regarding the common problems of Husqvarna T435 and their solutions here. If you have experience with chainsaws, the table is enough to get the chainsaw back to work.
| Husqvarna T435 Chainsaw Problems | Quick Fixes |
| --- | --- |
| Chain keeps loosening | Inspect and clean the guide bar, chain, and chain tensioner. Replace if any are defective. Adjust the oiler as well. |
| Smoke after starting | Clean carburetor and air cleaner. |
| Kickback | Adjust oiler properly. |
| Carburetor issue | Clean carburetor and use recommended fuel and oil mixture ratio. |
| Difficult starting | Check the Ignition module and spark plug. Clean the carburetor and air filter thoroughly. |
| Idling issue | Adjust the low-speed screw of the carburetor. |
| Overheating | Stop work for 15 to 20 minutes. You need to use the correct fuel and oil and their prescribed mixture ratio. |
7 Common Husqvarna T435 Problems & How To Fix [Detailed Guide]
Here I am going to discuss in detail the 7 common problems of the Husqvarna T435 chainsaw and how to fix them quickly. Apart from these, there are other problems you can find with these chainsaws, but they are not seen frequently.
Problem 1: Chain Coming Off The Bar Or Keeps Loosening
The chain coming off the guide bar repeatedly while working is annoying and a waste of time. Many times, this type of incident can be dangerous and lead to accidents. If the chain protrudes over 1/2 inch from the guide bar after pulling, you know it is loose.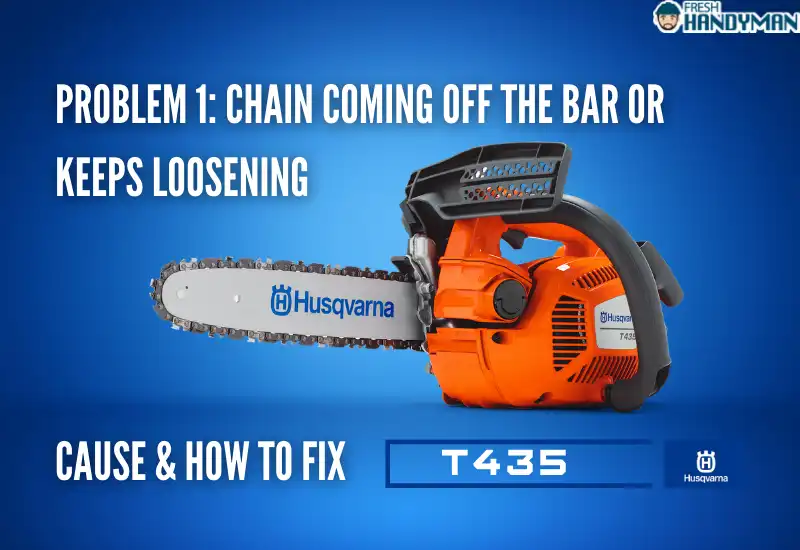 Cause:
Excessive dirt accumulation, wear, or loss of proper shape on the chain and guide bars are among the causes of this problem. This problem can also occur if there is a problem with the tension screw.
How To Fix:
There are several steps you need to take to resolve this issue. Clean the grooves of the chain and guide bar thoroughly to ensure that there is no dirt. Tighten the chain as required. If there is a problem with the shape of the guide bar, try to repair it. Replace if not possible.
Check if the tension screw is ok. Replace if there is any wear or stripping problem. Ensure a required level of lubrication by adjusting the oiler.
---
Problem 2: Blue Smoke After Starting
If you notice excessive blue smoke coming out of the chainsaw after starting it, you may be feeling upset. Several Husqvarna T435 users have reported facing these types of issues.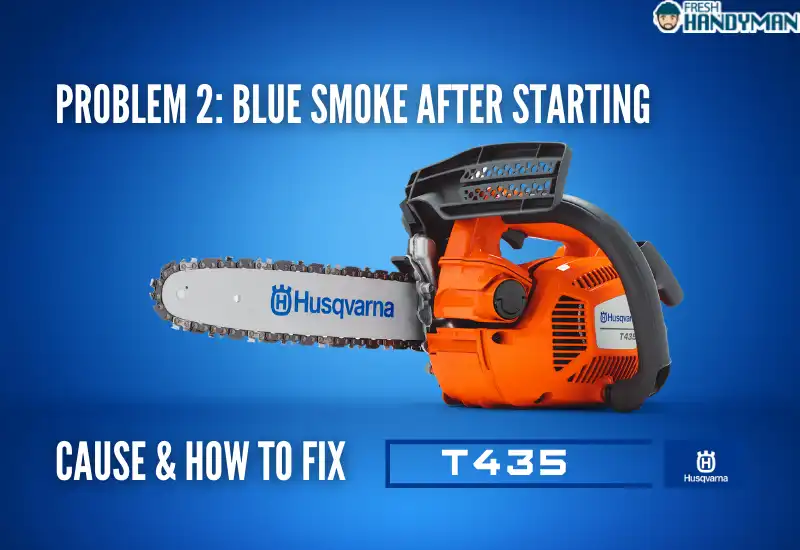 Cause:
Usually, excess fuel in the carburetor can cause excess blue smoke to come out of the chainsaw at startup. The accumulation of dirt in the air filter is also one cause of this problem.
How To Fix:
To solve this problem, you need to pay more attention to carburetor maintenance. Clean the carburetor thoroughly and remove any excess fuel. Clean the air filter, and replace it if possible.
---
Problem 3: Kickback
You must not expect unexpected upward motion or kickback of the guide bar when cutting wood. However, the Husqvarna T435 chainsaw has a bad reputation for kickback. It can also lead to accidents at any time.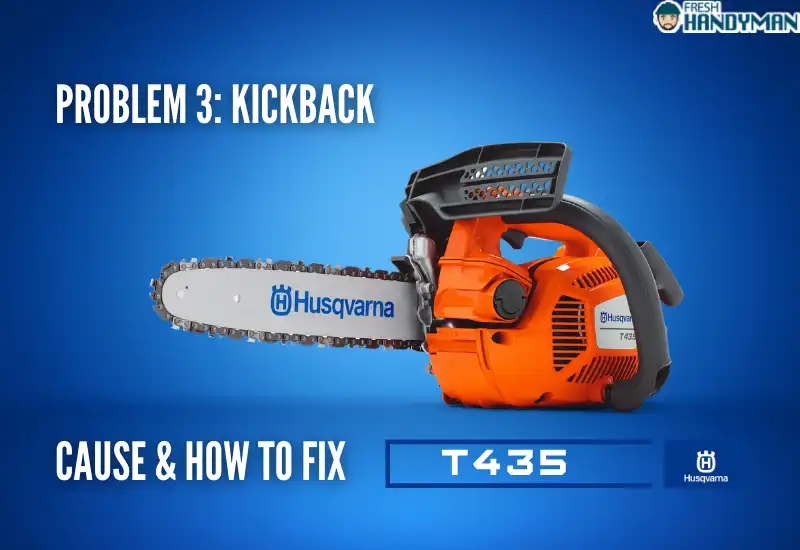 Cause:
Basically, kickback problems occur when the oiler is not working properly or the chain and guide bar are not lubricated properly. Sometimes you can face this kind of problem even if the chain is dull.
How To Fix:
To solve kickback problems, you need to make sure the guide bar and chain is lubricated by adjusting the chainsaw's oiler. You can easily adjust the oiler using just a flathead screwdriver. T435 models have a screw on the bottom for oiler adjustment. Rotate the screw counterclockwise to increase the oil flow.
If this does not increase oil flow, you may need to disassemble and clean the oiler and reassemble it. In that case, the video below can help you.
---
Problem 4: Carburetor Issue
The carburetor plays an important role in keeping a chainsaw running smoothly. It controls the ratio of very tiny amounts of fuel and air entering the engine. If there is a problem with the carburetor, the chainsaw will not run smoothly, the engine will bog down under load, turn off at idle, and have trouble starting.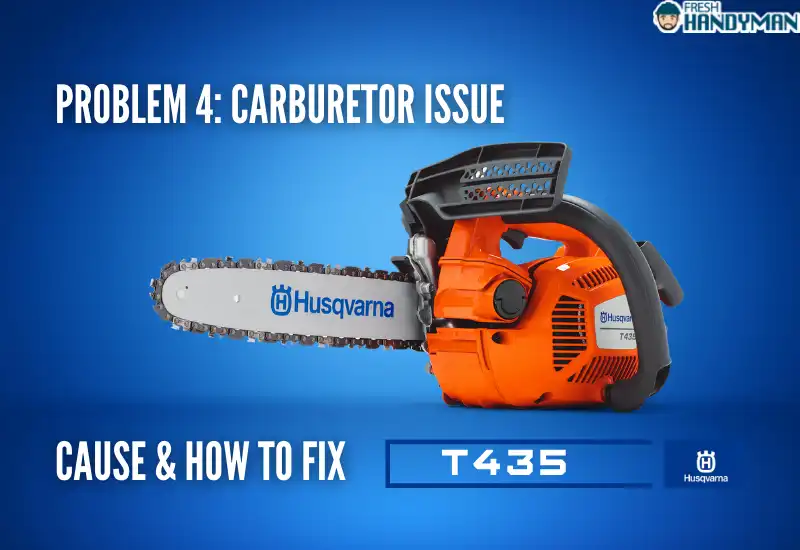 Cause:
Dirt or not using the correct ratio of fuel and oil mixture is the major causes of carburetor problems. Also, low-quality fuel and oil are responsible for causing carburetor problems.
How To Fix:
Pay attention to carburetor cleaning and maintenance. If the problem persists after using clean, quality fuel, you may need to replace it.
---
Problem 5: Difficult Starting
Difficulty starting the chainsaw at the beginning of the work will spoil the interest in the work. This is quite annoying and this type of problem is more common when chainsaws are old.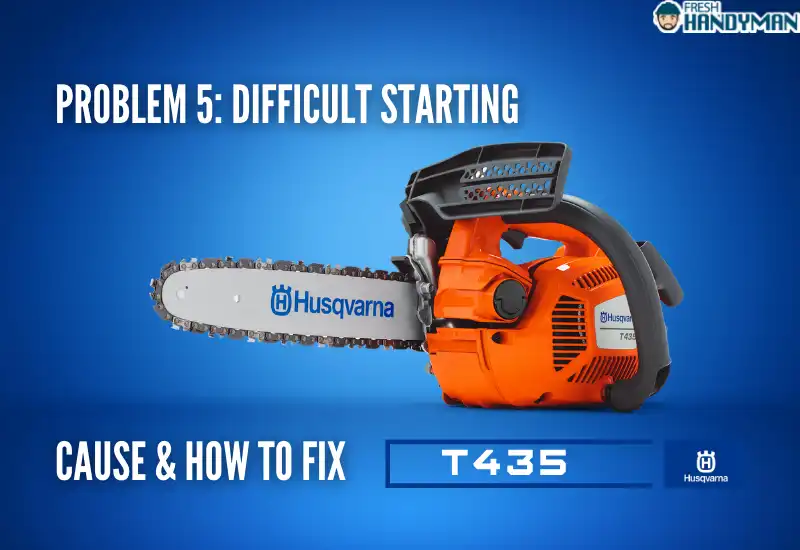 Cause:
This problem can occur due to many reasons, including problems with a spark plug and ignition module, dirty air filter, and carburetor problems among others. Low-quality fuel can also be responsible for this problem at times.
How To Fix:
Clean the spark plug and air filter thoroughly. Clean the carburetor and adjust it properly. Check the ignition module, and fix it if there is any problem. Above all, be careful with maintenance to keep the chainsaw running smoothly to avoid these types of problems. Be sure to use quality fuel and oil in the correct ratio.
---
Problem 6: Idling Issue
You may have noticed that some chainsaws stop when idling. In some cases, the chainsaw is running at high rpm even at idle. In both situations, the matter is not convenient. While frequent stops are annoying, running at high RPMs is also a waste of fuel.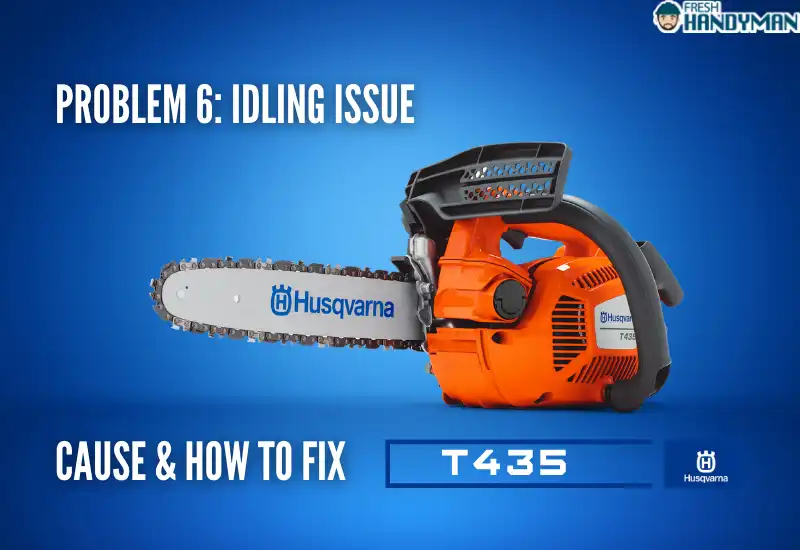 Cause:
This problem can occur if the carburetor is not adjusted. On the other hand, you can face this problem even if you do not use the fuel and oil mixture as per the correct ratio.
How To Fix:
Clean the carburetor thoroughly and adjust its low-speed screw. This screw determines the RPM of the chainsaw's engine at idle. Besides, you must use standard fuel and oil mixtures according to the company's prescribed ratio.
---
Problem 7: Overheating
Overheating of chainsaws is one of the major obstacles to uninterrupted operation. However, many users report overheating problems with Husqvarna T435 chainsaws.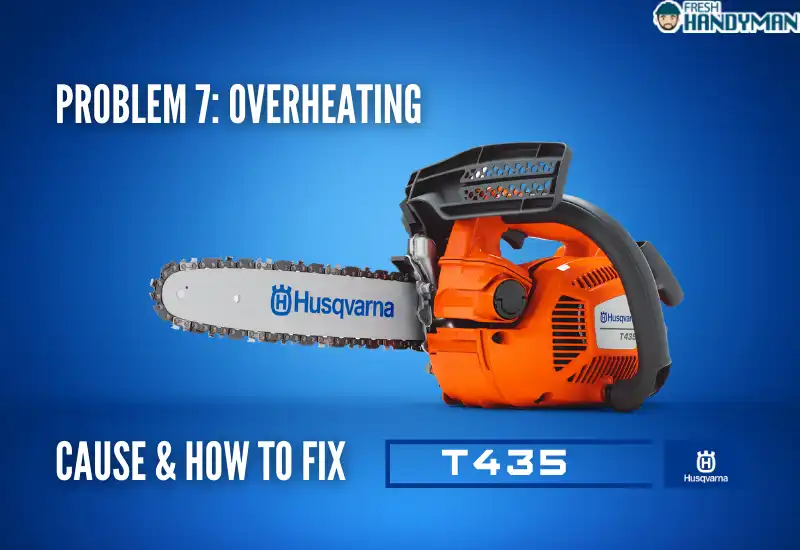 Cause:
There can be many reasons for a chainsaw overheating. Among these, wrong oil and fuel mixtures, and a blocked or clogged exhaust are the most common reasons.
How To Fix:
You must use the correct fuel and oil mixture. Clean the exhaust system if it is blocked by dirt. You may need to make muffler modifications if necessary.
---
Pros and Cons of Husqvarna T435 Chainsaw
Let us take a look at the pros & cons of a Husqvarna T435 chainsaw.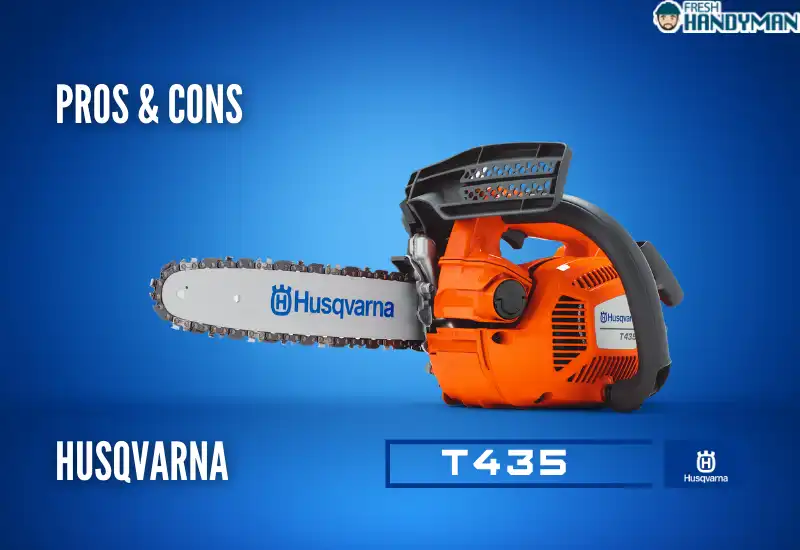 Specifications And Key Features Of Husqvarna T435
If you take a good look at the Husqvarna T435 specifications, you will understand how effective the chainsaw is. Besides, its modern features make the chainsaw model even easier to use.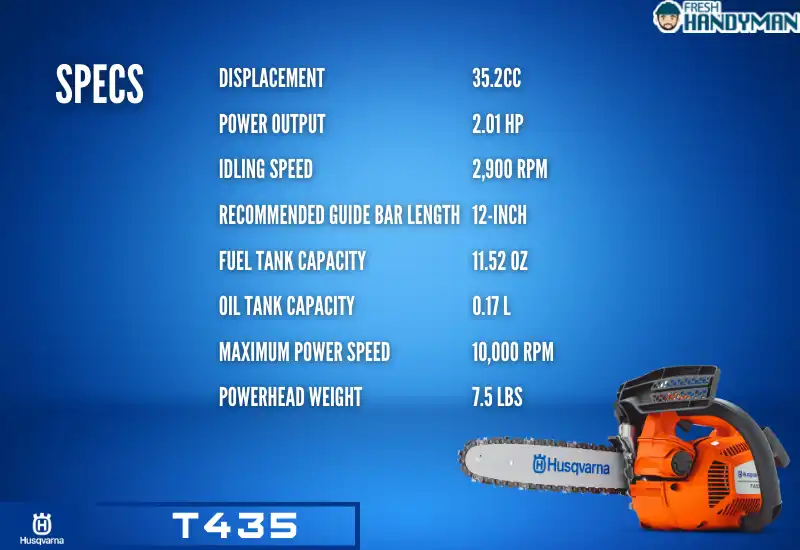 Specifications
Displacement: 35.2cc
Power output: 2.01 hp
Idling speed: 2,900 rpm
Recommended guide bar length: 12-inch
Fuel tank capacity: 11.52 oz
Oil tank capacity: 0.17 l
Maximum power speed: 10,000 rpm
Powerhead weight: 7.5 lbs
Key Features
X-Torq: Effectively reduces engine emissions and fuel consumption while improving the working environment.
Quick-release air filter: This makes air filter replacement or cleaning easy.
LowVib: Reduces the vibration level of the chainsaw. As a result, fatigue is reduced and the operator can work comfortably.
Easier cold starting: Aids easy starting of an idle and cold engine.
Adjustable oil pump: You can control the flow of oil to the oil pump, further reducing wastage.
Rope attachment: A sturdy point that makes it easy to lift or hang the chainsaw over a tree by tying it to a rope.
User Feedback Regarding Husqvarna T435 Problems
I would like to highlight here the feedback of two Husqvarna T435 users. This will help us better understand the problems with this chainsaw model.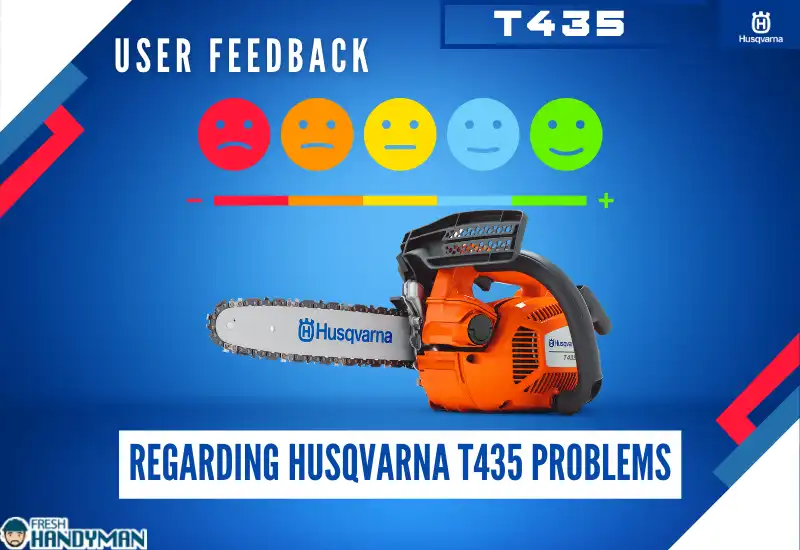 A user reported having a strange problem with his chainsaw. Although he didn't rebuild the curb, his chainsaw was running fine. Later some problems arise.
It sometimes shuts off while idling. The chainsaw idles relatively faster. At full throttle, the chainsaw will run faster than idle but will not gain much speed. He speculates his chainsaw may have some problem with the ignition module that is preventing it from running at high rpm.
Another chainsaw user said he recommended his friend buy a Husqvarna T435 since the user is in his 70s and doesn't want to spend more than $300 on a chainsaw. He has been using the chainsaw for two months and has to pull the cord fairly hard to start it.
Frequently Asked Questions
How Can I Make My Husqvarna T435 Run Better?
The throttle response of the Husqvarna T435 chainsaws is not as good, although it cuts decently. The advantage is that you can improve the chainsaw's performance with muffler modifications. But keep in mind that this may void your chainsaw's warranty.
How to Adjust the Idle Speed on My T435 Husqvarna?
To adjust the chainsaw's idle speed, you need to adjust the carburetor's low-speed screw. By rotating it, you can get the chainsaw's necessary idle speed.
Does the Husqvarna T435 model come with a chain scabbard?
Yes, Husqvarna T435 chainsaw models come with a chain scabbard.
What is the Oil capacity of a Husqvarna T435 chainsaw?
The oil capacity of a Husqvarna T435 chainsaw is 0.17 l.
What stroke or cycle is this Husqvarna T435 chainsaw?
Husqvarna T435 chainsaws are available with a 2-stroke engine.
Final Verdict Regarding Husqvarna T435 Problems
Husqvarna T435 chainsaws are designed specifically for traditional homeowners. They are lightweight and quite effective. As chainsaws age over time, they develop various problems. This applies equally to any chainsaw model.
I have described here in detail the problems you may face with the Husqvarna T435 chainsaw model. Not that all these problems will occur with your chainsaw, or you may not encounter other problems.
Hopefully, by following this guide, you could solve common problems of this chainsaw model yourself.