Having access to a high-quality, lightweight chainsaw like the Stihl 170 for only $200 is an absolute dream come true. However, if you use it long enough, you'll find that the performance is lacking.
Thankfully, muffler and cylinder mods can significantly improve the Stihl 170's power. You can also enhance safety by adding a bumper.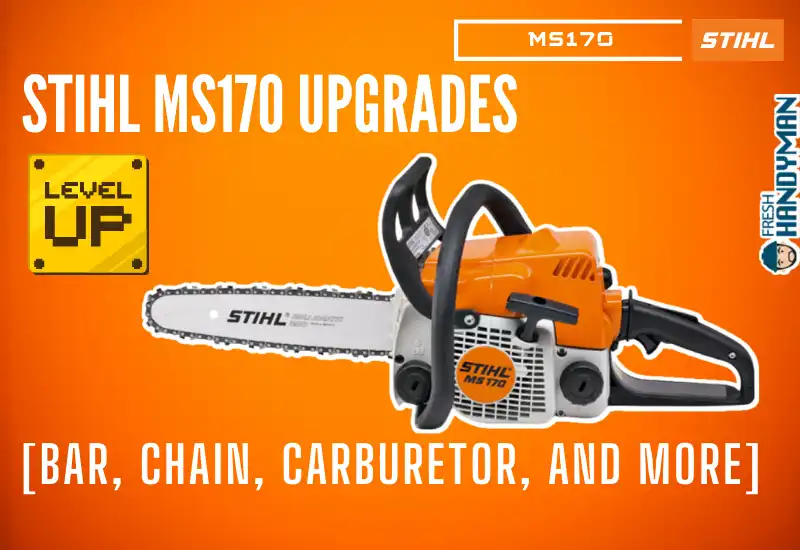 In the article, I outline several reasons why upgrading your MS 170 is a must. I will then explain all the upgrades thoroughly.
Let's jump right in!
Why Should You Upgrade Your Stihl MS 170?
To upgrade a chainsaw like Stihl 170, you would require a lot of tools. Even more daunting are all the extra components you will have to purchase. All of them together are outrageously expensive.
Nevertheless, upgrades are worthwhile because they ultimately save you money. You will also experience better performance. Here are a few specific benefits:
Higher Fuel Economy
One of the modifications I will demonstrate later will help your Stihl 170 consume less fuel. As a result, you won't need to interrupt your work to refuel while saving money simultaneously.
Increased Performance
Multiple upgrades are beneficial to performance. Some provide performance gains of impressive proportions to cut all those stubborn firewood.
More Airflow
The MS 170 unit suffers from poor airflow. A slight modification can fix that and improve efficiency.
Safety
Every logger has experienced some form of injury while operating their chainsaw. These stories are common since power tools are incredibly dangerous to use.
However, you can ensure safety if you equip your saw with the right components.
Reliability
Stihl 170 models offer excellent value for the money. Nevertheless, it is not without its faults.
If you upgrade the product, those flaws will fade away, and your machine will be more reliable and last longer.
A Guide To The Finest Upgrades For The Stihl MS 170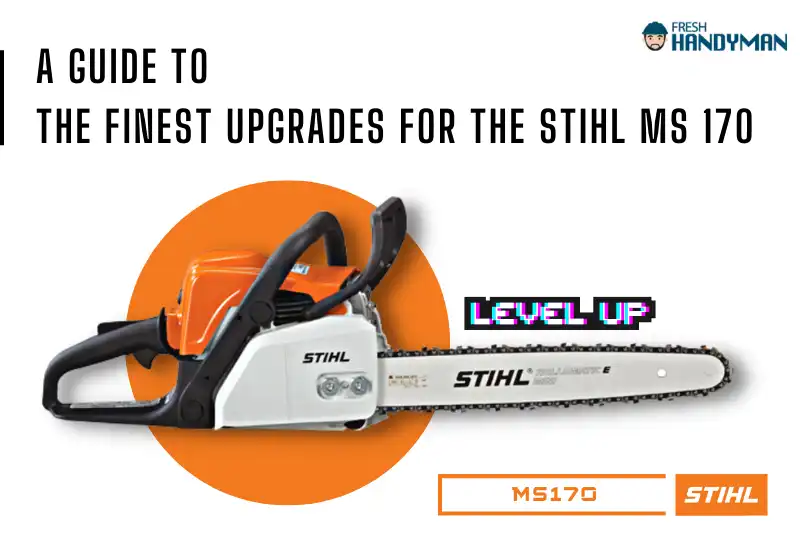 Here's the exciting bit. I will be listing five of the top upgrades for the 170 below. You may choose to do all or just one, according to your budget and preferences.
Let's check them out.
Chain Upgradeety
The first thing I did with my Stihl 170 was to replace the chain. The unit comes with a Picco Micro Mini that has a low profile.
Let me clarify; I am not saying it is bad. However, I find the chain too plain to cut anything but small branches.
Changing the chain to something better would definitely be an upgrade worth considering.
Having said that, you can't pick any chain you want, similar to other Stihl saws. It must fit the bar and sprocket of your tool.
You should also make sure the chain you buy is similar to the old one in the following ways:
Drive link size
Pitch
Gauge
Muffler Overhaul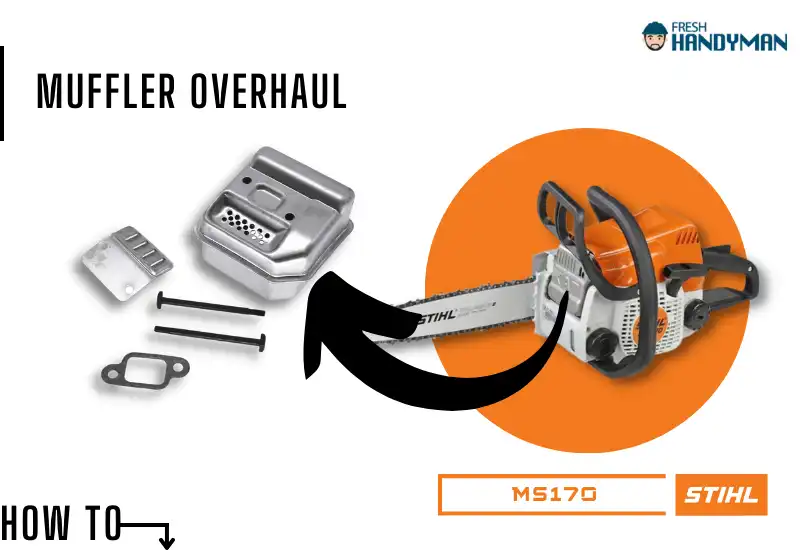 The Centers for Disease Control and Prevention warns that prolonged exposure to noise above 70 decibels may result in hearing loss.
And I am sorry to inform you that the MS170 produces 111 decibels. Along with damaging your hearing, this product distracts you with excessive sounds.
To get rid of this issue, muffler mods are a good solution. It not only lowers the noise level of your chainsaws but also improves their throttle response.
Let's learn how to apply a cool muffler mod.
STEP – 1: Remove the Chain
Before you move on to the actual process, disconnect the chain. You will see it in the bar.
STEP – 2: Unbolt the Muffler
In this step, you need to unscrew the muffler bolts.
To do so, first turn them loose with an 8 mm combination wrench. Afterward, remove those bolts completely by using a socket wrench.
STEP – 3: Enlarge the Muffler
Now it is time to expand the muffler internally. You can use either an electric handheld grinder or a stone bar for this purpose. I have found that widening mufflers with the bar gives better results.
You may opt not to carry out the remaining steps, and there will still be a performance boost. It is because this step is the most crucial to modify the muffler.
STEP – 4: Clean the Debris Within
If you've been using the 170 for a long time, chances are it's extremely dirty inside.
Regular brushes are unlikely to remove such stubborn particles. Hence, sand the edges to eliminate dirt to the last inch.
STEP – 5: Wash the Muffler
Last but certainly not least, clean the muffler with water. I strongly recommend using warm water. You can even clean with soap when you want to be thorough.
There you go; the muffler looks brand new. Enjoy the upgraded performance and quieter sound!
Carburetor Upgrade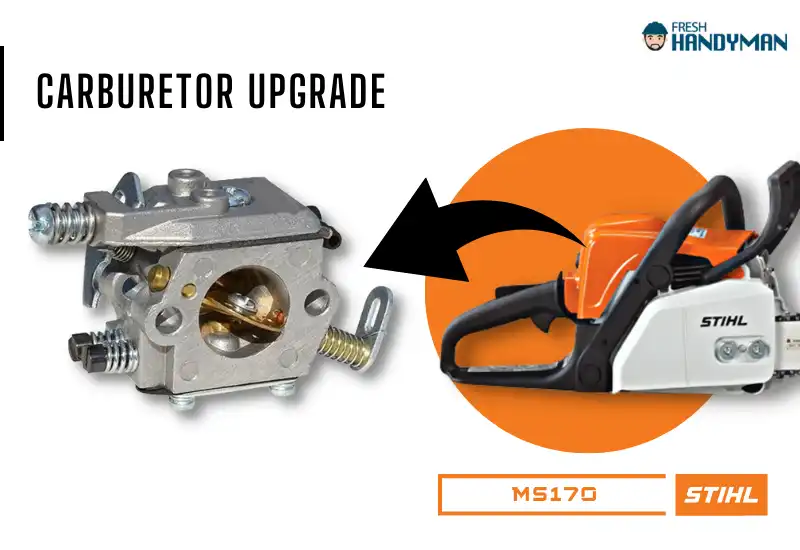 The Stihl 170 model is a fantastic chainsaw for a very reasonable price. However, the fuel economy of the product does not meet expectations. A not-so-good carb is to blame.
Thus, you can install a high-end carburetor on the saw instead of the stock one. The new carb is sure to make the engine more fuel efficient.
If you're that lucky, you'll see an increase in performance too.
Cylinder Upgrade
In the past few years, there has been rapid growth in the aftermarket cylinder industry. Many saw owners are relying on such products to enhance airflow.
If you come across one ported for airflow, you should grab it immediately. Replacing the piston and rings will maximize the impact.
Thanks to the aftermarket cylinder's additional fuel injection, the engine also generates more power.
Interested in real-world examples? Well, I read that a few users noticed a 10% increase in performance.
Even a better piece of information reveals that 'upgraded cylinders' were made by a company. They improve power by a whopping 25%.
Guide Bar Upgrade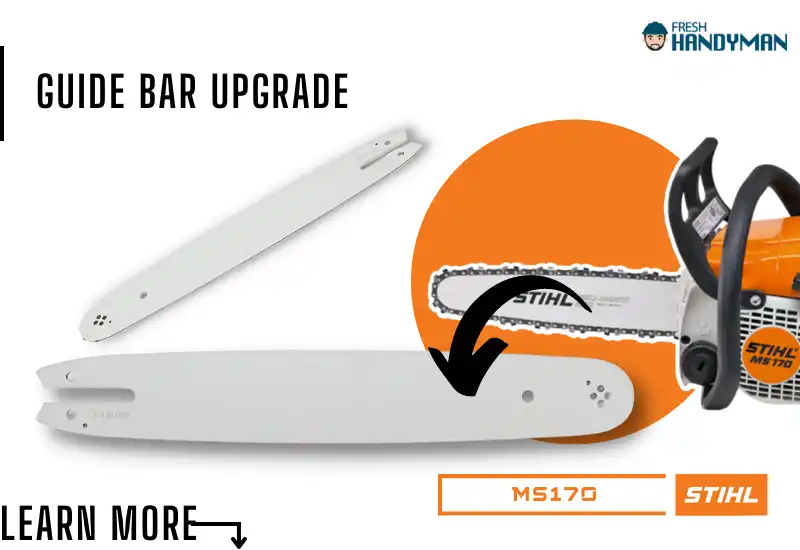 The last part of 170 chainsaws that caught my attention was the bar. I observed a number of opportunities you could take advantage of.
Option – 1: New Guide Bar
Getting a new bar is a great place to start. The stock one misaligns with the chain, leading to an unbalanced pairing.
Option – 2: Larger Chain
If the chain still doesn't align, switch to a chain intended for bigger saws. This way, the alignment will be correct, and the larger size will alleviate chain and bar pressure.
Option – 3: Bumper
This modification is vital as it relates to user and chainsaw safety. You can reinforce the bar with a bumper.
It is extremely susceptible to collisions with objects. And a hard object could damage your machine or, worse, cause an injury. You can prevent that by installing a bumper.
What Type of Tools Do I Need to Install Stihl MS170 Upgrades?
You will need the following tools to install upgrades for the MS 170:
Stone bar
Electric grinder
8 mm combination wrench
Flathead screwdriver
Phillips screwdriver
Hex wrench set
Adjustable wrench
A pair of pliers
Eye protection
Hand gloves
VIDEO | Stihl MS 170 Chainsaw Upgrades
Frequently Asked Questions
How much horsepower does a Stihl MS170 have?
In terms of horsepower, the Stihl 170 delivers 1.7 bhp. It appears mediocre at first glance. However, if you take into account its ultralight weight of 8.6 pounds, everything starts to make sense.
Can I put an 18-inch bar on a Stihl MS170?
Although you can change the bar, Stihl MS 170 saws cannot accommodate 18-inch bars. You may only use guide bars between 12 and 16 inches in length.
What chain fits a Stihl MS170?
The chainsaw fits the PMM3 chain with a diameter of 3/8 inches. If you believe the chain is too dull, it is possible to upgrade it.
To Sum Up
As the article describes, there are various ways to upgrade the 170 chainsaw. My personal favorite tweak has to be the cylinder mod due to its tremendous performance boost.
In case you plan to perform modifications yourself, familiarize yourself with the process and wear safety gear.