The Stihl 261 and Husqvarna 550 are among the best 50cc chainsaws on the market. As they share nearly the same horsepower and displacement, choosing between them is difficult.
To make your decision easier, I tested both products and found some significant differences worth considering.
The Husqvarna 550 XP and Stihl MS 261 chainsaws differ greatly in weight, build quality, emissions, and fuel storage capacity. The prices are also slightly different.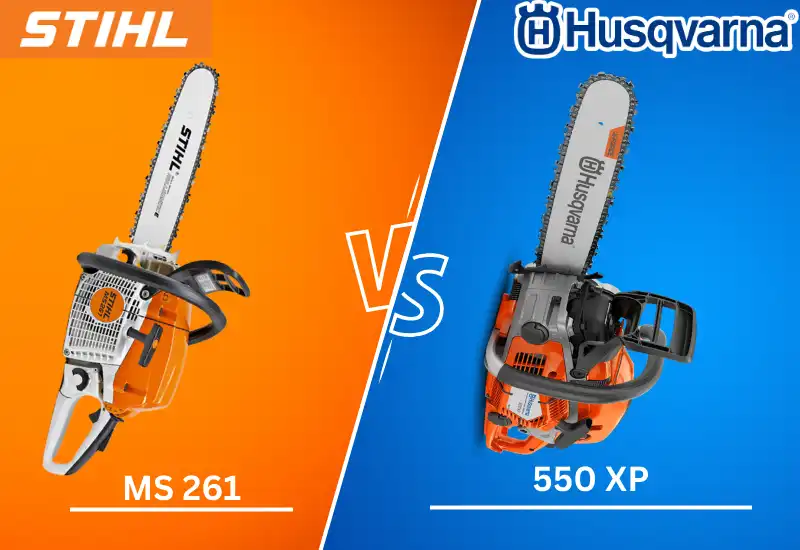 In the article, I will outline all the important features of these chainsaws. After that, I will go into more detail about the differences.
Let's get started!
Quick Comparison Table STIHL MS 261 Vs Husqvarna 550 XP
| Key Factor | Stihl MS 261 | Husqvarna 550 XP |
| --- | --- | --- |
| Weight | 10.8 pounds | 11.7 pounds |
| Fuel Tank Capacity | 16.9 oz | 17.92 oz |
| Build Quality | Even though it is constructed from high-quality materials, the product has a plasticky feel to it. | Made of heavy-duty materials making it feel solid in hands. |
| Emissions | 50% reduction in emissions. | 60% reduction in emissions. |
| Autotune Technology | Comes with Stihl's M-tronic auto tune technology. | Features Husqvarna's AutoTune technology. |
| User Comfort | The handle is designed to fit larger hands better. | Smaller hands will feel more comfortable with these handles. |
| Price | CHECK LATEST PRICE | CHECK LATEST PRICE |
Key Features of STIHL MS 261
The Stihl 261 is a fantastic chainsaw with an improved cylinder and ergonomic design. Let's examine some of its main features.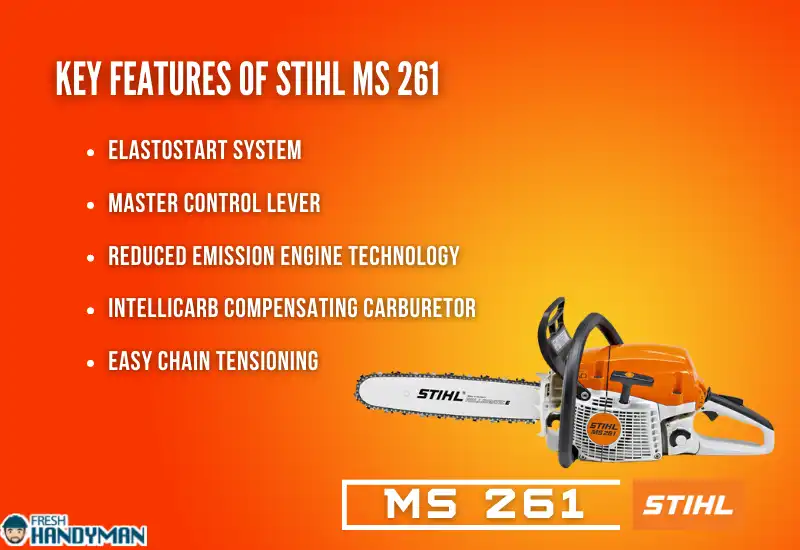 The MS 261 is equipped with a spring-loaded starter handle, which makes it easier to start the saw.
The master control lever on the MS 261 is a multi-function lever that controls the engine and chain. It allows you to switch between different operating modes quickly.
Reduced Emission Engine Technology
With reduced engine technology, this chainsaw decreases the emissions of harmful pollutants, such as carbon monoxide and hydrocarbons, that are released into the air during operation. This way, MS 261 helps protect the environment.
Intellicarb Compensating Carburetor
The Intellicarb compensating carburetor is a prominent component of the 261 chainsaw that optimizes the fuel/air mixture inside the engine. The carburetor adjusts the fuel/air mixture to ensure that the engine receives the required fuel for weather and wood conditions.
As a result, the carburetor makes the saw more efficient by limiting fuel consumption.
The MS 261 features a side-mounted chain tensioning system, which allows you to easily adjust the chain tension without needing tools.
Key Features of Husqvarna 550 XP
The Mark II chainsaw is the second generation of the Husky 550, and it is packed with some really exciting features. Here are a few examples.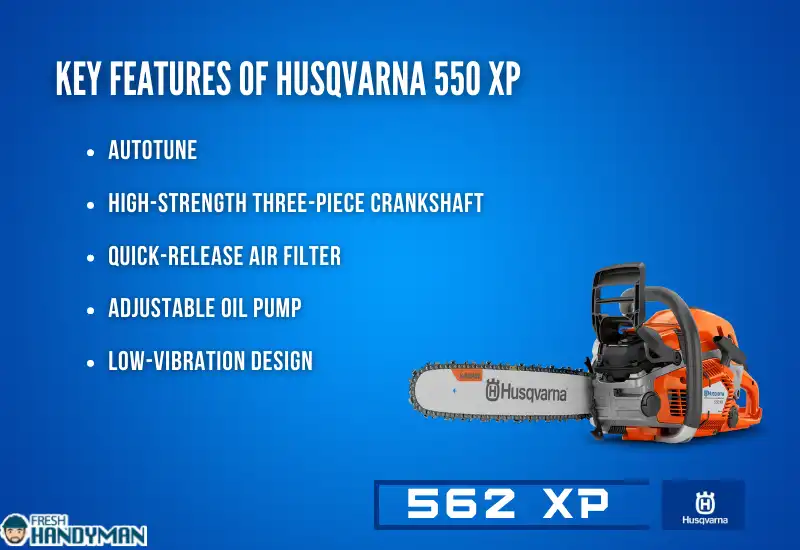 One of the advantages of Husqvarna 550 XP includes autotune that adjusts the fuel/air mixture contained in the engine. Thus, this feature promotes fuel efficiency while also controlling exhaust emissions to a great extent.
High-strength Three-piece Crankshaft
The Husqvarna 550 XP chainsaw has a forged three-piece crankshaft made from high-grade steel. The purpose of this crucial component is to withstand high loads incurred during operation.
Interestingly, it is lightweight, so it does not add to the overall weight of the saw.
With the help of a quick-release air filter, the Husqvarna 550 XP chainsaw allows you to easily remove and replace the air filter in a few minutes.
You can remove the air filter by pressing a lever. That's how it makes filter maintenance convenient for users.
Another excellent feature includes an adjustable oil pump that enables you to control the amount of oil as per wood requirements. You can increase the oil flow for cutting dense wood and decrease it when cutting lighter wood.
Unlike many professional-grade saws, Husqvarna 550 XP does not give you a tiring experience when cutting abrasive wood. It uses special elements, such as rubber and other damping materials, to absorb vibrations significantly.
Hence, this feature helps you work smoothly for extended hours without causing hand fatigue. Also, the design is slim and ergonomic, which adds to the user's comfort.
Differences Between STIHL MS 261 and Husqvarna 550 XP
Despite sharing many similarities, these chainsaws have some major differences. I will list all of them below and explain each one.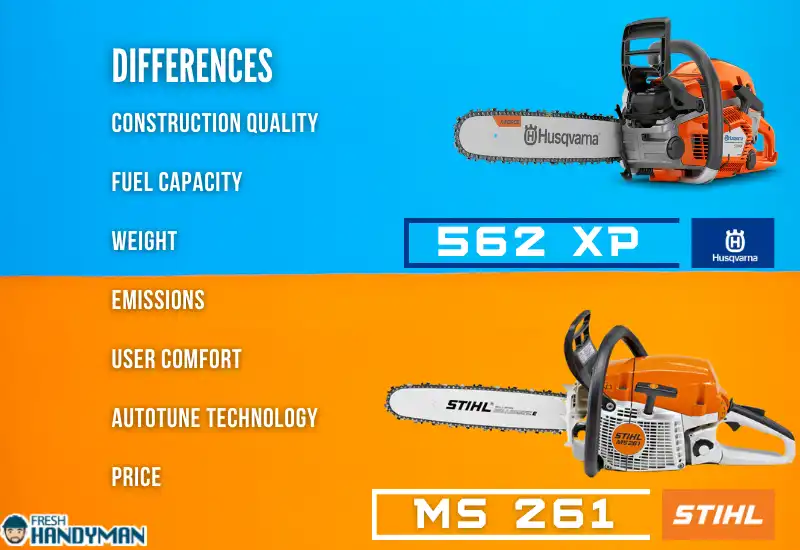 Construction Quality
One of the things I truly appreciate about Husqvarna saws is their meticulous craftsmanship. Every material appears high-end, from the exhaust to the screws, as you should expect when spending over $500.
Moreover, the 550 XP comes with a sturdy case that protects the engine. All of this contributes to Husky's excellent construction quality.
Do not get me wrong, but the Stihl chainsaw simply does not feel premium or solid. It has a plasticky feel unlike a power tool of this caliber should have.
Winner: HUSQVARNA 550 XP MARK II
---
Fuel Capacity
People often forget to consider the fuel tank capacity of chainsaws. It may later prove to be a mistake when you continuously pause to refuel.
Hence, try to go for a saw with a higher fuel capacity, such as the Husky 550. It has a 17.92 oz tank that has plenty of fuel for small to medium jobs.
On the other hand, the Stihl 261 can carry 16.9 ounces of fuel, which isn't too bad. Nonetheless, I certainly prefer Husqvarna's large fuel tank with an extra-ounce capacity.
Winner: HUSQVARNA 550 XP MARK II
---
Weight
Getting bored with good remarks about Husqvarna? Well, here is a department where the Stihl saw finally takes center stage.
The 261 is approximately 10.8 pounds in weight. Considering the power it delivers, I couldn't be more impressed.
On the other hand, a 550 XP comes in at 11.7 pounds minus cutting equipment.
It is not uncommon for loggers to use chainsaws all day long. One pound of additional weight will make a big difference to their fatigue levels.
Winner: STIHL MS 261
---
Emissions
The term emissions refer to the gas that is released into the environment by chainsaws. You may have already realized that gas causes environmental damage.
Besides harming the ecosystem, it can also pose a health risk. Fortunately, the Husqvarna 550 emits 60% fewer emissions thanks to the X-torq engine.
While the MS 261 does not severely hurt the environment, it reduces emissions only by 50%.
Winner: HUSQVARNA 550 XP MARK II
---
User Comfort
I have large hands, so the Husqvarna was a better fit for me. It may be due to the wider rear handle grip circumference.
You shouldn't have any trouble holding the MS 261 with large hands too. However, because of the narrower circumference handle grip, the Stihl saw would be perfect for people with small hands.
Winner: Tie (Stihl suitable for smaller hands and Husqvarna suitable for bigger ones.)
---
Autotune Technology
The Stihl 261 includes its own M-Tronic system. Simply put, it is an automatic tuning mechanism that offsets the need for carburetor adjustments.
The M-Tronic technology also helps to keep the engine running smoothly when the air filter is dirty, or the fuel quality is poor.
It is important to note that the M-Tronic is only available with the Stihl 261 C-M.
On the other side, the Husqvarna 550 saw is backed by similar technology. The name isn't fancy, but rather a plain one: AutoTune.
This system is virtually identical to the autotune feature on the Stihl 261.
Winner: Tie
---
Price
A lot of people may think the Husqvarna 550 is more expensive since it is better in so many ways. However, this is not really the case.
In truth, the Stihl MS 261 costs $10 more, retailing at $690. As you might have guessed, the price for the Husky 550 XP is $680. These prices are based on 16-inch bars.
One more point to keep in mind is that if you choose the Stihl 261 C-M variant, you will have to spend an extra $10.
Winner: HUSQVARNA 550 XP MARK II
---
Stihl MS 261 Vs. Husqvarna 550 XP MARK 2: Which Is Better?
There is no doubt that the Stihl 261 is a good chainsaw with plenty of power despite its lightweight design. Despite this, it falls short in several areas, including build quality and fuel capacity.
Thus, I would highly recommend the Husqvarna 550 XP saw for its high quality, low emission rate, and large fuel tank.
Aside from all these, the price is also more affordable, something I was not expecting.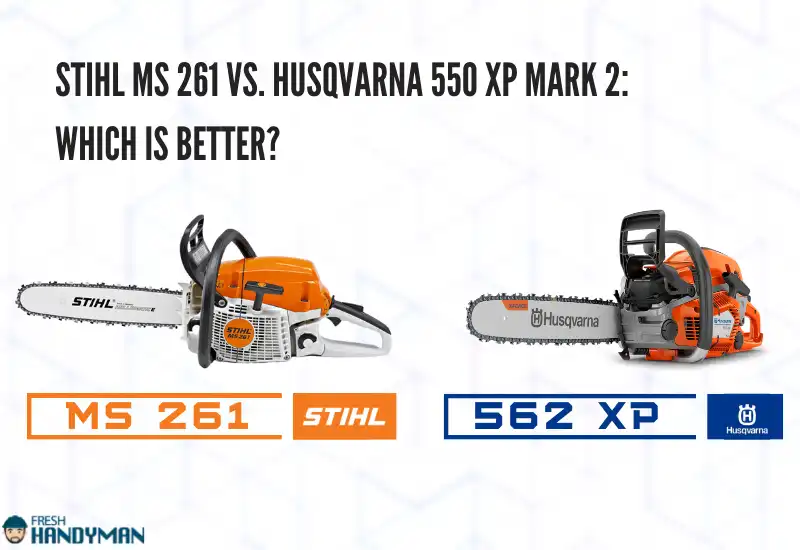 Stihl MS 261 [WINNER]
To Sum Up
It is clear from the article that the Husky 550 and Stihl 261 are both top-tier products. Nevertheless, they have different fuel capacities, comfort levels, weights, and emissions.
If you want a powerful, lightweight tool, the Stihl chainsaw fits the bill. However, apart from weight, Husqvarna performs well almost everywhere else.