The Stihl 025 is one of the most popular home maintenance chainsaws ever to hit the market. It's part of Stihl's 0 series chainsaws, and immediately after its production, it became a massive hit among the chainsaw community.
Like many other enthusiasts, I was also pretty fascinated by all the new things that this chainsaw brought to the table. Features like a superior anti-vibration system, inboard chain break, and side-access chain tensioner made it a fan-favorite chainsaw in the market.
Of course, it was discontinued after 2002, but even decades after that, investing in a Stihl 025 isn't necessarily a bad idea. If you manage to find one second-hand, it can make a great addition to your inventory if you want a chainsaw for basic property maintenance tasks.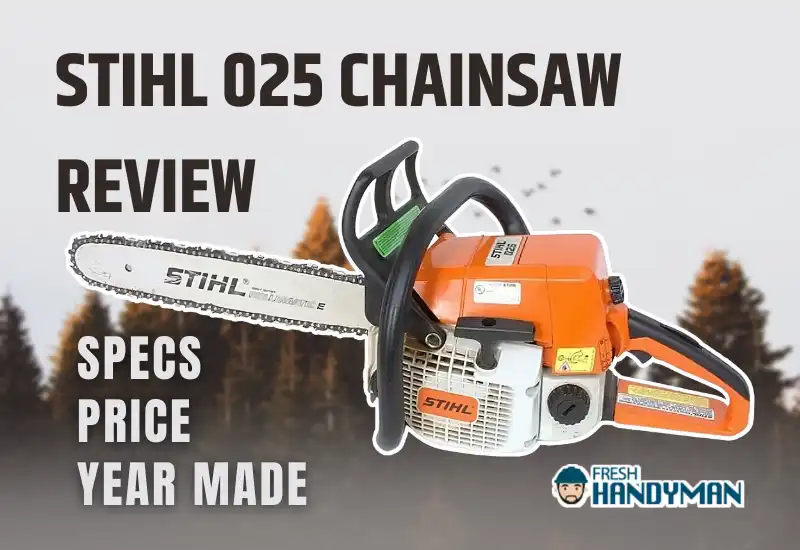 Then again, I can also understand the doubts you might be having about a discontinued chainsaw. That's why I will give you a complete Stihl 025 review to help you understand whether picking one up would be worth it for you even today.
Stihl 025 Chainsaw Specs
Let's start with a quick look at the main specifications of the Stihl 025.
| Specifications | Stihl 025 |
| --- | --- |
| Production Year | 1991 |
| Discontinued Year | 2002 |
| Number of Cylinders | Single |
| Engine Displacement | 45.1 cc |
| Engine Power | 3 HP |
| Carburetor | ZAMA C1Q type |
| Maximum Engine RPM | 12,500 |
| Idle Speed | 2,800 |
| Spark Plug Type | NGK BPMR7A, Champion RCJ7Y, Bosch WSR6F |
| Fuel Capacity | 19.5 oz. |
| Chain Oil Capacity | 7.6 oz. |
| Weight | 10.3 pounds |
| Guide Bar Compatibility | 12 – 18 inches |
Stihl 025 Key Features
Here are some of the key features of the Stihl 025 that make it such a formidable chainsaw for most homeowners: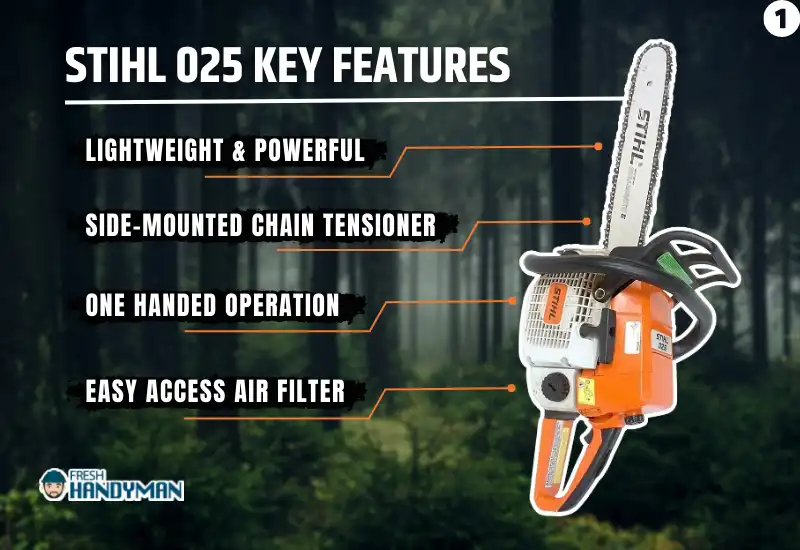 While power isn't definitely the main highlight of the Stihl 025, its power-to-weight ratio is quite impressive. Compared to other chainsaws available at the time, the Stihl 025 delivered decent cutting power while maintaining a lightweight chassis design.
Side-Mounted Chain Tensioner
The standard practice was to have the chain tensioner mounted at the front of the chainsaw back in the day. Stihl 025 is one of the first chainsaws to feature a side-mounted tensioner design that allows you to adjust chain tension on the fly without putting yourself in any harm's way.
The master control lever in the Stihl 025 is positioned conveniently on the back of the chassis near the handlebar. That means you can access the on/off, choke, and throttle control of your chainsaw with one hand while operating the chainsaw.
Air filters naturally get dirty over time. And in most chainsaws, to clean or replace the air filter, you need to disassemble the chainsaw entirely. With the Stihl 025, however, you can quickly access the air filter simply by removing the back cover of the crankcase for easy cleaning or replacements.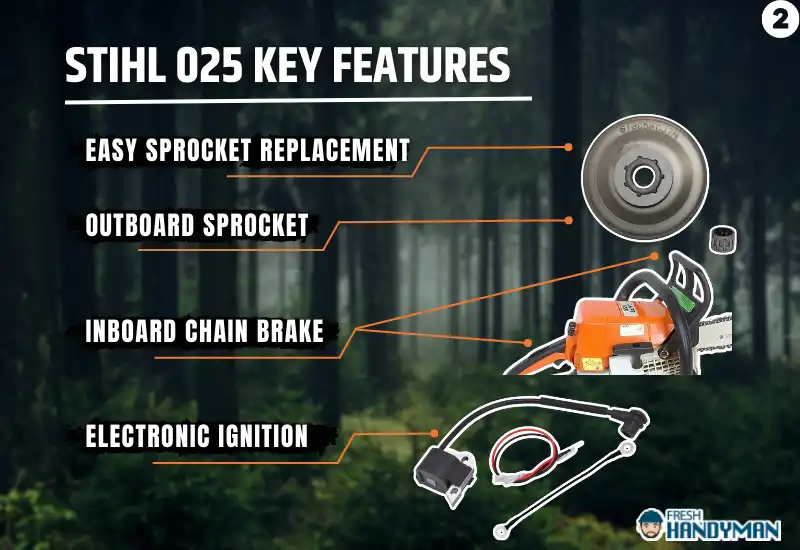 Easy Sprocket Replacement
Another quality improvement with the Stihl 025 is that replacing the sprocket doesn't require any special tool. All you need is a simple chainsaw wrench, and you can easily remove the sprocket from the chainsaw.
Thanks to the outboard-mounted design of the sprocket, you can install the bar and chain on your chainsaw much easier. It also shaves a couple of minutes off your entire project.
The mounted chain brake in the Stihl 025 chainsaw minimizes the risk of injury by halting the rotation of the chain in its track when activated due to kickback.
It can be tough to start your chainsaw. But thanks to the electronic ignition in the Stihl 025 chainsaw, firing up the engine is much easier and more reliable compared to older ignition systems.
Two piston rings in the chainsaw allow for more efficient cooling and also help the chainsaw hold compression for a longer period.
A built-in chain catcher in the Stihl 025 further enhances the safety of the chainsaw by catching the chain if it gets suddenly derailed.
The Stihl 025 comes with built-in mufflers that reduce the vibration from the engine and the cutting attachments, giving you a jitter-free experience when you use it.
A Complete Review of the Stihl 025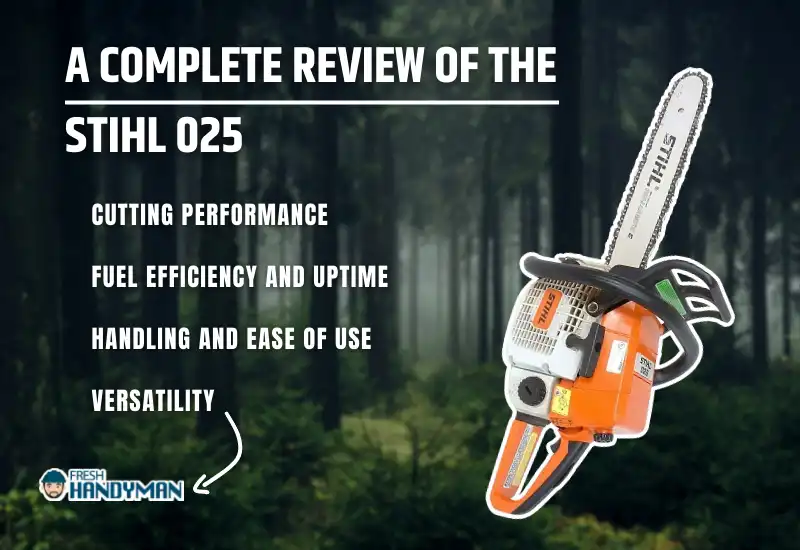 The specifications chart and feature list rarely draw a complete picture of what a chainsaw is capable of. While it gives you a basic idea of the power and performance of a chainsaw, to truly understand it, you need to dig deeper.
So let me give you my review of the Stihl 025 chainsaw based on my experiences with it to help you determine whether getting one for yourself is a good idea.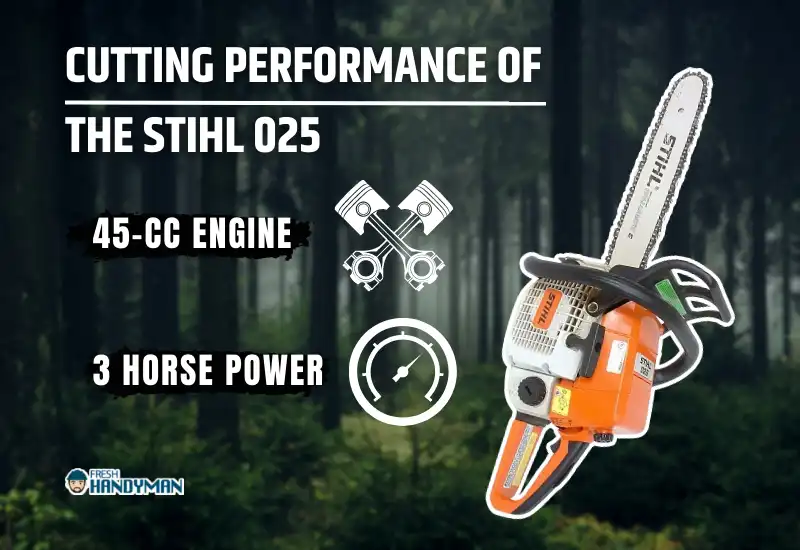 Let's cut to the chase – the main reason you would pick up a chainsaw is for its cutting power, right? Well, if that's the case, then you should be pretty happy with what the Stihl 025 has to offer.
Now keep in mind that this is not really a  chainsaw for milling, so the power will not be as high as a truly heavy-duty chainsaw. It was designed for property maintenance tasks such as dropping small trees, pruning, limbing or cleaning up after a hurricane.
And if that's what you are after, the cutting performance in the chainsaw is pretty amazing. It has a 45-cc engine that can deliver up to 3 hp output, and you can cut through small limbs off a tree without any real effort.
Fuel Efficiency and Uptime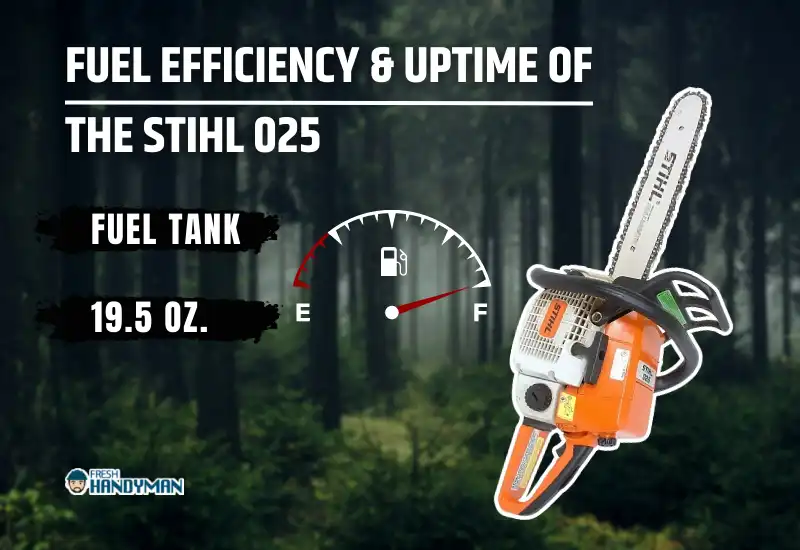 Stihl chainsaws have a good reputation for having excellent fuel efficiency, which directly results in more uptime when you are working. I don't know about you, but personally, I hate it if I run out of gas in the middle of my work.
The Stihl 025 has a 19.5 oz. Fuel tank, which, when filled to full, should give you a decent bit of uptime. Now whenever I work, I always make sure I top off my fuel tank. And I never had to worry about the chainsaw running out of fuel before I got my work done.
But let's be real here – if you expect it to be as efficient as current-gen chainsaws, you'd be disappointed. However, if you manage your expectations and don't forget to refill the tank, you should get a couple of hours of use out of the chainsaw easily.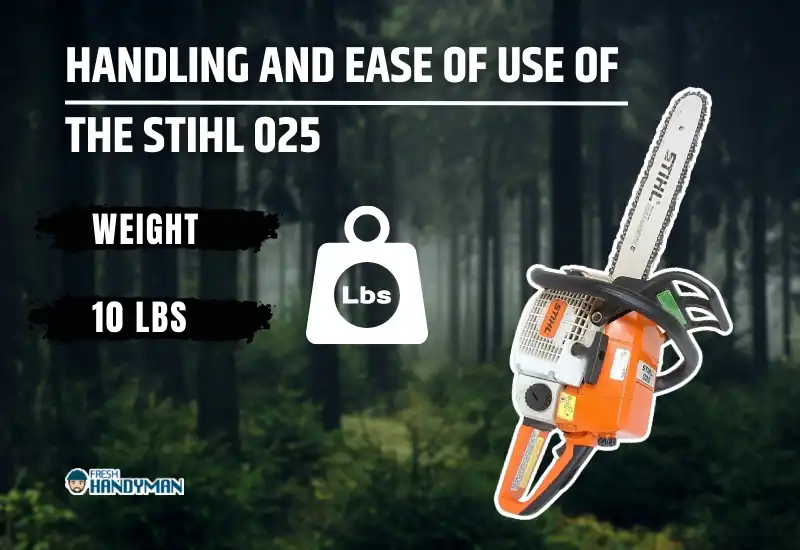 One thing that I really love about the Stihl 025 is how light it is. It weighs only around 10 pounds, letting me move around my yard, pruning any shrubbery I find without any extra stress. If it were heavier, the fatigue of carrying it around would get to me.
But its weight is not the only thing that matters here. The chainsaw, despite being of an older generation, features many modern designs that make it extremely ergonomic. It has a top and a rear-mounted handle, along with individual hand guards for easy carrying. In addition, the starter has a grip attached, allowing you to pull on the rope easier.
Besides, the anti-vibration system in the chainsaw, while it feels a bit dated compared to present-gen models, is quite decent. I could use it for hours without getting tired, and that is an excellent achievement for any chainsaw in my book.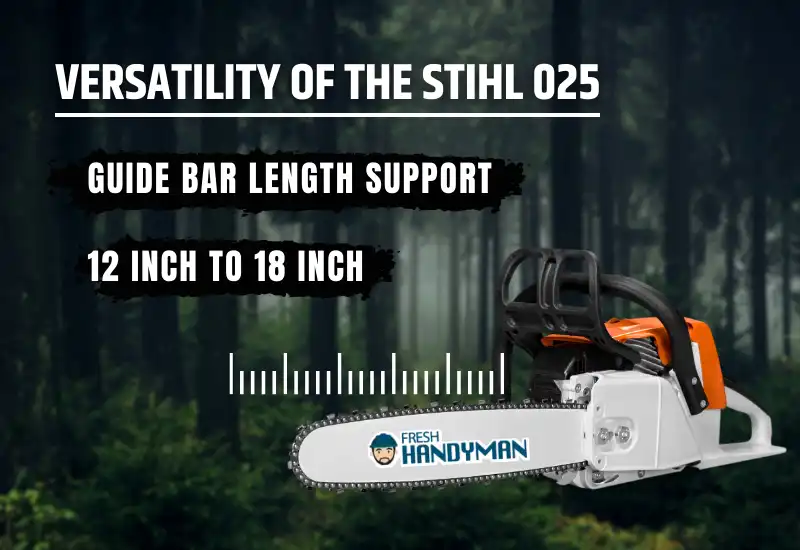 I know the Stihl 025 is not the most high-end chainsaw out there, at least in today's standard, but you cannot deny that it is extremely versatile. Property maintenance chainsaws typically don't have a lot of headroom. And if you push the engine, it usually starts to backfire on you.
Well, with the longer 18-inch guide bar installed, I could use the chainsaw to chop up some firewood without too much trouble. Sure, the cut wasn't as smooth as I would have liked, but the fact that I can get it done speaks volumes about the chainsaw.
Stihl 025 Versions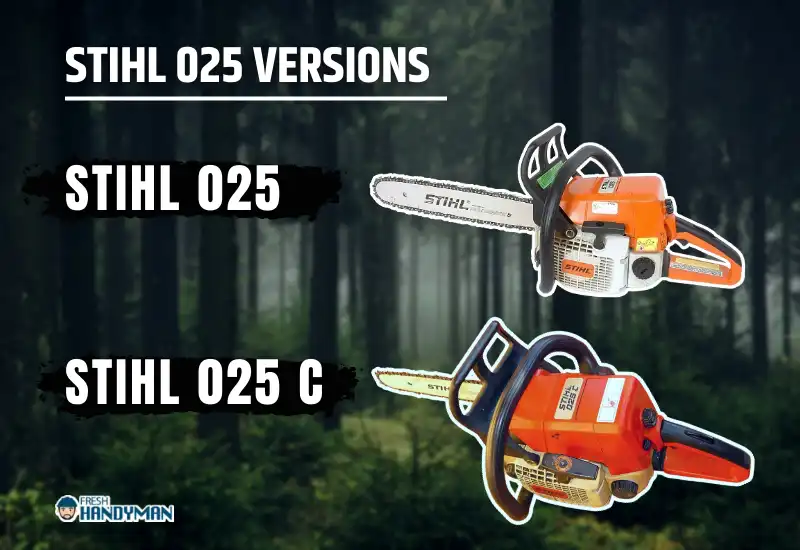 When it was in production, there were two versions of the Stihl 025 that were available for purchase. Firstly, you had the base model, which is the one that I discussed so far.
Alternatively, you could go with the slightly more expensive Stihl 025C model. The C stands for comfort, and with this variant, you get some small but noticeable quality-of-life improvements.
The most notable improvement in the Stihl 025C was the addition of an elastic start making it extremely quick and easy to start your chainsaw. It also featured an air purge system and a quick adjuster to make operating the chainsaw much easier.
Stihl 025 Manual
Stihl 025 Price and Parts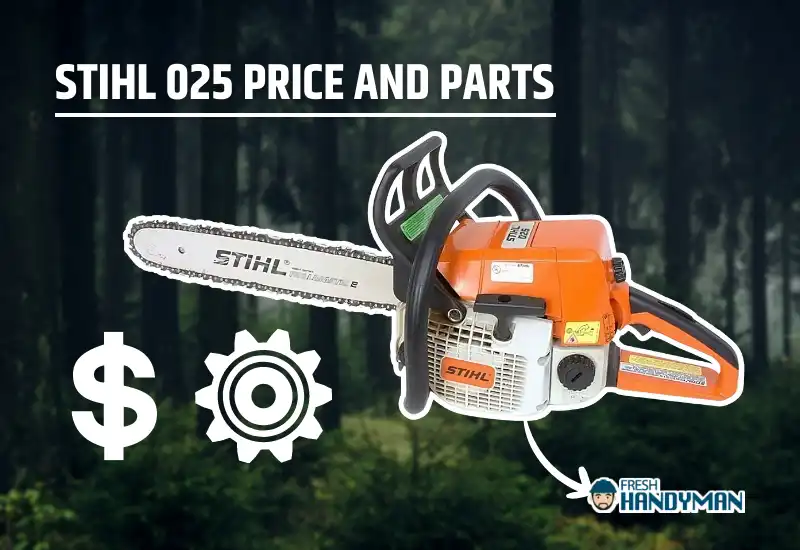 After reading through my review, I'm sure you can appreciate the level of quality that this old chainsaw has to offer. Even after decades of its discontinuation, it has a lot of loyal users. And if you want to snag one for yourself, looking for a second-hand option is your only option.
You see, as of 2002, the production of this chainsaw officially came to an end. But I have seen ads for second-hand Stihl 025 chainsaws myself on different websites. And if I could find one, chances are, you would be able to find it too.
Of course, this being a classic Stihl chainsaw, people often ask an absurd amount of money for it. So I'm sure you are wondering – how much should you pay for it.
Well, since it is officially a discontinued chainsaw, you shouldn't look to spend any more than 250 dollars on it, and that is if it is in great condition. Ideally, you would spend around 200 dollars for a second-hand Stihl 025. But if you can manage to find one under that price, you are getting a huge bargain.
But there's another problem that you need to worry about – and that is its replacement parts. One of the biggest issues with discontinued chainsaws is that you can't readily order replacement parts from the manufacturers.
So, if your chainsaw breaks down and requires a bit of replacement, you will have a hard time finding specific parts for this chainsaw.
What are the Alternatives to the Stihl 025?
If you don't want to go for an old Stihl 025 chainsaw, and would rather have something more modern that has replacement parts readily available in the market, then there are some good options out there. Here are a couple of chainsaws that you can buy instead of the Stihl 025.
The Stihl MS 250 is considered the direct successor to the Stihl 025 featuring pretty much the same specifications. If you ask me, it is more of a rebranding of the old Stihl 025 chainsaw rather than a replacement.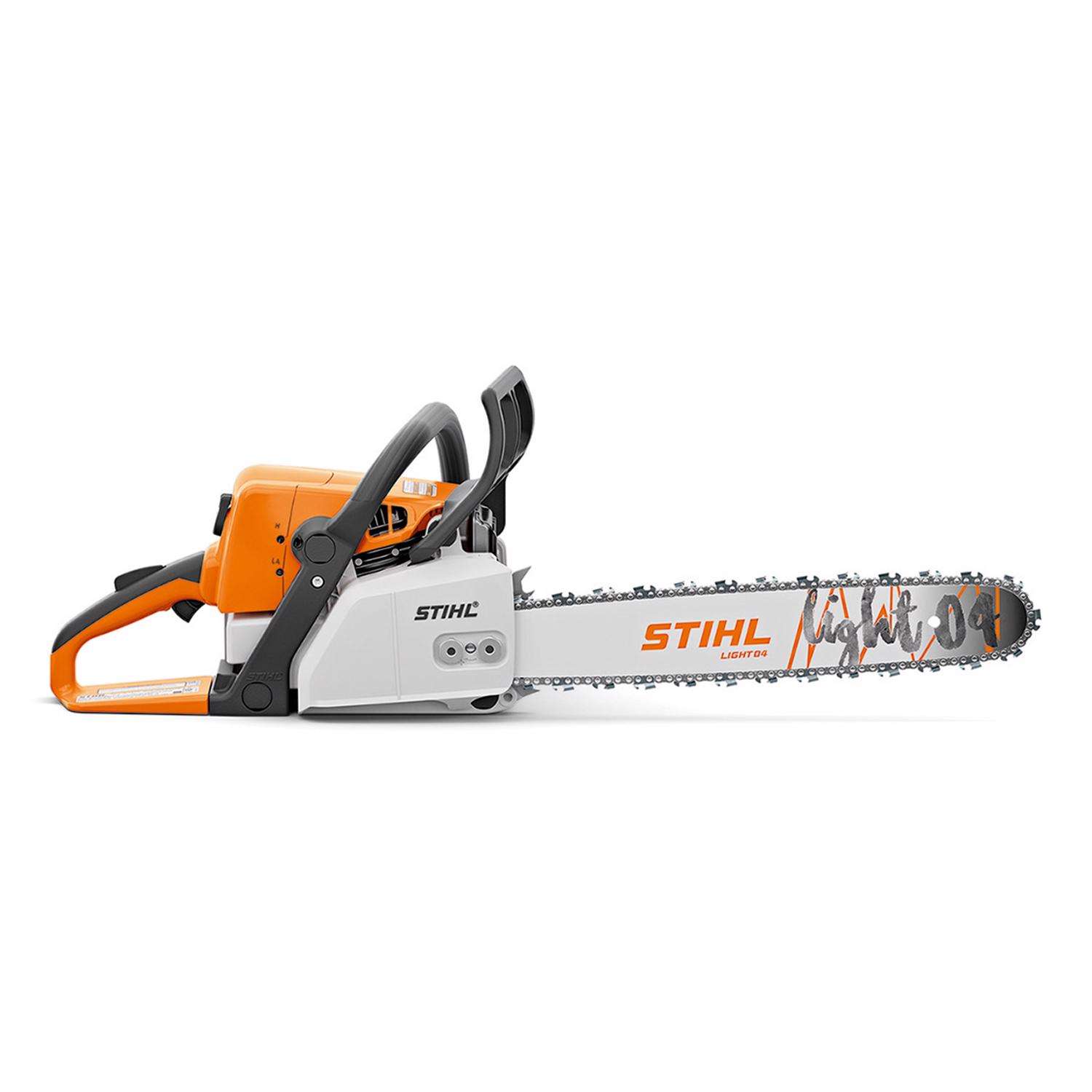 When you look at the Stihl MS 250 and compare it to the specs of the 025, you will see that they are nearly identical. The MS 250 has a slightly better emission rating and fuel efficiency giving you a bit more mileage on a full tank. It also weighs marginally less than the older 025 models.
Another small yet noticeable improvement that Stihl brought with the MS 250 is they added toolless fuel and oil caps. While there are many who still prefer the older fuel and oil cap design, the MS 250 is definitely better since it allows you to access it swifter.
The Stihl MS 250 also has a better kickback protection system enhancing its safety, and the air filter in it can be accessed much easier. This means replacing the air filter in the MS 250 will require less hassle on your end. So if you want a chainsaw that feels like a Stihl 025 and performs better, the MS 250 is the best one for you.
Husqvarna is undoubtedly one of the best chainsaw brands in the world and is often seen as a rival to the industry-leader Stihl. Now I know diehard Stihl loyalists would burn me at the stake for recommending a Husqy chainsaw, but you can't deny that the 450 Rancher is an amazing option.
I even went as far as to try the 450 Rancher out myself and wrote a detailed review about it.
Like the Stihl 025, it's a home maintenance chainsaw. But it comes with a few benefits. Firstly, it has a bit more engine power, and it's a lot more fuel efficient. And on top of that, the chainsaw can be equipped with a 20-inch bar to do some heavy lifting.
Now, I know loggers wouldn't benefit much from a 20-inch bar, but if you are collecting firewood or cleaning up debris, a longer bar, along with a more powerful engine, will definitely help you get the job done faster. So, if you want a real upgrade over the Stihl 025, the Husqvarna 450 rancher is a great pick.
Frequently Asked Questions
Here are the answers to a couple of questions that I often get asked about the Stihl 025 chainsaw.
What size chain does a Stihl 025 use?
The Stihl 025 chainsaw uses 063 Gauge chains with 68 drive lengths. As for its guide bar compatibility, you can move from 14 inches all the way up to 18 inches in length.
Who is the Stihl 025 chainsaw good for?
At its core, the Stihl 025 is a home maintenance chainsaw. That means homeowners who like to do light landscaping in their own yards, such as trimming off small tree branches or felling small trees, will benefit from this chainsaw. It is also pretty handy if you have to clean up debris from your yard after a storm.
Is the Stihl 025 a pro chainsaw?
No, the Stihl 025 is not considered a pro-level chainsaw. Back when it first came out, the Stihl 026 was considered the pro-level model, while the 025 was the one designed for homeowners and casual users.
The Bottom Line
It's always sad to see your favorite chainsaw coming to an end in its production line, but it's part of the process. Since Stihl is always looking to go ahead in the competition, they constantly need to cycle out old chainsaws and bring substantial improvements with its newer models.
The Stihl 025 was one of the finest chainsaws of its time, and the replacement MS 250 is every bit as good, if not better. So, if you want a Stihl 025 after hearing so many good things about it but can't find one second-hand, the MS 250 can be a great investment.
However, I wouldn't recommend going with it if you are looking for an upgrade over your old 025. Since the two chainsaws are pretty similar in performance, you will not notice a huge difference here. In that case, the Stihl MS 251 Wood Boss might be a better choice.
Then again, if you find a good deal for a well-preserved Stihl MS 025, by all means, go for it. You can expect the chainsaw to perform well even when you compare it to today's chainsaws.
I hope my extensive review of the Stihl 025 chainsaw gives you a clearer picture of the quality that it offers. Cheers!