While operating a chainsaw, lack of safety measures could cause an unwanted incident. You should wear a number of protective clothing while you have a chainsaw in your hand. Among all the protective clothing, one of the most essential ones is chainsaw chaps – protective trouser made from rigid fabrics that resist against the impact of a running chainsaw. If chainsaw can cut wood like butter, you can imagine how it can go through normal fabrics and your legs.
Therefore, to protect your legs while handling a chainsaw, you need to invest in the best chainsaw chaps. This will provide you an extra protective layer that could potentially keep your legs safe if an accident should occur.
But which one is the best chainsaw safety chaps you can buy? Well, in this chainsaw chaps review, we have compiled a list of the best chainsaw chaps to help you choose one and stay safe.
Comparison of a Best Chainsaw Chaps Reviews 2021
Top 6 Best Chainsaw Chaps 2021
1. Husqvarna 587160704 Technical Apron Wrap Chap
Let's start this best chainsaw chaps review with a chainsaw chap from one of the biggest chainsaw manufacturer.
When it comes to safety, these Husqvarna chainsaw chaps are arguably best-in-class. They are quite pricey but you can't put a price on safety. These chainsaw chaps from Husqvarna is made of 1000 denier polyester with PVC coating. These chaps meet the regulations of ASTM, ANSI, and OSHA. You also have the option to choose from various sizes. Due to their tried and tested reliability, they are used by enthusiasts, hobbyists, as well as professional contractors all over the world.
These chaps are designed not only to protect the front of your legs but also around the back as well. This offers you more safety by providing extra protection around the entire leg but still doesn't reduce your range of motion. Moving around, bending down, and even climbing hills will not be a problem with these chainsaw pants on.
They are comfortable to wear as well as easy to put on and take off. And to ensure that your legs are protected all over, they are adjustable as well. Another added advantage you get with these chaps is the protection from debris while using your chainsaw, so you don't need to worry about tears and rips from things like thorns and nettles.
The color of the fabric is vibrant orange that gives extra visibility and the chaps are also equipped with reflective strips around the ankles. The chaps also included buckles for size adjustments, pockets, and are washable (but only with cold water to maintain the integrity of the material)
Unfortunately, all this extra protection does carry a flaw. These pants can feel quite heavy as well as hot to wear. They might start to feel comfortable after a while but you are definitely going to feel the extra heat once you start doing heavy-duty work.
However, if you are looking for one of the best chainsaw protective pants that professionals trust all over the country, then Husqvarna is a brand you can go for.
Pros
These chaps are quite versatile. They come in various size and are adjustable
They are made of very durable and strong materials
They are lightweight
They also include convenient gear pocket
Cons
After a prolong use things might become hot
2. Forester Chainsaw Apron Chaps with Pocket
Next in the list, we have forester chainsaw chaps review. The Forester Chainsaw Apron Chaps are a reasonably priced and basic pair of chainsaw chaps that come in a variety of different sizes, designs, and colors. They are not full-sized pants. And as an apron-style chap, they shape around your legs much like an apron. This means that you will wear them on top of your existing clothing and strap on to your legs to shield them when you are using a chainsaw.
These chaps meet OSHA 1910.266, ASTM F1893, and UL certifications, which means they are safe to use and will provide protection for your legs should an accident happen. They are reasonably comfortable to wear, however, they are likely to raise your body temperature a little bit. This is a common complaint about the Forester Chainsaw Apron Chaps but a bit of extra heat is well-worth the safety they offer. Wearing them and taking them off is quite simple and they also don't limit your motion.
They are fairly large, but the clasp mechanism isn't well-designed and that could often cause the chaps to slide to the side, revealing a part of your leg to the chainsaw. while they are not the best option available on the market, they will do a fine job protecting the front of your legs, which is the most important. And for the money they cost, these Forester chainsaw chaps are a good deal.
Pros
These chaps have a sleek finish
Comfortable to wear
They are very lightweight
They have a durable and strong build
It has a very convenient pocket for carrying tool
Cons
Open-back design
You might experience slippage problems
3. Husqvarna 531309565 Chain Saw Apron Chaps
These open-back chaps from Husqvarna meet the ASTM, ANSI, and OSHA regulations. They allow the wearer a full range of motion. These hand washable chaps also dry quickly. These chainsaw stoppers – for most of the time – will protect you from a running chainsaw. They can be purchased in three different colors – black, blue, and gray.
These chaps aren't easy to put on or take off. They are equipped with very thin cheap plastic clasps and have a bad tendency to break, which causes the chaps to be useless. Some of them could even break after a few minutes of putting on. And considering the open-back design, they are also a bit heavier than necessary. In addition, your backs of the legs remain exposed due to the open-back design.
Although you get a full range of motion when wearing these chaps, they tend to frequently slip, pinch, sag, and bind regardless of how they are adjusted. The short design of these chaps doesn't fit anyone six feet tall or over. And even with their open-back design, they are still not so much comfortable as they tend to heat.
These chaps have too many drawbacks to be placed any higher than third on this list, and occasionally they might also let a chainsaw go through them because of the poor quality control.
Pros
They are hand washable
The material is thick and durable
Allow a full range of motion
Usually stops chainsaws
Cons
Clasps break
Difficult to adjust
4. Forester OEM Arborist Forestry Professional Chainsaw Chaps
The Forester OEM Arborist Forestry Professional Cutter's Combo Kit Chaps are more of a whole chainsaw safety combo than just a chap offered by other manufacturers. To elaborate, these chaps come with safety glasses, safety helmet, and of course the safety chaps, providing with the utmost protection when operating your chainsaw. So if you don't have enough time to separately order all the safety kit, you can surely go for this combo kit offered by Forester.
Now to talk specifically about the pair of safety pants, they have been designed to outclass any other chap on the market. They meet the regulations of the Basic ANSI Z87.1, ANSI/ISEA Z89.1-2009 Type 1, ASTM F1897, Class E, G&C/ screen standards. This means they have been tested to provide you the best results when it comes to chainsaw safety. The outer shell of the chap is 100% polyester material that offers resistance to chain cuts.
The length of the chap is 37 inches. And its waist size ranges from 35 to 40 inches, which means this pair of pants, without a doubt, would fit most of the chainsaw users out there.
These chainsaw chaps are water or oil-resistant as well. Besides the chap, you also get the chainsaw safety helmet that comes with face and ear protection as well as the safety glasses to provide you full protection.
As you can understand from this forester chainsaw chaps review that this package doesn't only offers the chainsaw safety chaps, this is a complete chainsaw protection kit. It is suitable for part-time sawyers as well as homeowners.
Pros
Water or oil-resistant
Comes with pocket
Protective helmet
Face shield screen
Hearing protection
5. Oregon Chaps Protective Chainsaw
According to the manufacturer, the Oregon Chaps are made from eight layers of breathable, warp knit 600 Denier Oxford shell nylon. They meet the ASTM regulations. These open-back chaps will stop a chainsaw if any accident should occur.
However, from here, there is not so much to be excited about these chaps. Due to its open-back design, it won't be able to protect the back of your legs. And no matter how much you adjust them, the buckles simply will not hold the straps in place. The straps constantly slip out of the buckles, refuse to hold, and come loose. This causes the chaps flapping wildly and leaving you unprotected.
These chaps also have the one-size-fits-none syndrome. So if you are six feet tall or taller, these chaps will be too short to fit you, leaving your lower calves, ankles, and shins exposed. If you are five and a half or shorter, you could also wind up tripping over them. Neither of the scenarios is very safe for the one who is handling a running chainsaw.
These safety pants are also heavy, hot, and uncomfortable. They can't be adjusted to fit, they don't provide protection for the backs of your leg, and the buckles just won't hold the straps. So in simple words, although it provides protection for the front of your legs, this isn't the best option on the list.
Cons
Buckle slips
Uncomfortable
Won't fit everyone
Open-back design
6. Forester Chainsaw Safety Chaps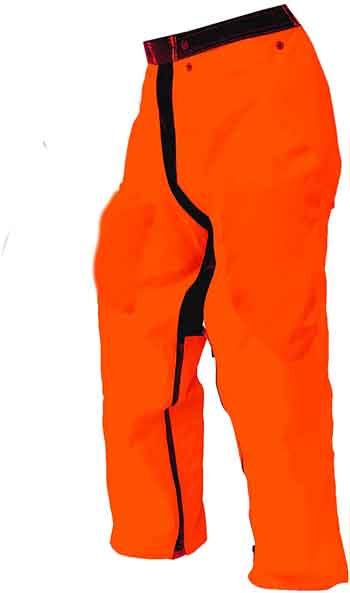 These Forester chainsaw safety chaps come in full wrap zipper style, which means they will cover your legs on the front as well as on the back. In simple words, they will cover your legs entirely and provide you total protection.
The outer shell of this chainsaw safety chaps are made of 1200 Oxford Polyester. And like the other options in this list, you don't get a pocket with this safety chaps.
If you are working in an area that contains water or oil, there is no need to worry as these pants are capable of resisting them too. And while wearing them, you should feel comfortable in your movement as they are made to be lightweight and comfortable.
This is an approved method of protection for the chainsaw operator in the USA and Canada. Waist belt design of these chaps is adjustable and it would fit 28″ to 44″ waist size. And for the length, it has three different options – the short length of this chap fits most 5′ – 5'4″ Tall, the regular length chap fits most 5'4″ – 6′ Tall and if you are taller than that, the long length fits most 6′ – 6'4″ Tall.
Pros
Full wrap zipper style
Water and oil resistant
Comfortable and lightweight
Best Chainsaw Chaps Buying Guide
While operating a chainsaw, apart from being careful, the security of your legs basically depends on the chainsaw chaps. So there is no doubt that you need these products.
The best chainsaw chaps provide enough protective coverage for your legs and they are comfortable enough to wear and cut trees.
However, before narrowing down to any specific chainsaw chaps, there are several factors you need to consider. Making a wise decision is also important because you don't want to end up with something that does not give adequate results.
That's why, to make this process easy for you, we have some tips that will help you make the right choice.
Materials
It goes without saying that a chainsaw chaps should be made of rigid materials. Chainsaw safety chaps can be found in different materials or blend of materials to provide the utmost protection and comfort to the wearer.
Some of the most commonly used materials in chainsaw chaps are Denier, Ballistic, Kevlar, and Polyester. The cost of each material differ, hence, the level of security will also vary accordingly.
Denier and Polyester are two of the most common and non-washable materials used in chainsaw chaps. They are comfortable to maintain as well. Washing them could destroy the protective fabrics.
It is essential that you carefully pick a material that can resist the chainsaw best. In general, the more layers in the fabric, the better chance of clogging the chainsaw mechanism.
Size and Length
The size of the chaps really matters. They must fit your waist size, as you don't the chaps to low down when you are cutting or importantly, running from a falling tree. The chainsaw chaps should feel comfortable while moving. The chaps should also allow you to move seamlessly on a broad range of angles.
Another thing to keep in mind is that a chainsaw isn't the only threat while you cut trees. In times, you also may need to run away from a falling tree. In situations like that, an unfit chap is a bigger threat than a chainsaw.
Such as the length, the weight of a chainsaw chap is also equally important. It shouldn't be too light to be made of poor quality and too heavy to cause difficulty in working.
Comfort
The Comfort level of chainsaw chaps is one of the most essential factors to consider. Operating a chainsaw in the woody areas is challenging as it is, you don't want to add the feeling uncomfortable to it.
Make sure you get the breathable chaps. Because there are chainsaw chaps available that will make the hot days unbearable.
An open or comfortable chainsaw chap will make your cutting a lot easier and manageable, especially if the days are hot steamy. Overall, you should give a great deal of priority to comfort when it comes to the chainsaw chaps.
Design
There are many different kinds of models of chainsaw chaps available. Make sure you choose a design that is adjustable and if you need some space to keep tools, have pockets.
An adjustable chap will offer you more comfort and you will also be able to share it with your family members.
And about the pockets, make sure that they are also extra strong to accommodate the accessories and tools required in the task. A pocket is an excellent way to keep the tools handy.
Apron VS Wrap-Around
Fitting of the chaps is also important. Wrap-around style covers the shins, thighs, and calves, while the apron style doesn't protect the calves. However, you can get full protection in the form of safety chainsaw trousers, but, especially in the summer, they can get hot to wear.
Apron-style chaps were made because they allow the wearer to stay cool while still covering the parts of the legs most likely to be cut.
One should also consider the fact that operating heavy machinery while feeling extremely hot could lead to slipping, fainting, or other errors.
Durability
When you buy chainsaw chaps, you don't plan on replacing them every now and then. This is why you should look for durable chainsaw chaps that are capable of enduring wear and tear and will stay with you for the longest.
Certifications
Another crucial factor to consider while buying chaps is certification.
Make sure the safety requirements of your chosen chaps are acceptable in your state.
Chainsaw Safety Tips
Chainsaws are very powerful tools that can cause a great deal of harm while running. You need to be very careful to stay safe while operating chainsaw. Here are a few tips that you can follow to stay safe.
Grip – wrap your fingers and thumbs around the handle of the chainsaw for a firm, surrounding grip that will prevent a severe injury in the event of any kickback.
Posture – stand with your feet shoulder-width apart in a sturdy and comfortable position to one side of the chainsaw, not straight behind it. Never overreach or squat down while cutting.
Hitting the Wrong Materials – avoid any contact with any non-wood materials. Before starting, always remove wire, screws, or nails from the wood you intend to cut.
Practice – if you are just starting, get a feel for the power and balance of the chainsaw by cutting dry, light branches before moving onto more difficult tasks.
Read Chainsaw Safety Tips at Lowes: Chainsaw Safety
Read In Wikipedia: Chainsaw Safety Features
FAQ's
What makes good chainsaw chaps?
Quality of the chainsaw chaps material, area of the legs it can cover, and its comfort level determine if the chap is good or not. To understand chainsaw chaps better, read our buying guide.
What are chainsaw chaps and how do they work?
Chainsaw chaps are protective clothes that protect the wearer from serious accidents. A chainsaw operator should always wear them, alongside other safety equipment such as eye goggles and ear protectors.
Chainsaw chaps work by containing layers of protective, strong fabric, like Kevlar and nylon, which bunch up and clog rotating chainsaws when it comes into contact. This prevents the chainsaw from separating the leg of its wearer, potentially preventing a life-changing accident.
What are the best chainsaw chaps?
To answer this question of yours, we have compiled a list of the best chainsaw chaps. Read the above reviews of these excellent chaps to find out which one is best suited for you.
How to Measure Chainsaw Chaps?
When measuring yourself for new chainsaw chaps, have somebody measure from your waistline to your instep, in the meantime, you stand straight upright. Then, purchase a pair especially made for that size. This is vital so that the chaps fit you securely – chainsaw chaps should never be too small or loose.
Conclusion
As we conclude this best chainsaw chaps review, we would like to say that, for someone who works with a chainsaw on a regular basis, chainsaw chaps are extremely important.
You could be a part of a high-end logging firm or may have a carpenter shop, the application of this product is vital.
Although being careful is the best way to be safe while operating a chainsaw, with these wrapped around your legs, you get another layer of security for your legs.
You May Also Like