ECHO is a well-known manufacturing company and the largest subsidiary of the Yamabiko Corporation, which was established in 1972, and then its name was ECHO Incorporated.
On the other hand, The Husqvarna Group is a Swedish manufacturer that started the journey in the year 1689.
Husqvarna has a good reputation, which is hard to beat, and you can get almost anything relating to outdoor power products from this Swedish company.
ECHO and Husqvarna are the two manufacturers both have a good track record when it comes to power tools, especially chainsaw.
Between Echo vs Husqvarna, which one is better? Let's make a comparison between ECHO vs Husqvarna, and then you can get a clear idea about which company is better at making chainsaw and which one you should buy.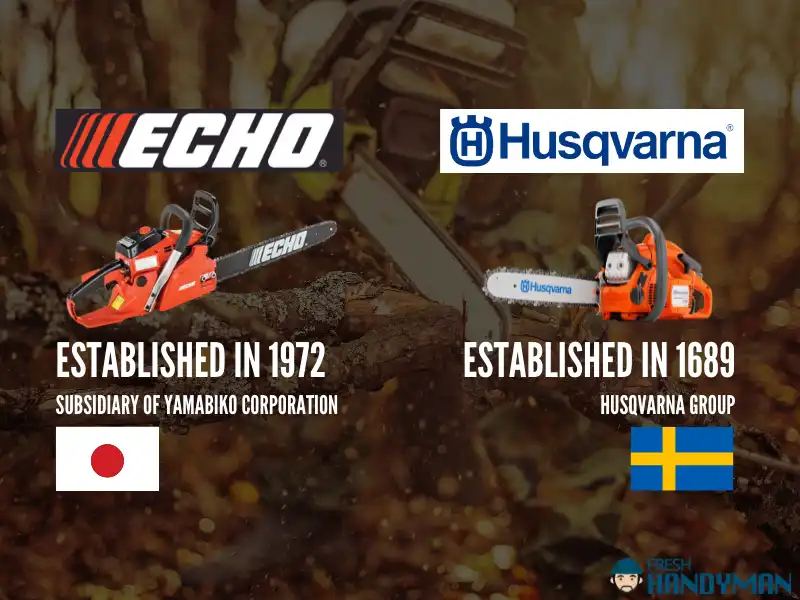 For comparison, we will take Husqvarna 460 Rancher and ECHO CS-590 Timber Wolf as models. Husqvarna 460 Rancher and ECHO CS-590 Timber Wolf are two chainsaws, which should be purchased by those who have enough experience because both are professional tools and requires a lot of strength to operate.
These tools are usually used by loggers and landscapers across the world. Husqvarna 460 Rancher and ECHO CS-590 Timber Wolf both have some similarities and differences. Now let's discuss these similarities and differences. So let's go to the main point.
Echo Vs Husqvarna Chainsaws
Materials
All chainsaws are made of the same material. The guide bar is made of metal and metal or plastic, or the combination of both metal and plastic is used as housing for the motor.
Nowadays, plastic housing is used in chainsaws by most homeowners' because of its durability. And this plastic made housing can also be found in the products manufactured by Husqvarna and ECHO.
Materials used in all companies' chainsaws are almost the same. Only the chain of the chainsaws varies. Husqvarna is the only brand that has a variety of chains and bars for the chainsaw.
So you can change your product easily if you had a Husqvarna chainsaw, which is not obtainable for other brands saw like ECHO and Stihl.
Engine and Power
The other differentiable matter between Husqvarna and ECHO is the engine of the two chainsaws. The Husqvarna 460 Rancher has a bigger engine than that of ECHO CS-590 Timber Wolf.
The Husqvarna 460 rancher has a 60cc two-stroke gas-oil engine. A two-stroke engine is more efficient than a three-stroke engine.
Also, with fewer refills, you can increase your productivity. In comparison, the ECHO CS-590 Timber Wolf has a 59.8cc engine, which is slightly smaller than Husqvarna. But it also has a two-stroke gas-oil engine.
Moreover, the ECHO CS-590 Timber Wolf doesn't have fuel efficiency as Husqvarna 460 Rancher. We all know that the larger the motor, the bigger and the heavier the chainsaw. So both chainsaw can only be used by professionals.
Weight
When it comes to their weight, you can find a slight difference. The weight of the Husqvarna 460 Rancher is 13.2 lbs, while The ECHO CS-590 has 13.3 lbs of weight. So the ECHO chainsaw is heavier than the Husqvarna.
Durability
Durability means how long the material is going to last or remain serviceable in the surrounding environment without any damage or unexpected maintenance. Durability is an important point that should be considered highly.
There are some features that can be measured to know the durability of the saw. One of these features is the automatic oiling system. This feature helps to keep your saw chain lubricated so that you can get a smoother cut.
Another feature is the air cleaning system of the saw. It is a small way to protect the air filter of the saw. With the help of this system, large pieces of scrap won't be able to reach your air filter.
You can find these features available in both the Husqvarna and the ECHO, which ensures the durability of the chainsaws. They both have an adjustable and automatic oiling system and an air cooling system, which means they both have enough durability.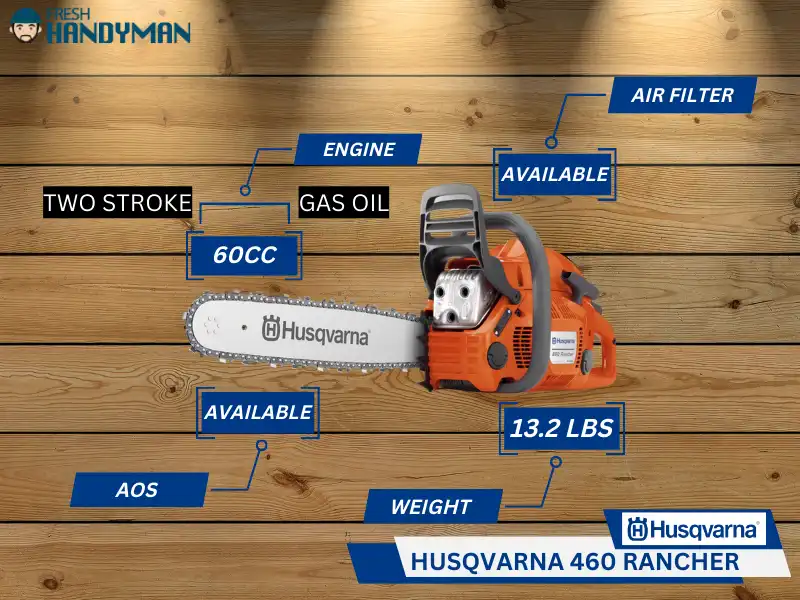 Safety
Safety is the most concentrating matter on which every buyer should give special attention before purchasing a saw or other machine.
There is no doubt that chainsaws are one of the most dangerous tools. Though a chainsaw is a life-threatening tool, you can reduce the possibility of dangers.
Proper lubrication also helps to reduce the number of accidents. Besides these, you can pre-install some features on your saw to make your saw as danger-free as possible.
The initial one is the chain brake. It automatically stops the chain when it feels a sudden movement or impact. You can find these features installed in both Husqvarna and ECHO.
Anti-vibration features are another feature that should be installed before. It is very important for a dangerous tool like a chainsaw.
Without this feature, the machine will become more dangerous. It is also harmful to the user's body as the loud sound of the saw causes hearing loss. So by installing this feature, you can make your saw safer.
Both Husqvarna and ECHO have installed this feature in their chainsaw. But this feature used in Husqvarna is better than the ECHO.
Efficiency
Though the ECHO CS-590 Timber Wolf has a great efficiency not so less than that of the Husqvarna 460 Rancher, Husqvarna calls the super-efficient engine, and the customer reviews are also better in this aspect.
Warranty
Husqvarna chainsaws have a standard two-year consumer warranty and a one-year professional warranty, while a standard five-year consumer warranty and one-year professional warranty have been given by ECHO. So, in this case, ECHO is the winner.
Type of Chainsaw
Both Husqvarna and ECHO offer gas powered chainsaws and electric chainsaws, and they are able to cut trees of different sizes.
Price Difference
You can get an ECHO CS-590 Timber Wolf chainsaw by paying $399. If you want to buy a Husqvarna 460 Rancher, you have to pay $519.
Final Thought
After pointing out all these comparisons, I hope you have already known that Husqvarna is more established and older than ECHO.
You can choose Husqvarna because of its reputation and features, but ECHO is not so inferior to Husqvarna. Rather you can get better performance at a better price if you choose to buy an ECHO chainsaw.