Every summer we love to spend time in the backyard while hosting friends and family. Inevitably, we want to make a nice fire in the evening. Suppose, we saw an old tree there that was struck by the lightning. For fire camp, it will provide enough wood.
All we require now is the perfect chainsaw for this job. So, for cutting anything, you have to find the right chainsaw. The saw should be durable enough for lasting a long time. But, among thousands of options, we have come across a great option for you.
The Echo CS 590 Timber Wolf Chain Saw is a very wonderful chainsaw. Although, you may not hear about the brand. Nevertheless, you should keep an open eye for taking a great look at this product. In today's post, we are going to discuss the echo cs 590 review. If you need a chainsaw that is versatile, dependable, and suitable for use, let's jump on this post.
SPECIFICATIONS
| | |
| --- | --- |
| BRAND: | ECHO |
| DIMENSIONS (INCHES): | 20 X 13 X 11 |
| WEIGHT: | 0.01 OUNCES |
| ENGINE DISPLACEMENT (CC): | 59.8 |
| OIL CAPACITY (FL OZ): | 10.2 |
| ENGINE DISPLACEMENT (CU IN): | 3.64 |
| VIBRATION REDUCTION SYSTEM: | STANDARD |
| FUEL CAPACITY (FL. OZ.) : | 21.8 |
| WARRANTY: | 1 YR COMMERCIAL / 5 YR CONSUMER |
---
Key Features:
Dual post chain brake.
59.8 cc 2-stroke grade engine.
Bars and chains range from 16" to 27".
Decompression devices with digital ignition.
Anti-vibration system with the adjustable oiler.
Weight is 13.2 pounds without cutting fuel.
Fuel tank capacity is 21.8 fl. oz.
Two-piece mesh filter with the air filter.
Echo CS 590 Review – In Details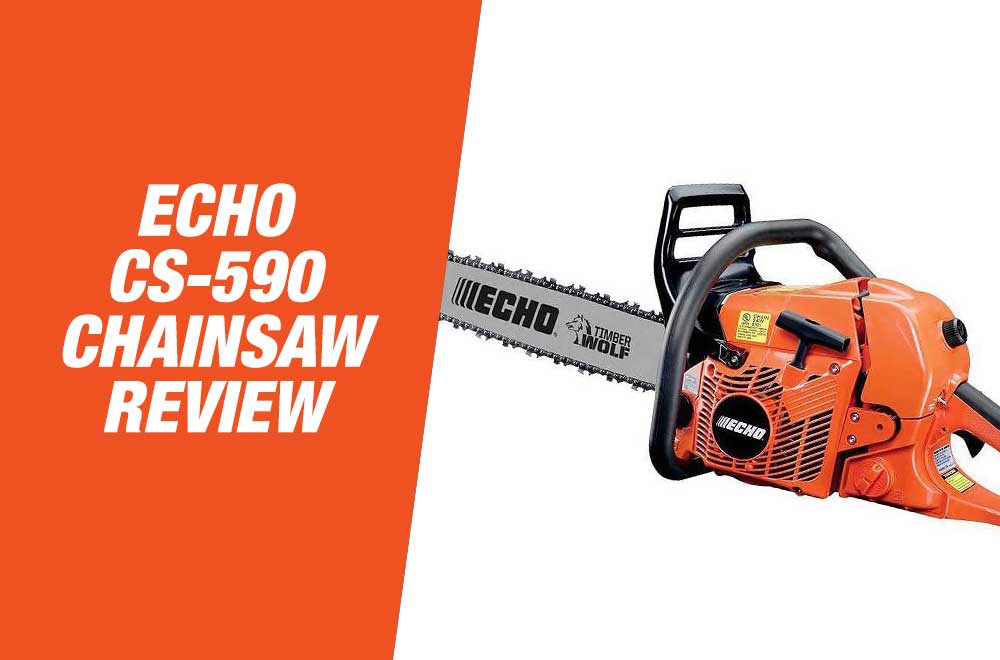 Performance
The Echo CS 590 provides a great amount of power with having a 59.8cc grade engine. It has a heavy speed of 13,000 RPM, which is very powerful. This two-stroke engine needs a fuel mix of oil and gas.
We recommend using a ratio of 50:1. This means using around  89-octane gas with two-stroke oil. The chain is a professional grade. It is 20 inches with a 3 by an 8-inch pitch as well as a 0.050-inch gauge. It provides a corrosion-resistant layer. Besides, it has round-edged chisel cutters.
The weight of this chainsaw is 13.2 pounds. It's neither light nor so heavy. You'll never get tired easily. However, it is not perfect for time-consuming jobs.
Design
In our Echo CS 590 review, we can realize this chainsaw was particularly designed with efficiency. Moreover, it is easy to use. The features are very simple while having no impractical specifications. For example, the oil caps and fuels are attached to plastic. So, nylon rope is not added to contend.
You will find this type of rope on other chainsaws. But, plastic is more durable. In terms of design, another convenient feature is the accessibility of the filter. It is straightforward and simple. There is only one nut on the backside of this product. Below, you will get the filter. You can not lose these nuts as it is affixed.
Safety
There's a saying, "Safety first." It's more applicable in handling a chainsaw. If a chainsaw doesn't have standard safety features, it can be very dangerous to use.
Luckily, you will get great safety features in this chainsaw. The safety features are very unique. Let's now introduce one noteworthy feature. There is the dual-post chain break feature. It helps your chain when it kicks back by rotational inertia generated from the saw blade. Also, you will get a removable safety tip.
It gives kickback protection. There is also vibration damping. It works in reducing the vibrations that come from the chainsaw handles. What's more, there is a chain catcher that will safeguard a cracked chain.
Read About: Chainsaw Safety Gear – You Must Need It Before Work
Maintenance
This model doesn't need any extra maintenance. You just have to follow the usual maintenance required for this type of chainsaw.
First of all, you should double-check the user's manual. Try to keep the chainsaw sterile and prevent sawdust. There is the chainsaw chain oil as well as the air filter. Try to check these frequently. What's more, inspect the chain and ensure the proper sharpness and tension.
Be conscious of keeping the right sharpness. Thus, these are the performance tags that will make sure enough safety for the chainsaw. Overall, this is the necessary information on maintenance you need to know.
Specification Of Echo CS 590
| | |
| --- | --- |
| BRAND: | ECHO |
| MODEL NO: | CS-590-20 |
| DIMENSIONS (INCHES): | 20 X 13 X 11 |
| WEIGHT: | 0.01 OUNCES |
| ENGINE DISPLACEMENT (CC): | 59.8 |
| OIL CAPACITY (FL OZ): | 10.2 |
| ENGINE DISPLACEMENT (CU IN): | 3.64 |
| DRY WEIGHT (LBS): | 113.2 (WITHOUT BAR & CHAIN) |
| STARTING SYSTEM: | STANDARD |
| SPROCKET COVER: | PLASTIC |
| IGNITION SYSTEM: | DIGITAL BAR |
| OILING SYSTEM: | AUTOMATIC/ADJUSTABLE (CLUTCH-DRIVEN) |
| HANDLE: | PLASTIC |
| VIBRATION REDUCTION SYSTEM: | STANDARD |
| FUEL CAPACITY (FL. OZ.) : | 21.8 |
| AVAILABLE BAR LENGTHS (IN): | 18 |
| WARRANTY: | 1 YR COMMERCIAL / 5 YR CONSUMER |
Why Should You Purchase Echo CS 590 Chainsaw?
There are some factors you have to look for before buying a chainsaw. These are as follows:
Buy a chainsaw that offers good quality and performance.
Choose a formal medium or heavy-duty cutting edge to perform a task.
Know what kind of saw you need. If you want heavy use, then choose a power saw.
Some Bonus Information
Warranty
If you buy a chainsaw for normal use, then you'll get a warranty of 5 years. And, if you are going to use it for commercial uses, then the warranty is for 1 year. The warranty indicates that the model is trustworthy.
Frequently Asked Questions
Is this chainsaw simple to start?
It can be said that the chainsaw is easy to start. This chainsaw doesn't come with a primer bulb that is relatively rare in top-end chainsaws. The chainsaw comes with digital ignition. And to start the machine, you will only need to undergo two to three pulls.
Does this model have an adequate warranty?
This Echo model offers a standard warranty. Being a typical residential user, you will get a five years warranty. Which is fairly massive. And, being a commercial business user, there's one year of warranty.
What is the G-Force cleaning system?
The G-Force cleaning system is a factor that eliminates the bigger-sized grime from your chainsaw's airbox. In this way, you won't need any change in the air filter so frequently. This is why this model doesn't need much cleaning and maintenance as other models need.
Conclusion
So, this is all about echo cs 590 review. Indeed, it is a great chainsaw for your solid choice. For any workers or homeowners, the echo cs 590 model is ideal. This chainsaw is convenient and easy to perform heavy-duty jobs. Nevertheless, you should remember that it is a strong and durable chainsaw. Therefore, for any kind of easy job, it is not appropriate. Moreover, The convenience facility should not be overlooked. Apart from this. The chainsaw needs minimal maintenance. Additionally, you can simply use it as a beginner. Most importantly, durability is at the top of our list. Surely, we will recommend this product to you.
---
Read More