Property maintenance chainsaws are not the same as the ones that you would use to cut down large trees in the forest. You want something that's light and easy to handle and has enough fuel capacity to get you through your entire project without having to stop for a refuel.
Two popular names that often come up in this scenario are the Husqvarna 120 mark II and the Stihl MS 170. Both of these chainsaws are light and compact and can serve you well for small to medium-sized cutting jobs. They might not have a lot of engine power, but you don't really need that for property maintenance anyways.
Personally, I have used both of these chainsaws, and for what they are designed to do, they work pretty well. But I did notice some subtle differences between the two chainsaws, which can tilt you to favour one model over another. And that's what I want to discuss here in this article.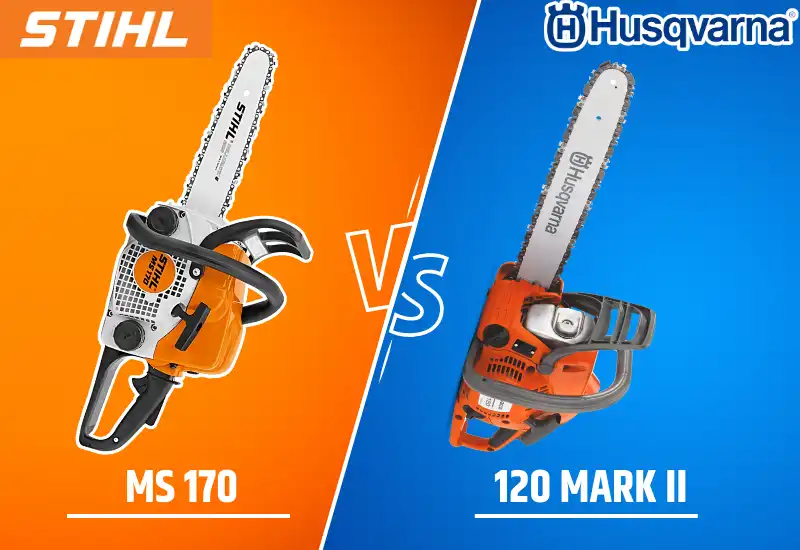 So, if you find yourself caught between the Husqvarna 120 mark II and the Stihl MS 170, then perhaps this Husqvarna 120 mark II vs. Stihl MS 170 will help you get a clearer picture.
Comparison Table with Specs for Husqvarna 120 Mark II and Stihl MS 170
Husqvarna 120 Mark II Gas Chainsaw


Powerhead Weight: 10.7 pounds
Displacement: 38.2 cc
Fuel Capacity: 10.1 oz.
Engine Power: 1.9 hp
Bar Length: 14 – 18 inches

STIHL MS 170 Gas Chainsaw

Powerhead Weight: 8.6 pounds
Displacement: 30.1 cc
Fuel Capacity: 8.5 oz.
Engine Power: 1.7 hp
Bar Length: 12 – 16 inches
Main Features of Husqvarna 120 Mark II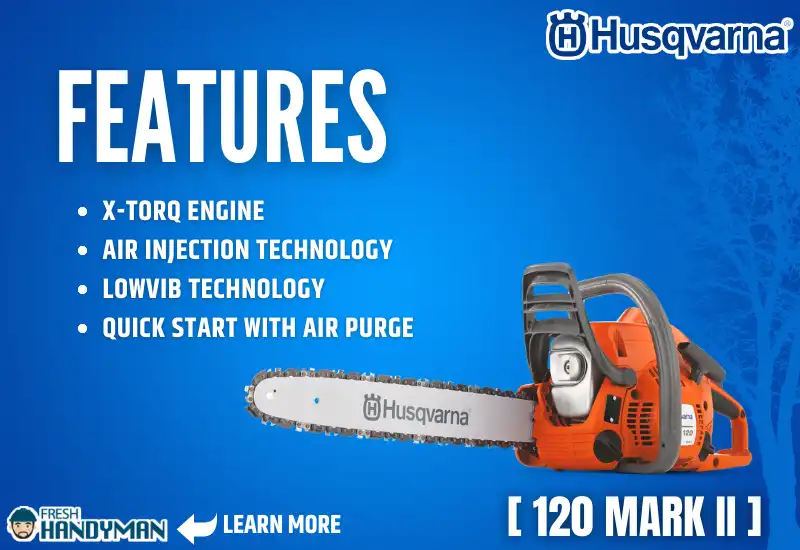 The X-Torq engine technology is the true highlight of the Husqvarna 120 mark II. This engine technology reduces fuel consumption by around 20 percent and also minimizes emissions when you are using the chainsaw.
The air injection technology in the Husqvarna 120 mark II refers to a centrifugal air cleaning system that expels larger debris and dust particles out of the system before they can reach the air filter. This means the air filter in the chainsaw will last longer and will also require less cleaning.
To reduce chainsaw vibration, Husqvarna 120 mark II chainsaw features the brand's signature LowVib technology. It comes with rubber dampeners between the chassis and the engine that absorbs the vibration produced by the chainsaw while operating and minimizes user fatigue.
Quick Start with Air Purge
Thanks to the quick start system in the Husqvarna mark II, you will be able to fire up the engine with minimal effort. When you start the chainsaw, the air is purged automatically from the carburetor and fuel system for efficient ignition.
Read Also: Husqvarna 120 Mark II Problems
Main Features of Stihl MS 170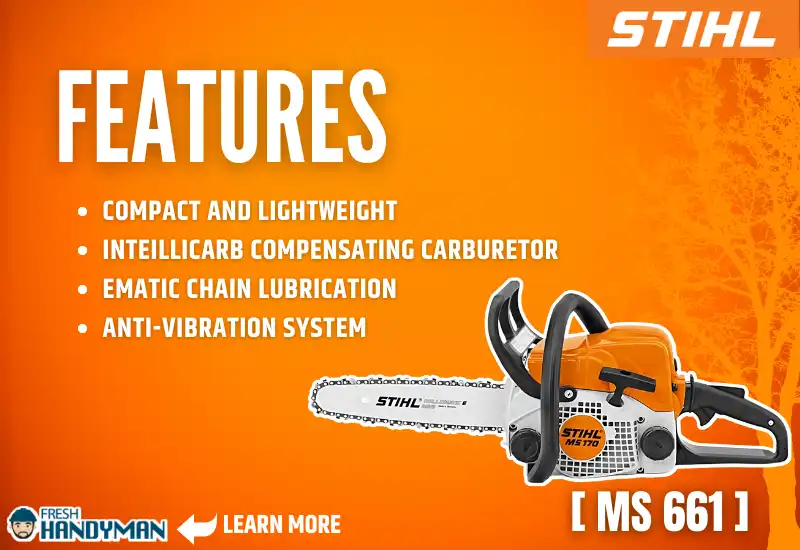 The best thing about the Stihl MS 170 is its size and weight. Remember, this chainsaw is designed mainly for property maintenance, and its compact and lightweight construction makes it an absolute treat to handle for such a scenario. On top of that, the chassis of the chainsaw is also quite well-made and durable.
INTEILLICARB Compensating Carburetor
The carburetor in the Stihl MS 170 is integrated with a compensation technology called IntelliCarb that adjusts the air-to-fuel ratio in your chainsaw to maintain a stable engine RPM. Thanks to this feature, even if your air filter gets partially clogged, you will be able to squeeze out a good performance from your chainsaw.
The Ematic chain lubrication system in the Stihl MS 170 ensures proper chain lubrication. To contain and direct the flow of chain oil, the chainsaw has two ramps placed on the guide bar rail. This system not only ensures optimal lubrication but also reduces oil consumption by up to 50 percent.
Similar to the LowVib technology in top-tier Husqvarna chainsaws, the Stihl MS 170 is equipped with an anti-vibration system to minimize chainsaw rattling during operation. This system reduces operator fatigue even when you are working with the chainsaw for long stretches of time.
Read Also: Stihl MS170 Won't Start/Starting Problem
Differences Between Husqvarna 120 Mk. II and Stihl MS 170
Now that you have a decent idea of the brand-specific features that come with the two chainsaws, it's time to dive in a bit deeper. As I already said, both of them are home maintenance chainsaws, but there are some differences here and there that set them apart.
In this section, I will highlight the key differences between the Husqvarna 120 mark II and Stihl MS 170 to help you decide which chainsaw you want for yourself.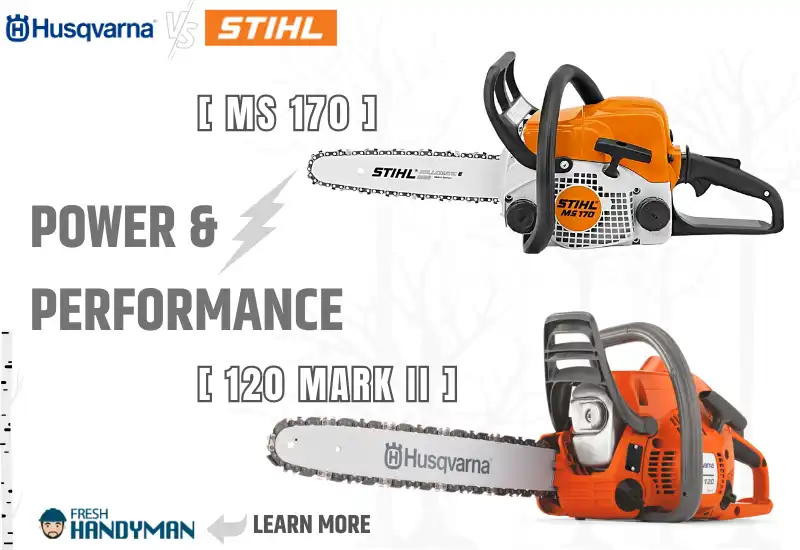 While engine power is an essential factor when buying a heavy-duty chainsaw, it holds less precedent for a compact daily driver such as these two. For lightweight cutting projects around the house, you don't need as much engine power in your chainsaw as you would for cutting down large trees.
That being said, the engine capacity of the Husqvarna 120 mark II and the Stihl MS 170 are pretty similar. The Husqvarna 120 mark II comes with a 38 .2 cc engine that can deliver up to 1.9 hp output, while the Stihl MS 170 has a 30.1 cc engine that caps out at 1.7 hp.
Yes, if you are strictly talking numbers, the Husqvarna chainsaw seems like the better option of the two. However, when I tried out the two chainsaws, their performance felt almost identical. Both of these chainsaws cut through branches of similar thickness equally well.
But then again, numbers don't lie, so I would have to hand the crown to the Husqvarna 120 mark II here. However, don't let the engine power be the sole determinant in your decision. There are other factors to check here as well before you commit to a specific chainsaw.
Winner: Husqvarna 120 mark II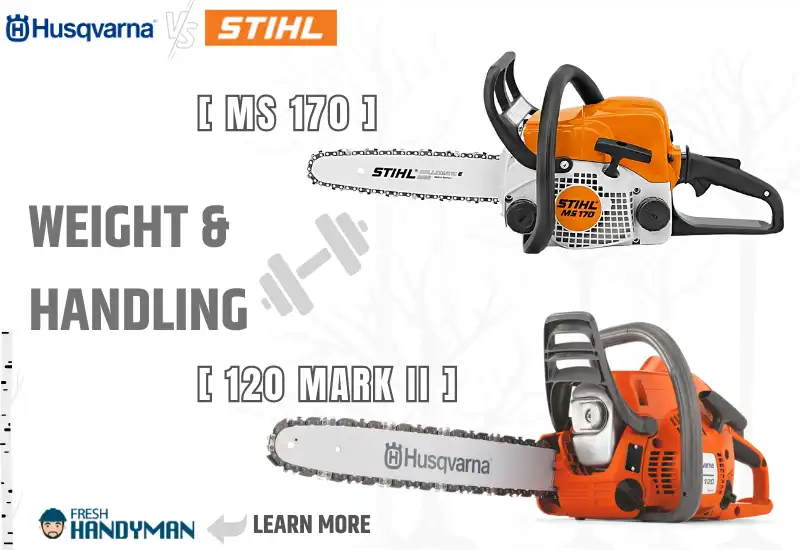 For daily driver chainsaws, the most important factor for me is their weight. Think about it – if you have to carry around the chainsaw with you as you move from one spot to another, you would have an easier time with a lightweight, compact chainsaw that's easy to handle, right?
The Husqvarna 120 mark II is a pretty lightweight chainsaw, at least compared to most of the other heavy-duty chainsaws out there. It weighs around 11 pounds which means you should be fine carrying it around with you around your property without feeling any fatigue.
However, the Stihl MS 170, with its 8.7 pounds weight, adds a whole other dimension to your mobility and comfort when you are using the chainsaw. It's around 2 pounds lighter than the Husqvarna chainsaw, which means, theoretically, you should feel much easier carrying it around with you around your yard.
Then again, two pounds of weight difference isn't really the end of the world. While the MS 170 did feel a bit lighter, I didn't have all that trouble carrying the 120 mark II at all when I was testing them out. Still, in terms of weight and handling, the MS 170 seems like the better choice.
Winner: Stihl MS 170
Fuel Efficiency and Capacity
Fuel efficiency and fuel capacity are both important things to think about when investing in a chainsaw. If the fuel capacity is poor, you will need to stop in the middle of your work to refuel, which I absolutely hate. And an inefficient chainsaw that chugs up fuel can also weigh heavy on the wallet.
The good news here is that both Stihl and Husqvarna chainsaws are pretty well-known for their amazing fuel efficiency. So, you don't need to worry about your chainsaw consuming too much fuel. Since their engines are optimized for efficiency, a full tank of gas should last you a decent while.
But the fuel capacity is a different matter. When both chainsaws are fuel efficient, the one with a bigger tank will be the obvious winner. And in this case, that honor goes to the Husqvarna 120 mark II.
The Husqvarna chainsaw can hold up to 10 ounces of fuel, while the Stihl MS 170 caps out at 8.5 ounces. Don't get me wrong – the fuel capacity of the MS 170 is still pretty decent, but it's not as good as the Husqvarna 120 mark II.
Winner: Husqvarna 120 mark II
The guide bar length dictates the length of the bar you can use with your chainsaw. While lightweight cutting tasks can be done pretty easily with a smaller bar, for heavy-duty applications, a longer bar will give you better performance. But since the two chainsaws here are both designed for property maintenance, the range of options in them is pretty limited.
For instance, the Stihl MS 170 is compatible only with bar lengths ranging between 12 to 16 inches. That means you won't be able to use it for any heavy lifting. But for basic cutting tasks, such as chopping up firewood, a 16-inch bar should be enough.
The Husqvarna gives you a bit more upper limit with its ability to equip bars of up to 18 inches in length. This gives you a bit more cutting capacity, but it's still not enough for a heavy-duty workload.
While I don't recommend putting either of these chainsaws through any heavy-duty applications if you absolutely must, the Husqvarna 120 mark II is the better option. Its extra length of bar compatibility comes in handy when you need to cut through thicker logs in an emergency.
Winner: Husqvarna 120 mark II
While looking at the features and specifications of the chainsaw is fun, sometimes your decision boils down to the price. If you don't have the budget for a chainsaw, you can't buy it – it's as simple as that.
Now the good news here is that you can pick up either of these chainsaws for under 200 dollars which means you won't be breaking the bank with your investment. The Husqvarna 120 mark II might cross the 200-dollar price mark depending on where you are buying it from.
But if you want the Stihl MS 170, you should be able to pick one up for under 200 dollars.
Winner: It's a tie! Both cost about the same.
VIDEO– Husqvarna 120 Mark II Vs Stihl MS 170
Husqvarna 120 Mark II Vs Stihl MS 170: What's the Verdict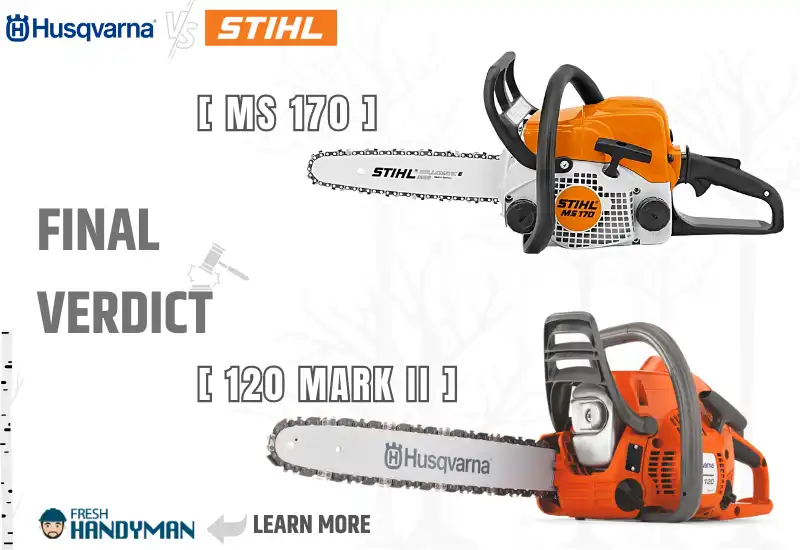 Frankly, the difference between the Husqvarna 120 mark II and the Stihl MS 170 is pretty minimal. If you want to pick up a chainsaw for lightweight yard tasks, you honestly can't go wrong with either one of them.
There are some strengths and weaknesses to both chainsaws. For instance, the Husqvarna 120 mark II, despite featuring a bit more engine power and guide bar compatibility, has more weight to it, which can make it a bit more hectic to handle compared to the Stihl MS 170.
On the other hand, the Stihl MS 170 is extremely lightweight and compact, meaning you will have a great time carrying it around from point A to point B, but that comes at the cost of a smaller fuel tank. There are some tradeoffs here and there.
In addition, you will get some brand-specific features depending on the chainsaw you decide to go with. If you prefer the Husqvarna Air Injection and X-Torq Engine design, then the 120 mark II might be more to your liking. But the Stihl Ematic chain lubrication system and Intellicarb carburetor technology are not to be underestimated either.
Keep in mind, though, these chainsaws are really not meant for heavy-duty workloads, so if you want a chainsaw for milling, you would have better luck looking elsewhere.
I hope I can give you a clear comparison between the Husqvarna 120 mark II and Stihl MS 170 to help you figure out which chainsaw is more worth your money. Good luck!