Not everyone has a thousand dollars to spend on chainsaws. I was one of them on the lookout for a chainsaw within $300.
With this budget, it wasn't easy to find good chainsaws, but after extensive research, I came up with a list of seven excellent chainsaws.
If you are like me and having trouble finding a budget-friendly saw, you're in the right place. Check out the products I recommended in the article. You will surely find the best chainsaw under $300 on the list.
I selected the budget chainsaws only from reputable brands, such as Husqvarna, Dewalt, BLACK+DECKER, Greenworks, EGO Power+, Worx and Poulan Pro. Hence, you can rest assured about their quality and reliability.
On a different note, if you have a budget of less than $300, you can head over to this article where I compiled a list of my top chainsaw picks under $200.
All right, let's get started!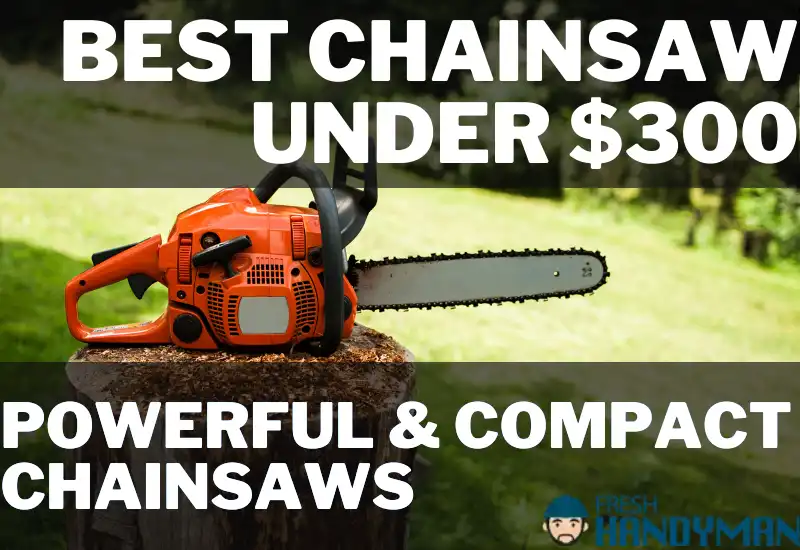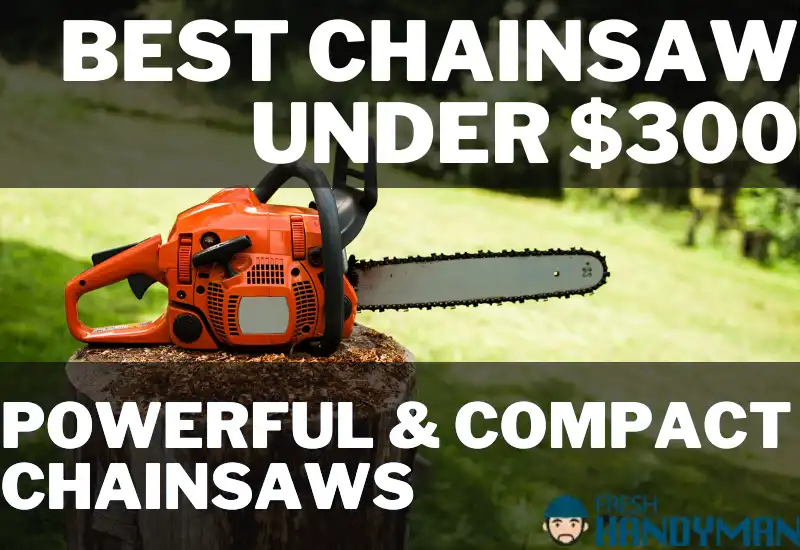 Here are the TOP 7 Chainsaws Under $300
Image
Product
Details  
Price
DEWALT DCCS620B 20V Chainsaw
Brand: Dewalt
Weight: 9 Pounds with Battery
Dimensions (LxWxH): 25 x 9 x 9 In
Power Source: Battery Powered
Warranty: 3 Years
Check Price
Greenworks G-MAX Cordless Chainsaw
Brand: Greenworks
Weight: 10.36 pounds
Dimensions (LxWxH): 31x 9 x 8.5 In
Power Source: BatteryPowered
Warranty: 3 Years
Check Price
Husqvarna 120 Mark II Chainsaw
Brand: Husqvarna
Weight: 4.22 Pounds
Dimensions (LxWxH): 32 x 9.25 x 4.21 In
Power Source: Gas-Powered
Warranty: 2 Years

Check Price
Ego CS1800 Cordless Chain Saw
Brand: EGO Power+
Weight: 14.32 Pounds
Dimensions (LxWxH): 34 x 9.9 x 9.5 In
Power Source: Battery-Powered
Promise: 5 Years of Tool Warranty and 3 Years of Battery Warranty
Check Price
BLACK+DECKER LCS1240 Cordless Chainsaw
Brand: BLACK+DECKER
Weight: 9.08 Pounds
Dimensions (LxWxH): 28.56 x 8.81 x 9.63 In
Power Source: Battery-Powered
Warranty: 2 Years
Check Price
Worx WG304.1 Electric Chainsaw
Brand: Poulan Pro
Weight: 11.3 Pounds
Dimensions (LxWxH): 20.6 x 14.6 x 8.1 In
Power Source: Corded Electric
Warranty: 3 Years
Check Price
Poulan Pro PR5020 Gas Chainsaw
Brand: Poulan Pro
Weight: 17 Pounds
Dimensions (LxWxH): 12 x 16 x 11.8 In
Power Source: Gas-Powered
Warranty: 3 Years
Check Price
Top 7 Best Chainsaw Under $300 Reviews For 2022
I have hand-picked seven budget-friendly products packed with features that will enhance your cutting experience. Have a look at them.
Searching for a cordless chainsaw that's reliable? I've got you covered with this top-notch power saw from Dewalt. It comes with lightweight construction for carrying outdoors and working for long periods without fatigue. Here are the specs of the tool.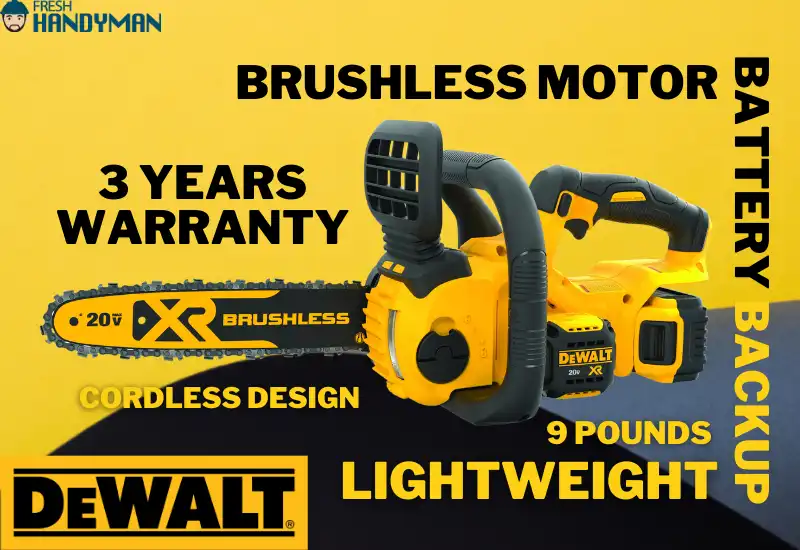 Features
Brushless Motor: I am particularly not a fan of brushed motors, given how often they need replacing. To avoid spending a lot of money on motor replacements, go for this Dewalt saw featuring a brushless motor. It has several advantages over the brushed one, such as a higher torque-to-weight ratio. You will also experience improved torque for every watt of power input. The chainsaw would also offer a long-lasting performance thanks to the brushless motor.
Battery Backup: Cordless chainsaws are not worth the money if they have short battery life. After all, what is the point of going cordless then? With a 20V MAX 5Ah battery, this chainsaw won't let you down when it comes to battery backup. More specifically, you can make 90 cuts per charge if it is a 4×4 pressure-treated wood. When you need to cut a lot of logs without pauses, this will be the best tool for the job.
Lightweight: The product is one of the lightest chainsaws from Dewalt. It weighs around 8.8 pounds if there is no battery equipped. Worried that the battery might add extra weight? Well, not really. The chainsaw weighs no more than 9 pounds, even with a battery inside. The compact weight of the power tool makes it easier for you to maneuver, operate, and control it. However, not everyone finds lightweight appealing. For them, the Ego CS1800 Cordless Chainsaw and Poulan Pro PR5020 Gas Chainsaw are better choices.
Specifications
| | |
| --- | --- |
| BRAND: | DEWALT |
| WEIGHT: | 9 POUNDS |
| DIMENSIONS (LxWxH): | 10 X 35 X 9 In |
| POWER SOURCE: | BATTERY-POWERED |
| WARRANTY: | 3 YEARS |
FAQs of DEWALT DCCS620B
Does the included chain need to be sharpened, or does it come with a sharp edge?
The chain comes pre-sharpened out of the box, so you don't need to sharpen it.
Can the saw cut through a tree with a diameter of 10 inches?
Yes, given the chain is well sharp, the Dewalt chainsaw can cut through trees even up to 16 inches in diameter with ease.
Will I get a bar sheath with the product?
The chainsaw does come with a plastic cover that safeguards it during storage.
---
The market is overflowing with professional chainsaws. Thus, it may be hard to find an affordable and good-quality chainsaw for simple yard projects.
Fortunately, I have one designed specifically for homeowners from Greenworks. You can see some of its key features below. Meanwhile, if you need something more professional, check out the Worx or Poulan Pro chainsaws reviewed further down in this article.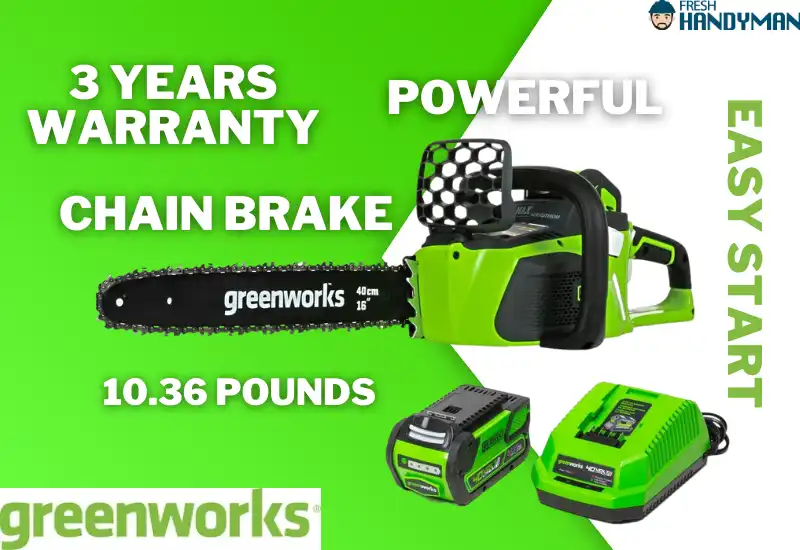 Features
Chain Brake: It is not only the cutting power of the saw that matters. A safety feature such as the chain brake is crucial too, as it is directly related to the operator's safety. This Greenworks unit has a great chain brake that prevents your hands from being stabbed by tree branches and limbs. Another benefit of the brake is its ability to stop a saw running at full power immediately.
Easy Start: It can take forever to turn on the chainsaw by pulling the rope sometimes. And worst of all, sometimes, no matter how hard you pull the rope, the machine won't start. There is no need to pull anything with this product because it comes with a push-start system. Neither a spark plug nor a starter rope is required. It only takes a slight push to start the tool.
Powerful: Considering it is a battery-powered machine, you might not expect it to be powerful. However, it is actually quite powerful. It generates the same power as a 35cc gas-powered chainsaw. Furthermore, the saw runs quietly and efficiently, extending runtime and motor life. All courtesy of a brushless motor.
Specifications
| | |
| --- | --- |
| BRAND: | GREENWORKS |
| WEIGHT: | 10.36 POUNDS |
| DIMENSIONS (LxWxH): | 31 X 9 X 8.5 In |
| POWER SOURCE: | BATTERY-POWERED |
| WARRANTY: | 3 YEARS |
FAQs of Greenworks G-MAX
How does this version differ from its previous model?
There are a bunch of improvements with this model, including chain adjustment, chain brake, charger, and battery.
Is there an AC adapter available for this unit?
You have to attach the power cord straight to the charger, meaning AC adapters are not necessary.
Can I use other 40V batteries like those from Ryobi?
No, the saw is not designed to work specifically with Greenworks 40V battery models.
---
These days, some chainsaws refuse to start with a mere tug of the rope. If you want to avoid starting problems, the Husqvarna saw will serve you well. In addition, it is a compact unit that is more than suitable for casual use.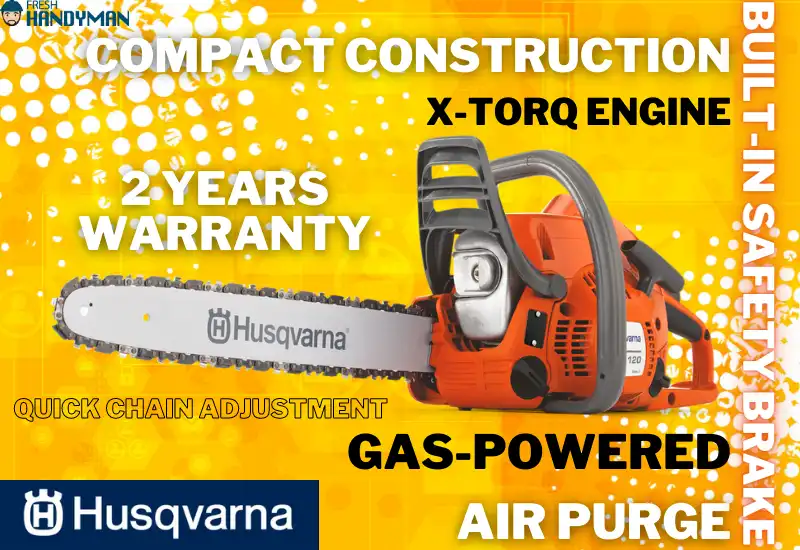 Features
Compact Construction: For those who are wary of lifting heavy chainsaws and want to give their hands a rest, this 10.7-pound unit would be the right choice. The weight allows the user to move and operate the saw easily. Thanks to the low vibration level, the operating experience becomes even more pleasant.
X-Torq Engine: Husqvarna offers this excellent chainsaw with an X-Torq engine. In comparison to regular gas engines, this one provides a number of benefits. You will notice it does not consume much fuel. This will save you money and eliminate the hassle of constantly refilling the tank. Moreover, the engine is known for its low gasoline emissions
Air Purge: Unbeknownst to many, carburetors and fuel systems can accumulate air. It can lead to the saw failing to start. With this saw, such problems will not occur due to its air purge. It ensures a smooth and trouble-free start by removing any air that may have built up.
Specifications
| | |
| --- | --- |
| BRAND: | HUSQVARNA |
| WEIGHT: | 4.22 POUNDS |
| DIMENSIONS (LxWxH): | 32 X 9.25 X 4.21 In |
| POWER SOURCE: | GAS-POWERED |
| WARRANTY: | 2 YEARS |
FAQs of Husqvarna 120
What is the displacement of the engine?
You will have around 35cc of displacement with the chainsaw, which is pretty good.
Is it possible to buy this chainsaw with a 14-inch bar?
Although many Husqvarna models come with a 14-inch bar option, unfortunately, this product cannot be ordered with the 14-inch bar.
What is the capacity of the tool in terms of fuel?
It has a fuel capacity of 0.28 liters, which is quite sufficient for casual use.
---
Among the products on the list, the Ego chainsaw is one of the most popular ones. Almost no crucial feature is missing from the saw. Furthermore, it boasts a massive 11,000 RPM. Whether it is extra features or performance, the saw excels in both departments.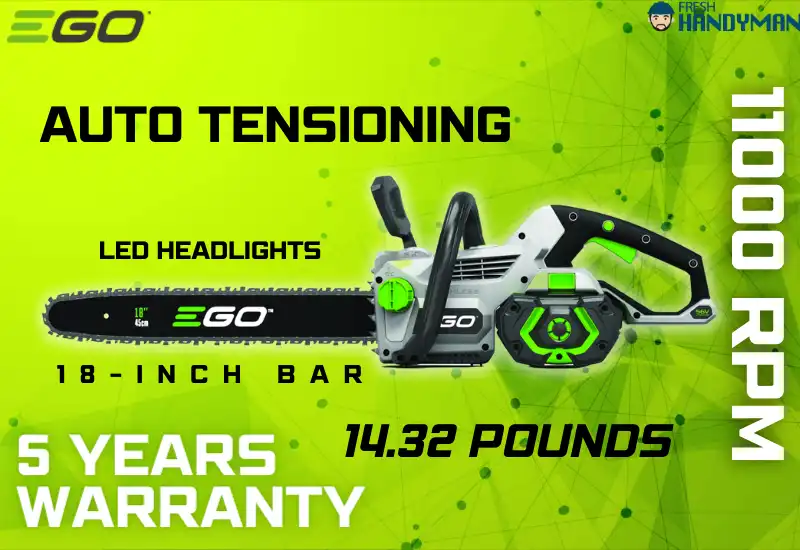 Features
Auto Tensioning: Adjusting the chain can be challenging for someone unfamiliar with it. The task becomes even more complicated with new saws since you have to adjust the chain perfectly for every cut. Thanks to the auto-tensioning mechanism of Ego, you need not worry about chain adjustment any longer. With a swift turn of the knob, you can position the chain precisely to suit your needs.
Performance: Tried several chainsaws but aren't happy with their cutting performance? You should consider this tool if you need one with plenty of power. It has a maximum speed of 11000 RPM, which is fast enough for efficient cutting. Moreover, while cutting for a longer period of time, you won't have to be concerned about the battery continuously. It lasts up to 200 cuts without getting drained.
LED Headlights: Sometimes the weather doesn't cooperate, particularly when you are working on an important project. Gloomy skies can often make it difficult to get adequate light. As such, if you require better visibility, the Ego chainsaw will provide that with its bright LED lights.
Specifications
| | |
| --- | --- |
| BRAND: | EGO Power+ |
| WEIGHT: | 14.32 POUNDS |
| DIMENSIONS (LxWxH): | 34 x 9.9 x 9.5 In |
| POWER SOURCE: | BATTERY-POWERED |
| WARRANTY: | 5 YEARS |
FAQs of Ego CS1800
How much does the saw weigh without the battery?
With no battery attached, the product weighs 9.7 pounds.
For lubricating the sprockets, what kind of grease should I use?
You do not need any fancy grease for the sprockets. Any conventional chain oil will do the job.
Are there any covers to protect the chainsaw?
For the chain's safety, there is a plastic cover guard. However, this unit does not have any covering that wraps around the whole saw.
---
Looking for a chainsaw that has a long-lasting battery? When it comes to battery life, the Black+Decker saw is unbeatable. The 40V MAX battery provides an abundant supply of power for a long time. It also has numerous exciting features, such as automatic oiling.
However, many people prefer gasoline-powered chainsaws to cordless ones. I also have a fantastic option for them called Husqvarna 120 Mark II Chainsaw. Go to the third entry on the list to find its review.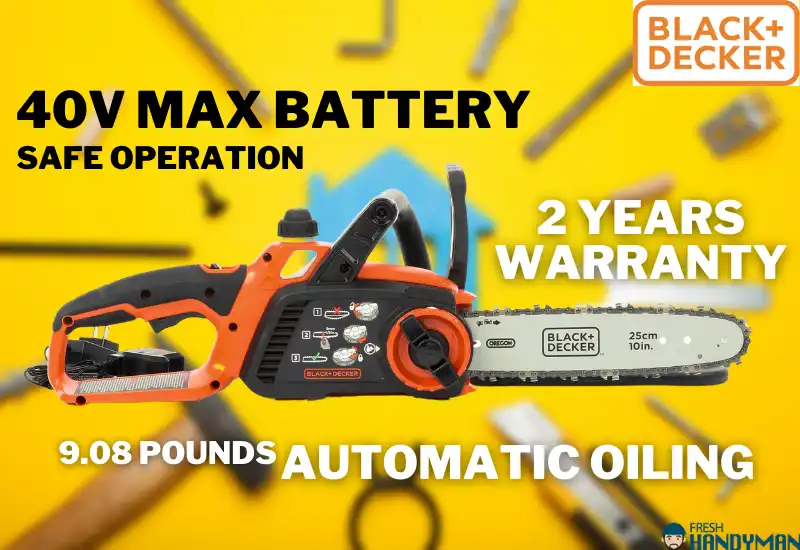 Features
Battery Life: Those days are over when you had to be stressed about battery backups. This tool supports the powerful 40V MAX battery that is always ready for use. If you leave the product idle, the battery will remain charged for 18 months. In terms of battery backup, you can effortlessly perform 60 4×4 pine lumber cuts in a single charge. From this, it should be clear how lengthy the battery runtime is.
Automatic Oiling: At times, my chainsaw does not produce output as it should. I wondered what could cause that. It did not take long to find out that the chain and bar were not adequately lubricated. With this unit, you won't face the same problem I did. The automatic oiling system lubricates the chain and bars itself so that you can focus on other tasks.
Safe Operation: The CDC reports that about 36,000 people are injured by chainsaws each year. Isn't that insane? If you do not wish to be on that list, you may consider purchasing this Black Decker saw. In addition to the lock-off button, it has a hand guard on the front. Both of them will keep you safe even if you do not take safety seriously.
Specifications
| | |
| --- | --- |
| BRAND: | BLACK+DECKER |
| WEIGHT: | 9.08 POUNDS |
| DIMENSIONS (LxWxH): | 28.56 x 8.81 x 9.63 In |
| POWER SOURCE: | BATTERY-POWERED |
| WARRANTY: | 2 YEARS |
FAQs of BLACK+DECKER LCS1240
When the chainsaw is plugged in, is it operational?
No, it only supports the cordless operation. The saw runs as long as there are batteries inside.
How loud is the saw?
Compared to other power tools, the chainsaw is fairly quiet as it is an electrical product.
How long can the battery last when it comes to cutting firewood?
Depending on the thickness of the wood, it will last for at least 20 to 30 minutes.
---
Among electric chainsaws, the Worx unit is one of the most powerful products with a 15 amp motor. For additional performance, the saw is equipped with an 18-inch bar capable of cutting almost any type of tree.
Last but not least, the user's safety is ensured by chain brakes and low kickback technology.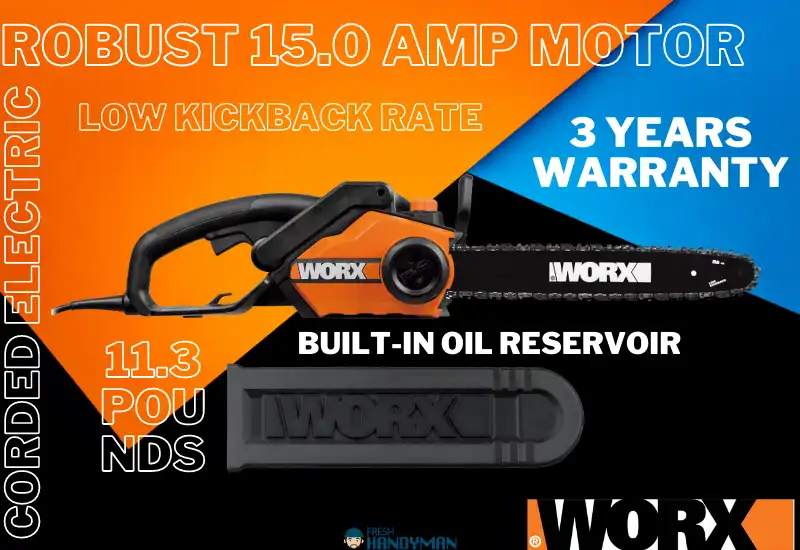 Features
Powerful Motor: Some people are simply drawn to chainsaws with an impressive amount of power. The Worx electric saw is a no-brainer for them. It has a robust 15.0 Amp motor that provides all the power you need to cut through stubborn trees.
Oil Reservoir: Rarely does one come across an electric chainsaw with a built-in oil reservoir. The feature can be handy for professional loggers. Moreover, you get a window level indicator too. Since you can check your oil level at a glance, you will never be short on fuel.
Low Kickback Rate: Kickbacks are one of the main reasons why people get hurt while operating a saw. They can also make it tough to precisely cut a tree. Thanks to the low kickback bar and metal spikes, there will be significantly less kickback compared to other chainsaws. For further safety, the machine is equipped with a chain brake.
Specifications
| | |
| --- | --- |
| BRAND: | WORX |
| WEIGHT: | 11.3 POUNDS |
| DIMENSIONS (LxWxH): | 20.6 x 14.6 x 8.1 In |
| POWER SOURCE: | CORDED ELECTRIC |
| WARRANTY: | 3 YEARS |
FAQs of Worx WG304.1
What is the suitable sharpening kit for this chainsaw?
Sharpening kits of varying quality are available. I would recommend getting the Buffalo Tools ECSS Electric Chainsaw Sharpener for a decent result.
Will there be a chain included with the product?
Yes, the saw certainly is bundled with a chain as well as a small bottle of chain oil for free.
What is the largest diameter tree that the chainsaw can cut?
The saw can easily slice through 10-12 inch trees. On occasion, the users of the tool were able to rip red oak as thick as 36 inches.
---
Poulan has addressed a number of the common issues associated with gas chainsaws by introducing this product. It features the OxyPower engine technology, which offers a variety of benefits to the saw, including better power, fuel economy, and eco-friendliness.
First, let's look at the specs, then I will move on to the features.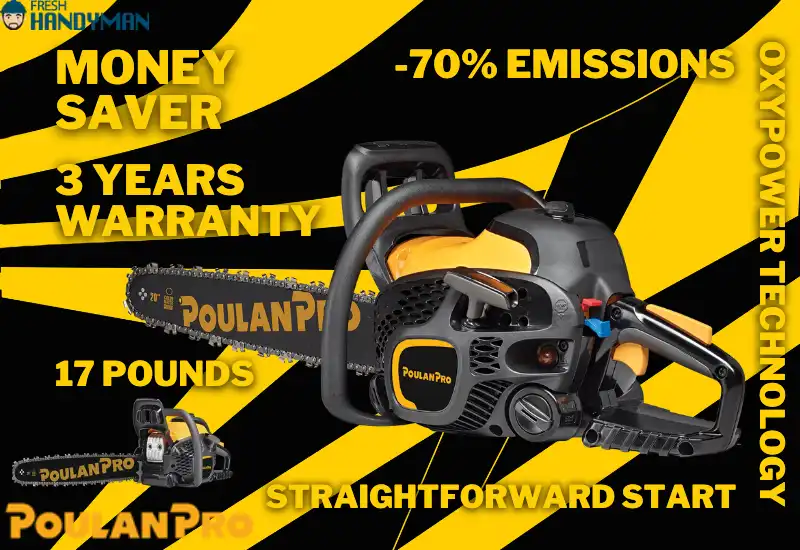 Features
Straightforward Start: Though gas chainsaws possess a tremendous amount of power, people often avoid them due to their traditional features like pull starts. Well, I cannot really blame those people as some saws won't start even when they are yanked vigorously. For this reason, The Poulan chainsaw has an effortless pull starting system. To everyone's surprise, the system drastically reduces pull force by 30%. Therefore, a gentle pull will allow you to start the tool.
High Performance: Chainsaws powered by gas already have a great power output. The Poulan chainsaw increases that power even further. This is possible because it uses OxyPower technology that generates additional power.
Money Saver: If your gas chainsaw consumes fuel to the point where it becomes a financial burden, time to replace it with this magnificent tool. Once again, thanks to the OxyPower technology, the product tends to use 20% less fuel than normal, saving you money.
Specifications
| | |
| --- | --- |
| BRAND: | POULAN PRO |
| WEIGHT: | 17 POUNDS |
| DIMENSIONS: | 12 X 16 X 11.8 In |
| POWER SOURCE: | GAS-POWERED |
| WARRANTY: | 2 YEARS |
FAQs of Poulan Pro PR5020
Will I receive any extra chains in the box?
No, replacement chains are not included in the package with the saw.
Is a 16-inch bar compatible with this chainsaw?
Yes, the chainsaw can be equipped with a 16-inch bar, but you will also need a shorter chain.
---
Buying Guide For Chainsaws Under $300
Here are a few factors you must take into consideration before buying a chainsaw.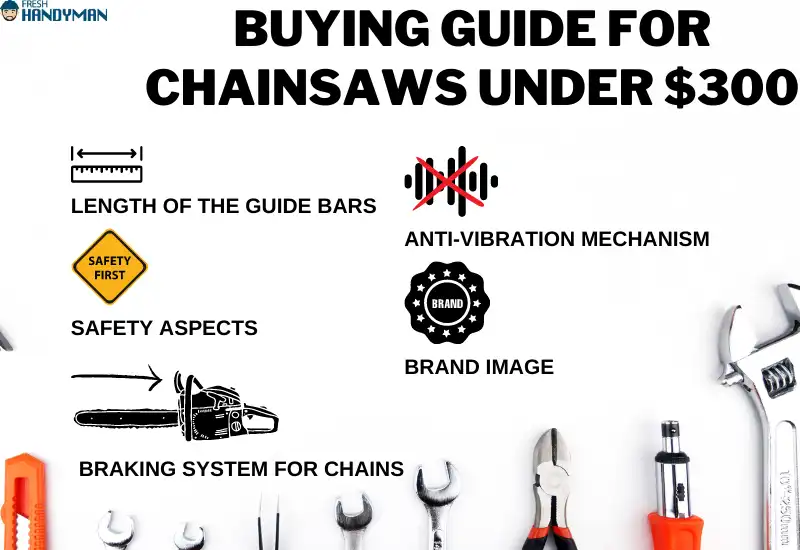 1. Length of the Guide Bars
You need to consider the guide bar length since it is crucial for cutting efficiency and determining the thickness of the cut.
It is necessary to have large bars when the trees are thick. On the other hand, smaller bars are appropriate for thin trees.
A guide bar with a length between 6 to 15 inches is suitable for small trees, whereas 15 to 20-inch bars are ideal for medium to large trees.
If you prefer a large bar, go for the Poulan Pro Chainsaw as it boasts a gigantic 20-inch bar.
RELATED: How To Measure Chainsaw Bar?
2. Safety Aspects
When it comes to chainsaws, safety is always a major consideration. Any saw can cause severe injuries in the event of an accident.
Hence, manufacturers developed several safety features to minimize the risk. Chain brakes and low-kickback bars, for instance, are more prevalent safety features. Such features can prevent accidents caused by chainsaws.
3. Brand Image
Reputed brands spend more time and money to deliver top-notch products to their customers. They design power tools that are safe and easy to operate using modern technology.
Moreover, a product from a renowned brand is likely to have easily replaceable parts. Taking this into account is crucial because chainsaws often need parts replaced.
A well-known brand also cares about their reputation, so you can expect better after-sales services, such as the warranty.
I featured multiple products from trusted brands on my list, including Husqvarna 120 Mark II Chainsaw, DEWALT DCCS620B 20V Chainsaw and Greenworks G-MAX Cordless Chainsaw.
4. Anti-Vibration Mechanism
In response to the rotation of the chain and motor, chainsaws can vibrate, sometimes very harshly. You will have a hard time operating the machine if it vibrates too much, especially when you are trying to use it precisely.
The purpose of an anti-vibration system is to eliminate problems such as these. Unfortunately, many chainsaws lack this feature. Before purchasing, check to see whether your saw has anti-vibration technology.
5. Braking System for Chains
It is always a good idea to be safe around chainsaws, particularly near the chain. Having the chain braking feature makes it easy to control the chain as you can stop it instantly. It also safeguards you from getting injured by chains.
Gas, Cordless Electric, or Corded Chainsaw: Which Would Be The Best Choice Under $300?
You might be wondering what chainsaw to buy within $300 among gas, cordless, and corded models. Hence, I have outlined each of the chainsaw's positives and shortcomings below. It should help you toward making an informed decision.
Advantages of Gas Chainsaws
Reliability: There were initially only gas chainsaws available on the market. For being on the market for the longest, they have built an excellent reputation and reliability that other chainsaws cannot match.
Power: Although gas chainsaws still use some really old technologies, their power never ceases to amaze. No other saw comes even close to delivering the same power as gas-powered units do.
Engine: Since power is correlated with the engine, let's talk about it a little. It is not unusual for engines to malfunction on chainsaws. You can usually fix the engine problems of these saws yourself. It ultimately saves you the money you would have spent on repairs at a shop.
Design: I should not let the design of the gas chainsaw go unmentioned. If I want to describe it in a single word, it would be "flawless." As gas chainsaws have been around for a while, the design has undergone so many changes. Thus, it is just perfect from the point of view of user comfort, operation, and movement.
Disadvantages of Gas Chainsaws
Maintenance: As for the downside, I would say the struggle people have in maintaining gas saws. The novices are especially affected by this issue.
Starting Process: The above inconvenience is still not as bad as the start-up of gas chainsaws. They still need you to pull the rope to get them going. Due to the pulling action, people with shoulder problems prefer not to use these saws.
Noise: Another concern is the loud production of sound. It can be quite irritating, but fortunately, some manufacturers have implemented technologies to minimize the sound.
---
Advantages of Cordless Electric Chainsaws
Improvement in Power: There used to be a substantial gap in power between gas and electric saws. However, currently, manufacturers are trying their best to match the power of gas-powered ones. It won't be absurd to claim that electric chainsaws may soon equal gas chainsaws in power.
Starting: Electric saws are way easier to start than their rivals. There is also no loud noise during the start. Moreover, the overall operation of electric chainsaws is pretty quiet.
Disadvantages of Cordless Electric Chainsaws
Battery: Unfortunately, just like other electric tools, the battery of their chainsaws runs out quickly. It can be very frustrating while tackling long-term projects.
Motor: The battery-powered motor is another drawback because you cannot fix many of its problems yourself. It requires professional help, often at a high cost.
---
Advantages of Corded Electric Chainsaw
Budget-friendly: For people with limited budgets, I do not think there is a better alternative than corded electric chainsaws. You will easily get a high-end corded saw even when on a tight budget.
Source of Power: The biggest advantage of corded saws over gas and cordless ones is that you do not need a battery or gas to operate them. They are plug-and-play.
Casual Use: If you do not intend to use the chainsaw for professional projects, you should buy a corded chainsaw. Some people just need a good saw to do their yard work. These corded products are ideal for that purpose.
Disadvantages of Corded Electric Chainsaw:
Cord Length: The main disadvantage of corded saws is that they can only be used in a limited area. The shorter the wire, the smaller your working area will be. If you buy a lot of extension cords, the coverage can be increased, but it is likely to be rather pricey.
---
To Sum Up
Picking the top seven budget chainsaws was extremely challenging since the market is flooded with such a large number of saws. Nonetheless, I managed to gather some great products that offer outstanding features, power, and durability. Hopefully, the list I provided will help you in choosing the best chainsaw under $300.
As for my recommendations, I believe no one beats the Poulan Pro PR5020's 50cc engine in terms of power.
On the other hand, the BLACK+DECKER LCS1240 Cordless Chainsaw comes out on top as the most powerful electric chainsaw battery. Compared to other options, the 40V Max battery offers remarkably long runtime and battery life.
Last but not least, I would like to mention the DEWALT DCCS620B Chainsaw as being exceptionally light and yet capable of superior performance.
---
Read More