The debate of which chainsaw is better between Husqvarna 450 and 455 Rancher is one that's been raging for a while now. You can't just look at the brand-specific features since both of these chainsaws are from the same brand. To figure out which chainsaw is better, you need to do some digging.
Of course, looking at its primary metrics, such as weight, power, or fuel capacity, can help you get a general idea about the quality of each chainsaw. But since the specs in the two chainsaws are pretty similar, I won't blame you if the whole thing seems a bit too confusing for you.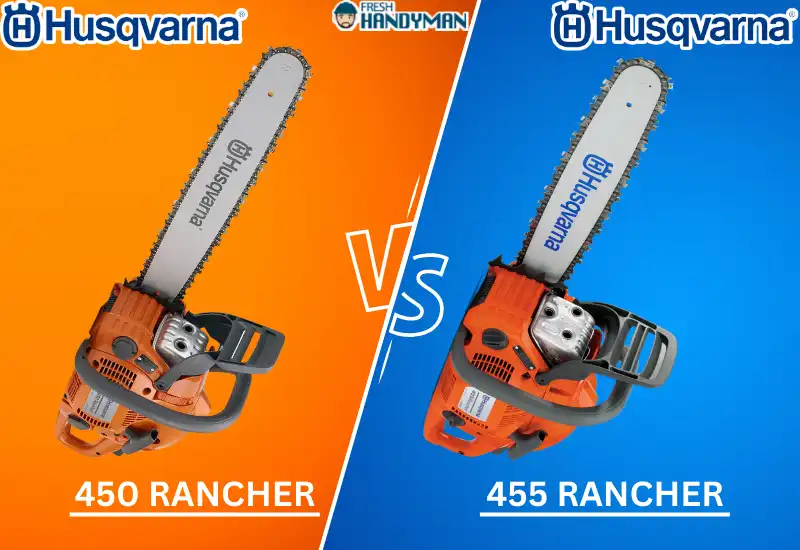 So, let's try and make things a bit easier for you. In this article, I will give you a thorough comparison between the Husqvarna 450 and 455 Rancher and help you decide which chainsaw is the better choice of the two. Let's jump in.
Comparison Table with Specs for Husqvarna 450 and 455 Rancher
| Key Factor | Husqvarna 450 Rancher | Husqvarna 455 Rancher |
| --- | --- | --- |
| Powerhead Weight | 11.2 pounds | 13 pounds |
| Displacement | 50.2 cc | 55.5 cc |
| Fuel Capacity | 15.2 oz. | 14.9 oz. |
| Chain oil capacity | 8.8 oz. | 10.9 oz. |
| Bar Length | 13 – 20 inches | 15 – 24 inches |
| Engine Power | 3.2 hp | 3.5 hp |
| Price | CHECK LATEST PRICE | CHECK LATEST PRICE |
Main Features of Husqvarna 450 Rancher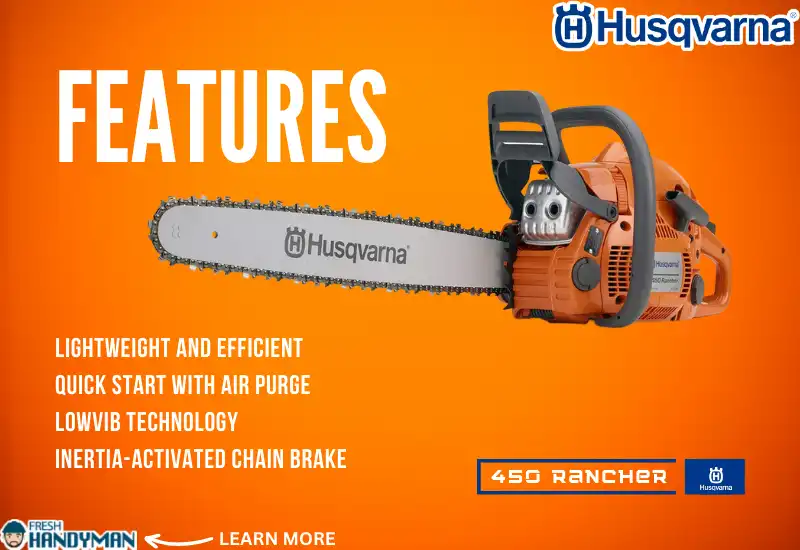 Lightweight and Efficient
The best part of the Husqvarna 450 Rancher is that it's lightweight. But that doesn't mean the manufacturers tried to cut corners by replacing the powerful X-Torq engine. You will still get all the efficiency that's meant to come out of the engine technology with this chainsaw.
Quick Start with Air Purge
When you fire up your Husqvarna 450 Rancher, the air is purged out of the carburetor and the fuel system. This reduces the amount of cranking your chainsaw needs to start up, making the whole process a lot faster. You also need to put in less effort to fire up your chainsaw.
Excessive vibration from the chainsaw while using it can entirely break your experience. That's why the Rancher line of products from Husqvarna, such as the 450 Rancher, comes with their LowVib technology that drastically reduces chainsaw vibration during operation.
Inertia-Activated Chain Brake
Chainsaws can be a pretty dangerous tool in the wrong hands. However, thanks to the inertia-activated chain brake mechanism of the Husqvarna 450 rancher, the risk of injury due to chainsaw kickback is drastically reduced.
Main Features of Husqvarna 455 Rancher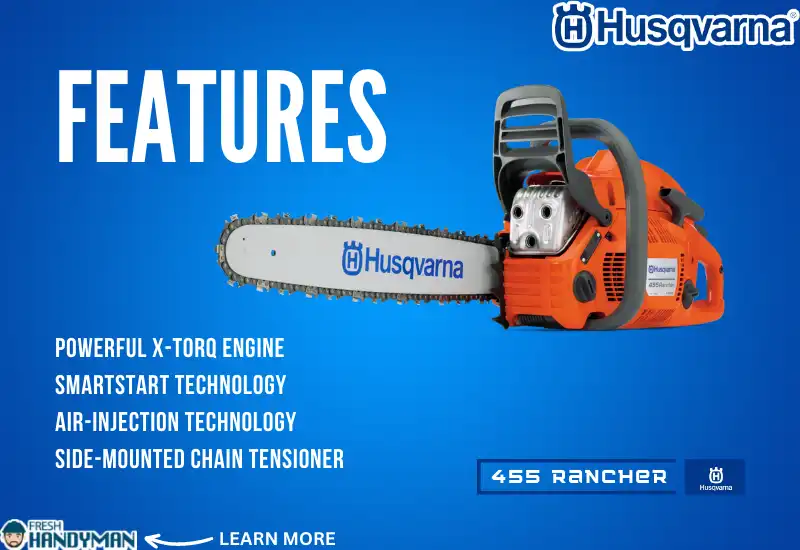 Like all other chainsaws from the Rancher line by Husqvarna, the 455 Rancher features powerful and efficient X-Torq engine technology. This engine technology drastically reduces engine emissions and improves the fuel efficiency of your chainsaw.
Firing up your chainsaw can be tough. But with the clever engine design and starter system, you will be able to start up your Husqvarna 455 Rancher with minimal effort.
The centrifugal air cleaning system in the Husqvarna 455 Rancher is designed to expel larger dirt particles out of the machine before it reaches the air filter. As a result, there is less chance of the air filter gets clogged, and it also requires less frequent maintenance.
Side-Mounted Chain Tensioner
The chain tensioner mechanism in the Husqvarna 455 Rancher is mounted on the side of your crankcase, meaning you will be able to make quick adjustments on the fly without having to stop the chainsaw.
Differences Between Husqvarna 450 and 455 Rancher
I'm sure you have noticed how the 450 and 455 Rancher share a lot of the same features. It's only natural, though, since they are part of the same product line by Husqvarna. So, which one do you pick? Where exactly does one chainsaw exceed the other in terms of quality?
Well, to understand that, you need to dig a little deeper. In the following section, I will share some of the key differences between the two chainsaws that I discovered in my testing to give you an objective look at their overall performance.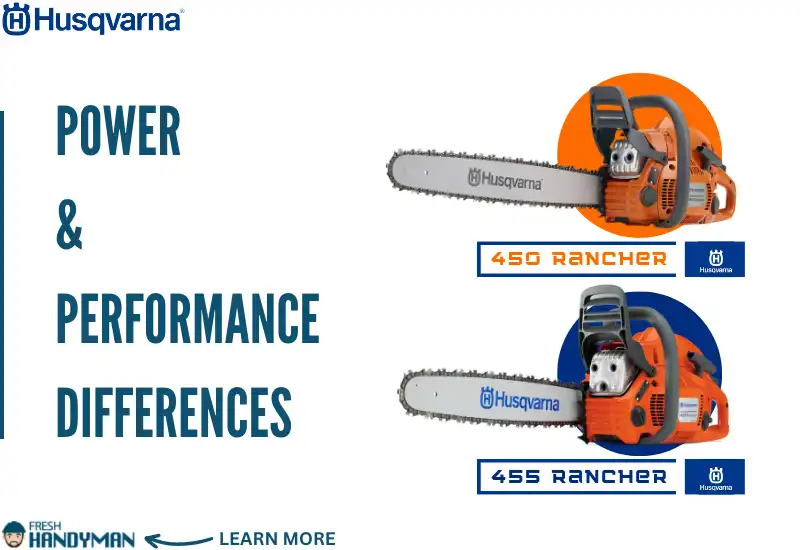 The first thing that I always suggest checking in a chainsaw is its engine power. Different people will naturally have different requirements, and it depends on your situation whether engine power is worth investing in. Remember, more power is usually accompanied by more weight and price.
As a daily driver chainsaw that you'll primarily use for property maintenance, you will not notice too big of a difference between the Husqvarna 450 and 455 Rancher. Yes, the 455 Rancher is a bit more powerful and has a punchier engine, but the 450 Rancher isn't that far off either.
The 455 Rancher comes with a 55.5 cc engine that can churn out around 3.5 HP output, while the 450 Rancher has a total output of 3.2 HP with its 50.2 cc gas engine. Now, if you were cleaning up some pine or palm trees right after a storm from around your house, you won't notice much of a difference between the two saws.
However, if you are planning to cut thick trees such as oakwood, you might be happier with the extra bit of horsepower that you get with the 455 Rancher. Besides, the longer bar options in the chainsaw also come in handy for heavier forestry applications.
In the end, though, it's entirely up to you. The 450 Rancher is an amazing daily driver chainsaw, but when it comes to raw power, the Husqvarna 455 Rancher is simply better.
Winner: Husqvarna 455 Rancher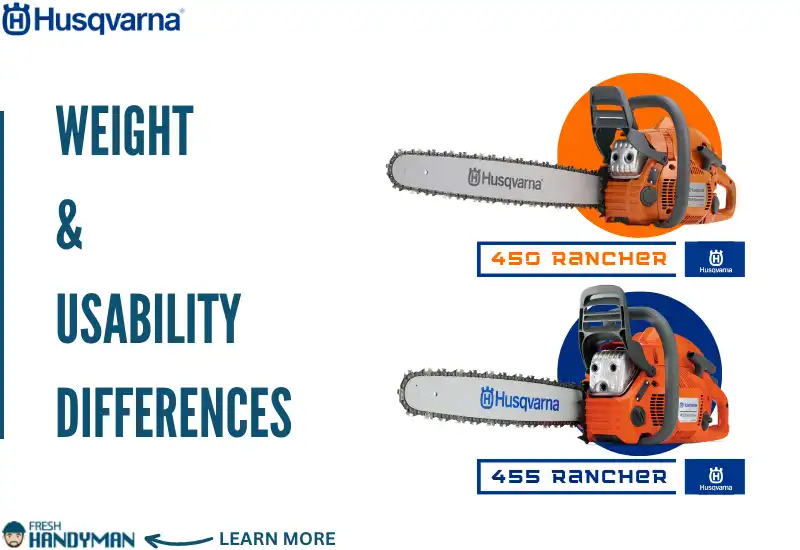 You might be wondering – what does weight have to do with anything in a chainsaw? It's the engine power of the chainsaw that matters here, right? Well, let me counter that with another question – if a chainsaw is too heavy to handle, will you be comfortable using it on a daily basis?
Chainsaws, at least the ones designed for heavy-duty projects, are supposed to be heavy. But if you want a chainsaw that you can regularly use for maintenance around the homestead, it's better to go with a lightweight model. You would essentially be trading off a bit of power for more comfort and usability.
If you look at it like that, the Husqvarna 450 Rancher seems like the better pick between the two models. It weighs around 11.2 pounds excluding the cutting equipment, while the 455 Rancher weighs around 13 pounds. The weight difference is significant enough to matter.
So for those who want a compact chainsaw that they can use for long stretches of time regularly, the 450 Rancher would be the better fit. And since it's lighter, you will also be able to move around your property much easier with it compared to the Husqvarna 455.
Winner: Husqvarna 450 Rancher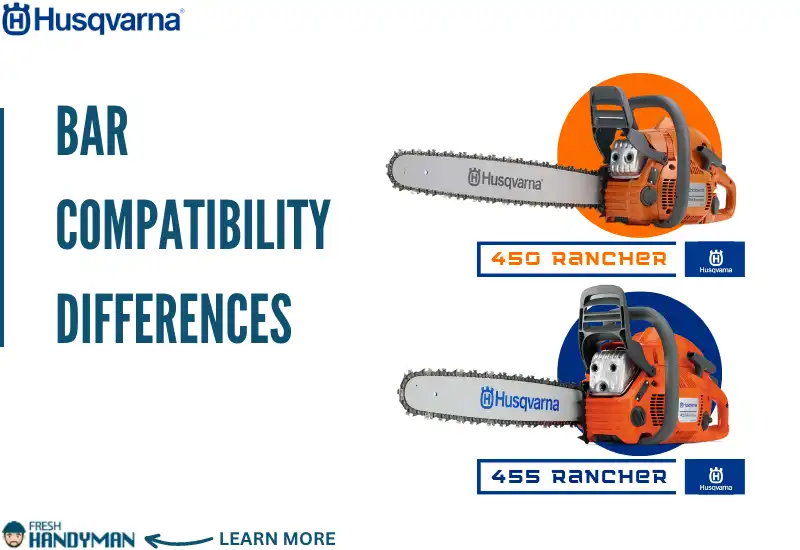 The engine power of the chainsaw only gets you so far – if it's not compatible with the right bar sizes, you won't be able to cut thicker logs with it anytime soon. Each chainsaw is rated to be compatible with a specific range of bar lengths.
Without complicating things too much – if your chainsaw can use longer bars, you will be able to cut thicker trees with it, in most cases. And a shorter bar will offer more mobility and precision, but it's usually a lot more limited in terms of delivering its peak cutting strength.
The Husqvarna 450 is compatible with bars ranging from 13 to 20 inches in length. While the range is pretty wide, the upper limit stands at only 20 inches. It's fine for most of the basic applications, but for forestry jobs, the bar length really isn't enough for most people.
On the other hand, the Husqvarna 455 Rancher can hold up to 24 inches in bar length. Yes, it's not amazing either, but it's certainly better than the 450 Rancher. So if you plan on cutting thicker pieces of wood, the 455 Rancher is hands down the better chainsaw for you.
Winner: Husqvarna 455 Rancher
Fuel Efficiency and Capacity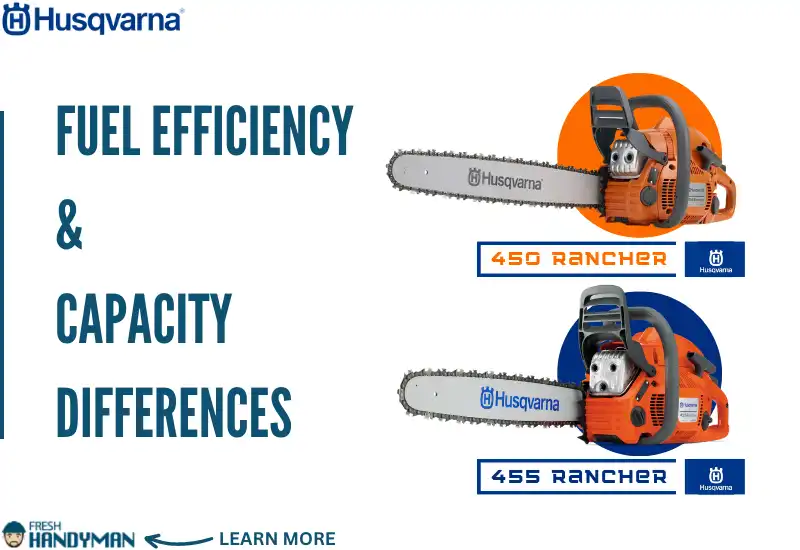 If you want to make sure you are not burning money anytime you are using your chainsaw, make sure it's fuel efficient. Now, what does that mean? Well, fuel efficiency and capacity are two things. While capacity dictates the amount of fuel your chainsaw can hold, its efficiency refers to how slowly it consumes the chainsaw fuel.
With a fuel-efficient chainsaw, you can expect a longer runtime, and you also won't have to refuel your chainsaw as frequently. The fuel capacity of both the Husqvarna 455 and 450 Rancher is pretty similar. Both of these chainsaws can hold around 15 ounces of fuel which is pretty impressive.
But when it comes to efficiency, the 450 seemed to perform slightly better. Then again, the 455 Rancher is more powerful, so it makes sense that it will burn more fuel when you push it.
However, when you are directly comparing the two models, I would say that the 450 offers better uptime due to its better fuel efficiency and slightly higher fuel capacity.
Winner: Husqvarna 450 Rancher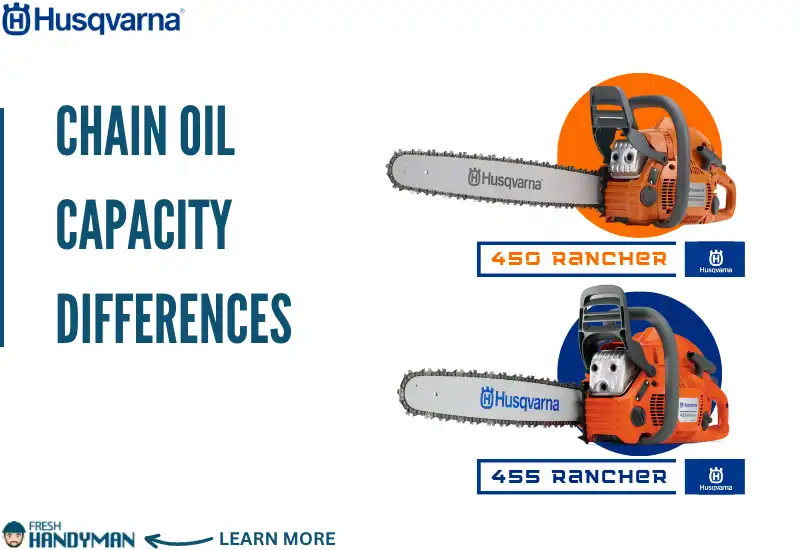 The chain on your chainsaw is responsible for delivering precise cuts, and for that, it needs to be lubricated. That's why chainsaws come with a separate tank for chain oil that you can disperse to the chain when needed. Both of these chainsaws come with storage for chain oil.
But the chain oil capacity for the Husqvarna 455 Rancher is a bit better. The 455 Rancher can hold up to 10.9 oz. chain oil, while the chain oil storage capacity in the 450 Rancher caps out at 8.8 ounces. The difference is slim, and in a real-world application, this shouldn't matter much.
But it's still worth knowing about before you invest in either chainsaw.
Winner: Husqvarna 455 Rancher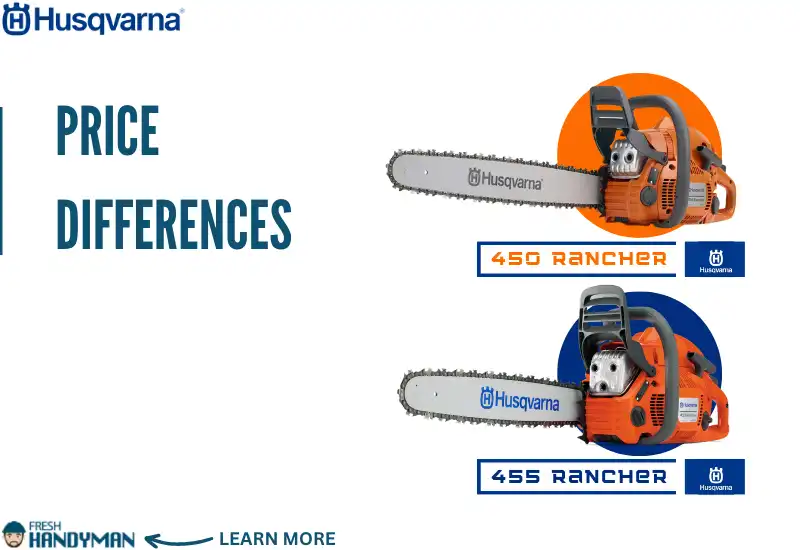 While there are some major differences between the Husqvarna 450 and 455 Rancher, sometimes, your choice boils down to one simple thing – the price. And there's nothing wrong with that. A pricier chainsaw doesn't necessarily make it better, and an affordable saw can sometimes offer amazing value for your investment.
Now, between the two chainsaws, the Husqvarna 455 is more expensive, with a price tag of around 550 dollars. The 450 Rancher, on the other hand, costs only around 450 bucks which is pretty amazing for the level of performance it offers.
Sure, the 455 Rancher has a bigger, more powerful engine and does deliver more cutting power, but the difference between them isn't huge if you are using it for property maintenance, mostly. So if you are on a tight budget, the Husqvarna 450 Rancher is the obvious better choice.
Winner: Husqvarna 450 Rancher
Husqvarna 450 vs 455 Rancher: What's the Verdict?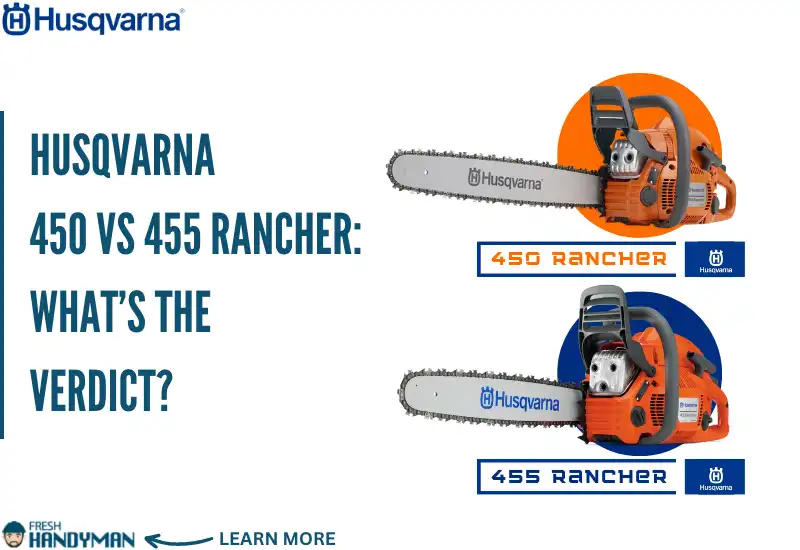 The debate between the Husqvarna 450 and 455 Rancher can get pretty heated since neither of them is necessarily bad. They are both amazing chainsaws in their own right, and if I'm being honest, you would be happy to pick up either one of them.
Of course, there are certain things the Husqvarna 455 Rancher does better than the more affordable 450 Rancher. For example, the 455 Rancher can deliver more power on demand, and combined with its flexible bar options – you should be able to cut bigger trees easily with the chainsaw.
But there are two things that I don't like about the chainsaw – its price and its fuel capacity. Even when you are spending around 80 bucks more for it, the 455 Rancher has slightly less fuel capacity and efficiency than the 450 Rancher. Its efficiency isn't that bad, though, so don't let that hold you back from getting it.
But for those on a tight budget, the Husqvarna 450 Rancher is a godsend. The cutting power of the chainsaw is decent for the price, and it also comes with all the top-notch features that Husqvarna is known for.
I hope my in-depth comparison between the Husqvarna 450 and 455 Rancher could help you understand more about both chainsaws. Cheers!