A chainsaw is an indispensable tool for professional loggers and foresters. Even is a pretty helpful tool for homeowners to occasionally trim branches off the yard trees and big bushes. It's portable too, so you can carry it anywhere.
But Chain saw is expensive, and there are different types of it. Of them, some of the brands lead the market. But it is not given that a famous brand will always be the best in quality, right? And that's why you are looking for a comparison.
And you might be wondering about Husqvarna 395xp vs. Stihl ms661, who is better, and the differences.
So, come along with me if you want to learn them all.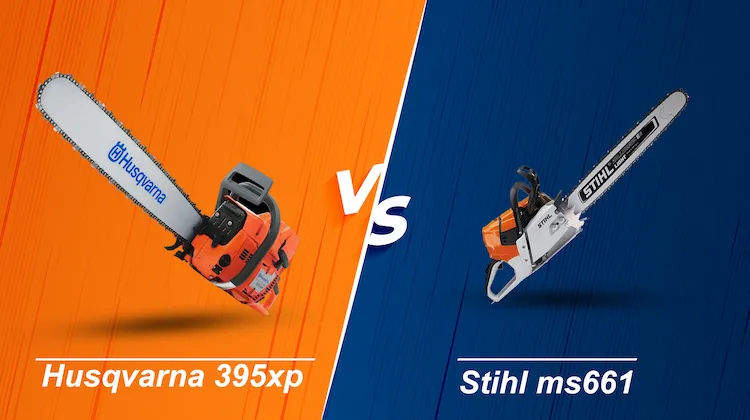 Comparison Table With Specs Of Husqvarna 395xp and Stihl 661
| Key Factor | Husqvarna 395 XP | Stihl MS 661 |
| --- | --- | --- |
| Weight | 17.4 lbs | 16.3 lbs |
| Displacement | 5.74 cc | 91.1 cc |
| Fuel Capacity | 17.6 oz | 28.7 oz |
| Oil pump type | Automatic | Automatic |
| Chain Oil Capacity | N/A | 13.5 oz |
| HD2 Air Filter | Not available | Available |
| Warranty  | 5 years | 3 months |
| Price | CHECK LATEST PRICE | CHECK LATEST PRICE |
Features: Husqvarna 395xp and Stihl ms661
In this section, I'll discuss some of the significant features Husqvarna 395 and Stihl ms661 offer. I'll also share which features are more useful and which are not. So, let's have a look.
Stihl ms661
Optimum Controlling System
Stihl features an intelligent engine management system for optimum performance, eliminating the low and high-speed carburetor adjustment screws, compensating for dirty air filters, and changing elevation and fuel quality.
Eco-friendly
One of the signature features of this cutting saw is its emission-free engine. This is one of the most eco-friendly chainsaws.
The brand is seriously conscious of nature and makes the product in such a way that emits very little to no emissions. In fact, the brand is known for the best chain saw for low emissions. The amount of emissions it emits is even lower than the EPA carb chain saw emissions standard.
Anti Vibration System
Vibration in the chain saw increases the fatigue of the operator and decreases productivity.
Outdoor power equipment from STIHL is designed to minimize vibration levels. It reduces operator fatigue and provides a more comfortable work environment with STIHL anti-vibration technology.
Adjustable Oiler
For different bar lengths and cutting conditions, the Adjustable Automatic Oiler adjusts the amount of lubricant applied to the guide bar and saw chain.
Side-Access Chain Tensioner
As opposed to the typical placement of the guide bar adjustment screw, the side-access chain tensioner provides a much more convenient method for adjusting the chain with a bar wrench.
Learn more: Stihl 311 vs 391
Husqvarna 395 XP
Motor speed
The motor speed of Husqvarna is12, 500 rpm. Such high motor speed is great because the highest motor speed results in the highest saw rotation.
Power speed
Husqvarna provides a speed of as much as 9,600 rpm.
Fuel consumption
The fuel consumption of this chain saw is 470 gm/Kwh.
Oil pump
Husqvarna's oil control pump is automatic. Its capacity is 200ml/min.
Air injection
Prior to reaching the air filter, larger dust and debris particles are removed by the centrifugal air cleaning system. Consequently, engine life is extended and the need for air filter cleaning is reduced.
LowVib
This system is designed to reduce the operator's vibration levels, reducing fatigue. The crankcase is made from magnesium. The magnesium-made crankcase ensures the longest lifespan.
Three-piece Crankshaft
An all-forged crankshaft ensures maximum durability, even for the toughest applications.
Smart Start
With its engine and starter, it starts quickly and with little effort. Up to 40%, less resistance is introduced to the starter cord.
Interested about Husqvarnaa? Check out the best Husqvarna chain saw.
Noise level
Nobody likes noise. And, you won't bother your neighbor with the gargling sound of your chain saw, right?
So, you need to pick a tremendously powerful chainsaw that doesn't make such a level of noise.
The noise level of Husqvarna 395 is 115 dB. The brand guarantees the sound won't exceed this level.
Conversely, Stihl ms 661 is built for heavy cutting projects, which made it comparatively noisier but it's that much more than other electric saws.
Performance
I placed performance in the end because the answer is relative, and the parameters considered to conclude vary greatly.
There are some features I kept into consideration to determine whether the performance might not be useful for you. So, it's always dependent on your preference for work.
Anyway, there are some standard features every chain saw posses, and we will look into them and determine which of the tool Husqvarna 395 XP vs. Stihl ms661 offers or lacks.
Let's begin.
Cutting efficiency
So, this is definitely the most obvious and essential factor to consider. If the cutting efficiency of a chain saw is not good enough, everything else won't come into work, right?
So, the question is how can we determine the cutting efficiency of a chain saw? We can determine this by how well it cuts, how fast it can do the job, and how big trees and lodges it can cut.
This depends on how good the saws are and how fast the motor revolves.
Taking all the factors into play, I see here Stihl wins as it can cut big trees, and the motor speed is higher than Husqvarna.
Winner: Stihl
---
Weight
What the heck is weight? Why should you even bother with this? So, let me ask you a question. Can you keep a 100g of weight on your fist for 1 hour a row? You can't. Why? Because the small weight is compounded into a huge weight over time.
And, your chain saw is not 100g of a paperweight. It's much higher. So, the weight directly correlates to how long you can use it at stretch. Which means it is directly related to your productivity.
The weight of Husqvarna is 7.39 kg whereas the weight for Stihl is more than 7.84 kg. So, here's the clear winner Husqvarna.
Winner: Husqvarna
---
Saw length
With a longer saw, you can cut a larger surface area. So, it's generally considered to be better to have a longer saw length.
Although it's not better all time. Since longer saw length will increase the hassle of cutting smaller trees and bushes.
But, taking big trees into consideration, I'll convey my take here.
The saw length of Husqvarna is 32 inches whereas it's 24 for Stihl.
WInner: Husqvarna
---
Portability
If you can't carry it and take heavy teeing up for cutting this tool might not help you, right?
So, you need to choose a chain saw which is not big enough in size and weight so that you carry it anywhere with ease.
The weight and saw the length of Husqvarna 395xp are higher than Stihl ms661.
Winner: Husqvarna 395xp
---
Cost
Whatever features you get, you can't neglect the cost as it heavily dictates your purchasing decision, we need to see which of these costs are lower and provide better features than others. Because that's the win everyone is up for. Cheap product with great features.
If I compare between these I don't see any significant deal that backs others ahead.
Both of the chain saws come with a $1300+ price tag while providing the same features.
Winner: Tie
---
So, it's up to you to draw the final verdict to choose from as I discussed important features and selected individual winners. But, since I don't know your preferences I can't say this is the tool you need.
Which type of chainsaw is Husqvarna 395 And Stihl ms661?
There is a variety of chain saw available in the market. But mostly, these types of chain saws are popular, and they are
Cordless electric chainsaw
Chorded electric chainsaw
Gasoline-powered chainsaw
Petrol-powered chainsaw
But, which chainsaw to choose depends on your use purpose. If you intend to cut huge branches from the trees and lodges, a petrol or gas-powered chainsaw is a way to go.
But, if you were intending to use it for household purposes like trimming big bushes or cutting small branches from the trees of your yard you can choose the others.
On the other hand, Stihl ms661 is a gas-powered chainsaw. So, the saw is specialized in cutting big trees and branches.
Wrap Up
As you are here, assuming you read the above, I'd say both of the chains saws are great for cutting medium to large trees and lodges.
If you think your cutting activities involve big trees, you had better choose Stihl ms661, if not go for Husqvarna 395xp without any doubt.
Oh, and one thing chain saws are dangerous and might injure you if not operated carefully. So, it's recommended to give a read to the user manual and safety guidelines.
Either way, adios!