You want to buy a chainsaw and are confused between two models of Stihl. Of Stihl 192 and Stihl 193, there are some differences in features, and probably that is where you need my help.
That's why I will share a head-to-head comparison between Stihl 192 and Stihl 193.
So Stihl 192 vs. 193, which is better? Stihl 192 and 192 both originate from the same brand, so neither of the product is terrible. The main differences between the Stihl 192 and Stihl 193 are the exhaust gas limitations and the captive bar nut on the chain sprocket cover.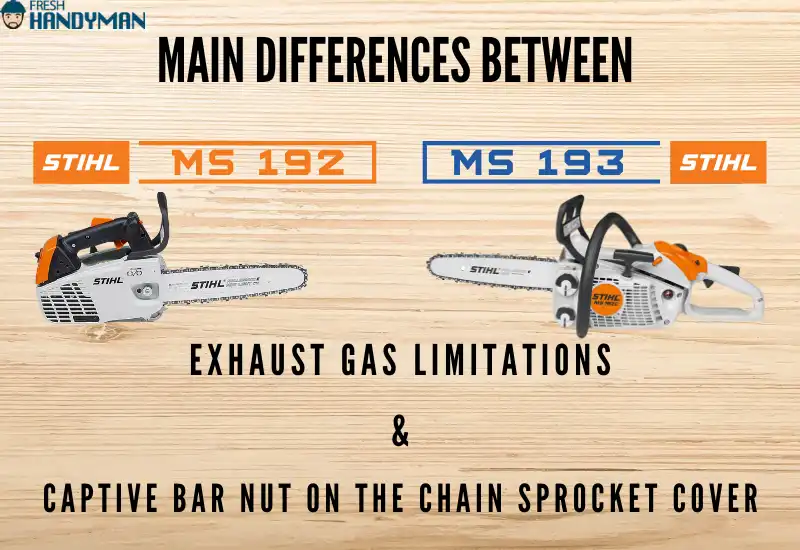 Below I have added an in-depth review and side-by-side comparison of both. So, if you are interested, come along with me.
Comparison Table with specs of Stihl 192 and Stihl 193
| Key Factor | Stihl 192 | Stihl 193 |
| --- | --- | --- |
| Weight | 4.62 Kg | 3.6 kg |
| Engine | 2 Mix | STIHL 2-MIX engine |
| Power source | Gas | Petrol |
Stihl 192 Review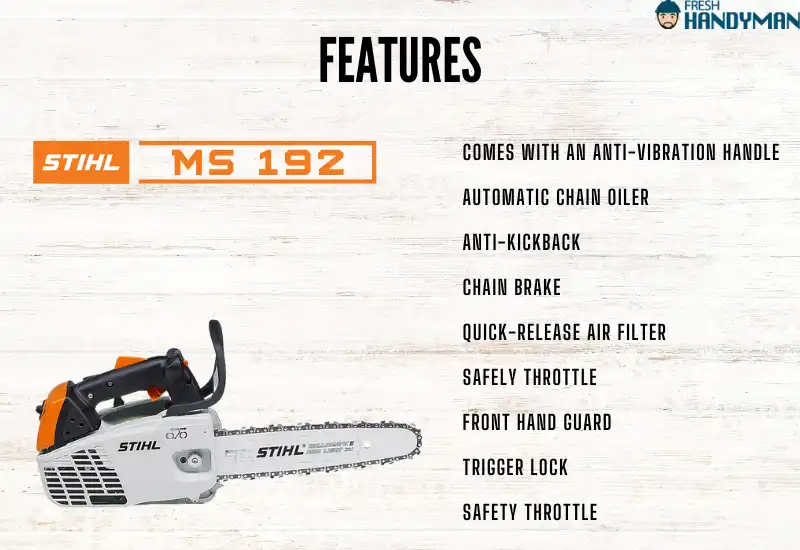 Stihl 192 is an automatic cutting saw that cuts nicely. The saw comes with an anti-vibration handle which means you won't feel fatigued while operating this. This is one of the major things woodworkers face operating chain saws. Thus anti-vibration increases productivity.
The model also offers an automatic chain oiler. The oiler is a must for the chainsaw to keep the chain up and running.
Chainsaw requires oil to reduce friction and function properly. In past, it was tedious manual work.
But, with the evolution of technology, an automatic chain oiler was introduced. It's a life saver.
Stihl 192 also protects from kickback since it comes with anti-kickback features. To ensure safety measures, the model introduces a chain brake,  safety throttle, and trigger lock.
Overall Stihl 192 is a great chainsaw for the money.
Features
Comes with an anti-vibration handle.
Automatic chain oiler
Anti-kickback.
Chain brake
Quick-release air filter
Safely throttle
Front hand guard
Trigger lock
Safety throttle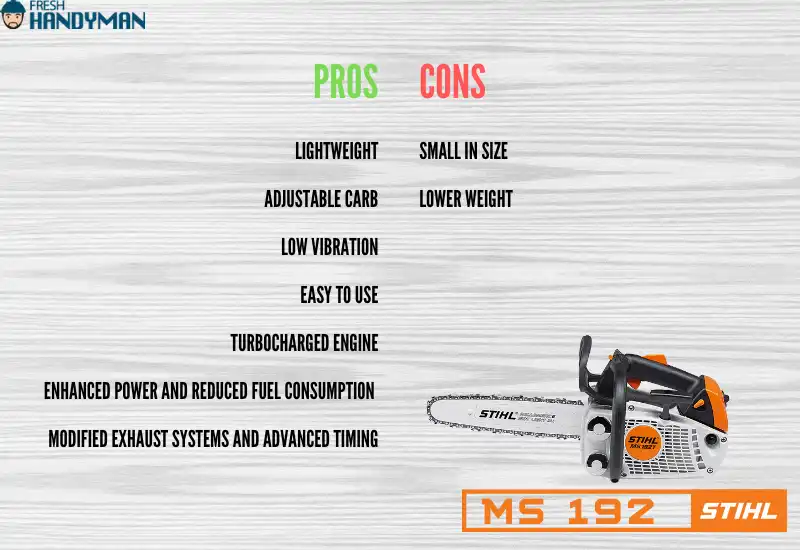 Stihl 193 Reviews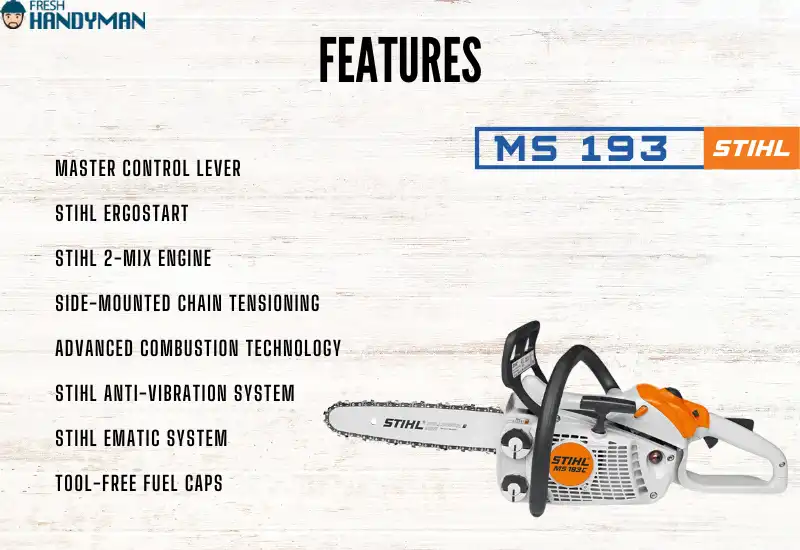 The Stihl 193 is an incredibly lightweight and balanced chainsaw. You will not feel that much fatigue from operating it. It is the ideal chainsaw for occasional usage.
Starting an engine in a chainsaw has never been easy. Stihl features an Ergostart that brings comfort to life. The feature reduced the load substantially when the engine starts. The Ergostart also features-
The engine starts slowly and easily.
Smooth and even pulling on the starter grip.
Slower the starting speed.
With the STIHL ErgoStart, you can pull the starter rope two-thirds slower than with conventional starters.
As the starter rope is pulled evenly, the spring is tensioned against compression pressure. Thus, jerky movements do not cause stress to the spring. By releasing the stored energy, the spring starts the crankshaft, ensuring a reliable engine start.
Contrary to the conventional starting system, STIHL ErgoStart is activated by pulling the starter rope gently and evenly all the way out instead of making quick, jerky movements. ErgoStart does the rest for you. You are protected from unwanted compression loads.
Features
Master Control Lever.
STIHL Ergostart.
STIHL 2-MIX engine.
Side-mounted chain tensioning.
Advanced combustion technology.
STIHL anti-vibration system.
STIHL ematic System.
Tool-free fuel caps.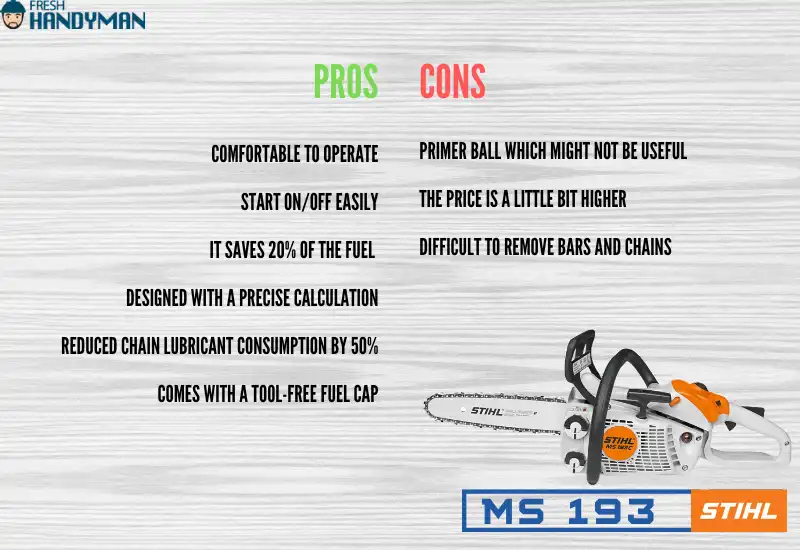 Stihl 192 Vs. Stihl 193 (Detailed Comparison)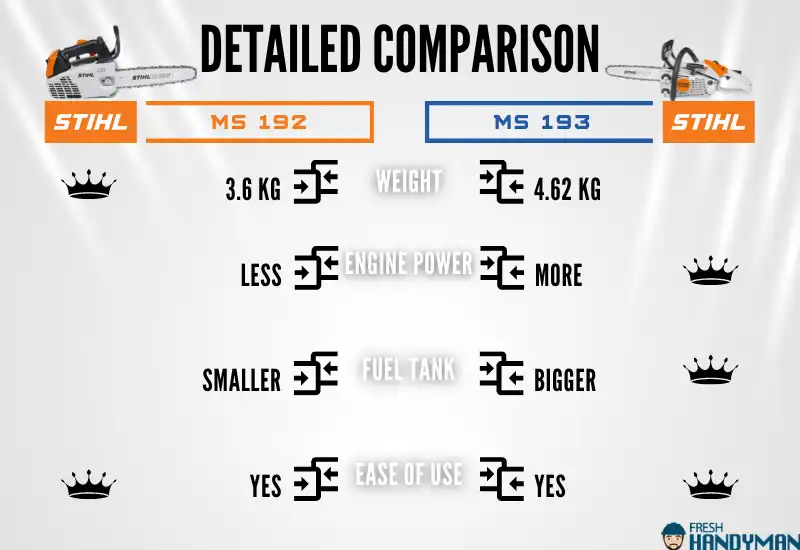 In this section, I'll show you a detailed comparison between Stihl 192 and Stihl 193.
We will analyze some of the standard features of every chainsaw and pick the winner of that specific feature.
So, let's start with the comparison, shall we?
Weight
You need to hold the chainsaw whenever you want to cut stuff and that makes it difficult to operate if the weight is much.
So, the lower the weight the better.
But, there's a problem associated with this. Decreasing the weight will require sacrificing lots of useful features and its capacity to cut large trees decrease dramatically.
So, how to know which weighed chainsaw is good for me? Here's a good rule of thumb: Choose a saw based on your cutting needs.
If you intend to use it for cutting branches of trees and bushes you don't need massive chainsaws, right?
Anyway, come to Stihl 192 and 193. Both of the chainsaw's origins are the same brand. The model is also one next to another. So, there are lots of similarities between them.
The weight of Stihl 192 is 3.6 kg while its subsequent model is 4.62 kg.
Winner: Stihl 192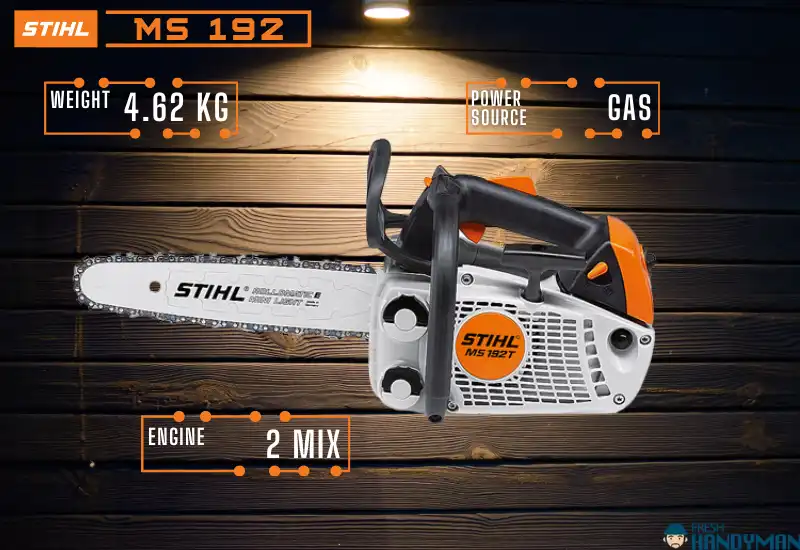 ---
Engine power
The more the power of an engine will the better its chainsaw can rotate. So, engine power is a crucial thing to consider.
When it comes to engine power, Stihl 193 surpasses its previous model.
Winner: Stihl 193
Read more: Stihl 500i VS 462
---
Fuel Tank
You might not want to refill the fuel tank, again and again, after a few hours of operating the machine. That's not a good idea, right?
So, the more a fuel tank can accommodate the better it is. 
Winner: Stihl 193
---
Ease Of Use
I am not a big fan of stuff that doesn't give pleasure in using. Chainsaw creates vibrations and when it occurs it decreases their productivity dramatically.
Luckily both chainsaw comes with Ergomatic and anti-vibration handles which increases the ease of use.
Winner: Tie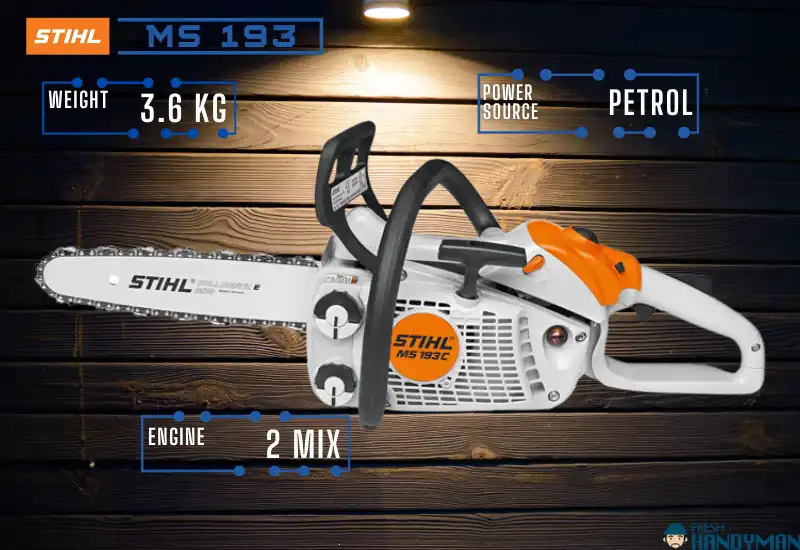 ---
Cost
Cost is always the center of decision-making. People just don't buy things based on features they assess them by cost.
Here the cost of both chainsaws is almost close to the other. So, you can choose any of them.
Performance
Performance is an overall metric to determine the quality of both chain saws. The key determinant of the performance of a chain saw is how effectively it can cut, how large trees it can cut, how comfortable it is to operate etc.
Considering all the features into account, I think Stihl 193 surpasses its previous model
Related: Stihl 311 VS 391
Stihl 192 Vs 193: Which is better?
Stihl 193 is a successor model of 192. So, it comes with a new saw and provides some improved features.
If you are asking me which of the model offers the best value for money, I'd recommend Stihl 192 in such cases. It comes with lightweight and decent power.
On the contrary, considering all other features, Stihl 193 wins.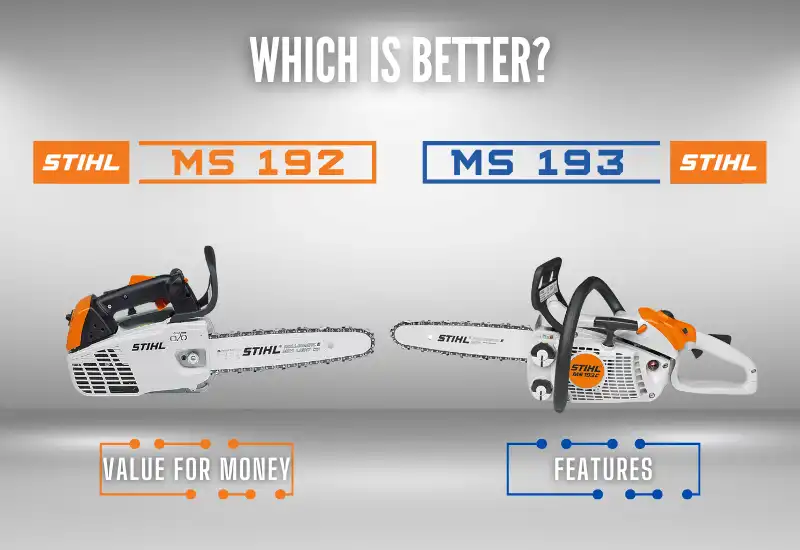 The Final Verdict
Stihl 192 and 193 both originate from the same brand. So, there are lots of similarities between them.
However, I see in the successive version means Stihl 193 offers the best features.
However, if I consider which product is the best value for money, I will definitely go for Stihl 192.