Echo chainsaws are known for their reliability, while Stihl has added some impressive modern features to their saws in recent years. So I was unsure and wondering which would be the best option for me out of Echo CS-590 and Stihl MS 362.
I found some differences between these two saws, particularly in their performance, fuel capacity, air filter, and weight. Their prices also vary by over $350, which is obviously a big difference.
In the article, I will analyze which product is worth spending your hard-earned money on and why.
Let's get started without further delay.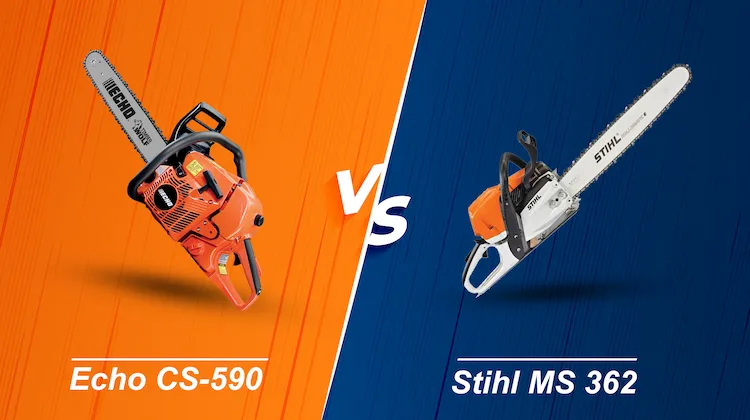 Comparison Table with Specs Between CS-590 and MS 362
| Key Factor | Echo CS-590 | Stihl MS 362 |
| --- | --- | --- |
| Power | Comes with a solid 59.8 cc engine. | A 59 cc engine gives it an incredible power to weight ratio. |
| Weight | The dry weight of this tool is 13.2 lbs. | With a 12.3 lbs powerhead weight, the tool weighs less. |
| Chain | Has a regular chain of average quality. | The RS3, one of the finest chains currently available, accompanies this chainsaw. |
| Chain Oil Capacity | Capable of storing 10.2 oz of chain oil. | This container holds 11 oz. of chain oil. |
| Fuel Tank | The fuel tank measures 21.8 ounces. | Features a 20.3-ounce fuel tank. |
| Price | CHECK LATEST PRICE | CHECK LATEST PRICE |
Features of Echo CS-590 and Stihl MS 362
I would like to begin by highlighting the most prominent features of each chainsaw.
1. Echo CS-590
Engine
The Echo chainsaw runs on a 59.8 cc engine. It provides plenty of power for even the toughest tree-cutting tasks.
Moreover, the engine has a two-stroke design that gives you a number of benefits over a four-stroke engine.
It is relatively easier to start.
Two-stroke engines are more likely to be lightweight.
The cost of maintenance is low.
Air Filter
With this product, you will get one of the best chainsaw air filters on the market. It has tool-free access. Since the filter is intended to withstand heavy loads, it delivers top-of-the-line air filtration even under pressure.
Perhaps the best feature of the filter is its G-Force Air Pre-Cleaner technology. It prolongs the filter's life by keeping it clean even after extensive use.
Clutch-driven Oiler
A clutch-driven oiler is another exciting feature of the unit. As soon as the chain begins to roll, the adjustable oiler gets triggered.
It is responsible for ensuring the saw runs as efficiently as possible. As a result, you will notice a substantial improvement in fuel economy with this chainsaw compared to others.
2. Stihl MS 362
Lightweight
The 362 has a powerhead weight of 12.3 lbs, which is considerably lighter than several other popular chainsaws. Even with a lightweight, you can still experience the benefits of the powerful 59 cc engine.
This allows you to carry out heavy-duty tree-cutting tasks without wearing yourself out.
Fuel Efficiency
It is important to consider fuel economy before purchasing chainsaws. Many power tools have a high fuel consumption even when only used for a short period of time.
The MS 362 is not one of those, thanks to its high fuel efficiency. With this model, you can save on fuel costs, and you won't have to worry about constantly filling up the tank.
Decompression Valve
Tired of yanking the rope as hard as you can, but the saw still won't start? This is when the decompression valve comes into play.
It lessens the pressure of combustion, enabling you to start the tool with a gentle pull of the rope.
Related: Stihl 391 Vs. 362
Differences Between Echo CS-590 and Stihl MS 362
Here comes the moment you have been longing for the most. Let's examine the five most significant differences between these chainsaws.
1. Weight
It is always a good idea to choose lightweight chainsaws since they do not cause hand fatigue when working long hours. Likewise, a light saw is more comfortable to move from one place to another.
With a weight of 12.3 lbs, the Stihl MS 362 is the lighter option here. However, the CS-590 can hardly be called heavy, as it weighs 13.2 lbs.
Only about 1 pound separates these tools on the basis of weight.
Winner: Stihl
---
2. Fuel Capacity
I am familiar with the frustration of running out of fuel midway through a task that must be completed quickly. This is exactly why I prefer to have a spacious tank to ensure I never run out of fuel.
The large 21.8 oz tank of the 590 saw allows you to store plenty of fuel in one go. Stihl offers a smaller capacity with its chainsaw at 20.3 oz.
However, there is one catch here. Surprisingly, the 362 has a larger chain oil tank of 11 oz, compared to the Echo's 10.2 oz.
Winner: Tie
---
3. Power
Perhaps the one area with the least difference between Stihl and Echo is the power.
Stihl's power tool features a 59.0 cc engine, whereas Echo's chainsaw comes with a 59.8 cc engine.
If you want to take advantage of that .8 cc of Echo, sure, go for it. Just bear in mind that there is not going to be a drastic difference.
Winner: Echo
---
4. Chain
Provided you are familiar with saw chains, you will be aware of how high-performing the Stihl RS3 chain is. No matter what amount of bucking you perform, neither the heavy-duty aggressive teeth nor their sharpness will be affected.
Furthermore, there is very little risk of kickbacks with this option.
Unfortunately, the chain on the Echo chainsaw is not of high quality, at least not in the same league as the RS3. I would even suggest upgrading to a better chain if you decide to get the Echo unit.
Winner: Stihl
---
5. Air Filter
The better an air filter is, the more debris it will stop from entering the carburetor.
The air filter of Echo will exceed your expectations due to its exceptional filtration. With its tool-free access, you are freed from the hassle of using tools.
Having said that, you probably won't need to access the filter since it should remain clean most of the time, thanks to the G-Force Engine Air Pre-Cleaner technology.
Hence, you can invest your precious time elsewhere, like cutting some logs, instead of spending it on filter maintenance.
The Stihl air filter is also decent, especially when paired with the Pre-Separation Air Filtration System. However, the filter on the Echo chainsaw offers more functionality and is simpler to maintain.
Winner: Echo
---
Stihl MS 362 or Echo CS-590: Which one is the Better Chainsaw?
The features and performance of these chainsaws are remarkably similar. Echo has a superior air filter and better power, while Stihl shines for being lightweight and having one of the best chains.
Even though it might seem difficult to choose between them, I would probably pick the Echo CS-590 over the MS 362. Despite being almost the same chainsaw, it only costs $440.
On the other hand, you are unlikely to find a 362 for less than $800.
Echo CS-590 [WINNER]
To Sum Up
I hope I covered all of the aspects of how the Echo CS-590 and Stihl MS 362 differ. Despite coming from two different brands, they have many similar characteristics except weight, performance, and fuel capacity.
This comparison was fun, didn't you think? Here is another one that compares Stihl 362 and 462 side by side.