The 311 and 391 chainsaws from Stihl rank among the top chainsaws in today's market. Since you cannot buy both of them, choosing one can be challenging, especially when you have no idea how they differ.
Multiple differences exist between the Stihl MS 311 and MS 391, including engine power, bar length, displacement, and carburetor. They also have some different features, such as the inclusion of a decompression valve on the 311.
I will analyze these differences so that you can quickly decide which chainsaw will best suit your tree-felling needs.
Let's begin!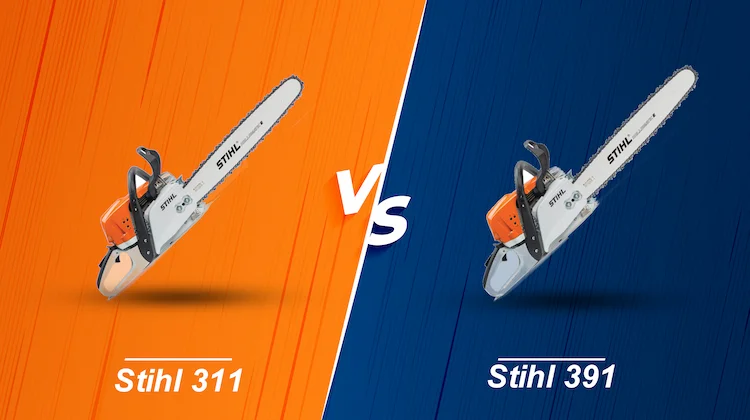 Comparison Table With Specs Between Stihl 311 and Stihl 391
| Key Factor | Stihl MS 311 | Stihl MS 391 |
| --- | --- | --- |
| Bar Length | 16 inches | 20 inches |
| Engine Power | 4.2 bhp | 4.4 bhp |
| Displacement | 59 cc | 64.1 cc |
| Decompression Valve | Available | Not Available |
| Compensating Carburetor | Not Available | Available |
| Price | CHECK LATEST PRICE | CHECK LATEST PRICE |
Differences Between MS 311 Vs MS 391
Here are the five key differences I discovered after extensive research.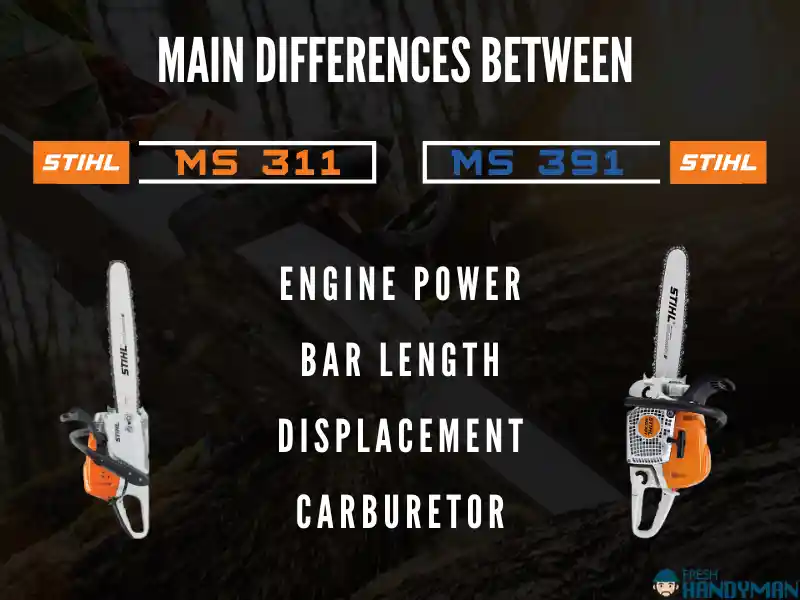 1. Bar Length
Though there is no single bar length for a specific saw, there is always an ideal length. The 311 and 391 chainsaws have significantly different recommended lengths.
According to Stihl, the ideal length of the bar to use with 311 models is 16 inches. On the other hand, Stihl highly advises going with 20-inch bars for the MS 391 saw.
It is important to note that the longer the bar, the more expensive it tends to be.
2. Engine Power
The engine power plays a major role because you need more power to cut down the toughest trees. There is not a big difference in power between 311 and 391, but it still matters.
A 311 chainsaw's engine power is limited to 4.2 bhp. On the other side, you get a slight .2 boost in the 391 saw, meaning it has a 4.4 bhp engine.
It is true that the difference is not huge. However, sometimes an extra power can be a lifesaver, especially when cutting tree stumps.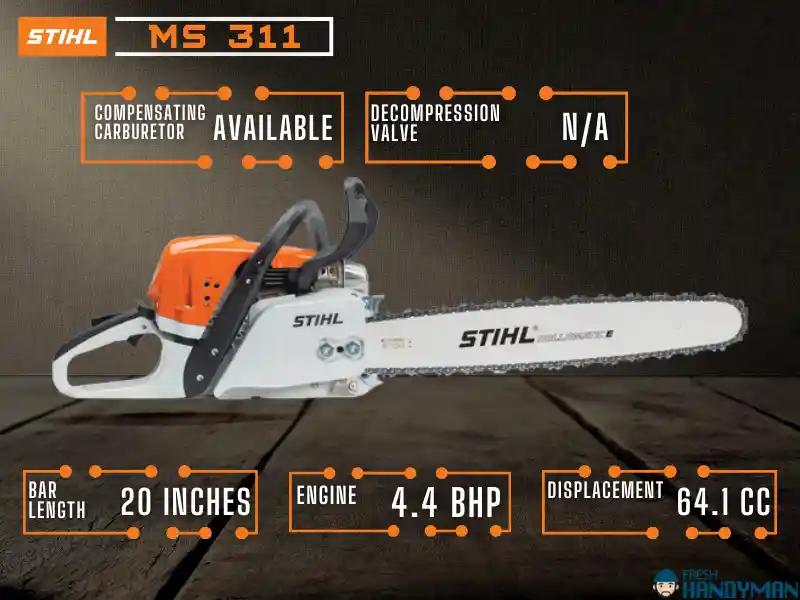 3. Displacement
Most classic loggers ignore the modern term for power, namely engine power. When determining how powerful a chainsaw is, they refer to displacement.
Stihl 391 chainsaws once again reign supreme in yet another category. It boasts a displacement of 64.1 cc as opposed to its competitor's 59 cc.
4. Decompression Valve
The 311 saw has one of the most sought-after features: a decompression valve. It vents pressure in the cylinder more effectively than ever before.
Thanks to the compression vent, your chainsaw will start faster while also causing fewer issues related to starting.
Despite their versatility, I am astonished how MS 391 saws failed to incorporate this magnificent feature.
5. Compensating Carburetor
Your saw can't perform at its peak if the engine does not maintain a specific RPM range based on the air filter.
The IntelliCarb compensating carburetor is integrated with a technology that automatically makes air/fuel ratio adjustments as necessary.
Due to the carburetor, your saw will be free of problems caused by air filters. On the other hand, it also prevents the filter from getting dirty.
You will get the compensating carburetor with a Stihl 391 chainsaw. As for the 311 units, the feature is unavailable.
Related: Stihl 192 Vs 193
Similarities Between MS311 Vs MS391
As for the similarities, there are many, although the three listed below stand out the most.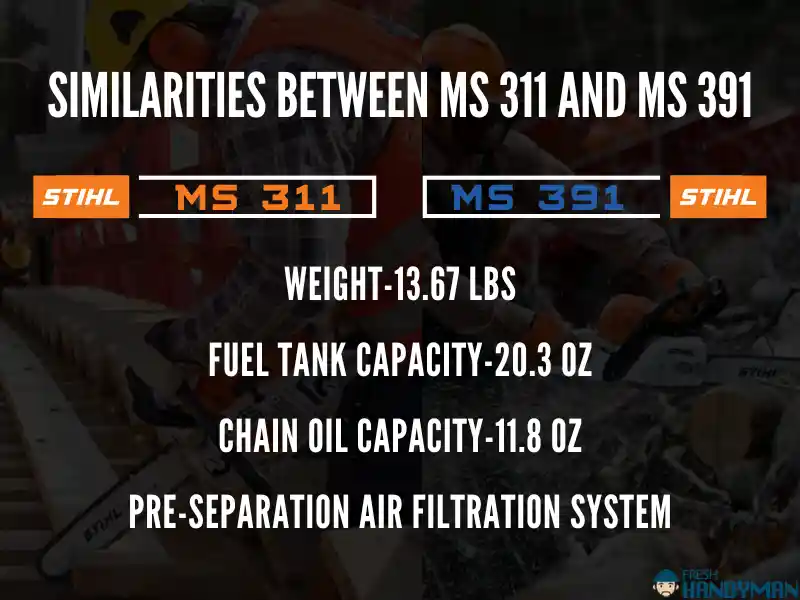 1. Weight
Both chainsaws weigh exactly the same at 13.67 lbs.
This makes you realize just how good the 391 model is. Despite having the equivalent weight, it retains significantly more power than the 311 chainsaws.
2. Fuel Capacity
The fuel capacity determines how frequently you have to refill the tank. With 311 and 391 saws, the refilling part will not be a problem.
They come equipped with a large fuel tank that can hold 20.3 oz of fuel. Moreover, both of them are also capable of containing the same amount of chain oil (11.8 oz.)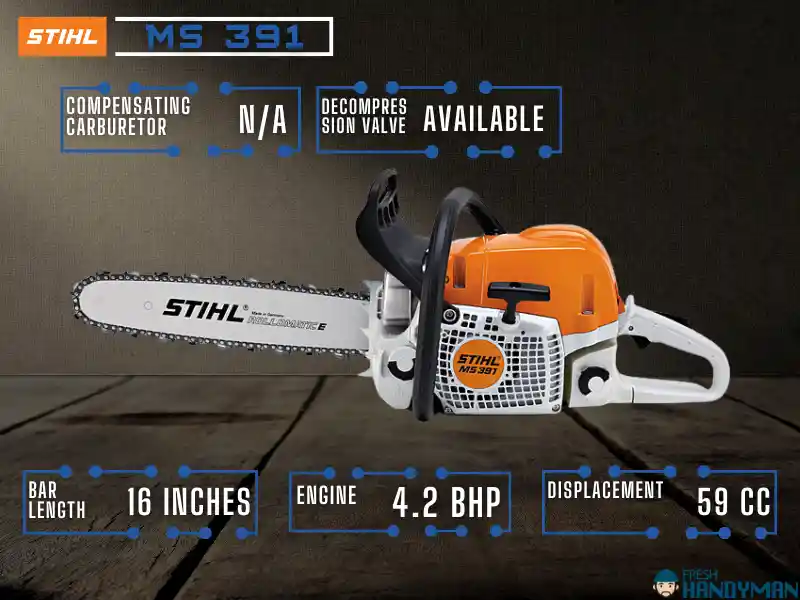 3. Air Filter
The pre-separation air filtration system is provided with these power tools. It prevents the air filter from capturing dirt so that it doesn't get clogged so easily.
Having less dirt means that you don't have to deal with cleaning the filter as often.
Pros and Cons of Stihl 311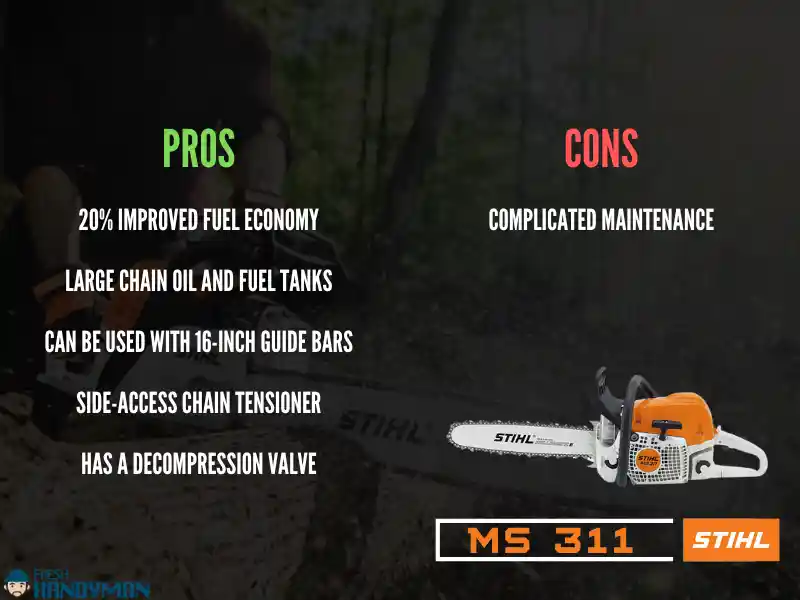 Pros and Cons of Stihl 391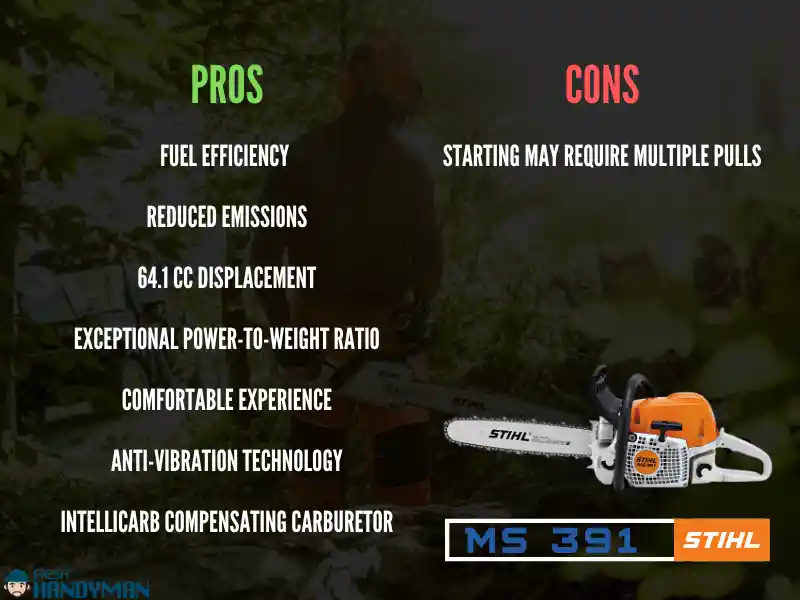 Stihl 311 Vs 391: Which one is the Better Choice?
The Stihl 311 chainsaw is a great chainsaw with excellent power output, compact bar length, and decompression valve. However, I would not recommend it over the 391 for a number of reasons.
The MS 391 saw is better on both engine power and displacement. I can't believe how the saw produces more power while maintaining the same weight as 311 models.
The additional features, such as the compensating carburetor, further convinced me that the Stihl 391 chainsaw would be the better option in any circumstance.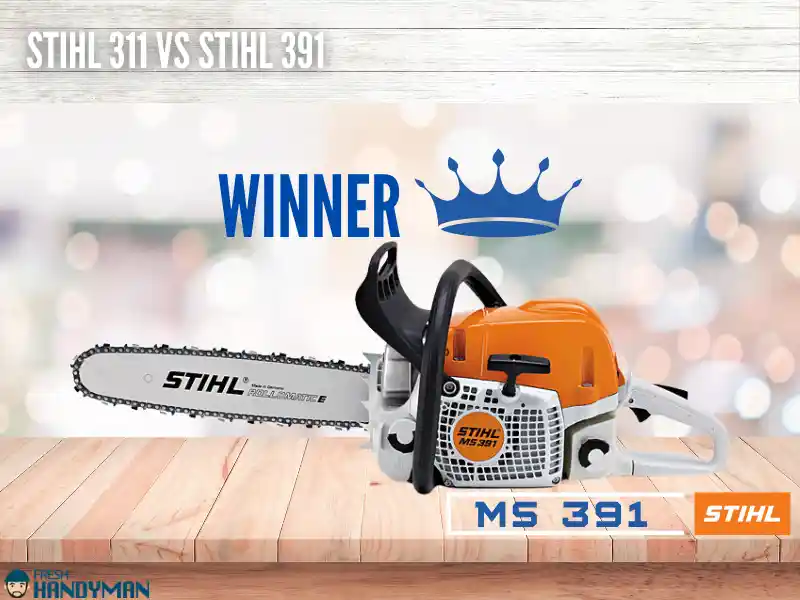 Stihl MS 391 [WINNER]
Conclusion
It is obvious that the MS 311 and the MS 391 chainsaws have numerous noteworthy differences.
I believe that the power of the 391 will prove useful in heavy-duty tree cutting more often than not. Meanwhile, the 311 chainsaw's decompression valve and affordable price can make it appealing to many.
Click here to read my comparative analysis between Stihl 500i and 462.