Want to keep your wood cutting more troubleless and effective with your Husqvarna 445 chainsaw? I know you might have faced difficulties often and wanted to switch to another saw, right? 
But hold on, let me spell out every key info regarding this. Lastly, you can suitably decide what step you should take!
So, what are the key Husqvarna 445 problems? The major problems consist of slippery chain issues, engine overheating, etc. Also, you'll find your Husqvarna 445 chainsaw getting delayed to start. Generating excessive vibration is a key problem too. You need to check the air filters, conditions of the bar, spark plugs, etc, control them.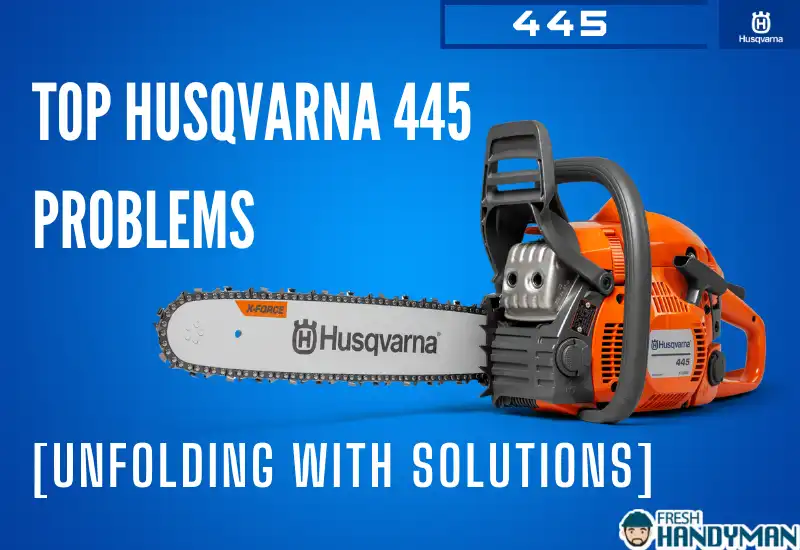 In this article, I'll go through each of these Husqvarna 445 problems and solutions. Hopefully, you'll get diverse insights that went unnoticed from your side earlier. 
Common Husqvarna 445 Chainsaw Problems and Solutions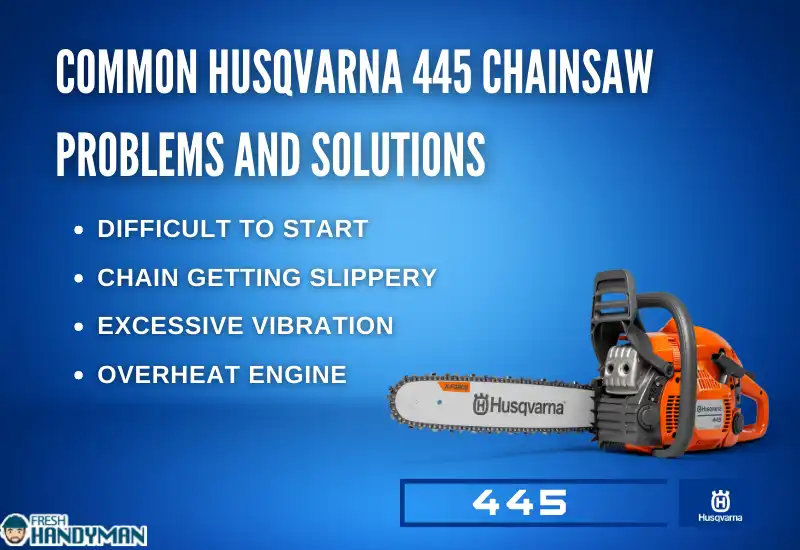 There are a few typical problems that users have reported with the Husqvarna 445 chainsaw. Getting your work done with this chainsaw regularly? Then, you might have also noticed things while using it that I'm going to spell out below!
| Husqvarna 445 Problems | Quick Fixes |
| --- | --- |
| Difficult To Start | Using fresh, high-quality fuel |
| Chain Getting Slippery | Keeping the chain properly tensioned |
| Excessive Vibration | Fitting the bolts |
| Overheat Engine | Replacing faulty air filters and spark plugs |
Problem 1: Difficult To Start
While in a hurry, found your Husqvarna chainsaw taking a longer time to proceed? Well, this issue is so commonly occurring with this model. Especially, during the winter conditions, you'll see this issue arising. 
Maybe you've got a weak spark inside the chainsaw. Also, spark plugs and clogged fuel filters coming full of dirt might force the device to catch this issue.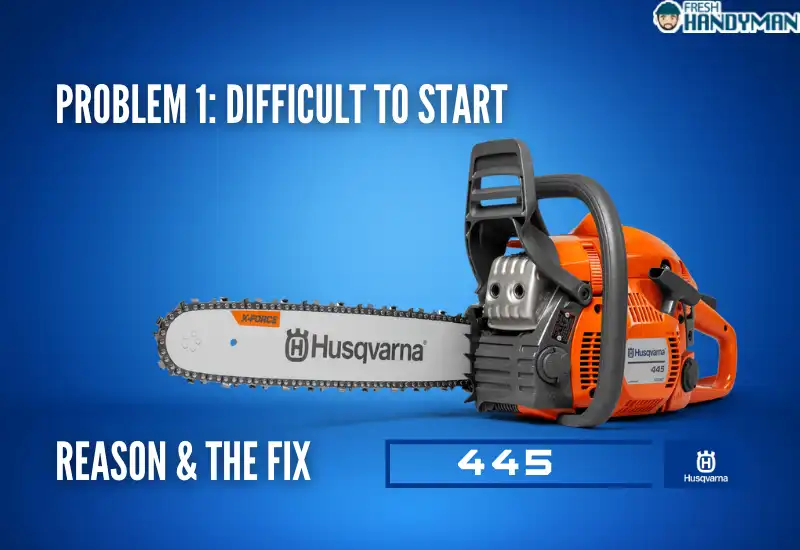 How To Fix:
First of all, check the spark plug and fuel filter. Also, don't miss out on the fuel lines in your intervention. Make sure that the fuel lines are not clogged or damaged, and that they are properly connected. 
And, you need to use fresh, high-quality fuel indeed. Along with these, air filter and starter cord checking are also vital. 
Read More: Top 6 Husqvarna 545 Problems
---
Problem 2: Chain Getting Slippery
Is the chain on your saw coming out of the chainsaw's bar? Also, I must pin the chain slippery issue. The bar tensioned improperly is the key reason behind these occurrences. 
A worn or damaged bar might exist and you go unnoticed. Also, lack of proper lubrication may force the chainsaw to behave this way.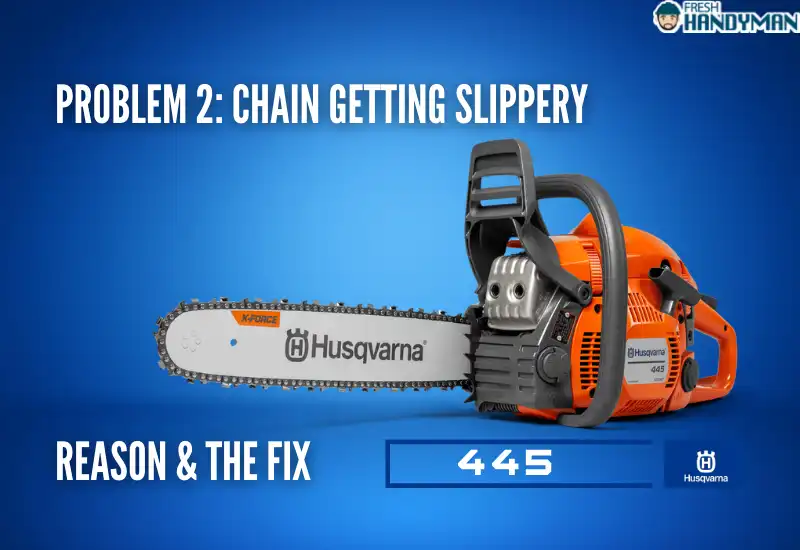 How To Fix:
You must ensure the chain is properly tensioned. Also, check the condition of the bar and chain. If any of these is worn or damaged, you should get the replacement. 
In the meantime, proper lubrication in the bar and chain oil is required to control the chain from slipping. Also, check if the alignment of the bar is proper!
Read More: Common Husqvarna 465 Rancher Problems and Solutions
---
Problem 3: Excessive Vibration
You might hear vibration coming out of the chainsaw. Deep inside- this saw can be damaged or have a lack of alignment. 
And definitely, vibration occurring excessively can be quite uncomfortable for you. In the meantime, this issue might cause fatigue in the long run.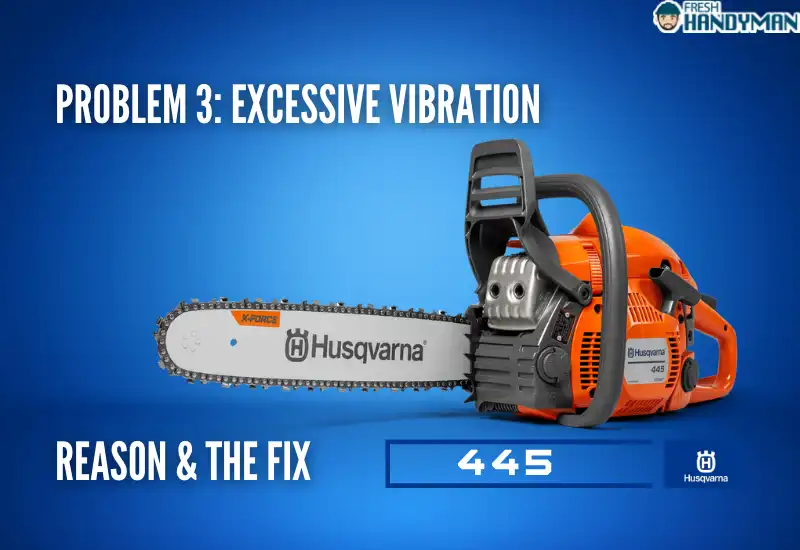 How To Fix:
Check the mounting bolts. Make sure that all of the mounting bolts are tightened securely. Loose bolts can cause excessive vibration. In the meantime, try to mount the chain in your sprocket correctly. And see if the clutch is all good or not!
Read More: Husqvarna 562XP Problems
---
Problem 4: Overheat Engine
The engine on the saw may overheat if you run it for too long. Another possibility of overheating suggests the chainsaw might have overloaded. This can compel the saw to shut down completely.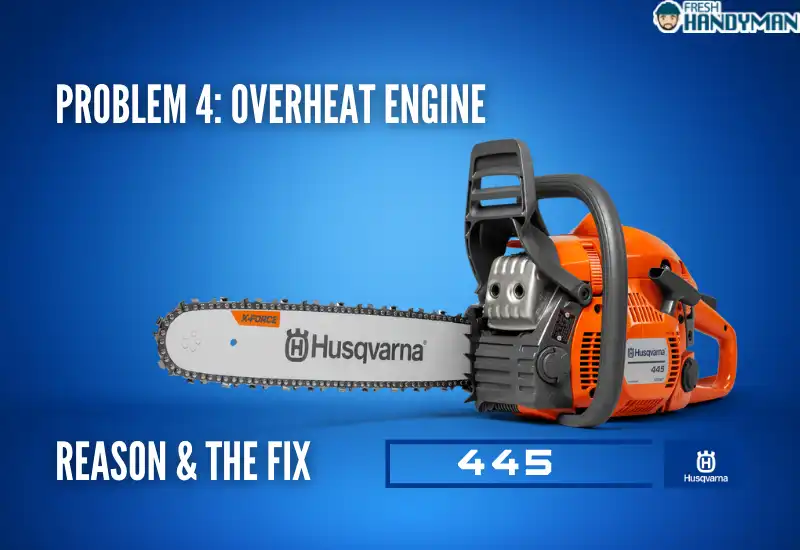 How To Fix:
Faulty air filters and spark plugs are majorly responsible for having your engine more heated than usual times. So, get them repaired by an expert or replaced as soon as possible.
If you are experiencing any of these problems with your Husqvarna 445, I suggest you follow the owner's manual for troubleshooting tips.
---
Features & Specifications of Husqvarna 445 Chainsaw
Before picking the potential problems of your Husqvarna 445 Chainsaw, I think you should check out the key features and specifications! Here are those below:
| | |
| --- | --- |
| Power Type | Gas Powered |
| Bar Length (inches) | 16, 18 |
| Product Weight | 11.5 pounds |
| Chain Bar Length | 16 inches, 18 inches |
| Available Product Color Options | Orange and white |
| Power | 2.4 horsepower |
| Engine Displacement (cc) | 44.7 cc |
| Engine Type | 2-stroke |
| Pitch | 0.325 inches |
Top 3 Alternative Saws of Husqvarna 445 Chainsaw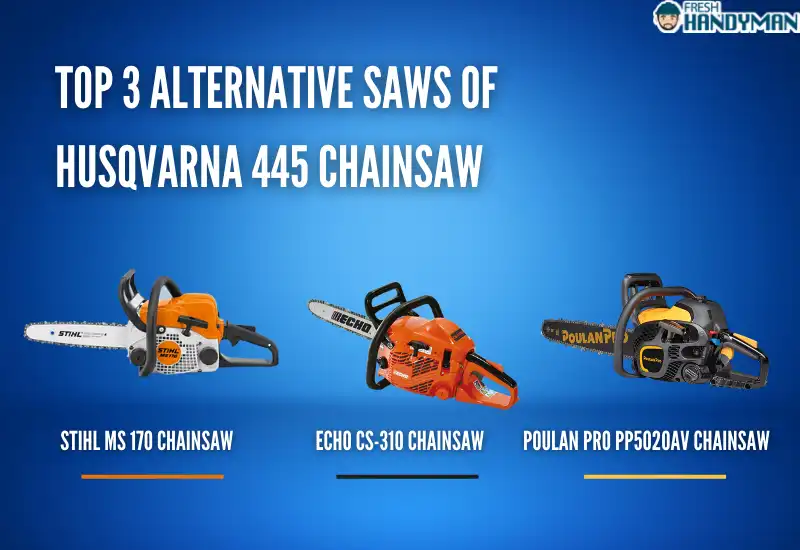 This saw is a favored choice for homeowners and is suitable for light-cutting tasks. It has a 30.1 cc engine and a 16-inch bar length. 
Also, it's quite easy to start. You'll get an adjustable oil pump with flexible chain tensioning.
Echo CS-310 Chainsaw
This saw is a lightweight and consolidated option that is appropriate for small to medium cutting tasks. It has a 30.5 cc engine and a 14-inch bar length. 
Carrying a compact and lightweight design will surely make you satisfied. A simplified starting system makes this model easy to get it up and running.
Poulan Pro PP5020AV Chainsaw
This saw is a powerful and versatile option that is suitable for a wide range of cutting tasks. It has a 50 cc engine and a 20-inch bar length.
This powerful and versatile chainsaw's engine provides plenty of power. Meanwhile, the saw has an automatic oiling system that helps to keep the chain lubricated and running smoothly.
FAQs
Why does my chainsaw die when I give it throttle?
Your chainsaw might have caught some clogging in some areas such as a carburetor. As a result, the airflow and fuel passing get resisted which causes your chainsaw to stop working. You should check the filters regularly to prevent this from happening again. Tracing out all available thick oil stored on the surface is a key solution. 
Why does my Husqvarna chainsaw drip a lot of oil from the bottom?
This situation might occur while choosing the wrong oil for your chainsaw machine. As a result, you'll see the oil clinging to the chain finally gets out from the bottom part. Manufacturers from Husqvarna strenuously forbade users to utilize waste oil in their chainsaws.
Does Husqvarna cut faster than Stihl?
In terms of quick cutting, Husqvarna chainsaws win over the Stihl. However, Stihl chainsaws are exceptional if you consider cutting rough, tough, and viscous wood types. Meanwhile, Husqvarna saws don't bring as much effectiveness as Stihl despite carrying a good cutting speed. Husqvarna mostly struggles at slicing through knots and tree joints.
Why does my Husqvarna chainsaw keep dying?
Your carburetor might get clogged which results in keeping the chainsaw dying. And this situation might pop up due to storing fuel in the chainsaw for a long time. Over time, the stored fuel might start evaporating a few ingredients of it and leave behind a denser substance.
What type of gas does a Husqvarna 445 chainsaw take?
Utilizing 89 octane or higher unleaded fuel with your Husqvarna 445 chainsaw is an ideal approach. And, don't forget to use FD-approved Husqvarna brand two-stroke engine oil for the best outcome. Also, getting a combo of gasoline and oil in the fresh fuel container is the best practice. Many users mix in the fuel tank in the chainsaw which may cause difficulties. 
Final Words
That's the sum of all answers regarding the Husqvarna 445 problems.
Overall, the Husqvarna 445 is a powerful and reliable chainsaw that is suitable for a wide range of cutting tasks. Its technical features make it easy to use and help to extend the life of the saw. 
At the same time, you should consider taking the right steps as I mentioned throughout this article while facing some typical issues.