In my experience with the Husqvarna 465 chainsaw, I have been quite satisfied, particularly with its performance. However, that doesn't mean I never ran into problems.
I have dealt with some serious issues, including the saw dying in idle mode and being unable to adjust chain tension. Sometimes the saw tool will not even start.
As I continued to spend more and more time with it, I gradually figured out how to fix those problems.
In the article, I elaborate on those solutions from my own experience. Let's get started!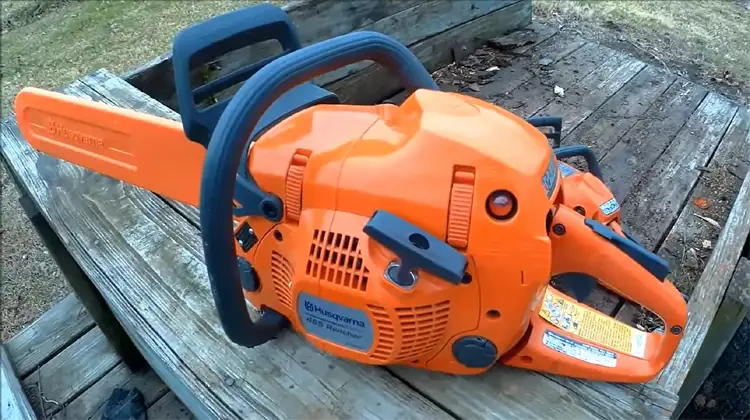 Quick Solutions to Husqvarna 465's Problems
Before addressing solutions in-depth, here is a brief overview.
| Husqvarna 465 Rancher Troubleshooting | Quick Fix |
| --- | --- |
| Chainsaw not starting | Clean the spark plug |
| Unable to adjust the chain tension | Replace the chain |
| Stops working when left idle | Warm up the chainsaw without its chain |
| Cannot cut large trees | Consider using a bigger bar |
| Replacement of the carburetor | Visit a Husqvarna dealer |
Detailed Solutions to Common Husqvarna 465 Problems
Below you will find all the solutions in the most detailed form.
Common Problem – #1: Husqvarna 465 Rancher Chainsaw Not Starting
I have heard multiple complaints about the 465 saw not starting at all, even though it is brand new. This occurs because the product lacks a good spark plug.
The Solution
You can try cleaning the spark plug if you recently purchased the tool. Although plugs are not expensive, a simple cleaning usually does the trick.
Cleaning requires a wire brush, preferably a thin one. Apply a little carby cleaner to the plug. Then use the brush to scrub.
Carbon deposits can accumulate within the cavity where ceramic meets metal. Don't forget to clean that as well. An air compressor may also come in handy for getting rid of dust.
After cleaning, chances are that your chainsaw will start working again. If it does not, consider replacing the spark plug.
---
Common Problem – #2: Problems Adjusting the Chain Tension on the Husqvarna 465
Another issue I encountered was that the chain tension could not be adjusted on the 465 chainsaw.
I looked into it and found the chain was the culprit. Why manufacturers don't place much emphasis on chains will never make sense to me. Nevertheless, let's see what you can do about it.
The Solution
Simply buy a better quality chain and swap it for the existing one. Afterward, you should be able to make proper chain adjustments.
I also recommend adding a 20-inch bar to the Husky 465 chainsaw. Combined with the new chain, the bar would allow the power tool to cut more comfortably.
---
Common Problem – #3: Husqvarna 465 Chainsaw Dies When Idle
Autotuned chainsaws have an inconvenient characteristic of dying as soon as they sit idle. Unfortunately, 465 ranchers are not exempt from this problem either.
The Solution
To avoid problems with autotune, you must follow a few steps. Take a look at them below.
Be sure to turn off the chainsaw completely and remove the chain safely.
Now turn on the tool and keep it running under full throttle. Once it has properly warmed up, you can let off the throttle.
Last but definitely not least, rev the saw up and down several times.
Hopefully, the autotune will pick up on this and continue to run the chainsaw on idle.
Read Also: Husqvarna 455 rancher Review
---
Common Problem – #4: Husqvarna 465 Saws Cannot Fell and Buck Trees with Larger Diameters
With a machine as powerful as the 465 model, you would expect it to handle massive trees without an issue. Nonetheless, many reports claim that the saw does not perform effectively against large trees.
The Solution
The idea I am going to suggest is not anything fancy. All you want to do is use a bigger bar, such as one that is 28 inches long.
If you already purchased the chainsaw with a smaller bar, your only option is to buy a 28-inch bar separately. On the other hand, folks who have not bought it yet should opt for the variant featuring a bar length of 28 inches.
---
Common Problem – 5: Replacement of the Carburetor or Ignition Coil on the Husqvarna 465 Rancher
People used to traditional saws will have a hard time resetting or replacing the carburetor on the 465 unit. This is due to the fact that it is an autotune product, as I mentioned earlier.
Many users are unaware there is an easy fix for this issue. Let's check it out.
The Solution
First of all, find a Husqvarna dealer near you. You can simply click here and enter a zip code to locate the dealer.
The next step is obviously to visit your local dealer with your chainsaw. He should have access to the Husqvarna autotune app. It will scan the trouble codes and guide you in replacing the ignition coil or carburetor.
I understand that the process is a bit of a hassle, especially the first time around. It is still unclear to me why Husky won't allow users to use the app.
---
Husqvarna 465 Rancher Chainsaw Review
Husqvarna's 465 Rancher chainsaw packs plenty of eye-catching features. I cannot express enough how powerful the 64.1 cc engine is. You will hardly encounter a tree this chainsaw cannot chop down.
Despite its high power, the unit is relatively light at 13.45 pounds. Therefore, your hands won't ache from the long-term use of the tool.
Moreover, credit to the X-Torq engine, the saw consumes very little fuel. It is also eco-friendly with low exhaust emissions.
In light of all this, shouldn't users be satisfied with the saw? Here is what they have to say.
About Power
It was inevitable, wasn't it? Most users are full of praise for the chainsaw's extraordinary power.
One of the users remarked on how easily it cuts through wood. Another claimed that the power is a bit of overkill for regular tree cutting.
About Carb Setting
The default carb setting on this chainsaw is fine in most cases. A user specifically praised it as an advantage in comparison to other saws.
For instance, you cannot start using an Echo chainsaw without adjusting the carb settings. It takes up a great deal of your time.
About Bar Size
The Husky saw comes with a 28-inch-long giant bar. One of the buyers complains about the size being too big for the chainsaw. He suggested purchasing a 20-inch bar to complement the chainsaw better.
Related: Husqvarna 395 XP Vs. Stihl MS 661
---
Why Was The Husqvarna 465 Rancher Discontinued?
Husqvarna did not give a specific reason for discontinuing the popular 465 rancher chainsaw. However, it may be due to the manufacturer having too many saws with similar capabilities.
For example, the Husqvarna 460 shares numerous similarities with the Husqvarna 465, except for the horsepower.
Hence, it has been speculated that the company discontinued the 465 model to concentrate on producing chainsaws with more unique features.
To Sum Up
I hope I was able to provide effective solutions to the most common problems with Husqvarna 465 chainsaws. If you carefully follow my instructions, I am confident that you can resolve the issues listed above.
If you are in search of chainsaws, check out Husqvarna's best offerings here.