The Stihl MS 362 is a mid-size chainsaw for serious home users and even professionals. By using this model chainsaw, you can do almost all the work of the forestry industry smoothly. Even so, it is true that any chainsaw has some problems when it gets old over time.
Common problems with a Stihl MS 362 chainsaw include starting issues, the oil pump not working properly, air leakage, oil leakage, and more. You may have noticed the aforementioned problems we see with most chainsaws.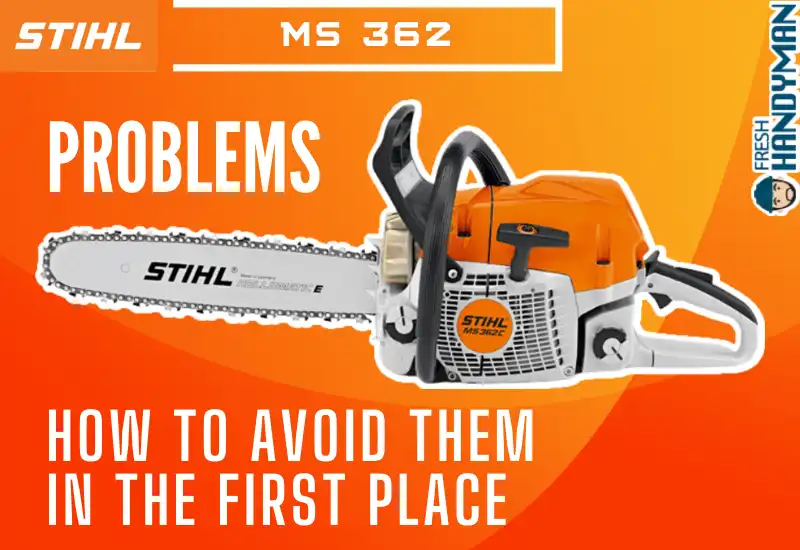 In this article, I will discuss in detail the common problems with these models of chainsaws, their causes, and solutions. This discussion is for you if you plan to buy a Stihl 362 chainsaw or own this model chainsaw.
Before starting the major discussion, I will discuss the specifications and features of the MS 362 chainsaw. This will help us understand the chainsaw model better.
Stihl MS 362 Problems And Fixes: Quick Table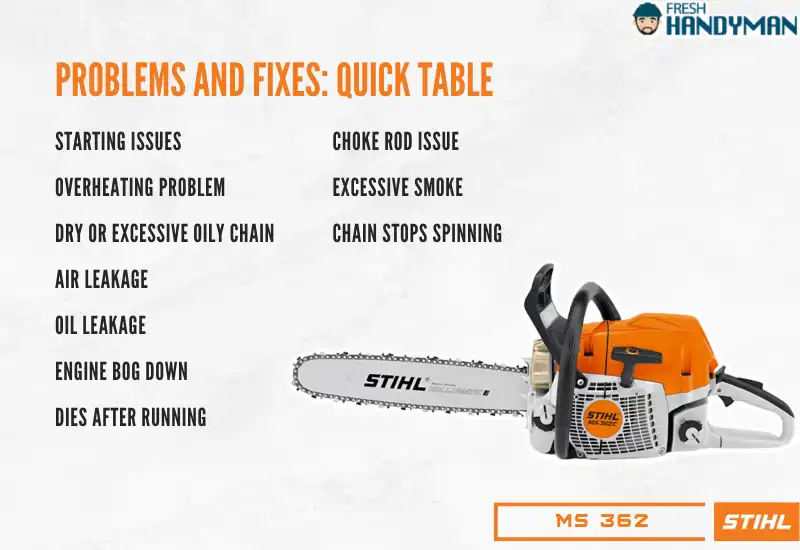 Here, I would like to present a quick table about Stihl MS 362 chainsaw problems and solutions. If you are experienced, this table can help you solve common chainsaw problems quickly.
| Stihl MS 362 Problems | Quick Fixes |
| --- | --- |
| Starting issues | Observe the spark plug, air filter and carburetor. Use standard fuel and oil ratio according to the recommendation. |
| Overheating problem | Muffler modification may be required. Use oil or gasoline blends recommended by the company. |
| Dry or excessive oily chain | Adjust the oiler. |
| Air leakage | Check the engine's airtight seal and clean air valves. |
| Oil leakage | Replace the oil line and O-ring. |
| Engine bog down | Clean and adjust the carburetor and clean the air filter. |
| Dies after running | Clean the spark plug, air filter, and carburetor. Facilitate exhaust gas exit through muffler modification. |
| Choke rod issue | Flatten the butterfly valve and reinstall it. |
| Excessive smoke | Remove excessive fuel from the carburetor and clean the air filter as well.  |
| Chain stops spinning | Adjust the tension of the chain, check the chain oil level, and adjust the oiler. |
10 Common Stihl MS 362 C-M Problems And Fixes: In-Depth Review
Here I would like to discuss in detail 10 common problems of Stihl MS 362 chainsaw and their quick solutions. Note that these problems may not be common with all Stihl 362 chainsaws. Nonetheless, many users have reported these problems with this model of chainsaw.
Problem 1: Starting Issues
It's embarrassing when you're ready to go, but the chainsaw won't start or have trouble starting. Many of us may have faced such experiences while operating a chainsaw. You may also face such a problem while using Stihl 362.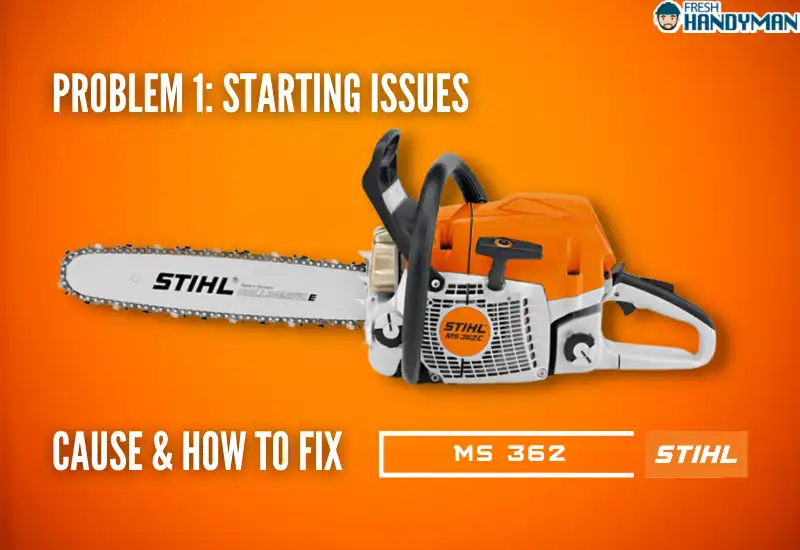 Cause:
Stihl MS 362 chainsaw starting issues can include many reasons. A dirty spark plug with a carbon buildup is one cause of this problem. Also, you can face such a situation because of a dirty air filter and carburetor. Additionally, not using the right fuel can cause this affliction.
How To Fix:
Carefully clean the spark plug and air filter. Clean and adjust the carburetor adequately. Check the fuel line, and if there is any problem, replace it. Above all, always use the company-recommended and standardized fuel and oil mixer to avoid starting problems.
---
Problem 2: Overheating
Any model of a chainsaw can get hot if operated for long periods of time. However, many operators report overheating problems with the Stihl 362.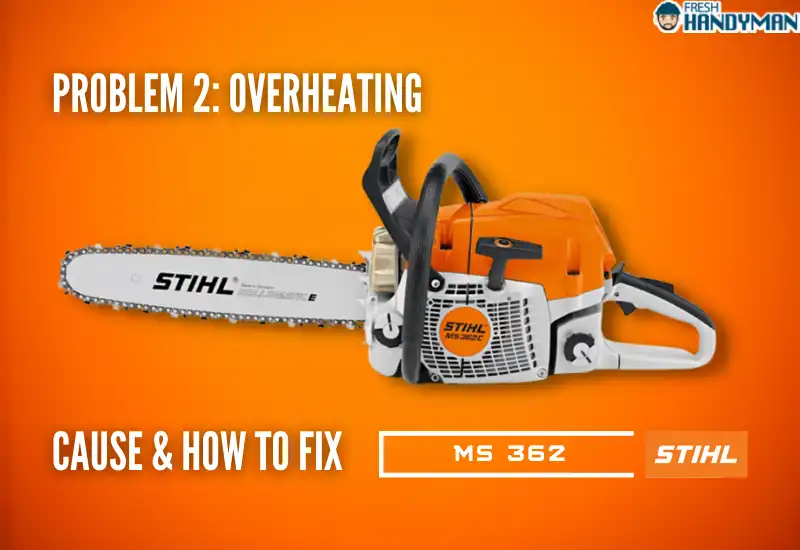 Cause:
If you use this chainsaw in temperatures above 90 degrees Fahrenheit for extended periods of time, it may become hot. Not using the oil and oil mixer according to the correct ratio and having problems with the muffler can cause this problem as well.
How To Fix:
If the chainsaw overheats, leave it idle for 15 to 20 minutes. Make it easier for smoke to exit the exhaust system with muffler modifications. Be sure to use the correct fuel as directed by the company.
---
Problem 3: Dry Or Excessive Oily Chain
If the chains are dry, it can cause a kickback. On the other hand, excess oiliness is also one cause of waste. So we don't want either dry or over-oiled chains during operation.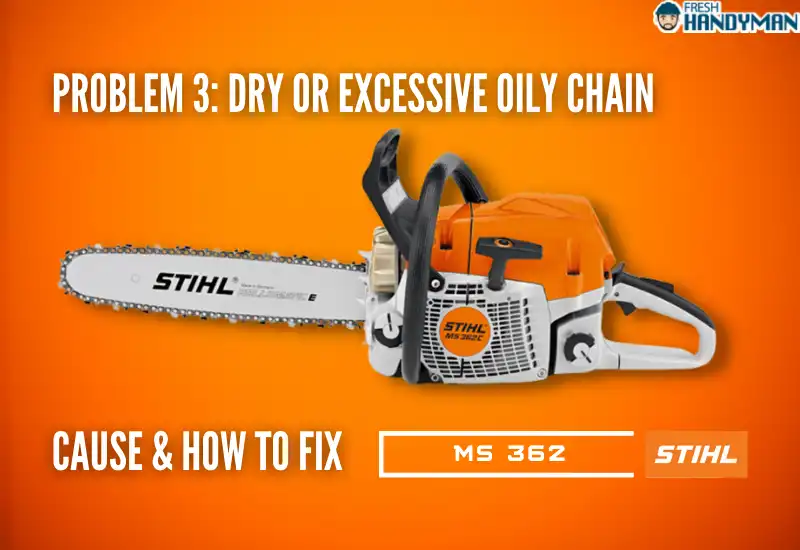 Cause:
This type of problem can occur if the oiler is not working properly or is not adjusted well.
How To Fix:
Check the chainsaw oil level. Clean the oiler and reinstall. Check if it works properly or not. If it is working, adjust well.
---
Problem 4: Air Leakage
Although chainsaw air leaking problems are common, older chainsaws can have this problem. If you notice the engine is running at high rpm when the chainsaw is tilted downwards, but it does not run properly or stops when tilted upwards, then you know your chainsaw is leaking air.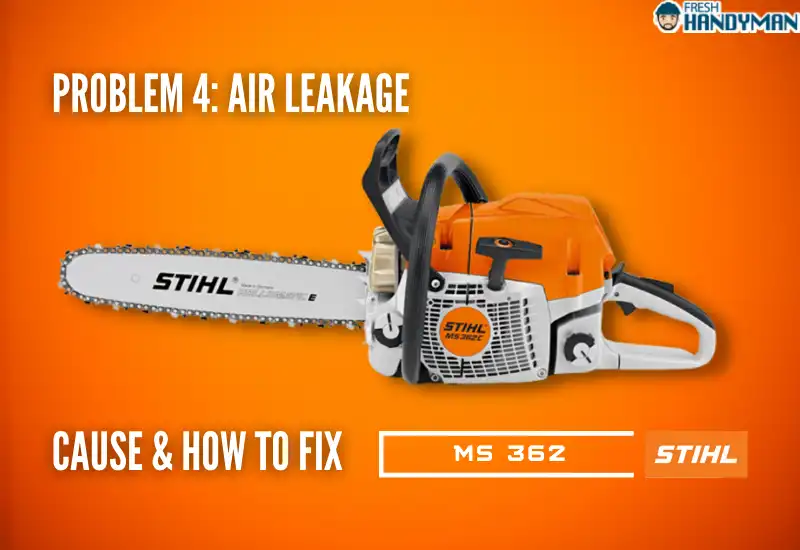 Cause:
In most cases, leakage in the air intake boot of the carburetor causes this problem.
How To Fix:
Remove the plastic cover on top of the chainsaw where the air intake boot is located. Check it for any leakage. Replace it if there is.
If you are confused about this, please check the video below. The video shows air leakage on a Stihl MS 192 and its solution. You can follow the same process for Stihl 362.
---
Problem 5: Oil Leakage
You may notice that many old chainsaws get wet underneath when left behind. This leads to the wastage of oil, which is sure to cause your loss.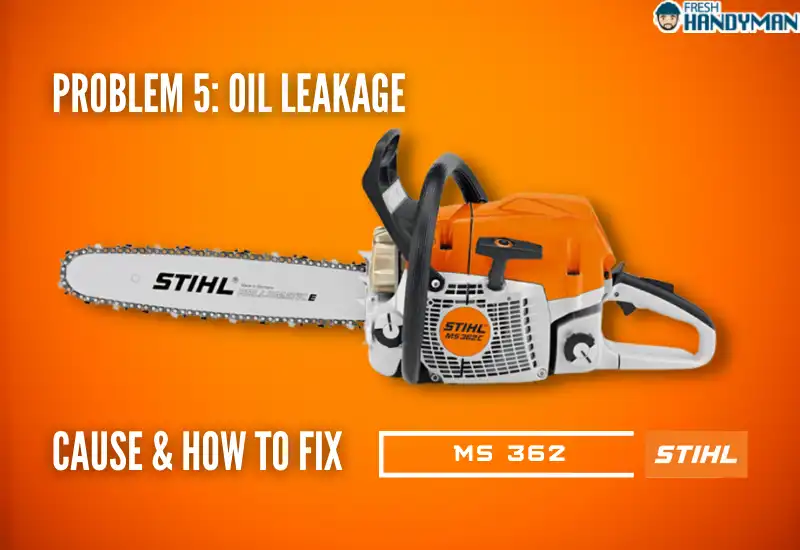 Cause:
This problem can occur if the oil line is punctured. Also, if the O-ring at the end of the oil line gets damaged, oil leakage can occur.
How To Fix:
Inspect oil lines and O-rings thoroughly. Repair or replace if there are any cracks.
---
Problem 6: Engine Bog Down
If the engine rpm drops while cutting wood or the engine bogs down when the load is high, then the work speed is reduced. As a result, you need to spend a lot of time completing a task.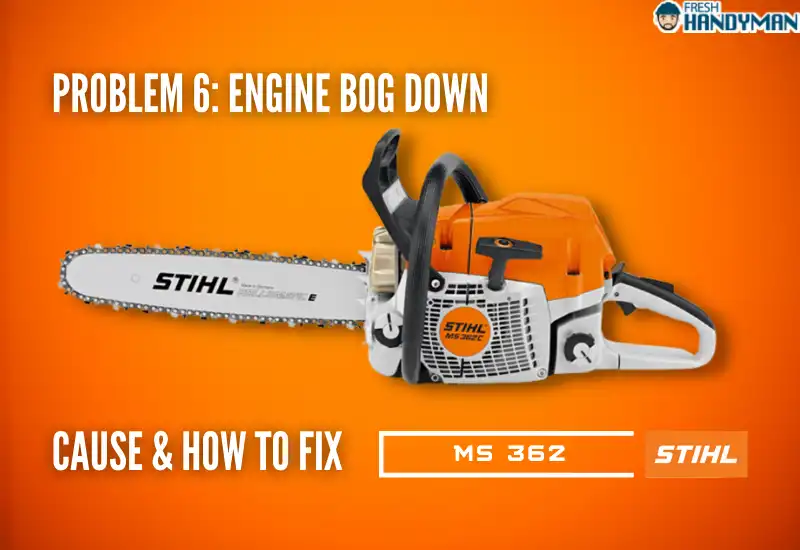 Cause:
A faulty carburetor or dirty air cleaner usually accounts for this problem.
How To Fix:
Clean and adjust the carburetor thoroughly. Clean the air cleaner, and replace it if necessary. Use proper fuel and oil mixture to avoid this problem.
---
Problem 7: Dies After Running
Many operators complain of the Stihl MS 362 chainsaw shutting down after starting. We mostly notice these problems with old and unused chainsaws.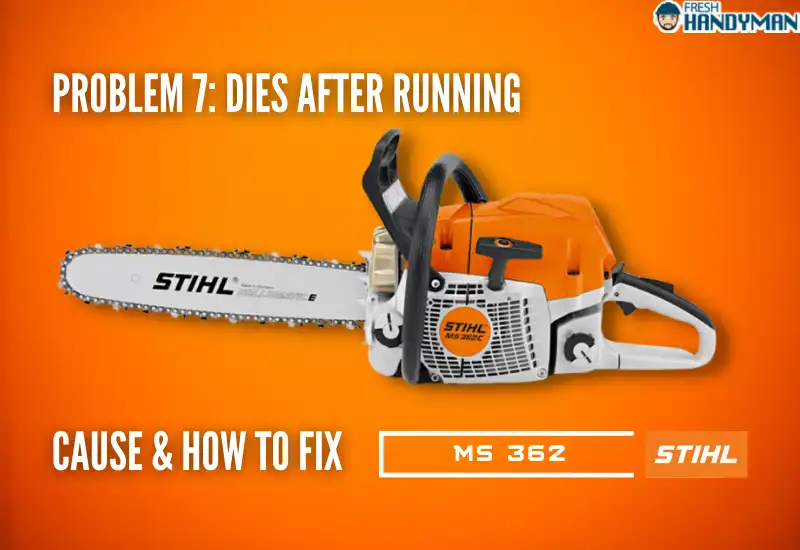 Cause:
A buildup of dirt in the carburetor is the biggest cause of this problem. Also, this problem can occur if the spark plug or air cleaner is dirty. A blocked exhaust gas outlet can also cause this problem.
How To Fix:
You need to take more initiative to solve the problem. Clean and adjust the carburetor thoroughly. If the carburetor is too old, replace it. Here, it is better to replace the air cleaner and spark plug.
Many times exhaust gas in the engine gets blocked from exiting the exhaust system. Modify the muffler if necessary and facilitate the exit of exhaust gases. Finally, be sure to use quality fuel and oil at the correct ratio recommended by the company.
---
Problem 8: Choke Rod Issue
Has it ever happened to your chainsaw that you want to set the on-off lever to the choke, but it won't go down at all? Yes, some operators have reported this type of problem with the Stihl 362 chainsaw.
Cause:
There can be several reasons for this problem. A bent butterfly valve on a chainsaw's carburetor can be traced back to this problem.
How To Fix:
If you are new to using a chainsaw, you may find this problem a little tricky to solve. All you need to do is flatten out the bent butterfly valve. Watch the video below to learn how to do it properly.
---
Problem 9: Excessive Smoke
Excessive smoke while operating chainsaws are quite annoying. Many times we don't understand the exact reason and think it is a big problem. Actually, it's not that big of a problem.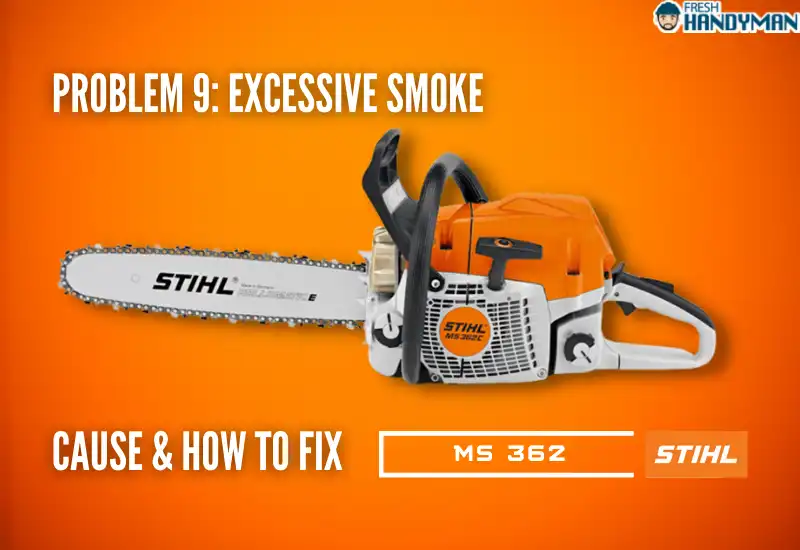 Cause:
If the carburetor stores more fuel than required, excess smoke may occur. Moreover, a clogged air filter is also one cause of this problem.
How To Fix:
Clean the air filter thoroughly. Check the carburetor, and drain excess fuel if accumulated.
---
Problem 10: Chain Stops Spinning
How would you feel if the chain stops spinning? This problem can stop your work immediately. Inexperienced operators often get frustrated by not understanding the problem and the solution.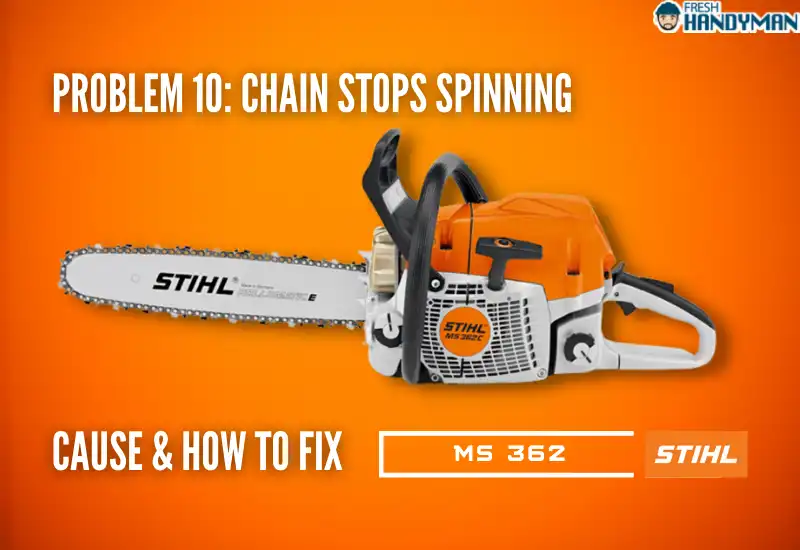 Cause:
Too much chain tension or lack of lubrication is to blame for this problem.
How To Fix:
First, check the oil level in the chainsaw. Add oil if necessary, and adjust the oiler if there is enough oil. Adjust chain tension.
---
Specifications and Key Features of Stihl MS 362
The specifications and features of a chainsaw give us an idea of its functionality and benefits. Here are the specifications and features of the Stihl MS 362 chainsaw in brief.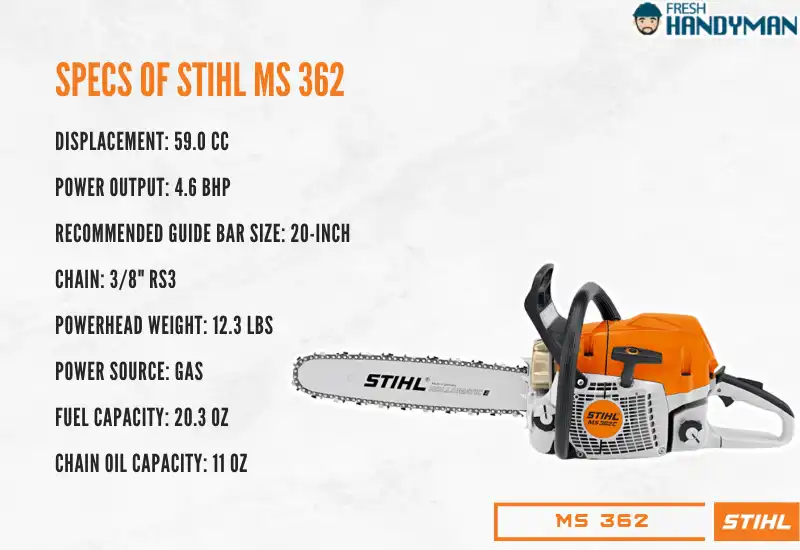 Specifications
Displacement: 59.0 cc
Power output: 4.6 bhp
Recommended guide bar size: 20-inch
Chain: 3/8″ RS3
Powerhead weight: 12.3 lbs
Power source: Gas
Fuel capacity: 20.3 oz
Chain oil capacity: 11 oz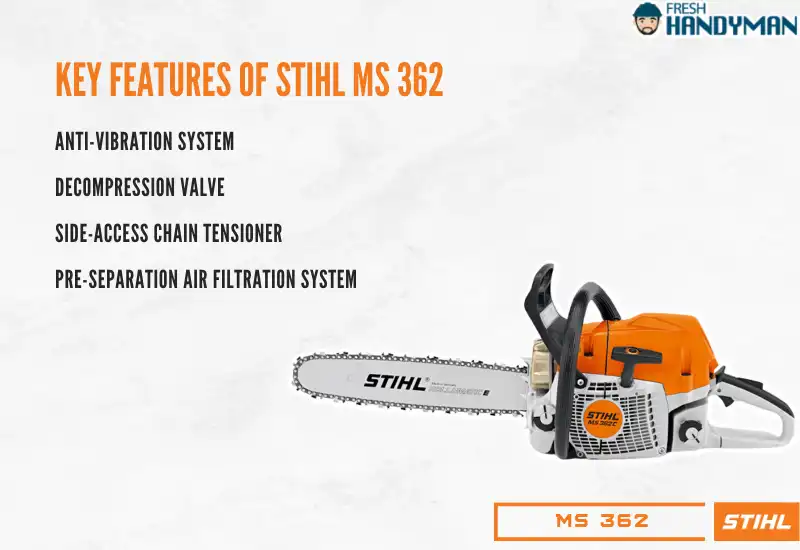 Key Features
Anti-vibration system: Anti-Vibration System: Anti-vibration system is very helpful during long working hours as it reduces operator fatigue and provides a comfortable working experience.
Decompression valve: The decompression valve is also known as the deco valve. This serves to reduce the pulling effort of the starter rope. It reduces combustion chamber compression temporarily during cranking and automatically shuts off as soon as the engine fires.
Side-access chain tensioner: This makes adjusting the saw chain easier and more convenient.
Pre-separation air filtration system: This feature increases the efficiency of the filter system and removes heavy airborne particles before they reach the air filter. As a result, air filters require less frequent cleaning and maintenance.
User Feedback Regarding Stihl MS 362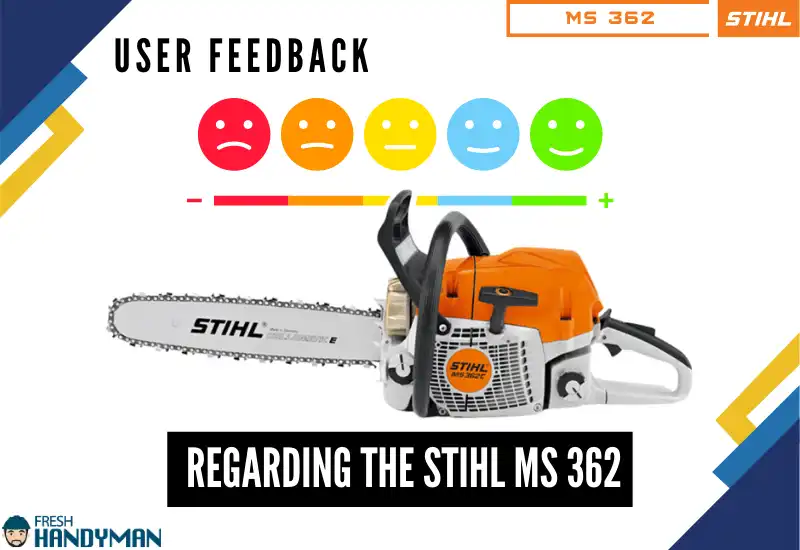 User feedback plays a huge role in deciding to buy a product. Through this, we can get informed about the quality and problems of that particular product. I would like to mention here the feedback of 2 Stihl MS 362 chainsaw users regarding the problem.
One user reported that he bought his MS362 chainsaw a dozen years ago. He has had no problems with long-time use, but currently, the chainsaw's ignition module has failed. He collected a new module from the dealer and that also failed after a month of use.
Again, he ordered another ignition module. However, every time he received the product after placing the order, there was some problem with the module and he sent it back. This quite disappointed him with the Stihl parts.
Another user reported that he had to pull the starting rope 6 times to start the chainsaw the first time he got it. When he tried it, the next day he forgot to push the decompression valve, and the choke was on the bottom. The engine is cold and having trouble starting.
He noticed the spark plug was soaked and the gap was filled with gas. He cleaned and reassembled the spark plug, and after pulling the starting rope 10 times, the chainsaw would not start. Even if the spark plug isn't too wet, the chainsaw won't start.
Read Also: Stihl 362 VS 462 (In-Depth Comparison)
Alternative Saws For Stihl MS 362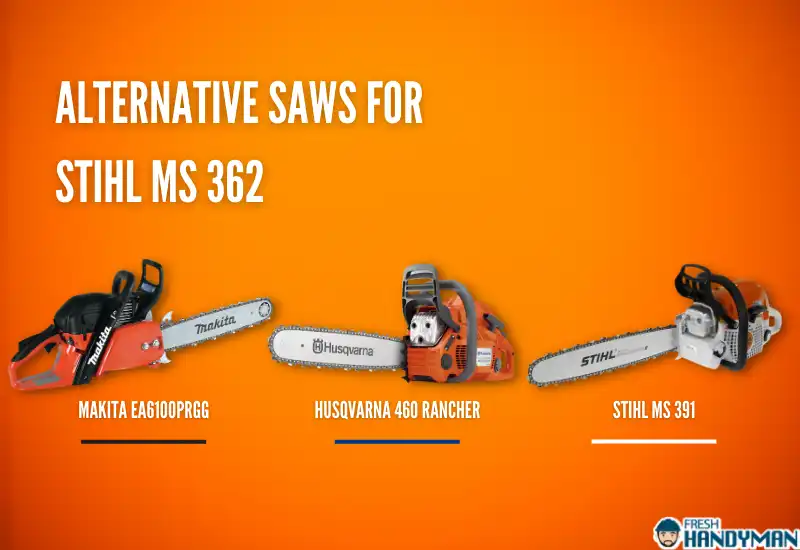 There are many who have praised the Stihl 362 chainsaw. Besides, many users have also criticized this model of chainsaws. All in all, it's sure to have some minor issues with this model. That's why I will briefly describe here some alternative chainsaw brands to Stihl MS362.
This chainsaw with a 61 cc engine can produce 4.6 bhp of power. The company recommends using a 20-inch guide bar with this chainsaw model. In terms of power and capacity, the chainsaw is on par with the Stihl MS 362 at a much lower price.
The added advantage of Makita EA6100PRGG is its attractive features. Notable among them are: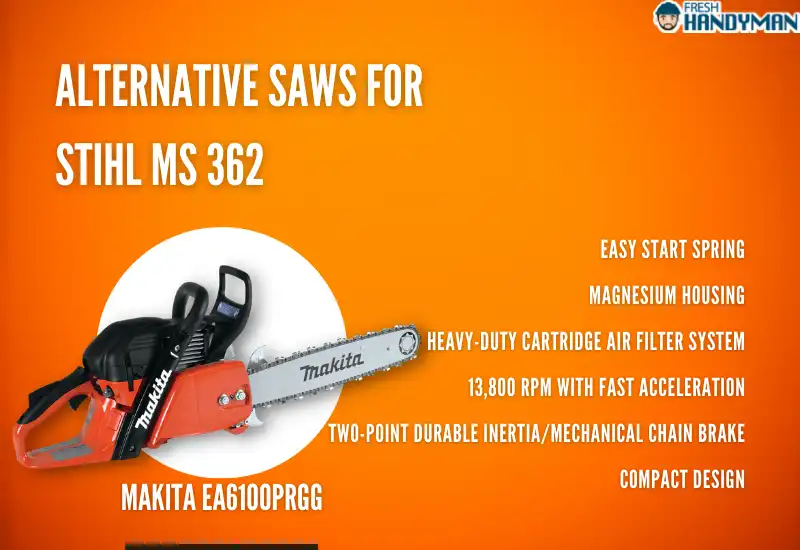 Easy Start spring
Magnesium housing
Heavy-duty cartridge air filter system
13,800 RPM with fast acceleration
Two-point durable inertia/mechanical chain brake
Compact design
If you want a combination of speed and power, then you can pick up the Husqvarna 460 Rancher chainsaw. The company recommends using a 24 eng guide bar on this chainsaw with a 60 cc engine. This chainsaw model is durable, fuel-efficient, and less expensive than the Stihl MS 362.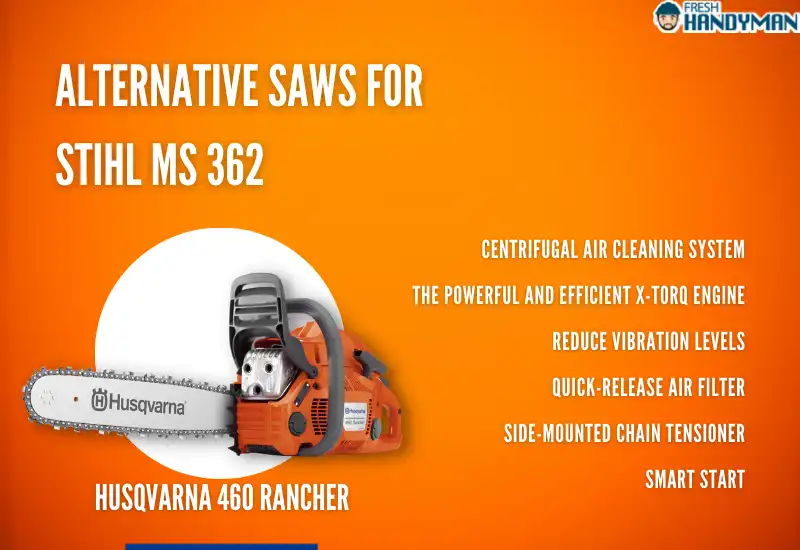 The attractive features of the Husqvarna 460 Rancher are:
Centrifugal air cleaning system
The powerful and efficient X-Torq engine
Reduce vibration levels
Quick-release air filter
Side-mounted chain tensioner
Smart Start
Check Out Also: Stihl MS 311 Vs Husqvarna 460
If you are looking for a durable, reliable, and better alternative to the MS 362, then the MS 391 may be the best option for you. The 64.1 cc engine of this model produces 4.4 bhp of power. The company recommends using a 20-inch guide bar on this model chainsaw. MS 391 is fuel efficient by up to 20% and costs slightly less.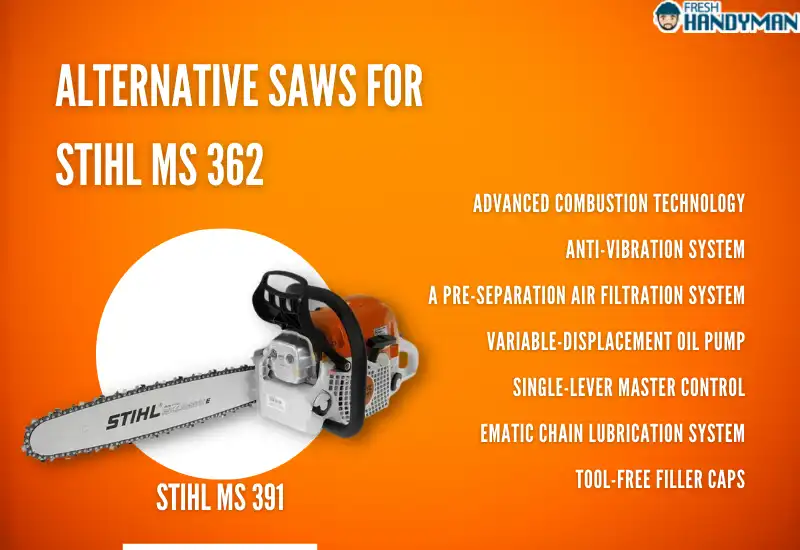 The interesting features of this chainsaw model are:
Advanced combustion technology
Anti-vibration system
A pre-separation air filtration system
Variable-displacement oil pump
Single-lever master control
Ematic chain lubrication system
Tool-free filler caps
Read Also: Stihl MS 391 Problems
Frequently Asked Question
Where Is The Stihl MS 362 Made?
Stihl is a German manufacturing company founded by Andreas Stihl. This company manufactures chainsaws and other handheld power equipment. They have a one million square feet manufacturing facility in Virginia Beach, USA. Today, most Stihl chainsaws are manufactured here.
How Much Does A Stihl MS 362 Cost?
The Stihl MS 362 chainsaw is a bit expensive and you might need to spend around $869.99 to buy one.
How Many CC Is A Stihl 362?
The Stihl MS 362 Chainsaw has a powerful engine of 59.0 cc that produces 4.6 bhp of power.
Is Stihl MS 362 A Pro Saw?
Yes, Stihl MS 362 is a mid-size professional chainsaw. This is an ideal chainsaw model for both home users and professionals.
Final Verdict Regarding Stihl 362 Problems
Steel chainsaws are the best in terms of quality and performance. Any chainsaw will have some issues with prolonged use, and the Stihl MS 362 is no exception. While most problems with these chainsaws are minor and you can fix them easily, sometimes major problems can arise. However, this rarely happens with Stihl chainsaws.
The Stihl 362 problems I mentioned here are collected from different users. As they have dealt with these problems, using this model, you may also face the same problems. The main purpose of my writing was to explain how you can solve problems quickly and maintain your work continuity. If you want to know more about this chainsaw, please contact us through the comment section.