Homeowners don't always need a pro-tier chainsaw. A saw with reasonable performance like the 445 gets the job done. However, people who have a large property need something close to a professional chainsaw because of the ground they have to cover.
So, the issue is- you don't want to bear the cost of a professional saw but you don't want a casual unit either. The Husqvarna 455 Rancher hits the sweet spot between pro and casual. While the cost can sting a bit, but the performance you get from this chainsaw makes up for it.
Unlike the 445 (an older model), the Husqvarna 455 can handle a wide variety of jobs. So, the extra buck you spend gives you more options like cutting, felling, limbing, and pruning.
While the 455 Rancher also isn't made for extreme heavy-duty woodworking jobs, you can venture a bit beyond the light to medium range.
This chainsaw can be the perfect partner for homeowners who want more oomph, more versatility, and power. As I said, it sits between professional and casual chainsaws.
So, if you are looking for something that's just a little shy of being a pro-tier chainsaw, the Husqvarna 455 should be right up your alley.
That was the short version of the story. I'll explain all this chainsaw has to offer in this Husqvarna 455 Rancher review.
Note: If you want to have a look into different Husqvarna chainsaws, head onto the roundup to get a big picture view of how each chainsaw fares against the other.
SPECIFICATIONS
| | |
| --- | --- |
| BRAND : | HUSQVARNA |
| MODEL : | 455 RANCHER |
| ENGINE POWER : | 55.5 CC |
| POWER OUTPUT : | 3.49 HP |
| POWER SPEED : | 9000 RPM |
| LENGTH : | 20 IN. (VARIABLE FROM 13 TO 24 IN.) |
| FUEL CAPACITY : | 14.88 FL.OZ |
| WEIGHT : | 12.8 LBS |
| SOUND LEVEL : | 112 DB |
---
Features of the Husqvarna 455 Rancher Chainsaw:
The Proprietary Smart Start
Let's kick this Husqvarna 455 review off by talking about the signature Smart Start technology. Anyone chainsaw user who knows what's up is familiar with the difficulties of starting a gas-operated chainsaw.
Quite frankly, it is a major roadblock because before you even start working, you might tire yourself out by just trying to get it started.
Hitting bumps with chainsaw starts is not a rare scene. That's why Husqvarna implemented the Smart Start tech to make new users (even professionals love it) work without facing any discomfort.
A choke/stop control prevents the flooding of the engine, which improves the engine's response. This, in turn, leads to a quick-to-respond engine start-up without a ton of pulls. Also, an improved starter handle allows you to have a better grip. The comfy grip makes the pulls easier as it puts less strain on your muscles.
X-Torq engine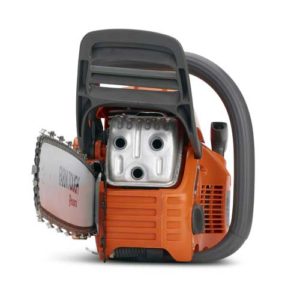 The X-Torq engine is Husqvarna's patented technology. It's like the ace in Husqvarna's pocket. From the 440E to the 460 Rancher, all of these chainsaws carry the tried-and-tested X-torq engine.
Why does it matter, though?
The X-Torq engine is an advanced technology that will save you fuel and reduce exhaust by separating clean air from the fuel and air mixture.
This engine can help reduce fuel consumption by up to 20-30 percent and emissions up to 60 percent. Gone are the days when you had to choose between environment and power, but not anymore, all thanks to Husqvarna's technology.
The lingering guilt of defecating on the environment because you use power tools won't weigh on your conscience anymore.
Despite the top-notch performance of the engine, there is one glaring disadvantage. And that is- the size of the fuel tank. Since it is rather small, you will need to refuel the saw every 30-40 minutes while using it on full power.
So, if you're planning to take this chainsaw out into the forest, make sure you're packing enough fuel to keep going!
Effective Air Cleaning System
In all honesty- air filters are IMPORTANT. A clean air filter is what keeps the saw going smooth. So, having a clean and dust-free air filter should be on your menu. However, if the chainsaw you own catches tons of dust, the trouble of cleaning the filer daily can be a nuisance.
That's where the top-notch air filtration system of Husqvarna 455 Rancher shines!
The filtration mechanism keeps larger debris and particles away. It tries to prevent them from entering the filter in the first place. While some do escape the watchful gaze of the filtration fan, it pushes nearly 60-70% of dust and debris back.
So, less cleaning for you, and more working!
---
LowVib System
I must admit- the anti-vibration system called "LowVib" is arguably one of the best features ever incorporated in chainsaws. This feature reduces fatigue in your wrist and arms by minimizing vibration.
If you haven't tried any chainsaw out yet, you don't how sore and flabby your arms can feel after a day of ripping, slicing, and dicing! I've seen people develop HAVS (Hand-Arm Vibration Syndrome) because of overusing chainsaws!
Now, you don't want to end up with this chronic condition. The Husqvarna 455's LowVib ensures the safety of your hands. Still, I always use anti-vibration gloves as an added safety measure. Although the LowVib is an excellent feature, spending a few extra bucks to save my arms from becoming vulnerable to HAVS is a no-brainer.
Ergonomic Design
Your chainsaw should feel like a sword when wielded. And the best results will only become possible when you're comfortable with the tool you're wielding!
The Husqvarna 455 has a well-rounded design. As I said earlier, this chainsaw is excellent for homeowners. So, Husqvarna paid special attention to keep the design user-friendly.
It has a front handle with a comfortable grip combined with the LowVib technology the chainsaw is pretty easy to operate. Once you understand the basics, it shouldn't take long for you to get down to business with this chainsaw. So, the learning curve is pretty forgiving.
Bar and Chain Size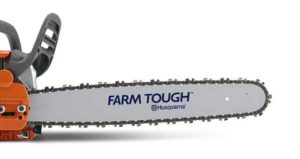 This chainsaw comes with a 20-inch bar. However, it can take bars ranging from 13 to 24 inches. I love this feature because it gave me the chance to pick and choose from a large set of options.
You could use it for both heavy-duty and light-duty jobs. The 24-inch bar is suitable for felling large trees, while shorter bars are ideal for quick, non-demanding tasks.
This anti-kickback 20-inch chain has a 0.058" gauge and 0.375" pitch. It has 72 links, which is a reduced amount than other models. Since the chain quality is great, you probably wouldn't notice the difference.
Make sure to sharpen the chain regularly, as it will improve performance and prolong the chainsaw's life. You can use a Dremel to maintain the chain all by yourself. Also, the chain should be properly tensioned for maximum performance.
Adjustable Oil Pump
You have to keep the chain properly lubricated in order for the chain to perform well. I remember a time when lubrication required a lot of effort from the user. Well, things have changed now.
Automatic chain oilers have taken over and the Husqvarna 455 Rancher also packs this neat feature. So, you don't have to be on your toe to check whether the chain is receiving enough oil. It's like having a babysitter for the chainsaw chain.
The other nifty addition in the 455 is that the flow is adjustable. In older models like the 445, there is an automatic chain oiler but the flow is static. With the 455, if you feel like you want to change the flow according to a specific cutting task, you can do it without any hiccups!
Durability
All chainsaws from Husqvarna are durable. This one is no exception. This particular model is constructed from hard plastic and metal and has a durable forged 3-piece crankshaft able to withstand some hard hits.
This chainsaw is a semi-pro power tool. That's why the durability is close to the leagues of professional chainsaws.
With proper maintenance, this chainsaw will last a very long time and perform admirably for years. However, what you're putting the chainsaw through does have a bearing on durability. If you stick to light to medium tasks, the saw will last longer. The same applies to other saw types like the circular saw.
That doesn't mean using it for heavy-duty tasks puts it out of commission after a couple of years. It'll still hold strong, but eventually, give out. I've used the 455 Rancher for years, and when it comes to durability, I've got no complaints.
Easy-to-adjust Chain Tensioner
Once you start working with the chainsaw, the chain can get displaced. It is something every chainsaw owner has to deal with.
The nice thing about the 455 Rancher is that it has a tool-less chain tensioner. So, you don't have to get your screwdriver out each time the chain gets dislocated. With the chain tensioner located on the side, you can adjust it in a jiffy.
Safety Features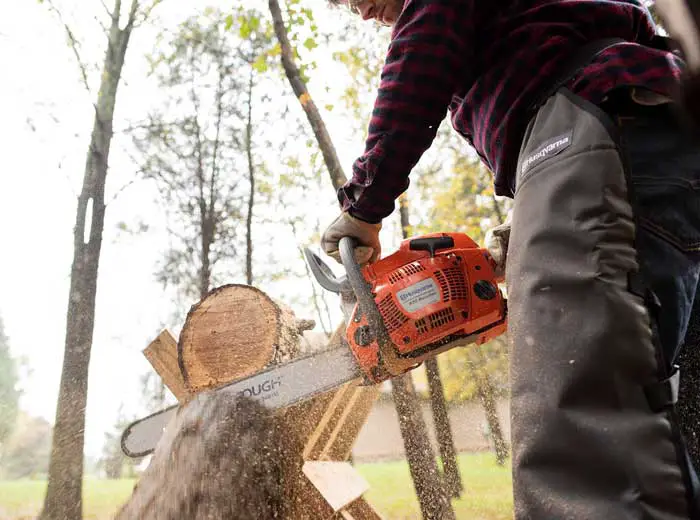 With great power comes even greater risks of getting injured! Yes, that's the hard-to-swallow truth of chainsaws. These power tools are no joke. You need to be on your guard when using a chainsaw or an off-chance accident can be catastrophic.
So, you need to learn how to use a chainsaw to keep yourself and everyone around you safe.
There are some places where you can find chainsaw-handling courses. So, visiting such a place might be a good idea, especially if you are a beginner.
Anyways, this chainsaw has enough safety nets to cover your six.
The 455 Rancher comes with two main safety mechanisms to protect you from kickback. First one is an inertia chain brake that will be activated every time a quick upward movement is recognized.
And the second one is a handguard. The handguard will activate the chain brake if you push it forward.
Although these are useful safety features, they cannot guarantee your safety all the time. That said, make sure you know enough about chainsaws and have the confidence to operate a chainsaw.
In addition, it also features a mechanism that catches the chain if it snaps or jumps off. There is also a throttle lockout, which prevents you from using the throttle control by accident.
As with any other tools, the one universal aspect that I've covered in the Husqvarna 455 Rancher review is that just like any other best gas-powered chainsaw on the market, this one also has some pros and cons that you should know about. Fortunately, the upsides are more in numbers than the shortcomings.
Husqvarna is a top-shelf brand. However, apart from Husqvarna, there are quality chainsaw brands. You can check them out if you want a bigger, clearer, more comprehensive picture.
FAQ:
Is the Husqvarna 455 Loud?
Nearly all 2-stroke powered tools are going to be loud, it's just the way it is. Modern design developments to the exhaust muffler have helped lessen the sound levels somewhat, but they will still touch around 104 dB(A).
Is the Husqvarna 455 heavy?
The 455 Rancher weighs just under 13lbs (5.9kg) without any cutting equipment installed, which is reasonable for a heavy-duty chainsaw. It does mean that it's quite heavy to use when doing something like limbing where you tend to be working with the saw for hours on end.
Is this chainsaw CARB compliant?
Yes, the Husqvarna 455 Rancher is CARB compliant.
Final Thoughts
The middle ground is a tough spot to find. It's always either extreme or mild. The Husqvarna 455 Rancher takes the sweet semi-pro spot. Although the Rancher 455 packs near-professional standard power, this doesn't mean it's too much for a homeowner to handle.
People who want the option to move onto heavy-duty jobs from the light to medium should keep the 455 Rancher in mind. While it will cost you some extra green, the added versatility is worth the investment.
However, if you don't own a large property, you may not be able to use this chainsaw to its full capacity, which really would be a waste. Some less powerful and cheaper options or diverse options might suit your needs. So, you should check the different types of chainsaws available.
But if you are a rancher, farmer, or homeowner who needs to fell large trees or cut a lot of firewood, the Husqvarna 455 Rancher is one the best that you can get for the money. I hope this Husqvarna 455 Rancher review can help you make an educated decision. Cheers!
Read More