Chainsaws are a must-have tool for homeowners and DIY enthusiasts when it comes to tree care, logging firewood, and other property maintenance tasks. However, not everyone can own a chainsaw because of the cost implications, storage, and maintenance requirements.
Lowes, a home improvement store, provides a convenient solution for people who want various professional-grade tools but don't want to purchase one. With its chainsaw rental service, Lowes allows consumers to access quality chainsaws without the commitment of ownership.
Whether you need to prune tree branches, clear fallen debris, or prepare firewood for colder months, Lowes has a diverse range of chainsaw models to suit your specific needs.
In this article, I will expound on the benefits of renting a chainsaw from Lowes, the rental process, essential safety tips, and why it is an ideal choice for many chainsaw enthusiasts.
About Lowes
Lowes is a renowned home-improvement store that provides homeowners, DIYers, and professionals with various project tools.
Established in 1946 as a small hardware store in North Carolina, Lowes has established itself as a leading home equipment and services retailer.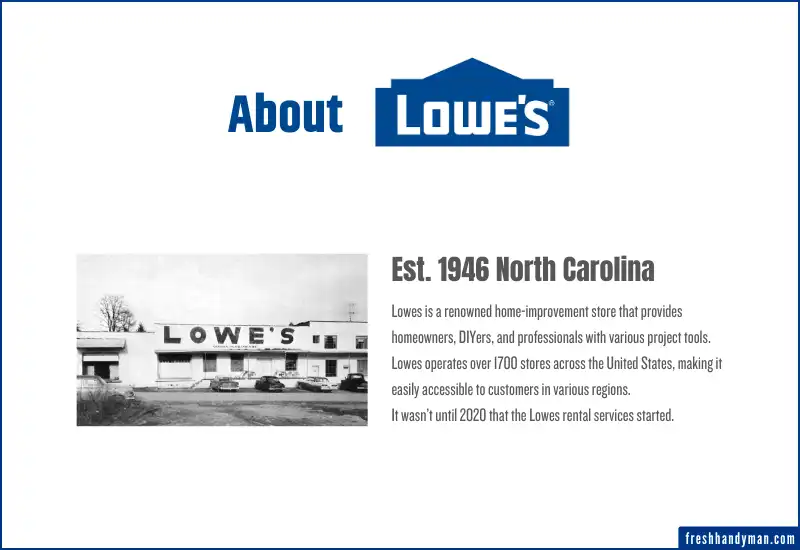 Lowes operates over 1700 stores across the United States, making it easily accessible to customers in various regions. One of their most significant selling points is their big and well-organized stores, providing customers with a memorable experience.
It wasn't until 2020 that the Lowes rental services started. The company conveniently started placing its rental centers in hundreds of countrywide stores. Not all Lowes stores have rental centers.
However, the company is committed to increasing its tool rental departments nationwide due to the increasing demand for rental services.
Can You Rent a Chainsaw From Lowes
One of the questions that many people ask themselves is, "Can I rent a chainsaw at Lowes?"
Yes, you can. Lowes provides customers with various chainsaws for their cutting and home improvement needs.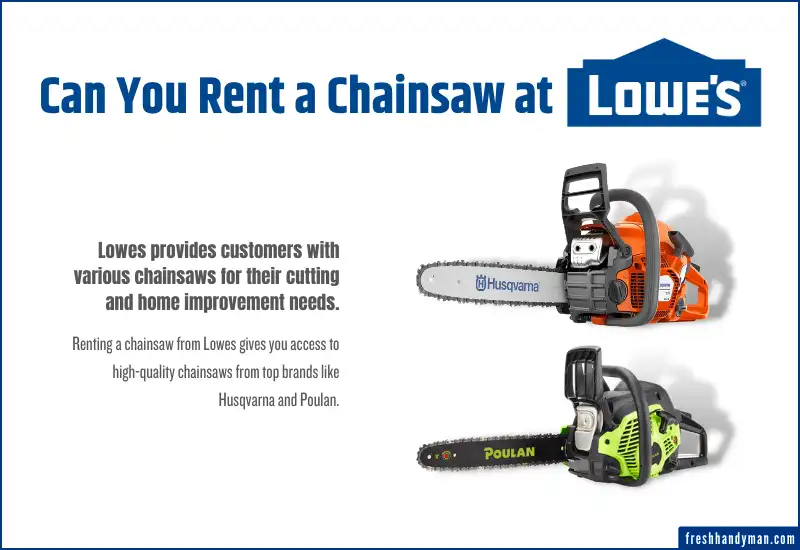 This chainsaw rental service benefits people who need a chainsaw temporarily but prefer not to commit to purchasing one. Renting a chainsaw from Lowes gives you access to high-quality chainsaws from top brands like Husqvarna and Poulan.
Benefits of renting a chainsaw from Lowes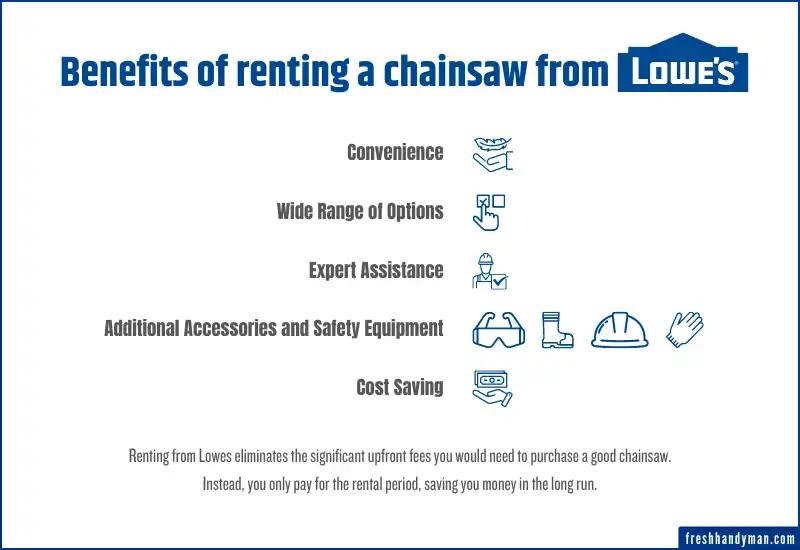 Renting a chainsaw from Lowes has several benefits compared to buying one outright. Here are some of the main ones:
1. Convenience
Renting a chainsaw is more convenient than owning one, especially for homeowners or DIYers with occasional landscaping and cutting tasks.
The main reason is that renting gives you access to chainsaws only when needed. This saves you the time and effort you would have used to store and maintain it, allowing you to focus more on your project.
Additionally, the rental process at Lowes allows you to test different chainsaw models before choosing one that suits you best. This is better than purchasing a chainsaw only to find out it is unsuitable for you.
2. Wide Range of Options
You might be limited to one or two models when purchasing a saw due to finances. However, renting from Lowes gives you a variety of models to choose from. For example:
Whether you need a lightweight saw for less demanding tasks such as pruning or a robust gas-powered one for heavy-duty projects, Lowe has a suitable option available.
Besides, Lowes is known for its commitment to quality, and the chainsaws available for rent are always well-maintained and in good working condition.
Note: The availability of each chainsaw model will vary depending on the demand.
3. Expert Assistance
One of the best things about renting a chainsaw is receiving the proper guidance and recommendations when selecting one for any of your projects.
Lowes has trained professionals that can help you understand the features and capabilities of different chainsaws to ensure you pick the correct one for your needs.
4. Additional Accessories and Safety Equipment
In addition to renting the chainsaw, Lowes may provide extra accessories and safety equipment. Some examples include safety glasses, gloves, helmets, and chainsaw maintenance tools.
These accessories and the chainsaw ensure you have everything you need for a safe and efficient cutting experience.
5. Cost Savings  
Chainsaws are very costly tools, so if you don't plan on using them regularly, it might be better to rent them.
Renting from Lowes eliminates the significant upfront fees you would need to purchase a good chainsaw. Instead, you only pay for the rental period, saving you money in the long run.
Lowes Chainsaw Rental Process
Here is a step-by-step guide for renting a chainsaw from Lowes: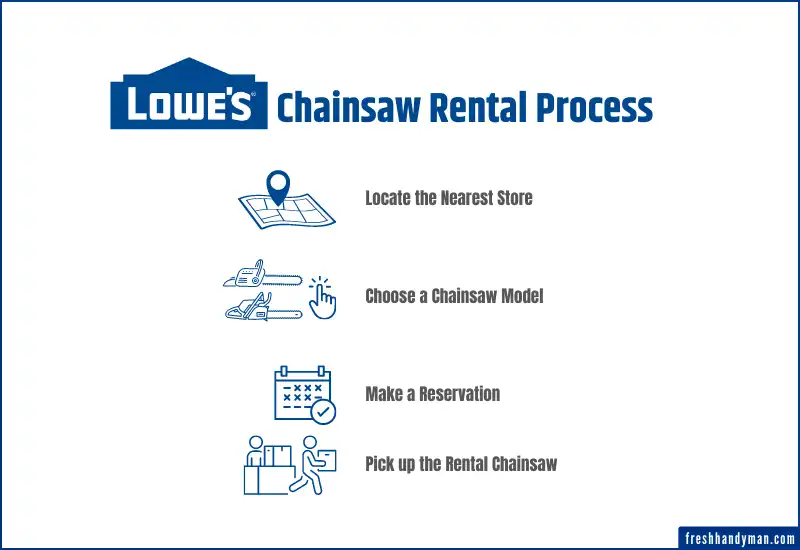 Step 1: Locate the Nearest Store
The first thing you should do is use the Lowes store locator to find the nearest store offering chainsaw rental services.
Step 2: Choose a Chainsaw Model
Explore the chainsaw models that are available in the store that is nearest to you. This will depend on your cutting needs or the type of project you'd like to undertake. Luckily, there are many models with different features to choose from.
Step 3: Make a Reservation
After selecting your desired chainsaw, confirm the rental dates and make a reservation online. You should receive a rental request confirmation email with all the terms and conditions you can accept if you're comfortable.
Making a reservation gives the store adequate time to ensure the chainsaw is available and prepare it for your rental period.
Step 4: Pick up the Rental Chainsaw
Once the scheduled rental day reaches, visit the designated Lowes store to pick up the rental chainsaw. You should take a valid ID and credit card with you. Additionally, you must be above 18 to rent a chainsaw at Lowes.
How Much to Rent a Chainsaw From Lowes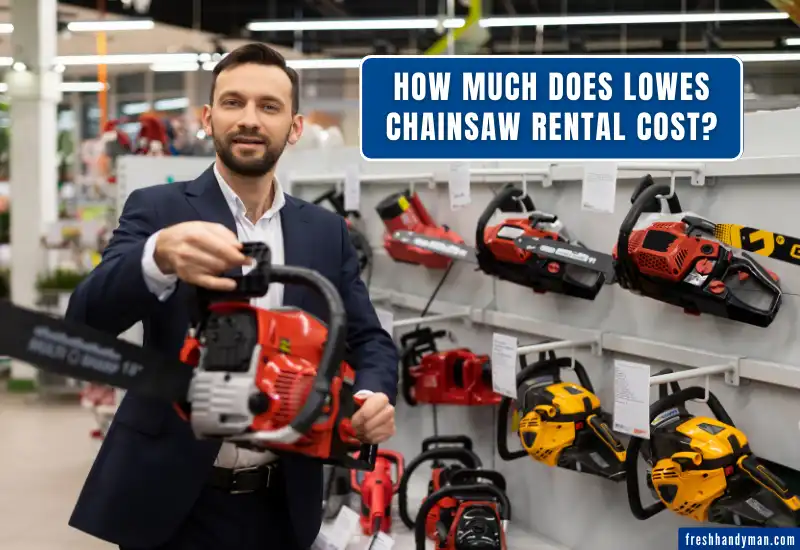 The cost of renting a chainsaw from Lowes can vary depending on several factors, such as the rental duration, the specific model, and the store's location. Rental fees usually cover a particular rental period, which can either be 4 hours, 24 hours, one week, or four weeks. Here is a breakdown:
| Period | Rate |
| --- | --- |
| 4 Hour Rate   | $35-$47 |
| 24 Hour Rate   | $49-$66 |
| Weekly Rate(7 days)   | $196-$264 |
| 4 Week Rate(28 days)   | $490-$660 |
However, you should know that these prices are subject to change, and it's always best to check Lowes online store for the most accurate and up-to-date pricing information.
It is important to remember that in addition to the rental fee, Lowes may require a refundable deposit or insurance coverage to protect against damage or loss during the rental period. This deposit varies with the type of equipment and duration of renting.
There are also several rental promotions, discounts, or seasonal offers that Lowes provides sometimes, so it is worth looking into them to secure the best rental deal.
Tips for using a rented chainsaw safely and effectively
Using a chainsaw safely is the key to avoiding accidents and injuries that will set you back. To ensure the efficient operation of your rented chainsaw, you can follow some of the tips I will provide below:
1. Wear Protective Gear
The first tip is always to wear the appropriate personal protective equipment (PPE). These include helmets, safety glasses, ear morphs, gloves, and sturdy footwear. Wearing safety gear help to ensure that you remain protected from flying debris, noise, and other harmful elements.
2. Inspect the Equipment Before Each Use
Before using the saw, inspect it for any signs of damage or wear. Ensure that none of the chainsaw's components, e.g., the spark plug and carburetor, has malfunctioned. Check the condition of the bar and chain, fuel, and oil levels.
Furthermore, all parts should be tightened. If you notice any issues, you should inform Lowes staff immediately.
3. Prepare the Work Area
Clear the work area of any obstacles, debris, or potential hazards. It would be best if you made sure that there is ample room for maneuvering to prevent potential accidents.
4. Use the Appropriate Cutting Technique
Try to learn and apply the proper cutting techniques to reduce the chances of kickbacks or accidents. Stand on a stable and fairly even ground and maintain a good posture. Position yourself correctly when in the cutting area, and avoid cutting above shoulder height or using the tip of the saw.
5. Fueling and Maintenance:
You should maintain your chainsaw to ensure a flawless cutting performance. Regularly clean the air filter, check the chain tension, clean the spark plug, and lubricate the saw often.
Additionally, it is advisable to use the recommended fuel mixture for gas-powered chainsaws while following the proper fueling procedures.
Can You Rent Other Tools at Lowes?
Aside from chainsaws, Lowes also offers a wide selection of essential tools for rent. You can find a range of hand tools, power tools, levels measuring tools, air tools and compressors, and welding soldering tools, to mention a few.
From pressure washers, Dremel tools, trenchers, tile saws, and undersaw cuts, Lowes strives to provide renters with a comprehensive list of tools to meet their diverse needs. I would advise you to visit Lowes online store to explore the full range of rental tools available.
Frequently Asked Questions
Why should I rent a chainsaw instead of purchasing one?
Renting allows you to access a professional-grade chainsaw without incurring expenses associated with buying a new one. Additionally, Lowe takes care of the storage and maintenance requirements once you're done with the saw.
What will I need to pick up my rental chainsaw?
You will need a valid photo ID and a credit card to take your rental chainsaw from Lowe. In addition, you will need to have attained the minimum age of 18 years.
How long does Lowes chainsaw rental last?
You can rent chainsaws for four hours, 24 hours, weekly, or four weeks.
Conclusion
Lowes chainsaw rental service provides a convenient and cost-effective solution to people who want to access chainsaws but don't want to purchase one. Renting a chainsaw from Lowes has many advantages, including cost savings, expert assistance, and additional accessories and equipment.
By following the step-by-step guide to renting a chainsaw that I have provided, you can have a seamless rental experience. Lastly, you should prioritize wearing safety gear and proper cutting techniques to ensure effective chainsaw operation.
You Might Also be Interested in: