The Poulan Pro PR4218 42cc chainsaw is a powerful saw designed for medium and light cutting. So if you need to cut firewood or have some storm damage to clear, the Poulan is more than capable of helping you out to get the job done. The Poulan Pro provides the power of a larger engine in a lightweight and compact 18-inch chainsaw. The added case allows you to transport the chainsaw and anything around it safely without worrying about getting it damaged.
It might not be in the same club as a top branded saw such as Stihl or Husqvarna (although Husqvarna owns Poulan). However, it is packed with excellent features and costs half the price. Carry on reading our Poulan Pro 18 chainsaw reviews to find out more about the parts of this chainsaw.
SPECIFICATIONS
| | |
| --- | --- |
| BRAND : | POULAN PRO |
| WEIGHT : | 13.25 POUNDS |
| DIMENSIONS (INCHES) : | 24 X 10 X 11 |
| BAR & CHAIN SIZE: | 18 INCHES |
| POWER SOURCE: | GAS-POWERD |
| ENGINE DISPLACEMENT : | 42 CC |
| WARRANTY : | 2 YEAR |
| ENGINE HORSEPOWER : | 2.1 HP |
| FUEL CAPACITY : | 5.9 OUNCES |
---
Performance and Handling
Let's get right into the Poulan pro chain saw review and look at this chainsaw's performance and handling. The Paulan Pro 18 is designed for medium and lightweight cutting duties. The manufacturer suggests that this would be an excellent choice for general landowners, homeowners, and property managers. You can use it for cross-cutting, felling, lambing, cutting firewood, and storm clean up.
Its 18-inch blade can cut through a 16-inch diameter log in just a pass. With the capability of handling all the tasks mentioned above, it can also efficiently deal with 10-inch diameter limbs. People who are comfortable using larger saws might find it a little less robust when tackling more significant tasks, but it will get the job done.
The Poulan Pro has OxyPower patented technology which provides incredible power, decreases fuel consumption by 20%, and is capable of 70% fewer emissions.
This isn't a very heavy saw for a gas model when it comes to handling. Its weight is around 13.25 pounds. In addition, the Poulan has a comfortable rear handle and a reduced vibration handle which helps to decrease operator fatigue and hence increase productivity.
All gas saws have their method for starting, and you need to follow it very carefully. In the case of PR4218, there is an Effortless Pull Starting (EPS) system which the manufacturer claims mean 40% less pulling effort is needed to kick the machine into life.
The Poulan cold starts quite well, but it can be a bit temperamental when it becomes hot. "hot starting" procedures are included in the operator's instructional manual and must be followed thoroughly. The saw might also tend to shut down after being used for a while and gets hot. In such situations, allowing it to cool down for 30 minutes or so typically helps, and then the saw will power up again and operate without a problem. This is a problem many cheaper gas saws are affected by, and the Poulan is no exception by being one of them.
Cutting Equipment
The cutting equipment of the Poulan is made up of steel, and that is an excellent material choice for chains and blades. The Poulan is equipped with an 18-inch steel bar and chain to help you get the job done quickly. In addition, the reduced-kickback guide bar has a small radius tip which decreases the size of the kickback danger zone on the bar tip.
The low-kickback chain features a contoured depth gauge and guard link that provides a fast and smooth cut with the least kickback force.
There is a chain brake on the Poulan Pro PR4218, which will start in the event of severe kickback. Keep a firm grip on the saw with both of your hands when the engine is running, and don't let go. A firm grip will help you maintain control of the saw and reduce kickback.
At all times, the chainsaw chain needs to be maintained adequately tensioned. For the first 15 minutes of the operation, it is usual for a new chain to stretch. So you should check the tension regularly because a loose chain can easily slip the bar. And you should continuously check the saw each time it is refueled.
On the Poulan, to adjust the tension, you have to loosen the bar nuts on the side of the saw and tune the chain tensioning screw to stress the chain. A scrench tool is given for your convenience to carry out these tasks. In addition to being adequately tensioned, you are also required to keep the chain sharp. You can get professional help for sharpening unless you know the method correctly.
And for a bonus, an extra chain is included.
Design and Construction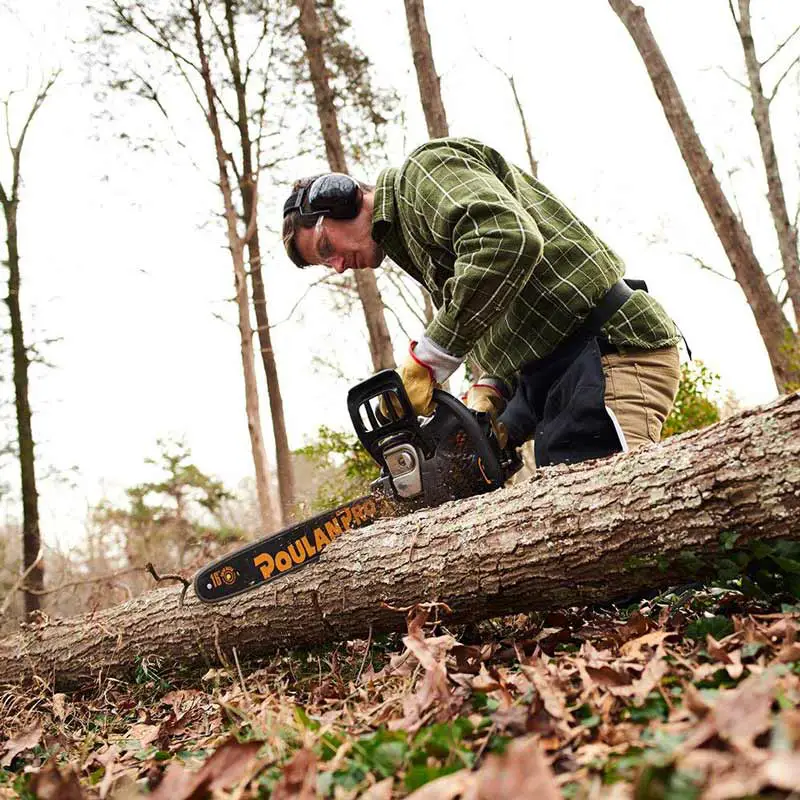 It is a very well-built saw, but you are not likely to get the premium quality construction of a pricey Husqvarna or Stihl. That being said, you should expect to get a few numbers of years of admirable service if you treat it with proper care.
This well-design saw features a handle with a bottom handguard. The throttle lockout is positioned on the handle's top, preventing accidental start-up. The ON/OFF switch and the choke are right above the handle on the central power head unit.
The bar oil and the fuel mix caps are located on the bottom of the powerhead unit. So when you add oil and fuel, the saw will have to be on its side. The primer bulb is positioned just above the fuel mix cap. The Poulan also has a full wrap front handle that allows cutting at different angles. There is a large handguard in front of the handle to provide added safety. And the pull cord starter rope is located just where you would expect.
The chain adjusting screw and the locking nuts hold the plastic cover in place. On the bottom side of the powerhead, there is a chain catcher below the adjusting screw.
Engine
With its 42cc 2 cycle engine, this saw has enough power to handle some pretty demanding jobs. In addition, the engine features Poulan's Super Clean Air-Filter System to provide increased strength, reduce fuel consumption and prolong engine life. The Poulan's fuel tank capacity is 11.3 ounces, so a gallon of fuel can fill the tank about 11 times.
Chain Oil System
This Poulan comes with an automatic gear-driven oiling system so that you can concentrate more on the job at hand instead of worrying about releasing bar oil manually.
Safety Features
A low kickback chain and reduced kickback bar can reduce the severity and probability of kickback but cannot eradicate it.

Chain break is another operational measure against kickback. In kickback, the brake will engage automatically, bringing the chain to an instant stop.

A chain catcher is designed to stop a whipping or slipped chain from contacting your hands. This small device is located on the underside of the saw.

Front and rear hand guards protect your hands from interacting with the harmful debris or the chain. And for added protection, consider wearing a set of appropriate gloves.

The throttle lockout switch prevents the accidental pressing of the throttle trigger.
Operating heavy and intense machinery is not something you can go out and do without any proper instructions. For example, while using a chainsaw, correct operating instructions must be followed to remain safe, which can differ depending on the nature of cutting you are doing.
Moreover, appropriate hearing, head, and eye protection should be worn and suitable clothing.
Dimension
The Poulan 18 is 13.2 lbs. it is pretty light for a gas saw and is not likely to present any issue to experienced gas saw users.
Accessories
This product comes with a carry case for the protection of the chainsaw and to add more to your convenience – scrench tool and operator manual.
To recap our Poulan Pro 18 Chainsaw review, let's discuss its pros and cons:
---
Things to Consider While Looking for a Chainsaw
Finding the Right Chainsaw
Before choosing a chainsaw, consider the work you are planning to do. The type and size of the wood you will be cutting and your experience using a chainsaw should be considered while looking for the right saw.
A saw with a more extended bar can cut larger diameter wood in a single action. The more powerful the chain bar is, the bulkier and heavier your saw will be. Select one according to your needs.
Starting Mechanism
Look for a saw with a Spring-assisted pull start to make starting the chainsaw much easier. With this feature, you will need less force to start the engine.
Also, look for a saw with choke control so that your saw will not be flooding with fuel making it hard to start.
Engine Power
Saws come in an extensive range of engine sizes that suit any task. Usually, engine power is measured in CC (cubic centimeters). This is because it indicated how much the engine can displace with each cycle of the cylinder. Hence, if you want a more powerful engine, choose a larger CC.
Chainsaw Safety Features
There are some key safety features you should look out for when selecting a chainsaw. These features are- Chain Brake, chain stoppers/catchers, low kickback, vibration reduction, etc. These features will not entirely eliminate your safety concerns, but they will indeed reduce them.
Product Specifications of Poulan Pro 18 Chainsaw
| | |
| --- | --- |
| BRAND : | POULAN PRO |
| WEIGHT : | 13.25 POUNDS |
| DIMENSIONS (INCHES) : | 24 X 10 X 11 |
| SERIES NAME: | PR4218 |
| BAR & CHAIN SIZE: | 18 INCHES |
| POWER SOURCE: | GAS-POWERD |
| ENGINE DISPLACEMENT : | 42 CC |
| ENGINE TYPE : | 2-CYCLE |
| ENGINE HORSEPOWER : | 2.1 HP |
| FUEL CAPACITY : | 5.9 OUNCES |
| WARRANTY : | 2 YEAR |
---
FAQ
Which bar length should I choose?
– Smaller bars are suitable for removing small trees and stumps and trimming limbs, while a more prominent bar is better for tackling more giant diameter stumps, stems, and trees. And another important thing you need to remember is that the bar of your chainsaw should be larger than the diameter of things you are attempting to see through.
Does the Poulan Pro 18 come with a case?
– Yes, it does. The case will help you to keep your chainsaw safe while you are transporting.
Does it come with an extra chain?
– Yes, it does.
What is the horsepower of the Poulan pro 18?
– The horsepower on the Poulan Pro PR4218 is 2.1 HP.
Watch Video – Poulan Pro 18 Chainsaw Reviews & Unboxing
---
Conclusion
Our poulan pro-18-inch chainsaw reviews suggest that this chainsaw is one of the best chainsaws. This saw combines the power of a larger 42cc engine with the flexibility and portability of a smaller saw. As a result, it is capable of doing medium tasks such as cutting firewood, storm clean-up, and felling trees. And for your safety, it comes with a lot of protection features and features that will make your tasks easier.
This saw provides power similar to a larger saw in a portable and lightweight 18-inch model. Plus, the included extra chain and case are a huge bonus. And to remain safe, don't forget to read the instruction manual.
You May Also Like