When a manufacturer has more than six decades of experience in the bag, you know that they've been through all the ups and downs and survived.
That's why Husqvarna is a household name in the chainsaw industry. With their wide pool of chainsaw collections, they've become one of the industry leaders.
Anyways, amongst some of their light-duty chainsaws, the Husqvarna 440 has made some stride. If the work you're about to do is pruning or some moderate felling, this chainsaw can be of use. It's not the jacked-up monster as other gas-powered chainsaws, but it gets the job done.
So, bear with me as I present the strengths and weaknesses of this tool in this Husqvarna 440 review. You can get a complete idea about what this chainsaw has in store. Afterward, you can match it with your impending needs and evaluate the worth of this chainsaw all by yourself. Let's get started.
Husqvarna 440 Short Review
Husqvarna 440 Chainsaw
SPECIFICATIONS
| | |
| --- | --- |
| ITEM DIMENSION : | 15″L x 9″W x 11″H |
| ITEM WEIGHT : | 11.68 POUNDS |
| HORSEPOWER : | 2.4 HP |
| ENGINE DISPLACEMENT : | 40.0 CC |
| MAX SPEED : | 9000 RPM |
| CHAIN SIZE : | 18 INCH |
| POWER SOURCE : | GAS POWERED |
| MAX CUTTING DIAMETER : | 32 INCH |
| WARRANTY : | 2 YEARS LIMITED |
---
Husqvarna 440 Chainsaw Product Overview
A quick comment on the Husqvarna 440- it is suitable for light to medium work, it has got smart safety features, the vibration doesn't get on your nerves, and the price-to-performance value is pretty good.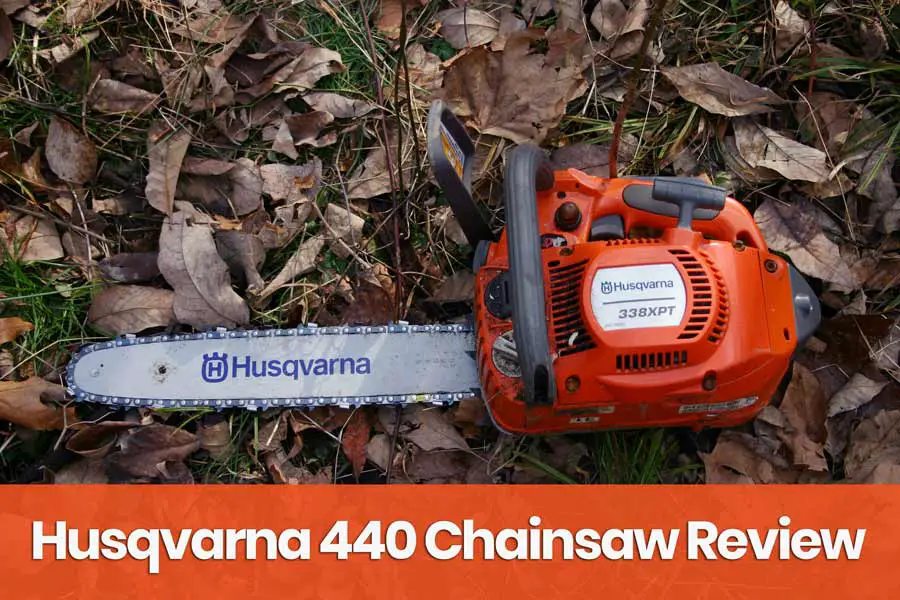 So, I would recommend this chainsaw to people who aren't looking to fell large trees, instead of looking for a saw that would be perfect for backyard cleanup duty.
That doesn't mean only DIYers get to enjoy the perks of this chainsaw. As a professional, I've used the Husqvarna 440 for many casual projects, and you can do the same. This Husqvarna chainsaw 440 review will outline the uses of this chainsaw in more detail.
Note: If you want to check out all the other models of Husqvarna, I've posted a separate article where I pit 8 Husqvarna chainsaws against each other. Feel free to check it out if you want to know more.
Powerful
In the heart of this chainsaw, there is a motor of 2.4 HP with 40.9 cc engine displacement. It comes with an 18-inch 2-cycle saw chain.
Yep, the motor and the engine of this saw aren't the most powerful, but together, they are powerful ENOUGH for doing the jobs they are meant to do.
Well, as I said earlier, this little chainsaw is designed for light to moderate-type jobs and not made for heavy-duty projects.
This saw is manufactured for light to moderate jobs such as cutting small trees, softwoods, small branches of large trees, or slicing through medium sized-trees.
The company has made this saw for house owners, beginners, and professional-level woodworkers who need a small saw for causal not-too-heavy jobs. And for these simple and easygoing tasks, this Husqvarna 440 chainsaw is a perfect fit.
It's capable of doing the job without any hiccups. It packs just the right punch to get you through a lot of casual woodcutting. Besides, this chainsaw's performance relies on its ability to deliver reasonable performance within a decent price range.
You can expect heavy-duty performance from high-end chainsaws. If you want to move beyond "reasonable performance" and want more oomph for your chainsaw, my suggestion would be to look into the 460 Rancher review.
Lightweight
The Husqvarna 440 is around 10 pounds. It's quite compact, and the dimension is 15 x 9 x 11 inches. 11.6 pounds is actually neither too light nor too heavy.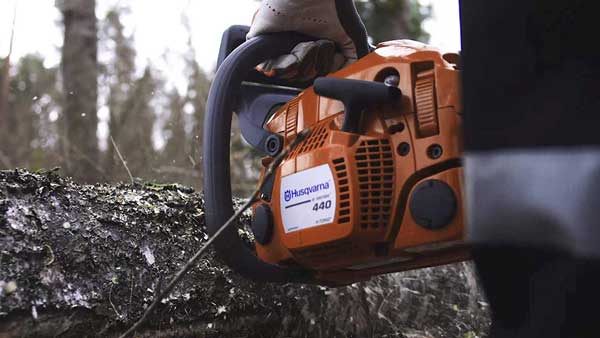 If you've got some upper-body strength, you'll be able to operate the saw without exhausting yourself. I've seen people with less-than-optimal upper-body strength handle this chainsaw with quite an ease.
This saw is portable and easy to carry around the yard. You can move it around the yard and perform some quick backyard cleanup.
Besides, professionals shouldn't have any trouble whatsoever carrying this to the job site and vice-versa.
However, the chainsaw can take some real estate on your garage when you store it. That's nothing out of the ordinary, though. After all, it is an 18-inch chainsaw.
The point is- you can move around your garden with this chainsaw, cutting and slicing through unwanted branches or weed growth. The manageable weight lets you work for hours on end without resulting in sore muscles when dusk hits.
Besides, you can get some precision cuts due to the minimal weight.
---
X-Torq Technology
The Husqvarna 440 is equipped with Husqvarna's patented "X-Torq®" technology. The X-Torq® technology is practical and effective.
This technology makes the motor of the saw extremely fuel-efficient and reduces the release of toxic fumes. So, you can save some sweet green as the fuel consumption would be lower.
The nature around you can also breathe easily because of the low fume release. On the other hand, the X-Torq technology helps to start the motor of the saw almost immediately when yanked.
Most of the chainsaws need a few yanks to get started, but I've started the Husqvarna 440 in 2-3 pulls. It's a great advantage for a chainsaw because starting a chainsaw can be really tough sometimes.
Furthermore, the "X-Torq®" technology is equipped with a stop-controlling system that ensures the safety of the engine and reduces the risk of oil flooding. As a result, the engine lasts longer than other ordinary chain saws.
Still, once the chainsaw gets older, the number of pulls needed to get the chain started can increase. If you oil the chains and the pull cord regularly, the pull mechanism should work fine.
Let's say the X-Torq technology doesn't float your boat, and you want to check out another brand. If that's the case, you can find more about it from a comparative article I've posted.
User-Friendly
Now that I'm halfway into this Husqvarna 440 rancher review, I must admit that this saw is very user-friendly.
The size and weight are manageable, and you can quickly move around with them. As a result, the job at hand becomes that much easier.
Also, this model offers a low-vibration feature that helps you keep going at it for a long time. It's not just the extended work time you get.
Less vibration helps you get the cuts you'd otherwise fail if the vibration were extreme. The design of this saw is catered towards beginners and non-professional users so that anyone who wants to can use this saw comfortably.
Easy to Operate
A bigger chainsaw is hard to handle. It's uncomfortable as well. And for a first-time chainsaw wielder, it's really a huge disadvantage. But don't worry! Husqvarna 440 doesn't have this problem.
The Husqvarna 440 is small in size, lightweight, and produces low vibration. So, you can use the saw with comfort and move around freely.
As I've already said many times in this Husqvarna 440 review, this model is designed for light to moderate tasks and for all kinds of users. And as a beginner, you can easily operate this chainsaw with comfort because of its user-friendly design.
Plus, the built-in safety features make this chainsaw an optimal choice for weekend warriors.
Safe
Safety is and always will be a concern for any power tool operator. And when the tool in question is a chainsaw, you should never let your guard down. One accident can put you in bed for weeks.
Anyways, this chainsaw has some neat safety features in place. Husqvarna is not new to the chainsaw scene, and their tools reflect their experience.
For example, the chain bar of this saw is designed in a manner that reduces kickback. A kickback is a primary reason behind chainsaw accidents, the anti-kickback mechanism will save you from the jaws of accidents.
Easy to Maintain
The story of a chainsaw is kind of similar to David and Goliath. The huge chainsaw falls prey to the continuous assault of debris. Therefore, the chain gets clogged, and maintenance begins. However, the Husqvarna 440 has an air filter. So, you can use more, maintain less.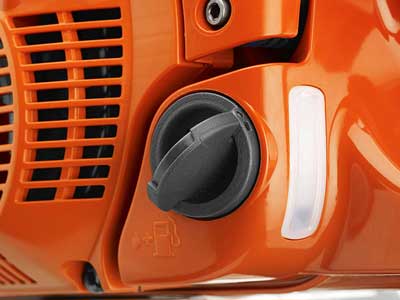 The air filter blocks a considerable amount of dust and debris. There is an air-injection mechanism that helps prevents the collection of dust on the chain. In short, you get a lot more runtime before you hit the brakes and start maintenance.
On that note, taking the chainsaw apart for cleanup is also quite straightforward. Loosen a few screws, and you're all good. So, the easy breakdown coupled with the air filter makes maintenance a breeze.
Other Features
Unfortunately, there are no additional features on this chainsaw. Frankly speaking, for a rather budget-oriented chainsaw, the Husqvarna 440 has a lot going on. I've already discussed the key features in detail in this Husqvarna 440 chainsaw review, and there's no notable extra feature.
Still, I believe the Husqvarna 440 beats out other chainsaws when it comes to price. It can handle medium to light jobs with ease. Once you get the hang of using this chainsaw, you can take it out to perform some heavy-duty tasks as well. However, you need experience and a complete understanding of the chainsaw's strengths before you do that.
All in all, the Husqvarna 440 is a decent chainsaw for people looking to prune the garden or clean a post-storm mess. The comfort with which you can handle and use this chainsaw, plus the reasonable price-point is what makes the 440 a worthwhile investment.
If you want to know more about this chainsaw, I have an article where I pit the 440 against the relatively newer 440e.
Husqvarna 440 Review Frequently Answer and Questions (FAQ)
Does it come with any warranty?
Yes, this saw model comes with a 90-day official warranty. It also offers a 2-years limited warranty. Remember, the limited warranty has conditions. Check the manufacturer's website for details.
Does this model come with the included chain or do I need to buy it separately?
This model comes with an attached chain to the bar. You don't need to buy the chain separately.
Does this model powerful enough to cut down a large tree?
Well, this model is made for light to moderate works. You can cut small trees or cut the branches of large trees.
While you can cut a large tree with the Husqvarna 440, you need a lot of practice. Still, the power is insufficient, and the task will take up quite some time.
It's better to use a more powerful saw for cutting bigger trees. You should look into the chainsaws suitable for cutting firewood if you want to work with large trees.
Does it come with an included case?
No, this model doesn't come with an included carrying case. But you can buy one separately.
What is the power source of this saw?
This saw is gas-powered and gasoline is its power source.
Also Read: husqvarna 440e review
---
Final Verdict
I've covered everything there is to know in this Husqvarna 440 review. I must say- this chainsaw does have its shining moments.
However, it's not an all-powerful beast that you can use to take down big trees. In the 440's defence, it's really not supposed to.
This chainsaw was designed for light to moderate woodworking, and it's an ideal entry point for beginners. If you're new to the chainsaw-wielding realm, the 440 can be a step in the right direction.
If you can up your budget a little, there is always the Husqvarna 440e. Besides, other successors like the 450 and 460 are pretty decent as well.
The Husqvarna 440 is a budget chainsaw catered toward home users. If your target is to get a lightweight chainsaw for backyard cleanup or some light woodworking project, I would recommend giving the Husqvarna 440 a shot.
---
You May Also Like