Chainsaws are a must-have tool for homeowners or professionals who engage in tree felling, bucking, cutting, or pruning regularly. There are two names that come to mind when it comes to chainsaws for homeowners: the Stihl 211 and the Husqvarna 435.
The Stihl 211 is a compact and lightweight chainsaw that is designed for light to medium-duty tasks such as pruning and cutting firewood. On the other hand, the Husqvarna 435 is slightly larger but is used for almost the same purpose.
It is designed to handle tasks such as limbing branches, bucking firewood, and felling small trees. This makes it suitable for starters and part-time users. Both of these chainsaws have been manufactured by very popular brands.
However, you have to consider several factors when purchasing a chainsaw. For example, engine power, dimensions, eight, cutting capacity, handling, and chain speed, among other features.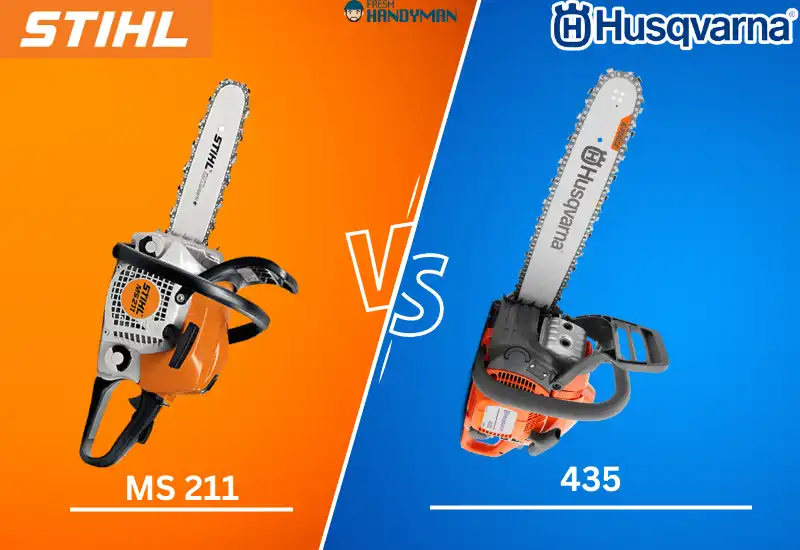 In this article, I will provide a comprehensive analysis of the features of these chainsaws and how they compare. Keep reading to find out more.
Specifications of the Stihl 211 and the Husqvarna 435
| Key Factor | Stihl MS 211 | Husqvarna 435 |
| --- | --- | --- |
| Engine Power | 2.3 hp | 2.2 hp |
| Displacement | 35.2 cc | 40.9 cc |
| Fuel Capacity | 0.27 l | 0.25 l |
| Weight | 9.5 lbs | 9.7 lbs |
| Bar Length | 12-18 in | 13-18 in |
| Sound Power Level | 113 dB | 112 dB |
| Exhaust Emissions | 999 g/kWh | 813 g/kWh |
| Price | CHECK LATEST PRICE | CHECK LATEST PRICE |
Stihl 211 Vs Husqvarna 435: Which One is Superior?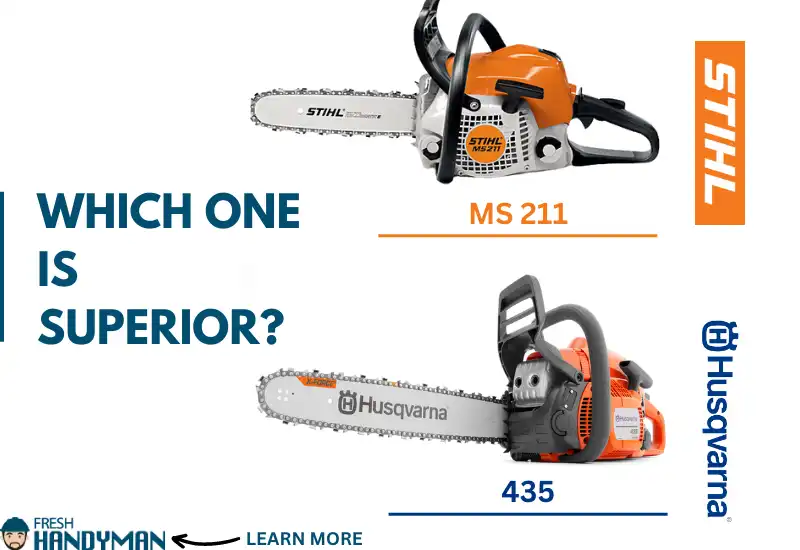 Which of these chainsaws should you go for? Well, that depends on several factors, such as performance, price, and intended usage.
Luckily, I have provided a detailed analysis of their features. This will help you make a more informed purchasing decision.
Stihl 211 Vs Husqvarna 435- Main Features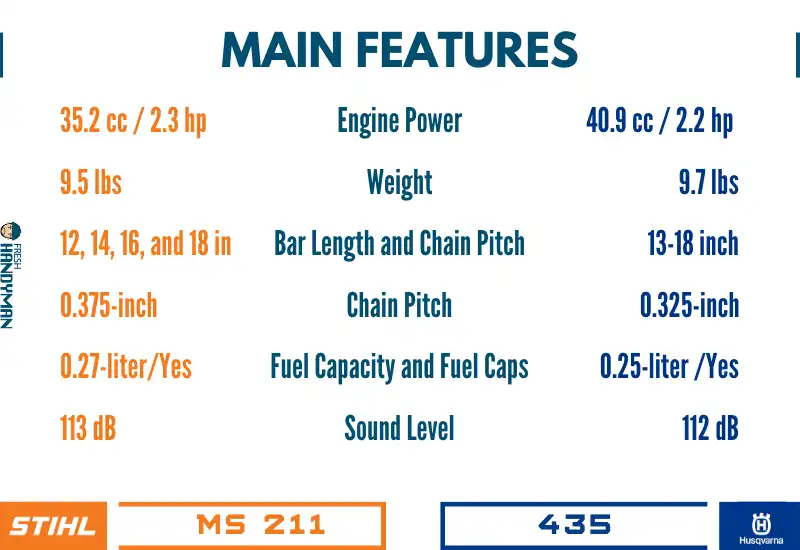 Engine Power
One of the most important factors to consider when purchasing a chainsaw is engine power. The Stihl 211 has a 35.2 cc engine with a 2.3 hp power output, while the Husqvarna 435 has a 40.9 cc engine with a 2.2 hp power output.
While the Husqvarna 435 has an engine with a larger displacement, the Stihl 211's engine produces more power. This means that it slightly edges out the Husqvarna 435 in terms of power.
Weight
The weight and dimensions of a chainsaw play a very big role in how comfortable and easy it is to use. When it comes to weight, the Stihl 211 comes in at 9.5 lbs.
On the other hand, the Husqvarna weighs 9.7 lbs, which is slightly higher. Even though this difference is small, you will definitely notice it if you use the chainsaw for a longer period of time. Therefore, the Stihl 211 is more favorable.
Bar Length and Chain Pitch
Every chainsaw comes with a specific bar length, which will determine the size of the tree or branch that it can cut through. The Stihl 211 comes in four different bar variations, depending on your needs. That is 12, 14, 16, and 18 inches.
As for the Husqvarna 435, you have the option of choosing a bar with a minimum length of 13 inches and a maximum length of 18 inches. In terms of bar length, both chainsaws offer almost the same options.
The Stihl 221 has a 0.375-inch pitch, while the Husqvarna has a 0.325-inch pitch. This means that the former can provide a wider cut and hence better cutting ability, while the latter has lower vibrations and smoother movements when sawing, making it more precise.
Fuel Capacity and Fuel Caps
The fuel tank of a chainsaw can affect how long it can run without needing refueling. I always consider this aspect if I intend to use the saw for extended periods of time.
In terms of fuel tank capacity, the Stihl 221 outmatches the Husqvarna 435. It has a 0.27-liter fuel tank capacity, compared to the Husqvarna 435's 0.25-liter capacity. This means that you can use the Stihl 221 for a slightly longer amount of time without refilling the tank.
Stihl 221's oil and fuel tanks are well-secured and easy to open thanks to their tool-free filler caps. The Husqvarna 435 also features a flip-up fuel cap, which eases the process of opening the tank.
When it comes to ease of refueling, I'd give these two machines a tie.
Read Also: Husqvarna Chainsaw Fuel Mix
Sound Level
Another metric that you might want to consider when purchasing a chainsaw is the amount of noise it produces. The Stihl 221 has a sound power level of 113 dB, while the Husqvarna 435 has 112 dB, making it a bit louder. However, this is expected given its more powerful engine.
Stihl 211 Vs Husqvarna 435 – Other Features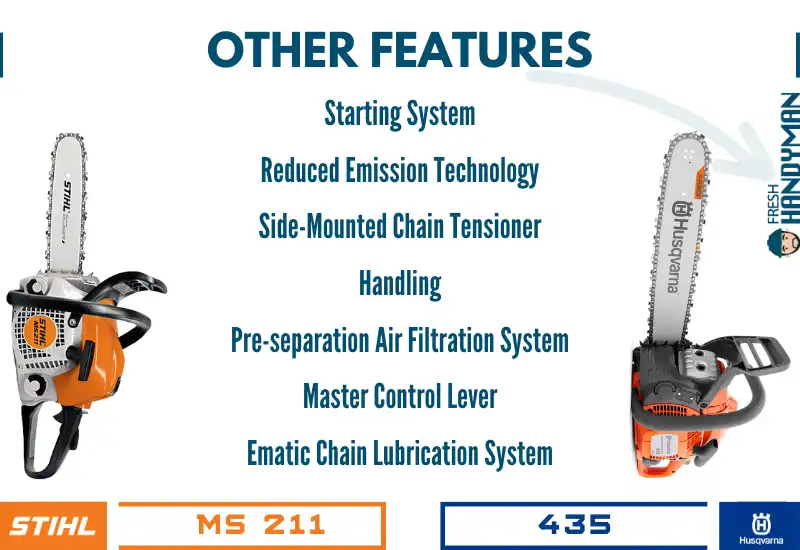 Starting System
The starting system of a chainsaw is crucial in determining how easy it will be to start sawing. To begin with, the Stihl 211 has an ElastoStart starter handle, which is exclusive to Stihl chainsaws. This feature is designed to reduce the effort you use to pull the starter cord, thus making the process smoother.
Husqvarna chainsaws, including the 435, come with Smart Start Technology, which makes it easier to get the machine up and running. In addition, this chainsaw comes with a Quick Start with Air Purge feature, which expels any air from the carburetor and fuel system, making it easier to start.
Both chainsaws have advanced technology that makes it easy to pull the cord and start the machine, but the Husqvarna has an extra Quick Start with Air Purge feature, which expels any air for an easier start.
Reduced Emission Technology
If you're environmentally conscious, then this metric will help you decide which saw to pick. The Stihl 221's engine has a 2-mix system that helps reduce fuel consumption by up to 20%. Consequently, this reduces emissions to 999 g/kWh.
For cutting down on fuel consumption and emissions, the Husqvarna 435 comes with a special X-Torque technology feature, resulting in an 813 g/kWh emission rate. This means that the Husqvarna is much better for you if you're environmentally conscious.
Side-Mounted Chain Tensioner
Both the Stihl 221 and Husqvarna 435 have a side-mounted chain tensioner to help you adjust the chain quickly and easily. It is important to tighten the chain before every operation. This prevents it from dislodging itself from the bar repeatedly.
Additionally, it helps to provide you with a sharper cutting interface. Husqvarna also provides a small wrench for adjusting the tension of the chain. Generally, both the Stihl 221 and Husqvarna 435 are easy to maintain.
Handling
Chainsaws generate significant amounts of vibration that can cause you to be fatigued after using them for a while. Over time, excessive vibration can cause injuries to your hands and arms.
To counter this effect, the Stihl 221 has an anti-vibration system that reduces the amount of fatigue you feel and makes it more comfortable to use. The Husqvarna 435 also comes with Low Vib Technology, which protects your arms from harmful vibration.
Both chainsaw systems are equally effective in combating excessive vibration, thus reducing injury risks.
You can easily control the Stihl 221 thanks to its loop-handle grip, which ensures you are in total control and prevents kickbacks. To rival this, the Husqvarna 435 has large, fully wrapped handles that reduce discomfort.
On top of that, it also has felling marks, which make it hard for the chainsaw to slip even in wet weather. If you're going for handling, then I would suggest the Husqvarna 435.
Pre-separation Air Filtration System
Stihl included a pre-separation air filtration system on the 221 that uses centrifugal forces to separate larger debris before they get to the air filter.  The Air Injection Technology of the Husqvarna 435 also works in a similar fashion.
In the long run, this helps prolong the life of the air filter and, by extension, the engine. I would give the Stihl 221 and Husqvarna 435 a tie in this department.
Master Control Lever
The Stihl 221 features a Master Control Lever. Why is it important? It enables you to control several functions of the chainsaw from a single location. Typically, it will control the start, choke, and stop functions.
On the other hand, the Husqvarna 435 has a combined start and stop switch, which makes starting and stopping the machine simpler. This means that both machines are equally convenient to use.
Ematic Chain Lubrication System
Lubricating the chain can significantly drive up your oil consumption, which is why the Stihl 221 has a specially-designed Ematic Lubrication System. This system regulates the amount of oil that you use to lubricate the chain links, driver holes, rivets, and sliding faces of the bar.
In the long run, this improves the chain life and decreases oil consumption by as much as 50%. Its main competitor, the Husqvarna 435, doesn't have a similar feature. That is why the Stihl 221 oiler functions much better.
Safety Features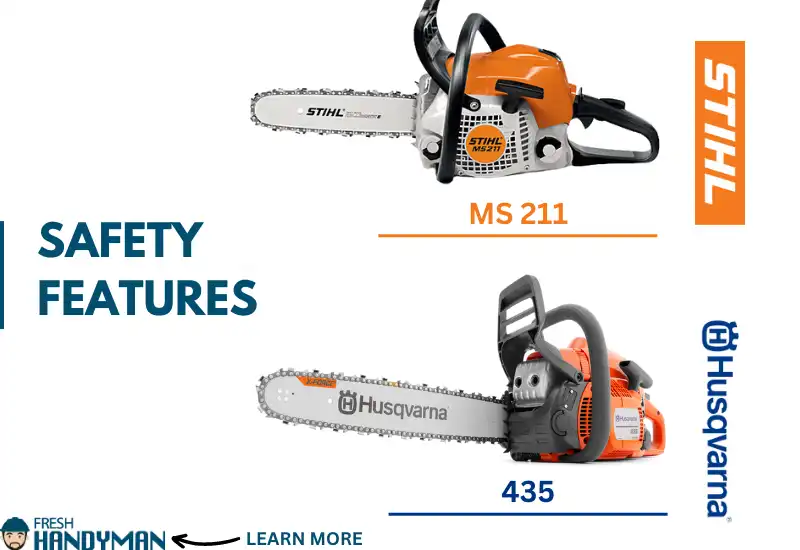 Handling a chainsaw is a dangerous affair, whether you're a beginner or a seasoned veteran. Accidents can occur at any time.
That is why Stihl equipped the 221 with a Quickstop chain brake feature that automatically stops the chain in case you let go of the saw or if it kicks back.
The Husqvarna 435 also has a chain brake feature that carries out the same function. The chain brake feature is activated by inertia. It only takes less than a second to stop the chain's rotation.
In addition to a chain brake system, the Husqvarna 435 has a throttle lockout button, which prevents you from accidentally operating the machine and injuring yourself. It also has hand guards at the rear and front ends to keep your hands safe from debris that flies around during sawing.
I believe that the Husqvarna edges out the Stihl 221 when it comes to user safety.
Price Comparison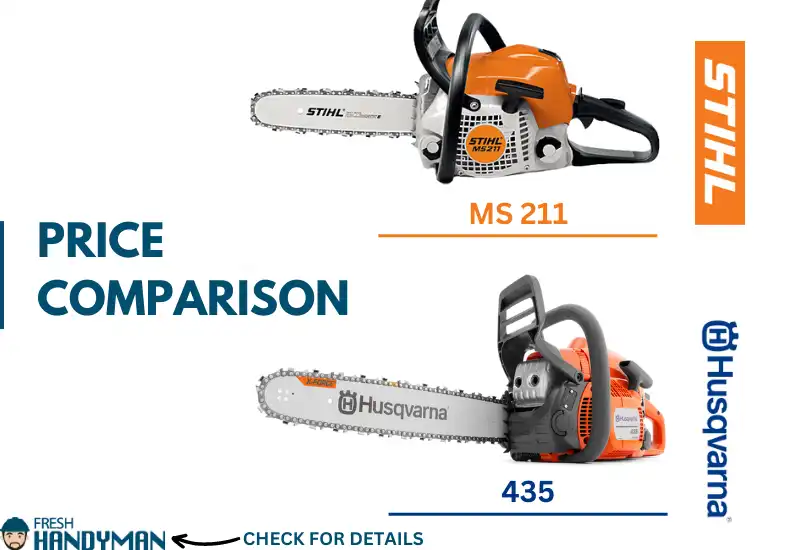 A Husqvarna 435 with a 16-inch bar costs approximately $330 on Husqvarna's official website and has a 2- or 4-year warranty if you register and purchase it online.
This price may vary depending on various other factors, such as the length of the bar, the Husqvarna dealer you purchase it from, and accessories you buy it with.
The Stihl 211, on the other hand, might cost you approximately $250–700 when you purchase it from Stihl dealers located all around the country. It also comes with a 2-year warranty from the manufacturer if you use it domestically.
You can also find these two chainsaws in online stores such as eBay. However, most chainsaws you find on such sites have previously been used, and you can only know their true condition once you get them.
Customer Reviews and Feedback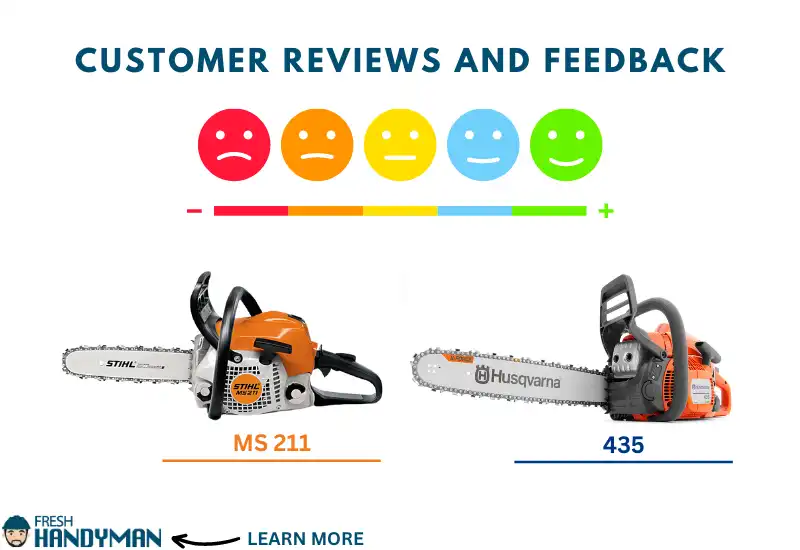 I took the time to go over customer reviews and feedback for the Stihl 221 and Husqvarna 435 to figure out which one gave a better user experience.
The Stihl 221 received mostly positive feedback, with a few complaints. An arborist who was starting out gave it a five-star rating, stating that it ran smoothly and consumed a minimal amount of fuel. He said that the Stihl 221 was a perfect tool for homeowners who live where trees don't grow very large.
One customer stated that the Stihl 221 was an excellent purchase because it was lightweight and effective for clearing brush and small trees in the woods. However, he said that you would need a larger Stihl chainsaw for heavier work or large trees.
According to one dissatisfied customer, the main issue with the Stihl 221 is that the chain can randomly lock up, and unlocking it can be difficult. However, this was an isolated incident.
After going through several customer reviews, I can give Husqvarna 435 a rating that is slightly above average. One user who bought it to replace his old Poulan was pleased by how sharp its chain was. He added that it had flown through all the pieces of wood he wanted to cut.
Another customer said that his Husqvarna 435 worked perfectly for two hours after purchasing it. However, he was very concerned since the fuel and bar oil consumption for that short period was quite significant.
A user complained that the Husqvarna 435 was hard to start and the choke button did not function properly. He recommended this chainsaw to people who want to use it for light tasks such as cutting small wood.
Read Also: Husqvarna 435 Chainsaw Problems and Maintenance Tips
Stihl 221 Vs Husqvarna 435: Pick of the Day
I know you're interested in finding out which chainsaw you should purchase and not being disappointed.
The Stihl 221 outmatches the Husqvarna when it comes to engine power and fuel tank capacity. It is also lighter and more compact.
If you go for the Husqvarna 435, you'll get a chainsaw that produces less noise and emissions, but lags behind in terms of performance when compared to the Stihl 221. The Stihl 221 also has better customer reviews and feedback.
To wrap it up, the two main criteria that I consider when I'm looking for a new chainsaw are: performance and ease of usage. With that in mind, I can confidently say that the Stihl 221 takes the day.
Frequently Asked Questions
What is the Horsepower of the Stihl 221?
The Stihl 221 has a 35.2 cc engine that produces 2.3 hp of power. This is enough to perform light tasks such as cutting firewood and pruning.
What is the Largest Bar Length that the Husqvarna 435 can Accommodate?
The Husqvarna 435 can accommodate a maximum bar length of 18 inches and a minimum bar length of 13 inches.
Final Verdict
It is clear that the Stihl 211 and Husqvarna 435 both have their own unique set of features and specifications. The Stihl 221 has a more powerful engine, a larger fuel tank, and is more fuel efficient. Generally, it also has better customer feedback and reviews.
Looking at the Husqvarna 435, you'll be getting a chainsaw that offers better handling, more precise cutting, and lesser emissions.
Both Stihl and Husqvarna are well-respected brands when it comes to making chainsaws. However, it is important to carefully consider your needs and the tasks you'll be using the chainsaw for before making a purchasing decision.